Addresses that opened during the pandemic: Dining rooms to visit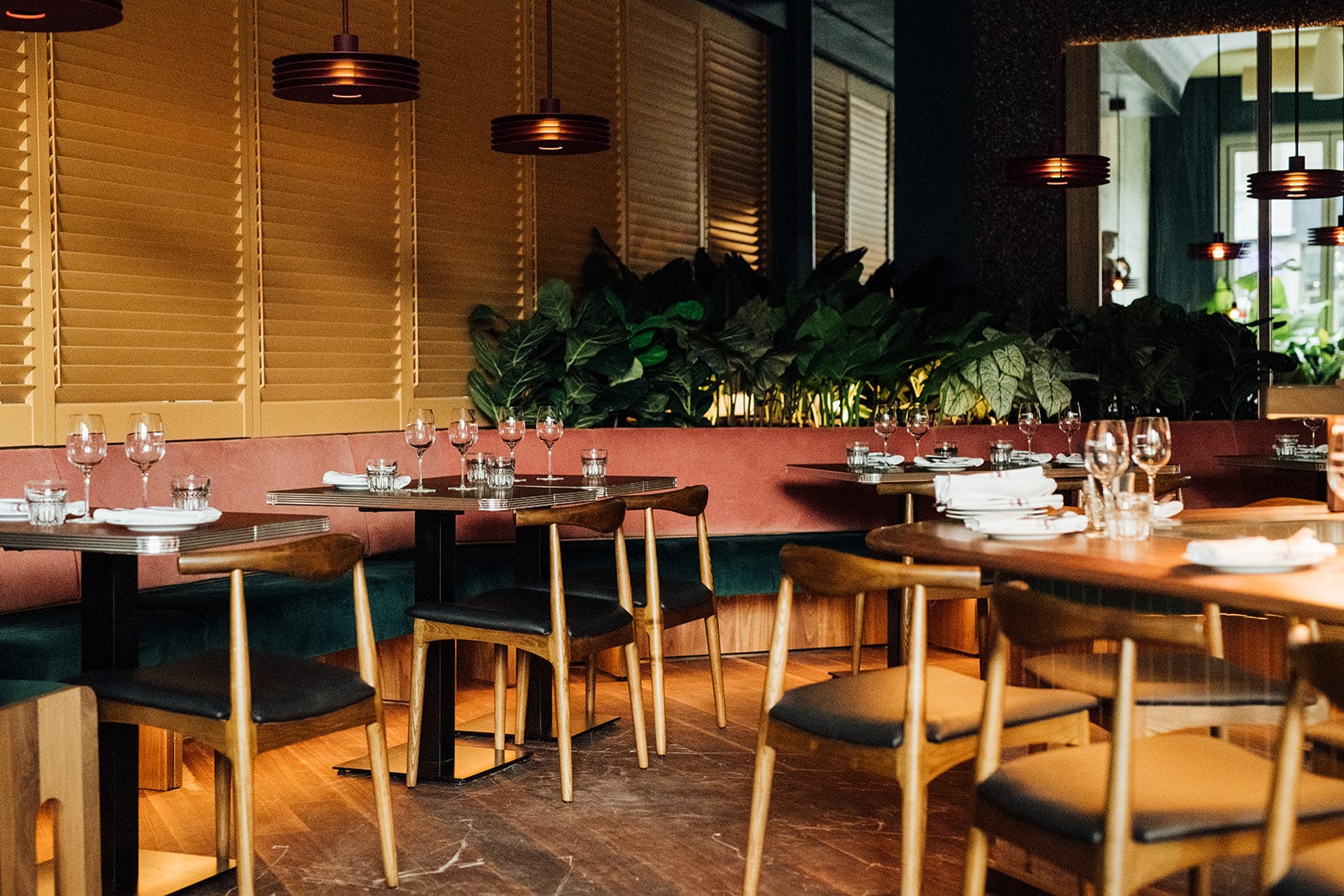 A few courageous entrepreneurs have pulled off miracles in recent months; for example, opening a restaurant in the middle of a pandemic. It takes a little bit of madness, of course, but mostly determination. The people who set out to do this, when circumstances had everything to dissuade them, are driven by an unparalleled passion.
Each of these restaurants offer superb service and dishes beyond your expectations, we encourage you visit them one by one to have the full experience! There is a certain magic the first time you set foot in a new establishment, a kind of phenomenon that is difficult to explain. It's that little je ne sais quoi that keeps us coming back!
For the first time since October, we can say that we see the light at the end of the tunnel, and we are really happy about it. After the opening of the terraces comes the opening of the dining rooms, another thing we have missed a lot. Since the dining rooms will be reopening once again, we had the idea to compile a list of restaurants that never had the chance to welcome you! If you don't know where to eat first, this list will certainly give you some ideas.
Happy discoveries.
List of pandemic openings :
Gia: And four for the Elena family! If the beautiful team has accustomed us to taste the best of Italy with its first three establishments, at Gia we enjoy grilled meats prepared according to the tradition of the Abruzzo region. All washed down with delicious wines.

Tiramisu: Somewhere between Italy and Japan. Located in the brand-new Hampton by Hilton Hotel on St. Laurent Boulevard in Chinatown, Tiramisu warmly welcomes hotel guests as well as gourmands from all over the city eager to discover new things.

Bar à Flot: Brought to you by the team of Buvette chez Simone (Simone Chevalot, Florence Pelland-Goyer, Gabrielle Bélanger, Éric Bélanger, Simon Deslauriers) and located next door to the successful wine bar on Park Avenue, Bar à Flot completes its neighbour with a great bar offering, and above all, a very well laid out formula.

Brouillon café-buvette: Opening in September 2021, Brouillon is the new space that serves as both a café and buvette on Plaza Saint-Hubert at all hours of the day. Whether you're a coffee or wine lover, or both, you're sure to find something to enjoy at Brouillon. In keeping with the philosophy of the place, the team sources the finest and best products from Conserva, the superb delicatessen located two doors down.

Faccia Brutta: Opened in July 2021, Faccia Brutta is the new must-try Italian address on Lapierre Street in Lasalle. The concept of the space is as follows: a friendly neighbourhood restaurant that offers the best of both worlds, a refined menu and a generous wine list, as well as a casual atmosphere to play cards over coffee.

Le Pontiac: Danny St-Pierre has once again created a delicious restaurant that is sure to please. Opening on May 12, 2021, Le Pontiac is located at the intersection of Mount Royal Avenue East and Pontiac Street (hence the name), just steps away from the Mount Royal metro station, where Les Folies restaurant used to be located. The address blends in perfectly with its surroundings and offers a variety of options for passers-by who want to take a coffee break or have a snack on the go.

Mui Mui: Giving new life to the former space of Jiep Jiep with a cuisine bursting with flavour and colour. Behind this beautiful project—as well as working their magic in the kitchen—is the former chef of the restaurant Orange Rouge (which closed its doors because of the pandemic).

Shay Mtl: In the heart of Griffintown, this neighbourhood where towers seem to appear exponentially, is the brand-new restaurant Shay. While there are a slew of new places to discover in this part of the island, it was lacking in Oriental and Mediterranean cuisine. Shay has remedied the situation, and in a very gourmet way.

Tinc Set: Born in the middle of the pandemic last year, Tinc Set is moving to its new location, right next door to its big brother restaurant, Alma. The Catalan counter is leaving its alley to move into the former convenience store next door, on Lajoie Avenue.  For this new address, owners Lindsay Brennan and Juan Lopez have focused on several aspects: rotisserie, wine shop and luxury dépanneur.

Kokochi Izakaya: Verdun, more effervescent than ever, is home to a new Japanese restaurant, Kokochi Izakaya, located in the former Fiscun Ecran Restaurant Su. The spectacular taste experience will surely transport Verdunites, and Montrealers from all over the island, to Japan for an evening.

Pavillon Snack Bar: Verdun is known in Montreal for its conviviality and community spirit, something that the Pavillon Snack Bar embodies wonderfully. Located on the edge of Wellington Street, it is slowly becoming a must-see café-bistro for those who live in the area.

Beau temps: If opening a restaurant in the middle of a pandemic is a bit complicated, opening a wine bar is even more so. Like many of us, the motivated and passionate team has been forced to adapt to the current conditions and all the restrictions that come with it. For the time being, the address takes advantage of the surrounding offices and the Mile End neighbourhood life to offer a gourmet take-out sandwich formula from Monday to Friday, noon to 8pm.

Nopalito: Owner and vegan chef Christian Manuel Ventura Alartorre just opened a new restaurant with chef Brizeira Pulido. During the pandemic, the two chefs managed not one, but two new projects. In fact, Casa Kaizen opened in August and as of November 1, 2020, World Vegan Day, Casa Kaizen has a new neighbor, the most recent addition to the family: Nopalito.

Pichai: Pichai was the long-awaited new restaurant from the Épicerie Pumpui team. Due to the pandemic, the opening of the address had been constantly postponed; they finally opened with a take-out formula on May 12, 2021. Here, we find the same talented trio eager to introduce us to Thai gastronomy, and in particular isaan: Jesse Massumi (ex Voro and Waverly), Xavier Cloutier and Jesse Mulder (former chef-owner of the now-closed Chak Wow).
BarBara Vin: BarBara is, above all, a wine bar where good juice flows freely and at affordable prices. It is also a dispensa (mini grocery store in Italian), as well as a café for early risers in the area.
Okeya Kyujiro: Opened on January 8, 2021, Okeya Kyujiro is a new downtown address that will undoubtedly seduce Japanese cuisine lovers. The owner Takuya Matsuda, accompanied by his team, presents a delicious Japanese menu in the omakase tradition. The latter gives carte blanche to the itamae (sushi chef), which means that customers rely on the chef's know-how and choice for their meal. Still not very common in Montreal, this concept will appeal to the Montreal public eager for new discoveries.

Marstard: After announcing his departure from the Manitoba restaurant, chef Simon Mathys is now on his own with his wife Vicky. Officially opened on January 6, 2021, Mastard is a delicious tribute to Quebec's terroir.
Entre-Deux: A new wave of entrepreneurs are moving in on Sherbrooke Street West, breathing new life into the area. Entre-Deux—a new neighbourhood café-bar—is one of them, and is well worth a visit in NDG.
Succeda: Montreal North Shore residents who love Italian food will be delighted to know that a great Rosemère address opened its doors in mid-February. Succeda is the brainchild of Vianney Godbout-Lescouzères (Maisonnette, Coeur de Loup, Mignonette) Nick Bramos (Marcus, Toqué!) and their partners Nima Pouyamajd (Marcus) and Julia Spadafora.

Café Chez Téta: In the heart of the Plateau Mont-Royal, at the corner of Rachel East and Laval, Café Chez Téta officially opened its doors on October 14, 2020. Surprisingly, the year 2020 offers us some nice surprises with the opening of new Montreal addresses like this charming café. The two owners, Antoun Aoun and Mélodie Roukoz, who are also in love in everyday life, wanted to open an establishment where they could combine two things they love – good third-wave coffee and traditional Lebanese food.
Restaurant H3: Inside the brand new Humaniti complex located in the heart of downtown, the H3 restaurant offers a superb gastronomic space with local flavors. Behind this project, the team from Le Coureur des Bois restaurant in Beloeil is happy to bring their expertise to Montreal to make H3 a unique restaurant and offer downtown customers a memorable experience.

La Canting: Nestled in a Nordelec office building across the Lachine Canal in Pointe-Saint-Charles, La Canting offers elegance and comfort. A fusion between Montreal and Asia, where you will discover Taiwanese and Cantonese cuisines; a marriage that will please the gourmands.

La Franquette: Opened on November 25, 2020, La Franquette is a delicious French-inspired restaurant located on Victoria Avenue in Westmount.
Salle Climatisée: From the outset, this project looked promising with its talented instigators, who we knew from Maison Publique. Brendan Lavery, Harrison Shewchuk and Darcy Gervais Wood have joined forces to open a delicious restaurant with market flavours.
Saison des pluies: It is at the corner of Guizot Street East and Henri-Julien Avenue that Erika Lafleur and Antoine Lacroix-Vézina opened the doors of Saison des pluies, their very first café. After only a few weeks, the duo is happy to already know the café's regulars by their first names. "It's a bit more difficult with a mask, but we recognize most of our customers and we know what they're going to order," says Antoine.

Mellön: Since May 1st, it is not uncommon to see beer lovers from the Rosemont-La Petite-Patrie district lining up on Saint-André Street on weekends. The reason for this craze is the recent opening of the microbrewery Mellön, a newcomer that is warmly welcomed by the locals. Mellön is owned by Alexandre Pontbriand, head brewer, and David Goudreau, operations manager.

Bernice: At the beginning of August 2020, Bernice pastry shop opened its doors in Saint-Henri. This new address adds to the beautiful list of nice places that are multiplying in this corner of the city. Bernice is the work of Jami Liverman, chef-owner already well established in the business. Jami has been supplying hotels and restaurants with his products for several years now, but the idea of opening a bakery for retail sales was on his mind.

Gentile Pizza Parlour: As the city's restaurants, cafés and bars closed their doors and put the chairs on the tables for the second time this year, a great new address appeared on St. Catherine Street. Gentile Pizza Parlour is the new pizzeria that the whole of Westmount immediately flocked to, even in the middle of the second wave.

Hidden fish: On October 14th, De la Montagne Street welcomed a new delicious address that will certainly become a downtown landmark for Japanese food lovers in the future. The owner, Mahfuz Chowdhury, introduces us to a concept that is still not very common in Montreal: the "omakase" tradition. In Japanese, this term means "I leave it to you", leaving the itamae (the chef) free to serve his guests his own choice of dishes, always depending on the availability of products and his inspiration of the moment.
Soda Épicerie: As winter was approaching, Soda Épicerie was quietly settling in on Beaubien Street East. Last December, the Petite-Patrie saw the arrival of a charming canteen that is also a local grocery store. Dressed in bright blue, wearing its retro look well, it's the place for epicureans who love Quebec food.

Jack le Coq: On February 18, 2021, a new address opened its doors in Verdun. Jack le Coq, a restaurant specializing in fried chicken, has brought the fried chicken craze to the neighborhood. People line up every day to try their delicious chicken.

Baba Thai: Last September, less than a week before the announcement of the restaurant closures, a new Thai address was added to the gastronomic landscape of Monkland Avenue. After only a few months, Baba Thai has become a reference for Thai cuisine in the NDG area.

Chez Simon Cantine Urbaine: A breath of fresh air is blowing through Tétreaultville with the arrival of a new and very promising gourmet address: Chez Simon Cantine Urbaine. The canteen opens its doors today on Hochelaga Street. This is the first time that chef-owner Simon Jodoin Bouchard has ventured into the restaurant business, but be warned, he has quite a culinary background. Founder of the sauce and spice company SJB BBQ, Simon is very popular with barbecue enthusiasts, a field in which he has won awards in international competitions.

Jones Café: Sata Sushi, a popular vegan sushi specialist in Hochelaga, has been renamed Jones Café. Owner MJ Guertin – also of Mimi & Jones – chose to blend his two projects to create a café with a California vibe.
If you liked this article, check out also our articles on the most beautiful bars, the most beautiful cafes and the most beautiful restaurants.
Written by Sophie Monkman
Photography by Alison Slattery —