Brouillon: New café-buvette on the Plaza Saint-Hubert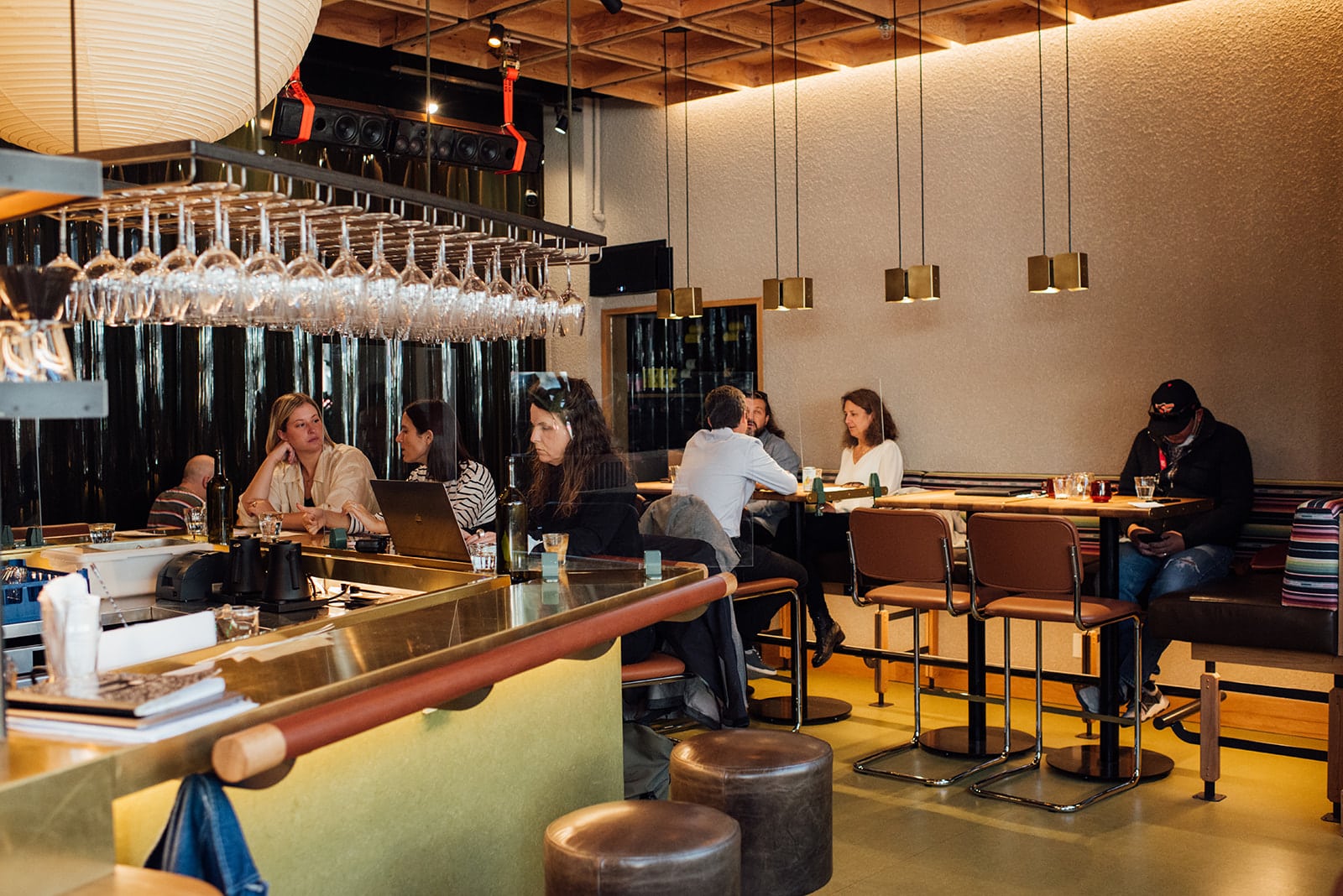 Brouillon café-buvette

Gift cards from Treater
Monday: Closed
Tuesday: 9:00 AM – 11:00 PM
Wednesday: 9:00 AM – 11:00 PM
Thursday: 9:00 AM – 11:00 PM
Friday: 9:00 AM – 11:00 PM
Saturday: 5:00 – 11:00 PM
Sunday: Closed


Owner(s) Dominic Tremblay, Ludwig Ciupka
Chef(s) John Borros, Massimo Vincelli (Conserva)
Opened 2021

Accepts mastercard, visa, cash, debit
40 Seats
Brouillon is the new café-buvette on the Plaza Saint-Hubert. Opened in September 2021, Brouillon is ready to serve you at all hours of the day.
Behind this lovely project are apprentice restaurateurs Ludwig Ciupka and Dominic Tremblay. Partners in life and work, they also own and founded TUX creative Co.—the creative studio located just above the new address. The beautiful and friendly project is a reflection of a plaza that is reinventing itself; and a most welcome addition to the area.
"Brouillon"—meaning draft in English— is a reference to the creative process, to the vision the owners have, to an idea in development. Brouillon Café-Buvette is a bit like that, a space that is destined to grow with its customers. From morning to night, from a cup of coffee to a glass of wine, Brouillon welcomes everyone with open arms.
The beautiful decor is the result of a collaboration between the firm Zébulon Perron—(Gentile Pizza Parlour, Marcus, Furco, etc…)—and the creative team of TUX. Upon entering, the 40-seat space is a real feast for the eyes; thanks in part to the oversized Japanese lamp and the combination of different materials including leather, chrome, glass, and brass.
In keeping with the philosophy of the place, the team sources fine products from Conserva, the superb delicatessen two doors down. The menu is simple, but well done, and changes according to the time of day. From 8:30 a.m. to 12:00 p.m., we enjoy a breakfast menu that includes berry and thyme yogurt, salmon gravlax, and much more. From noon to 3:00 p.m., the house offers a variety of sandwiches and other small delicacies to enjoy in house or to take out. In the evening and/or for the apéritif, the menu offers beautiful plates to share that highlight seasonal products.
Coffee and wine lovers alike will surely find what they're looking for at Brouillon. The coffee served here comes from Escape Coffee Roasters, and the wine list was created by one of the owners' friends, Caroline Do (ex-Pumpui, Mesón, Orange Rouge). It features privately imported products from winemakers mostly based in Spain and Portugal.
"With Brouillon, we wanted to create a place that would generate encounters, new ideas, and good times for the TUX team, located at the same address; but also for the lively and creative fauna of the Rosemont-La Petite-Patrie neighbourhood," explains co-owner Ludwig Ciupka.
Written by Inès Duguen
Photography by Alison Slattery