Great take-out for your picnics in Montréal's parks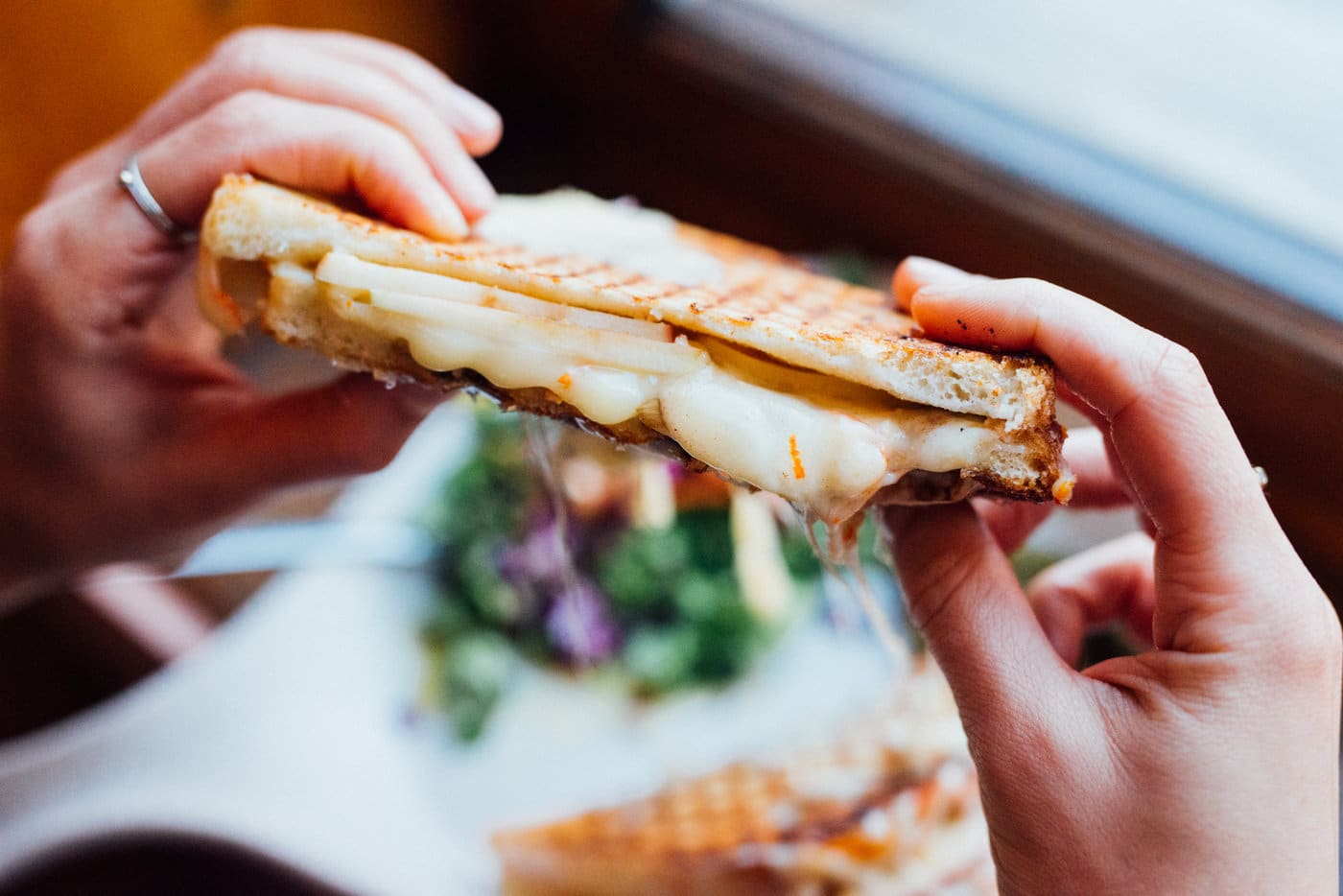 Summer hasn't even officially kicked off yet, but the warm season is already in full swing and the nice weather has us all outdoors, especially with the lingering pandemic. Sunny days are the perfect opportunity to make the most of the gorgeous weather in Montréal's parks, in compliance with health measures, of course. Here are thirty or so excellent take-out options around the city's most popular parks.
If your park feast isn't complete without a toast, Cabriz is the delicious and refreshing solution. This sun-drenched red lends itself perfectly to the perfect meal with the perfect people! Cabriz moves away from traditional grape varieties with new takes on the Portuguese terroir. If you're looking for adventure, forget cabernet, merlot and chardonnay and discover alfrocheiro, tinta roriz and touriga nacional.
Founded in the 1990s, Cabriz revolutionized the Dao appellation with its small vineyards nestled in the Serra da Estrela, Serra do Caramulo, Buçaco and Nave mountain ranges and surrounded by pine forests and the Dao, Mondego and Alva rivers.
Cabriz's intense ruby colour and aromas of red fruits, jam, berries, spices and toasted notes pair with any summer picnic in the park at a very attractive price point. Sweet and fruity, it goes so well with a charcuterie or cheese board or burger.
Parc La Fontaine
La Banquise
This Montréal institution needs no introduction. La Banquise offers an impressive selection of poutines of all kinds that are super easy to grab and enjoy outside.
Les co'pains d'abord
Located on Rue Rachel, Les co'pains d'abord bakery is a fantastic place to get a sandwich and some pastries on your way to Montréal's mythical Parc La Fontaine.
Paradis BBQ
Paradis BBQ is for chicken lovers, from fried to roasted to wings. It's always a hit and open on Sundays! 
Ma Poule Mouillée
For excellent grilled meats and generous poutines, head straight to Ma Poule Mouillée, one of the absolute best Portuguese addresses in town.
Épicerie Sue
Épicerie Sue is a must when you're looking for delicious banh mi sandwiches on the go. Perfectly seasoned and always fresh, they're an ideal snack for the park!
Parc Père-Marquette
Parc Molson and Parc Beaubien
Elsdale
Elsdale is located at the corner of Beaubien and Louis-Hébert, near Parc Molson. Elsdale has some great take-out choices and excellent bottles to go with them. The coffees at Elsdale are great, and there's nothing more refreshing than the café's homemade lemonade on a hot summer's day.
Sandwicherie Sue
Previously located between Beaubien and Molson parks, Sandwicherie Sue moved a little further west and is now directly across from Parc Molson. It make the same delicious sandwiches as Épicerie Sue.
Brioche à Tête
The new Brioche à Tête bakery is located right next to Parc Beaubien. It's a fantastic place to grab a coffee and a famous brioche before heading to the park to catch some rays.
Bistro Chez Roger
Located just a stone's throw from Parc Molson and not too far from Parc Beaubien, Bistro Chez Roger is a must for its tartars, which will still be fresh once you get to the park! Perfect for take-out or great late-night eats in the summer. 
Pâtisserie Madeleine
Madeleine pastry shop has wonderful homemade pastries, as well as a delicious croque-monsieur if you're in the mood for something a little more substantial. For a morning or afternoon snack, you can't go wrong!
Parc Jarry
Cantine Emilia
Cantine Emilia is a lovely Portuguese cantina whose chicken poutine is definitely worth a visit. Located near Parc Jarry, one of the city's largest parks, Emilia has great take-out, and the chicken poutine is generous enough to feed two people.
Oui mais Non 
Oui mais Non coffee shop is extra popular with locals. In take-out mode, the café sells its usual dishes and has added a nice selection of Québec microbrewery beers to its offer. What could be better for an afternoon in the park?
Vesta
When it comes to easy takeout, pizza takes the cake. Luckily, Vesta is just a few steps from Parc Jarry!
Brasserie Harricana
Itching for a cold one? Stop by Brasserie Harricana and try its in-house brews. Open every day, except Sundays and Mondays, from noon to late.
Knuckles
Knuckles is a great place to pick up some fun snacks and a good bottle for your happy hour in the park. Its famous panzerotti are a must try.
LaRuelle
La Ruelle is a grocery store, café and counter inspired by a fusion of Canadian and Colombian cuisine. Grab a sandwich for your next reading session at Parc Jarry.
Parc Jeanne-Mance and Parc du Mont-Royal
Noren
Noren is one of the best Japanese restaurants in Montréal. Located on Rachel ouest, it offers excellent house specialties, including its famous takoyaki. An original option for lunch in Parc Jeanne-Mance or a picnic on the mountain.
Hà
Hà's traditional Vietnamese menu is inspired by the flavours of Southeast Asia. Get a bunch of small plates to share and cross the street to one of Montreal's most popular parks.
Patati Patata
Located on Boulevard Saint-Laurent, this iconic address is the perfect place to order fries, since that's what it does best. Get a poutine or burger and head right up the street to the park!
Rôtisserie Portugalia 
This Portuguese rotisserie is one of the best in town, and its chicken sandwich can't be beat! Rain or shine, be sure to stop by!
Le Réservoir
Le Réservoir is one of the best and most beautiful microbreweries in Montréal. Pick a few amazing sandwiches and salads for a delightful and delicious picnic in the park!  
La Croqueteria
La Croqueteria is a fun address on Avenue du Parc that specializes in Spanish croquetas. What could be better than sharing in the park?
Chez Zac Pizzeria
At the corner of Duluth and Saint-Laurent, Chez Zac has several vegetarian, gluten-free and vegan options. We're charmed by the staff's hand drawings on the pizza boxes.
Parc Laurier
Stella Pizzeria
Since its opening, Stella Pizzeria has only gotten more and more popular. Its eye-catching window is decorated with towers of pizza boxes—a bit of colour in these pandemic times! 
Lapin Pressé
Lapin Pressé is THE place to find one of the best grilled cheese sandwiches on Avenue Laurier and maybe even the entire city! Grab one and make your way to Parc Laurier just a few steps away. 
Pâtisserie Rhubarbe 
Rhubarbe is always an excellent option for its pastries, as well as a variety of ready-to-eat options that are picnic-perfect! 
Tri Express
Tri Express is one of the best sushi restaurants in town. Opened by Chef Tri Du, the restaurant is now managed by his son, and the quality has never wavered. A fantastic choice for dinner in Parc Laurier.
La Grocerie
La Grocerie has all sorts of summer sandwiches and salads. While you're there, don't forget dessert and drinks! 
Lachine Canal and around Atwater Market
Although it's not a park per se, Lachine Canal is where the Sud-Ouest borough congregates at the end of the day. For a great picnic, head over to one of the many places in and around Atwater Market.
Clarke Café
Clarke Café has excellent Italian coffees and sandwiches that are perfect for a stroll along Lachine Canal.
Satay Brothers
This festive restaurant on Rue Notre-Dame ouest is known for its tasty Singaporean-inspired dishes. Try its summer kiosk at Atwater Market.
Sumac
Head to Sumac for typical Middle Eastern fare. The delicious pitas make a dream picnic, and the portions are VERY generous.
Bar Otto
One of our favourites in the area, Bar Otto offers the finest Asian cuisine. Their nigiri and sashimi are as beautiful as they are delicious. 
Le Fricot
Le Fricot is an Acadian crab shack on Rue Notre-Dame, where the best the sea has to offer is on the menu all summer.