Sumac Restaurant: Middle Eastern surprises and delights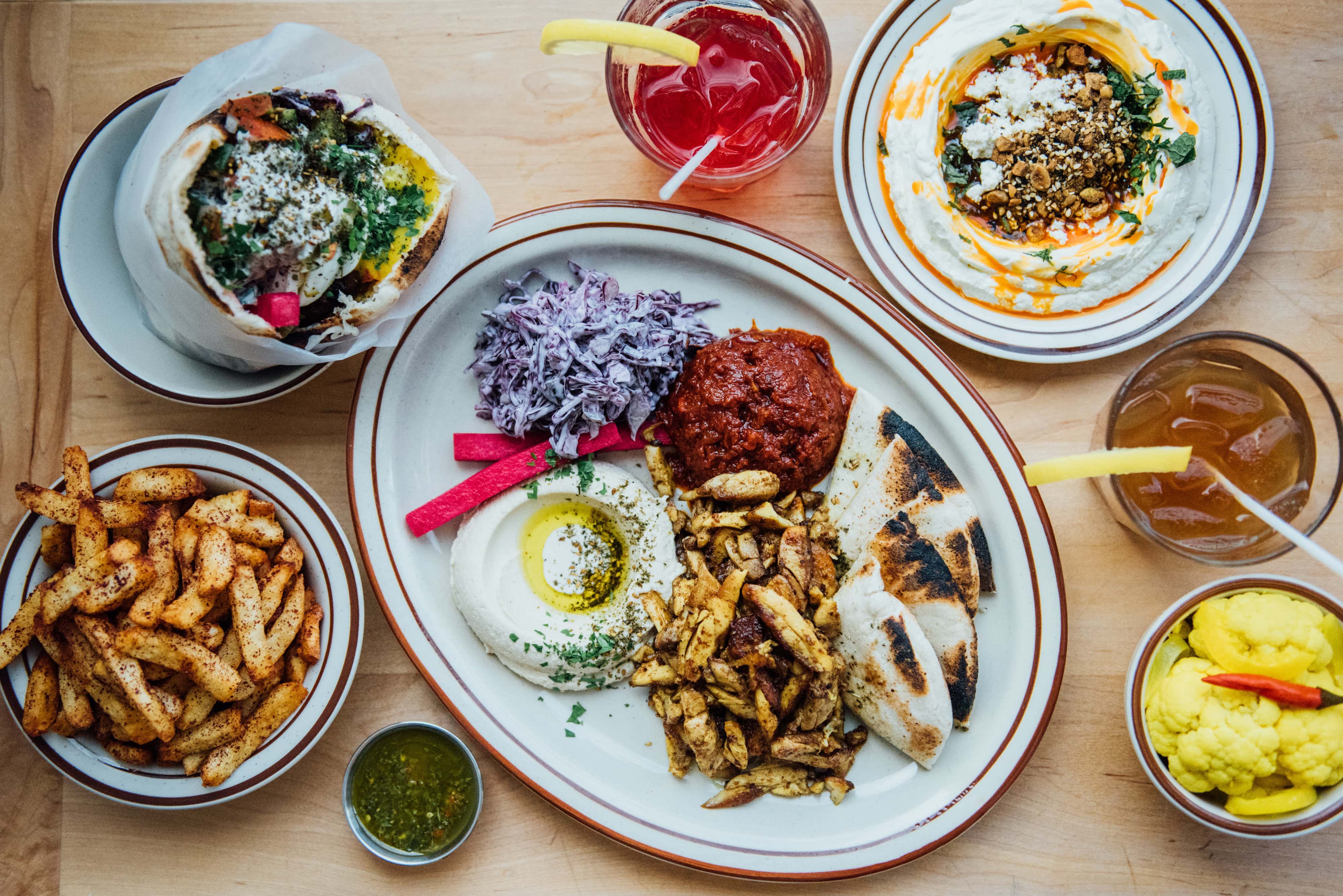 Sumac Restaurant is a small, unpretentious restaurant on Notre Dame St West that offers delectable Mediterranean cuisine at very affordable prices!
Sumac opened its doors in 2014, and we've loved it ever since! Sumac gets its name from a reddish berry that contains small brown seeds with a tangy but also fruity taste. It is widely used in Middle Eastern cuisine, often to flavour dishes and can flavour without altering the taste of the food. Sumac is unpretentious, the space is neat and elegant, simple and modest with a hint of refinement.
The owners David Bloom – from Monkland Tavern and Tuck Shop, and Raquel Zagury – from Tuck Shop amongst others, share their passion for Middle Eastern food with their customers and at very low prices. « There is a little bit of Lebanon, Israel, Egypt, Syria, etc. in our menu. » Either way, it's delicious. You order what you want from the board, you are given a number, you take your seat and someone will serve you. Everything is fresh, prepared once you order. In fact, they even prepare their own spices, sauces, dips, oils, homemade za'atar (another Middle Eastern spice mix). Everything is original and very good. They wanted to be a neighbourhood restaurant and they really are. We're pretty sure that the inexpensive bill for the huge portions adds to the exictment at each visit.
Get your proteins in three formats:
Pitas – very generous portions that require large mouths or make people laugh.
Family meals to share – « where I come from, the food is appreciated through sharing, we wanted to offer this to our customers. » – gigantic portions.
Dishes – where you can choose a meat and a few salads, that's usually what everyone takes.
You will also find salads, hummus, babas and labneh and condiments. The owner's favourites : « It's so hard to say! I think labneh, fries with hummus, cooked salad, our homemade turnips, shawarma chicken. » We would have told you exactly the same thing; the shawarma chicken, fries and cooked salad are addictive. Note that shawarma means how it is prepared and that it any kind of meat can be used; they have chosen shawarma chicken, which is cooked in 14 different spices and buttermilk (!) – you just get hungry thinking about it. If you don't finish (which happens a lot), take it with you. On the beverage side, they offer delicious lemonades, iced teas, beers, bottles of wine and wine by the glass. Also note that Sumac proposes a catering menu!
The atmosphere is really charming in this small restaurant and the prices are very affordable, especially considering the portions and ingredients used. They also offer a take-out service – always handy on Montreal's cold and frosty weekends. We love Sumac : it's incredible and a favourite, located in Montreal's southwest side.
Written by Élise Tastet