Capitaine Sandwich: Great sandwich counter on Duluth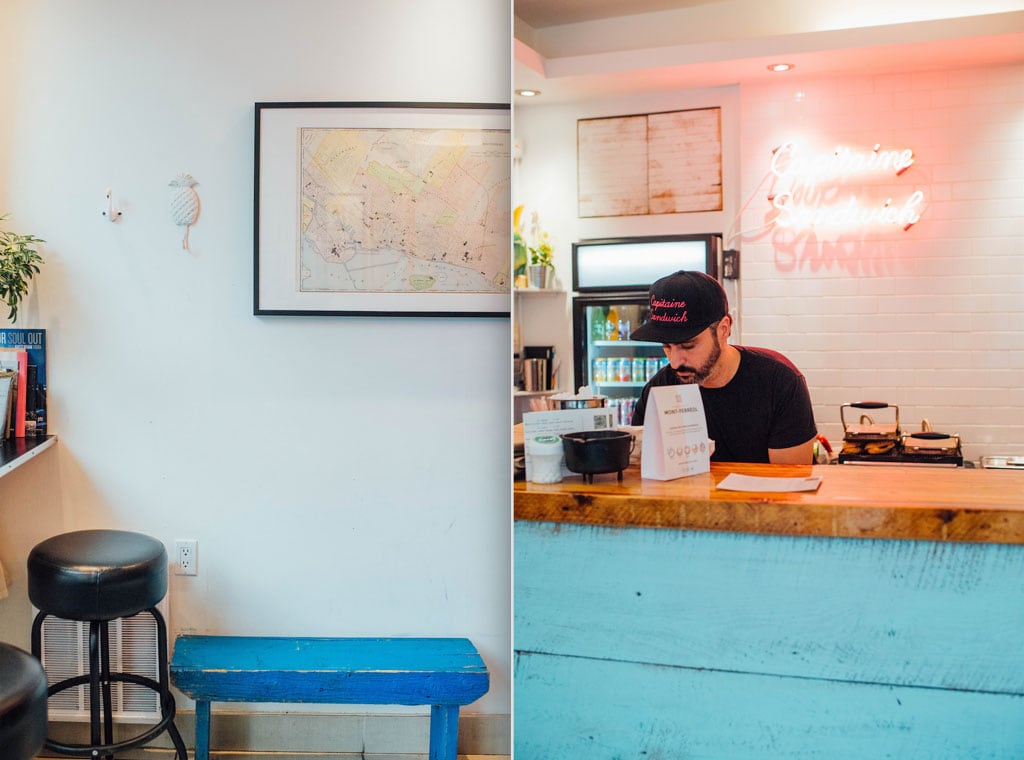 Capitaine Sandwich is a good reliable sandwich shop on Duluth Avenue where you can enjoy your food either on the spot or order for take-out.
Why 'Capitaine Sandwich'? «You can pronounce it in both French and English, and it's the kind of name that isn't at all serious, so it's also a bit ridiculous!» (laughs) explains Samir Benzeguir, THE Capitaine Sandwich and owner. In April 2017, Samir decided it was time to make his dreams come true by opening a small sandwich shop. «I'm so crazy about sandwiches! I'd eat them every day but I was tired of ham on a buttered baguette, so I decided to open my own place.» With that statement, it's easy to guess that his sandwiches are nothing like the ham and butter ones he describes.
The small space only has a few seats because it is designed more as a counter for a quick lunchtime stop. The interior is the work of Samir and although it's simple, there is a degree of sophistication to it. The solid-looking counter has a thick wood countertop and the sides are covered with turquoise-painted horizontal planks, a look that extends to some bench seating. Add a few green plants, some picture frames with old stamps, 'Capitaine Sandwich' in neon lighting, and there you have it.
«A sandwich is the perfect vehicle! We can make whatever we want.» The menu is a delight to read with whimsical descriptions accompanying the 5 sandwich names, created by Samir. The delicious Polpette (pork/beef meat balls, tomato sauce and Provolone), the Cuban (smoked tongue, ham, Gruyère, magic sauce (!) and pickles), Big Nan (ground beef/pork, Big Nan sauce, salad and pickles), the Halloumi (halloumi, red cabbage, cilantro, mint and spicy mayo) and to start the day, the Déjeunan (egg, bacon, delicious meat and cheese). Sometimes, Samir makes a sandwich with whatever he fancies right then and there. We tasted the Coco Curry (chicken, curry, daikon, cilantro and sour cream). The Big Nan and the Halloumi are definitely a hit and our favourites. There is also soup and if you like, the famous potato salad to go with your sandwich, and for dessert, the cannoli are great. Samir also makes his own homemade lemonade and iced tea.
«I'm proud of this place and happy to be here every day!» To find such good and affordable sandwiches on ave Duluth is another reason to come here, so we suggest you try Capitaine Sandwich.
Written by Kashanti Sandy