The best breakfast sandwiches in Montreal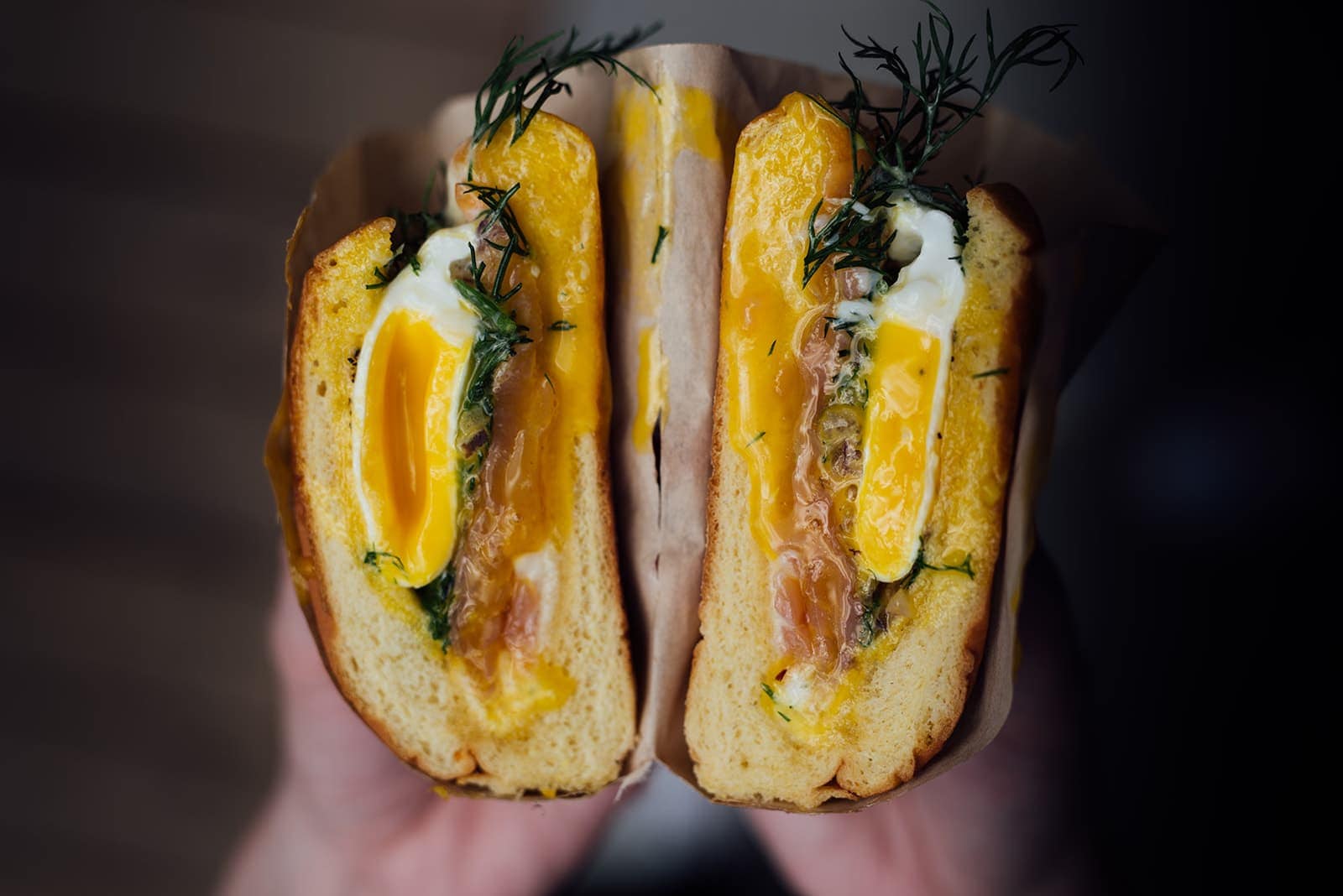 Breakfast sandwiches are little bits of heaven in the morning, as they contain all the best things of a classic breakfast: bread (brioche, English muffin, bagel, multigrain, etc.), an egg (however you like it), meat (bacon, sausage and ham – or all three!), cheese, tomato and a little lettuce. The magic happens when all the elements come together in your mouth. The cheese melts over the cooked egg; the crispness of the lettuce contrasts with the juicy tomato; the meat is drenched in mustard and mayonnaise; while the bread does its best to hold all the ingredients and their flavour.
Breakfast sandwiches charm many sleepy Montrealers with their simplicity, versatility and of course, deliciousness. They can be eaten quickly on the go without compromising the beloved flavour of a classic breakfast. And with Montreal's creative and talented chefs, breakfast sandwiches have become an art form where everyone is innovating by adding an ingredient that enhances the breakfast sandwich experience. The options are as vast as the imagination allows.
Whether you prefer the comfort of a classic breakfast sandwich, the decadence of a rich and imposing version, or the freshness of a light and healthy sandwich, we've got you covered with our list of the best breakfast sandwiches in the city.
Good morning and bon appétit.
For more great morning options, check out our lists of the best croissants, Italian cafes and iced coffees.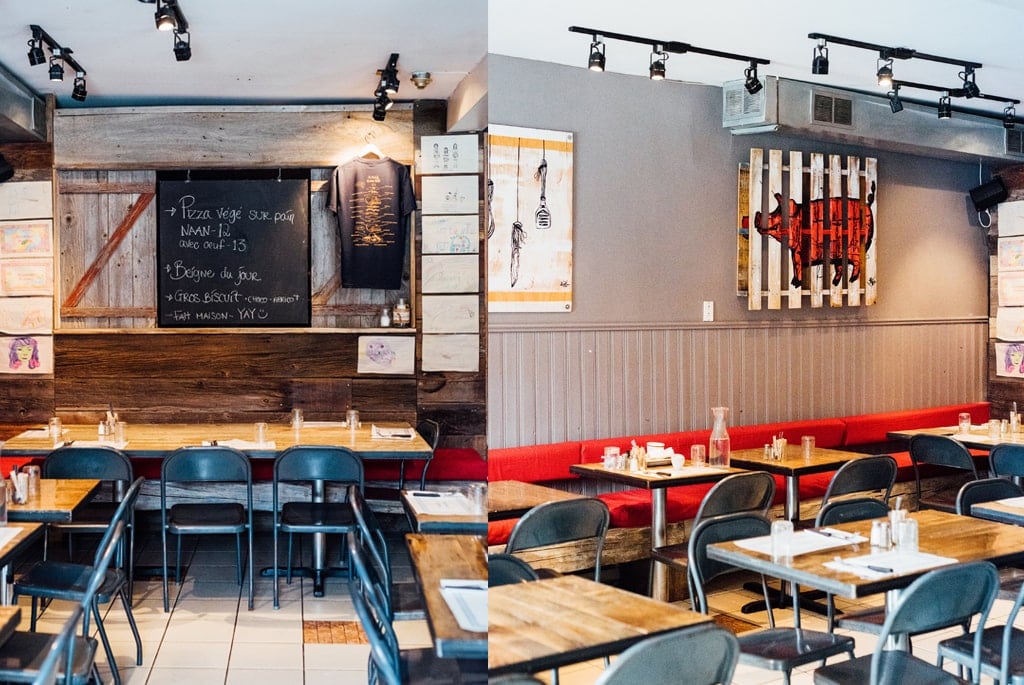 L'Entre-Pots Masson is a friendly neighbourhood cafe and restaurant that offers heart-warming cuisine in a family atmosphere, and here, you're served as though you're friends. L'Entre-Pots Masson offers a daily menu that varies according to market products as well as a fixed menu for brunch. Their breakfast sandwich is the perfect way to start the day! The sandwich is filled with an egg, lettuce, tomato, pickle, bacon or ham, and accompanied by good potatoes or a salad for about fifteen dollars. The staff is cheerful, accommodating and fun: adding a lot to the charm of the place. Photos Alison Slattery
1995 Rue Masson
Montréal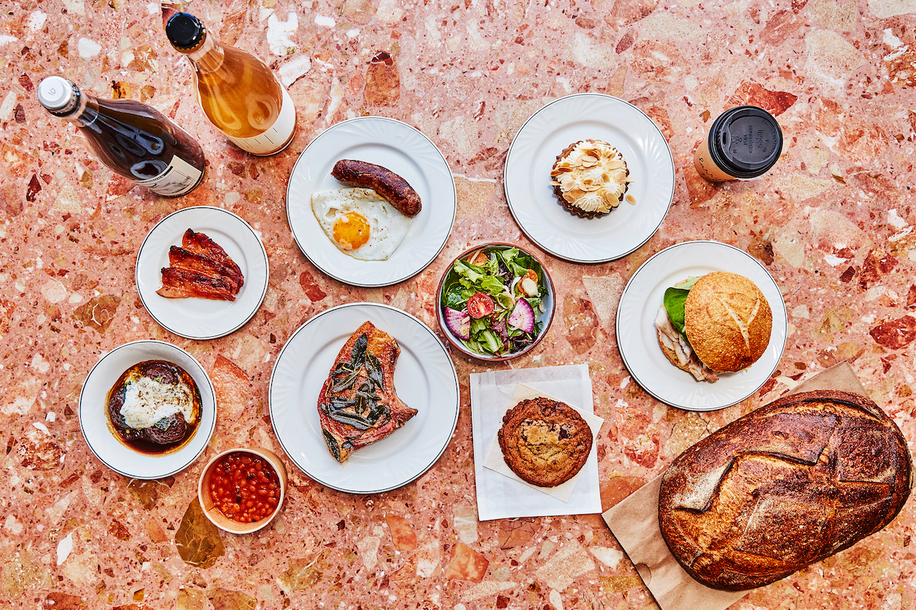 We've told you about it a few times now, but this little place is just great! Larry's is a cafe-restaurant-bar owned by the same people who own Lawrence Restaurant. In this nice and cozy space of only about 30 seats, you'll eat one of the best breakfast sandwiches (!) in town. Plus, breakfast is served all day! The sandwich is made in a homemade bun, with Lincolnshire sausage, melted Valbert cheese, egg, mayonnaise, mustard and lettuce: and it's to die for! It's also on our list of lunches under $10 in the Mile End. Photo Alison Slattery
5201 Boulevard Saint-Laurent
Montréal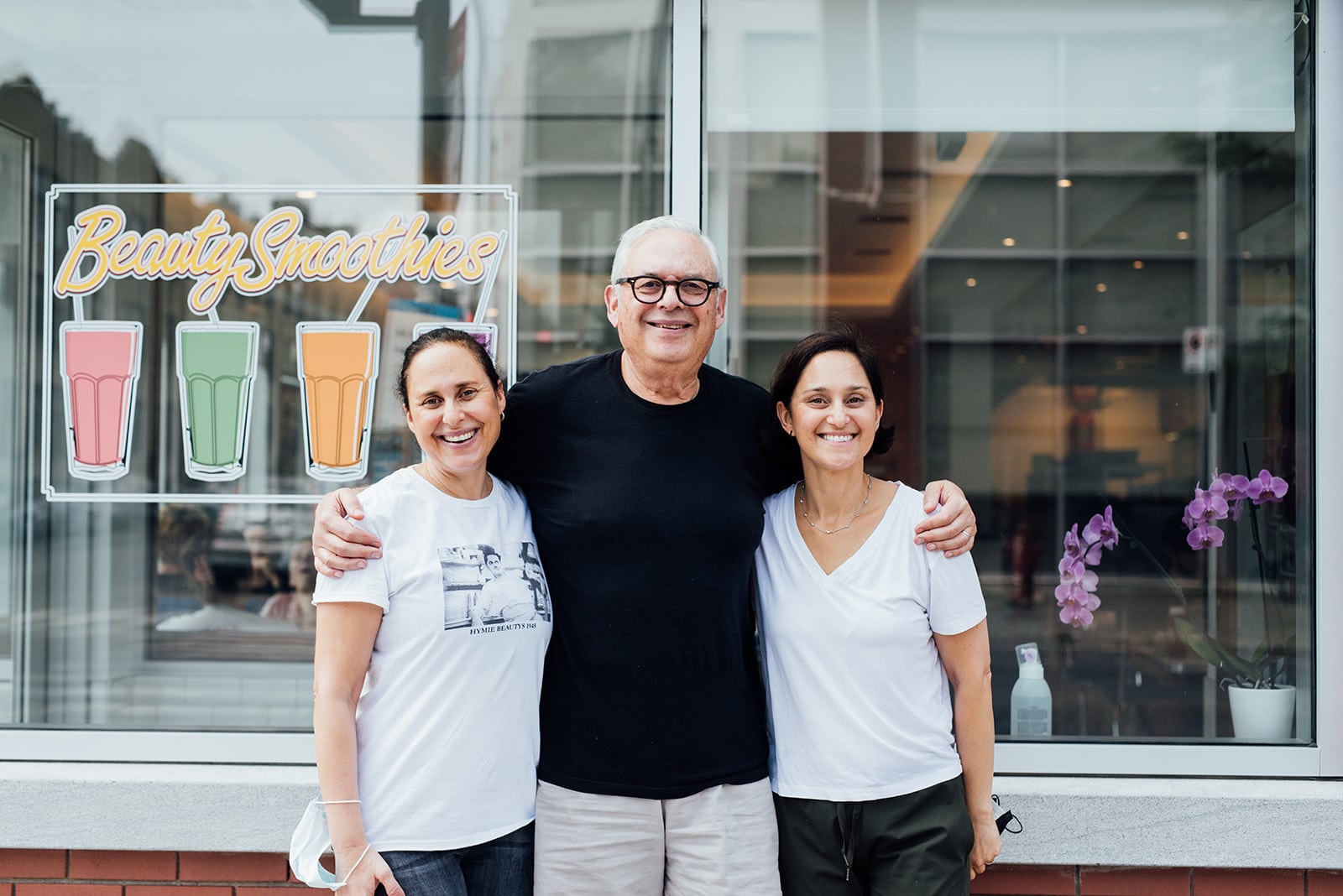 Beautys Luncheonette
Beautys Luncheonette is a Montreal breakfast institution. Open since 1942, the establishment has made itself – and Montreal! – known around the world! Since its opening more than 70 years ago at the corner of Mont-Royal and St-Urbain, the menu has not really changed; it serves generous breakfasts, brunches, bagels, smoked salmon and shakes of all kinds. There are several simple, yet comforting breakfast sandwiches on the menu, and our favourite is the Beautys Bonjour served on a bagel with egg, bacon and cheddar, and the BTL.
93 Avenue du Mont-Royal Ouest
Montréal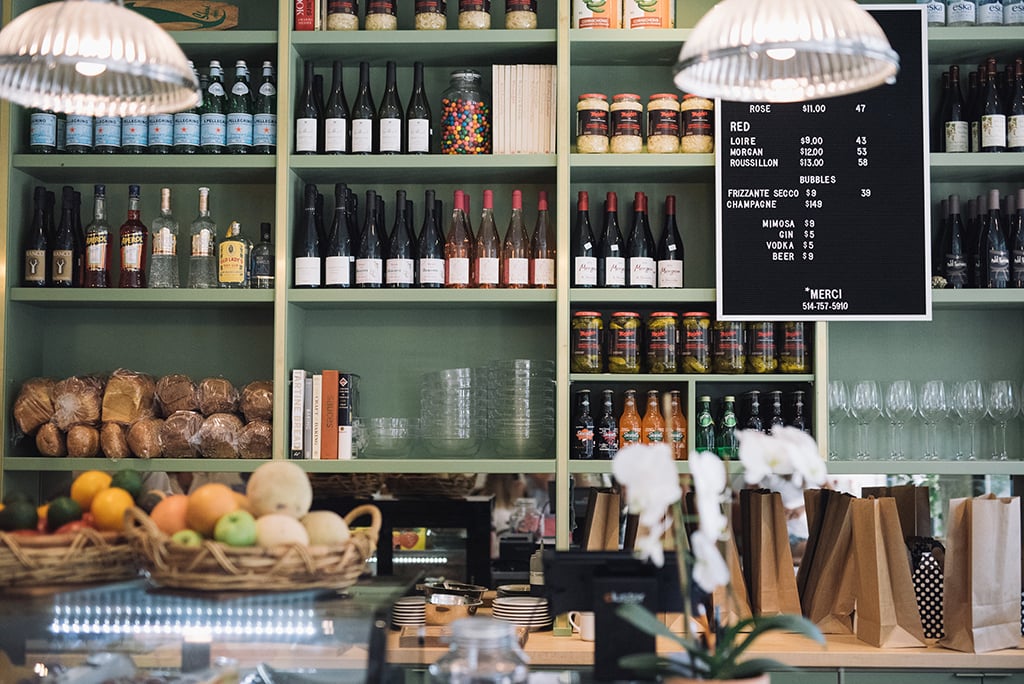 Arthurs Nosh Bar opened its doors on Notre-Dame Street West, in the heart of Saint-Henri, several years ago. The very popular restaurant is located amidst several expanding and popular businesses of the neighbourhood. The place has it all: great decor, attentive service and a hip atmosphere. Arthurs Nosh Bar is a place that offers Jewish specialties spiced up with Chef Alexandre's vivid imagination and they serve a great classic breakfast sandwich on brioche bread. Alison Slattery
4621 Rue Notre-Dame Ouest
Montréal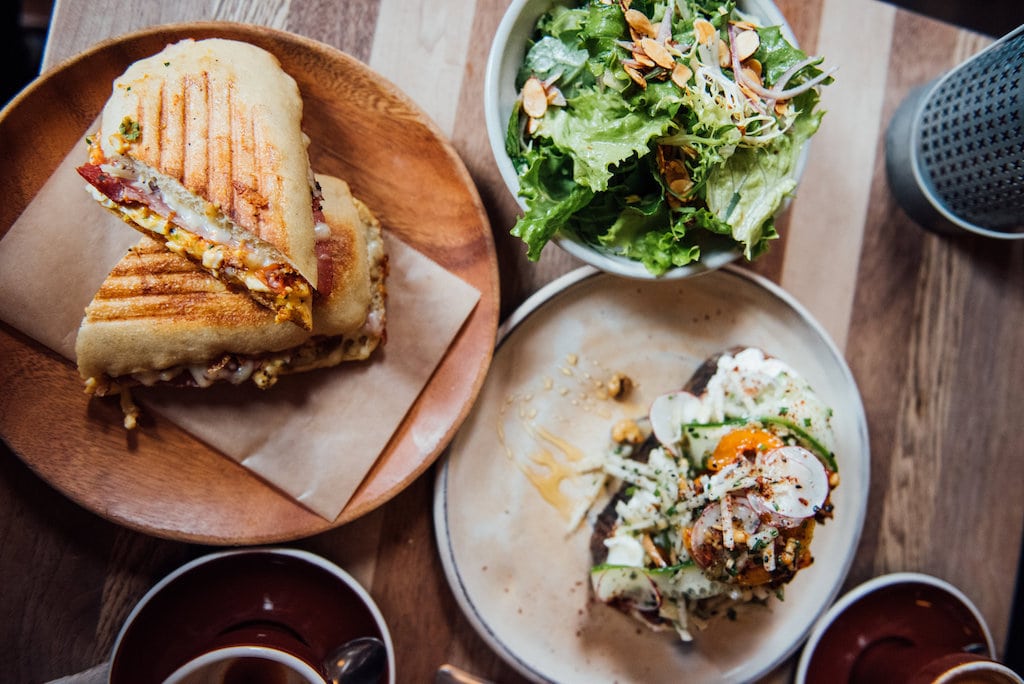 Olive et Gourmando has been around for over 20 years (!) and continues to be one of the best bakeries in Montreal. We come here to enjoy a great breakfast, have a coffee, or show our tourist friends how well we eat in our city. For breakfast, we savour the famous "Poached egg on your face" Panini made with poached egg salad, Louis d'Or cheese, speck, tomatoes, sriracha, fine herbs and toast. A hearty and delicious sandwich! Photos Alison Slattery
351 Rue Saint-Paul Ouest
Montréal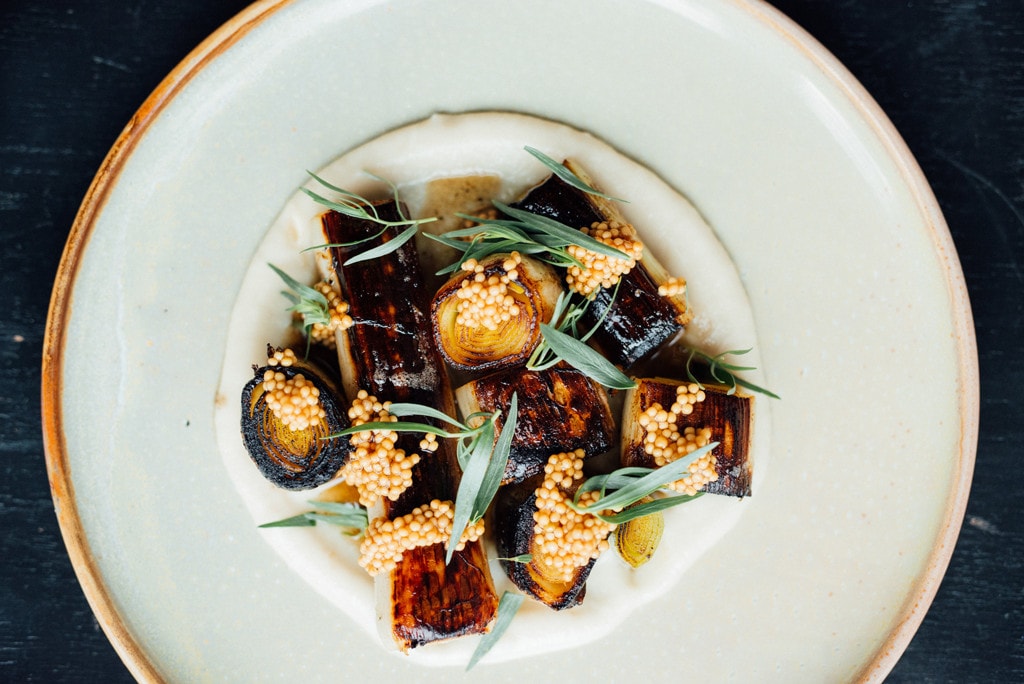 Brasserie Le Réservoir
Le Réservoir is a brasserie and pub located on the Plateau Mont-Royal where you can eat small, delicate and delicious bites from opening to closing. On weekends, the restaurant also offers delicious brunches. In a refined and modern decor, you will be served revisited classics. We particularly recommend the breakfast sandwich, which is on our list of the best brunches in Montreal and which changes every week while keeping its basic ingredients: egg, bacon and tomato, served in a bun with sour cream and mustard. It's topped with eggplant, kale or the vegetable of the moment. A must-try! Alison Slattery
9 Avenue Duluth Est
Montréal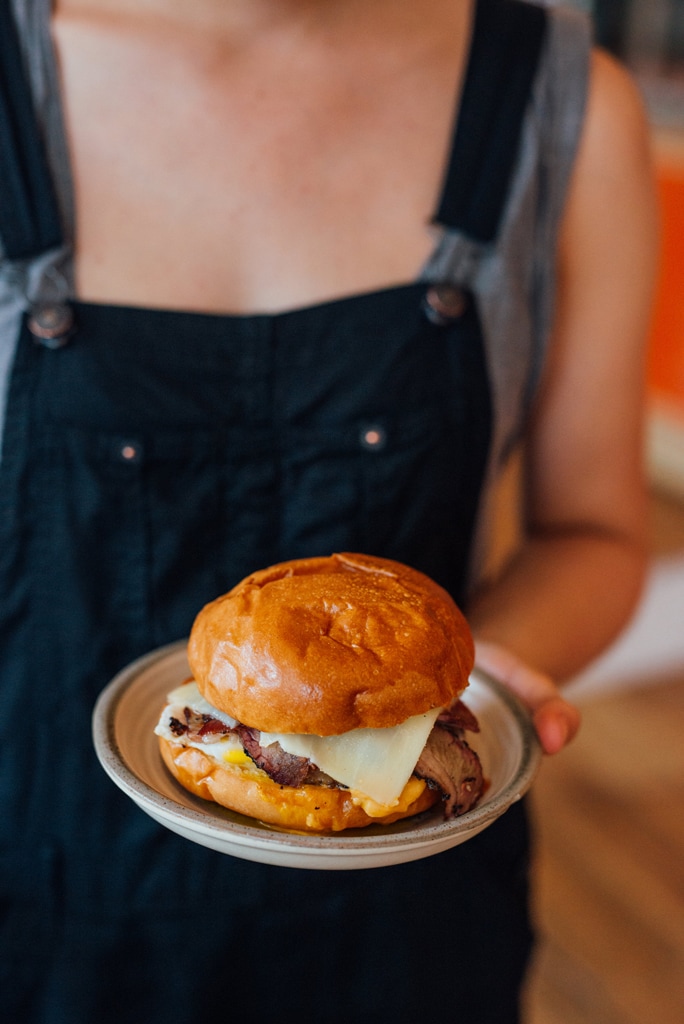 Hélico café is a charming address in the Hochelaga neighbourhood. Alumni of Bouillon Bilk, the young duo that operates the cafe is very talented. The cafe offers a short menu of simple, delicious and fresh dishes for lunch and brunch! David Oulu is responsible for the recipes that are savoured here; refreshing salads, cold soups and other delicious dishes. And what about the breakfast sandwich? It's amazing: homemade bun, homemade big-mac sauce, smoked meat, egg and pickles… it's a real delight! Photos Alison Slattery
2009 Avenue de la Salle
Montréal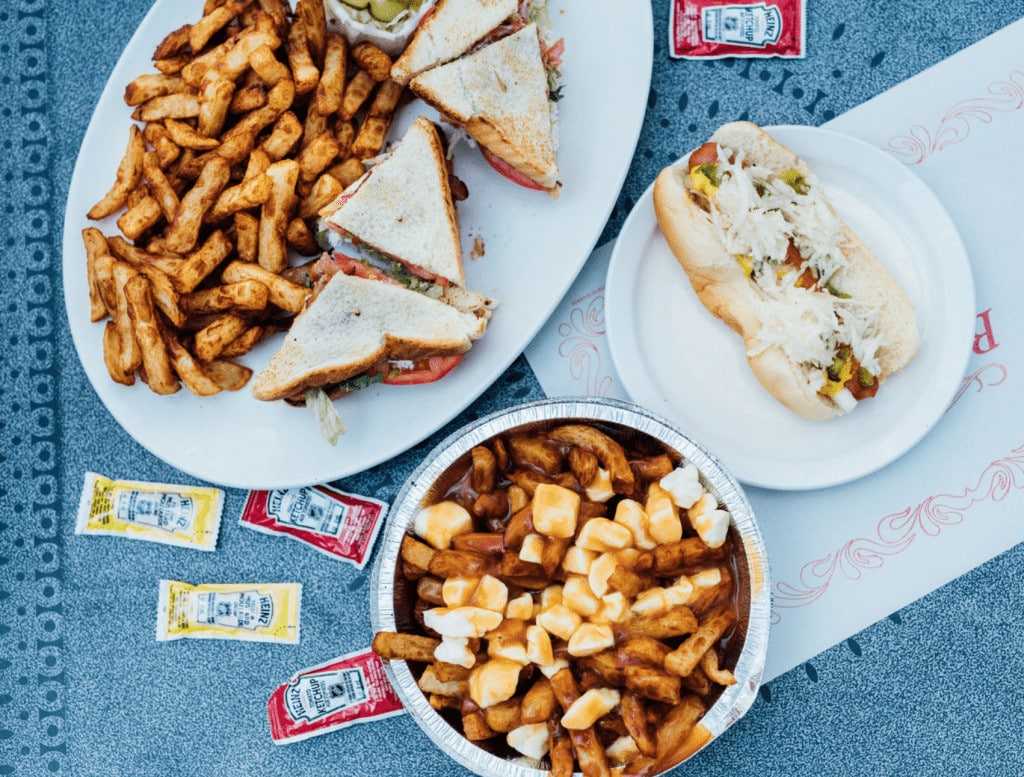 Paulo et Suzanne is a snack bar that has been serving traditional Quebecois dishes since 1980. Open 24 hours a day, the place is reminiscent of the American diners of the 50's with its retro decor. For breakfast, the snack bar offers three good sandwiches: the Supreme Croissant, the Super Bagel and the Grilled Cheese Breakfast, served with bacon and egg. Each plate is accompanied by their delicious homemade potatoes! In addition to making great breakfast sandwiches at low prices, Paulo et Suzanne is known for serving one of the best burgers in Montreal, as well as one of the best poutines! Photo Alison Slattery
5501 Boulevard Gouin Ouest
Montréal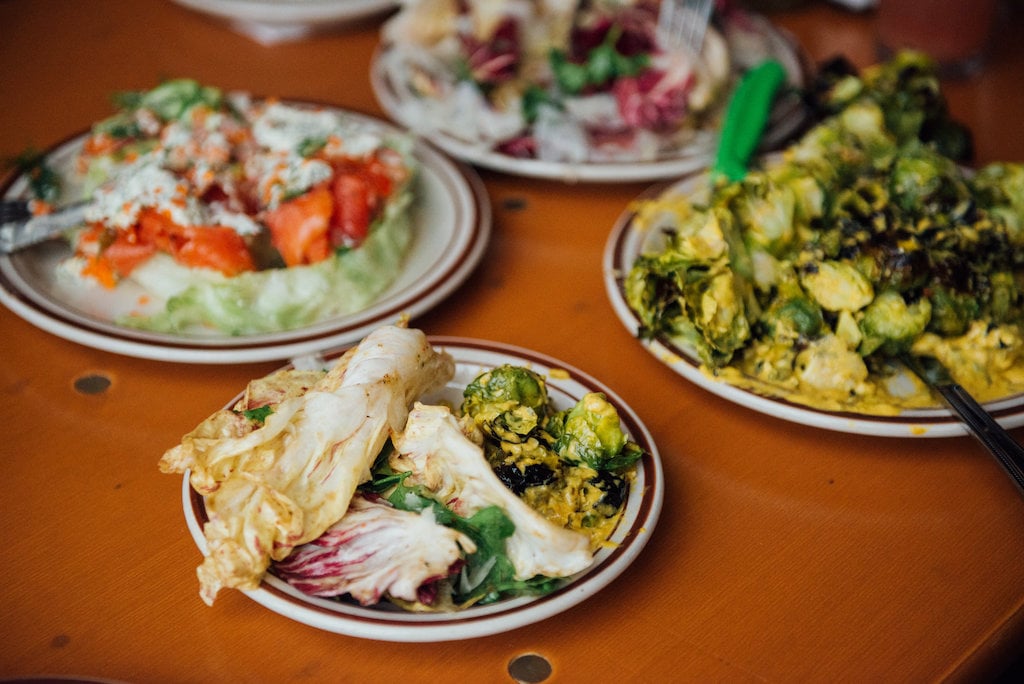 McKiernan Luncheonette is the new project from the folks at Liverpool House, Joe Beef and Maison Publique. Located on St. Patrick Street near Monk Boulevard, the new 7,000 square foot (!) address offers comfort food in a neighbourhood that needed it. The ultimate in comfort food is offered in the morning, in the form of a breakfast sandwich that's to die for. As if we needed another reason to get there as soon as possible (it's also on our list of the best caterers in town!). Alison Slattery
5524 Rue Saint-Patrick
Montréal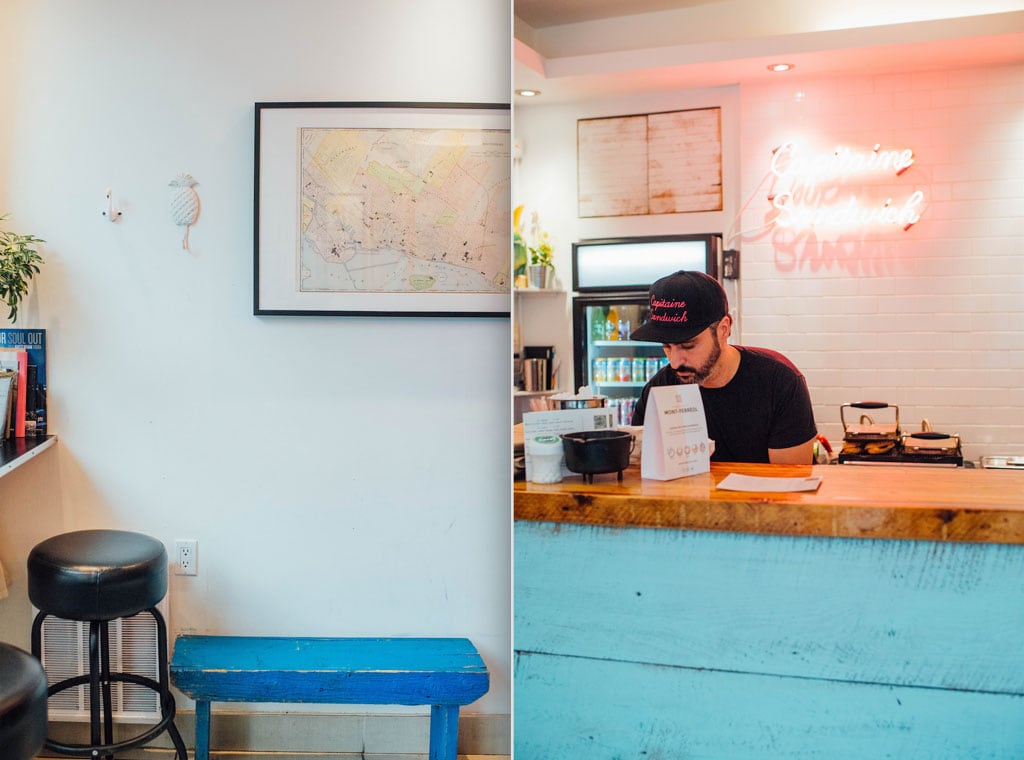 Capitaine Sandwich
We love everything about Capitaine Sandwich! The sandwiches are just right, perfectly revisited and always tasty. Their breakfast sandwich is no exception. Named "Déjeunan", the sandwich is made in a naan bread, with an egg sunny side up, cheese and other surprises! Alison Slattery
Rue de Bullion
Montréal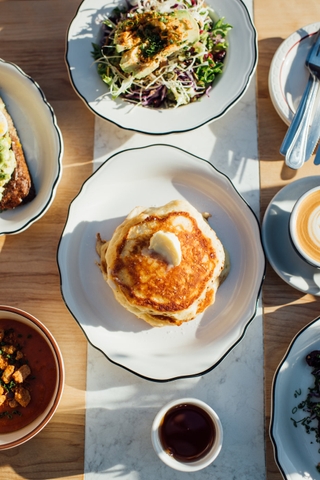 September Surf Café is a place where surfers and coffee lovers meet to chat and relax. The place has remarkable natural light and the atmosphere is very dynamic. The place has a few individual seats and a large communal table. Food-wise, the menu is fairly small, but consists of very well-made small plates using healthy, local ingredients – plus, their breakfast sandwich is among the best in the city!  Photos Alison Slattery
2471 Rue Notre-Dame Ouest
Montréal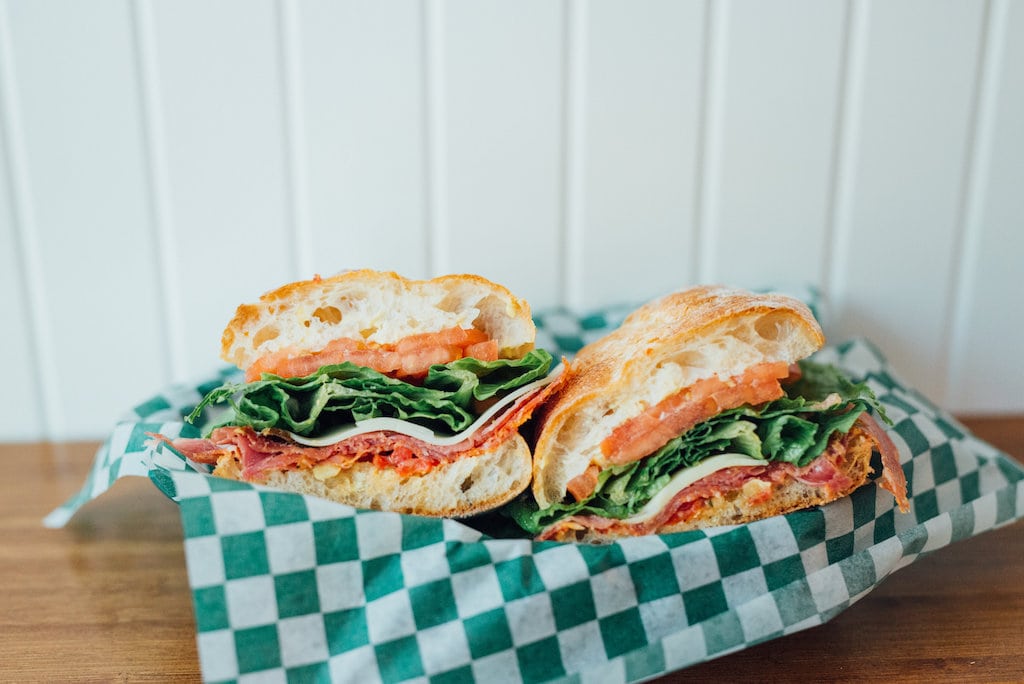 Born out of Frank Servedio's nostalgia for the days when he worked at his parents' bakery, Boulangerie Clarke, Clarke Café opened its doors in Pointe-St-Charles back in 2018. The establishment leverages the baking heritage of its ancestors to serve divine sandwiches that revisit beloved Italian classics. If the breakfast sandwich has earned a premium place on Clarke Café's menu, it's because of its delicious brioche bread, Cajun mayonnaise, sweet pickles and crispy mortadella that perfectly complement the classic egg, bacon, cheese, lettuce and tomato.
2483 Rue Centre
Montréal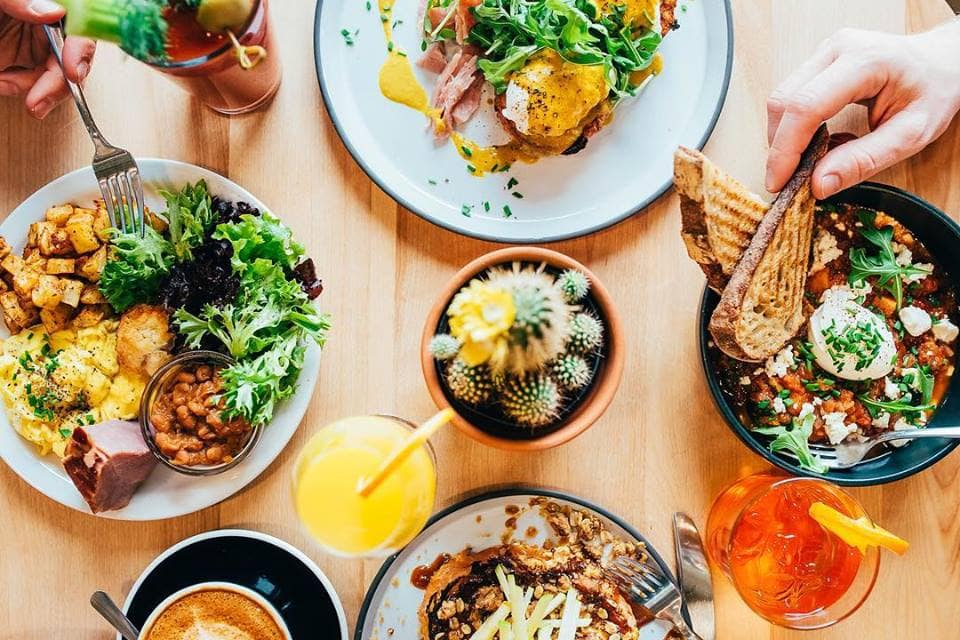 Located in Verdun, the charming Station W cafe is a gathering place for lovers of good coffee and good sandwiches. In addition to serving a decadent traditional breakfast sandwich, Station W offers a vegan version of its morning classic, topped with homemade vegan cretons and maple dijon. Something to convince even the biggest meat lovers!
3852 Rue Wellington
Montréal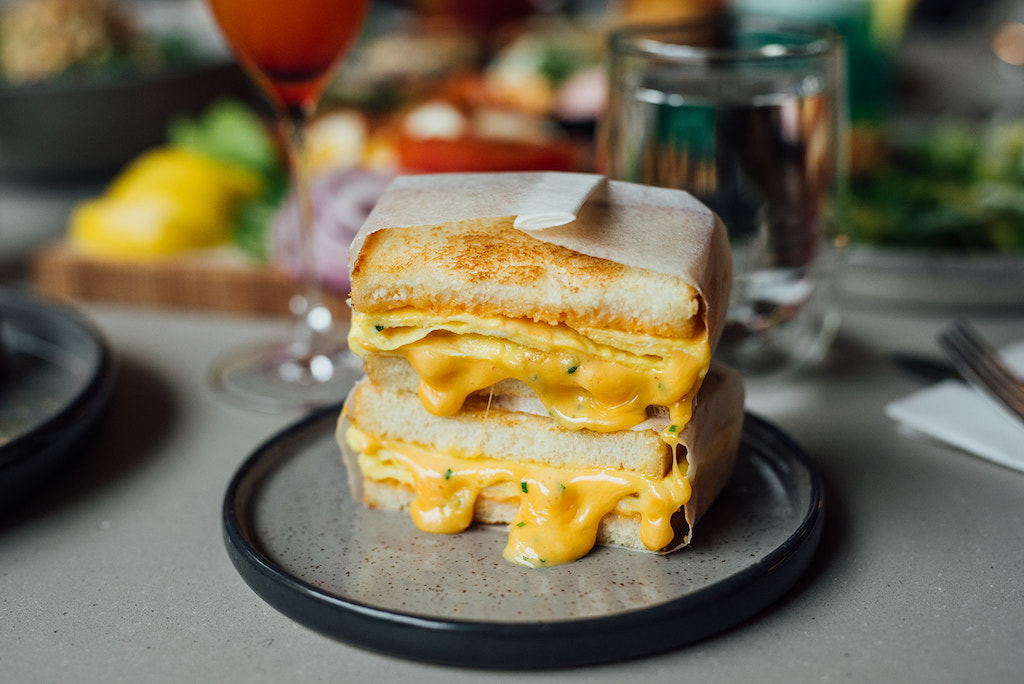 Le Bucky Rooster's propose un menu brunch la fin de semaine ! Au menu, leur fameux egg slut. Une magnifique création de Roy et Jodi Riettie !
3981 Rue Notre-Dame Ouest
Montréal
1995 Rue Masson Montréal H2H 1A5
5201 Boulevard Saint-Laurent Montréal H2T 1S4
93 Avenue du Mont-Royal Ouest Montréal H2T 2S5
4621 Rue Notre-Dame Ouest Montréal H4C 1S5
351 Rue Saint-Paul Ouest Montréal H2Y 2A7
9 Avenue Duluth Est Montréal H2W 1G7
2009 Avenue de la Salle Montréal H1V 2K6
5501 Boulevard Gouin Ouest Montréal H4J 1C8
5524 Rue Saint-Patrick Montréal H4E 1A8
Rue de Bullion Montréal H2W 2E5
2471 Rue Notre-Dame Ouest Montréal H3J 1N6
2483 Rue Centre Montréal H3K 1J9
3852 Rue Wellington Montréal H4G 1V2
3981 Rue Notre-Dame Ouest Montréal H4C 1R2