The Best Breakfast Sandwiches in Montreal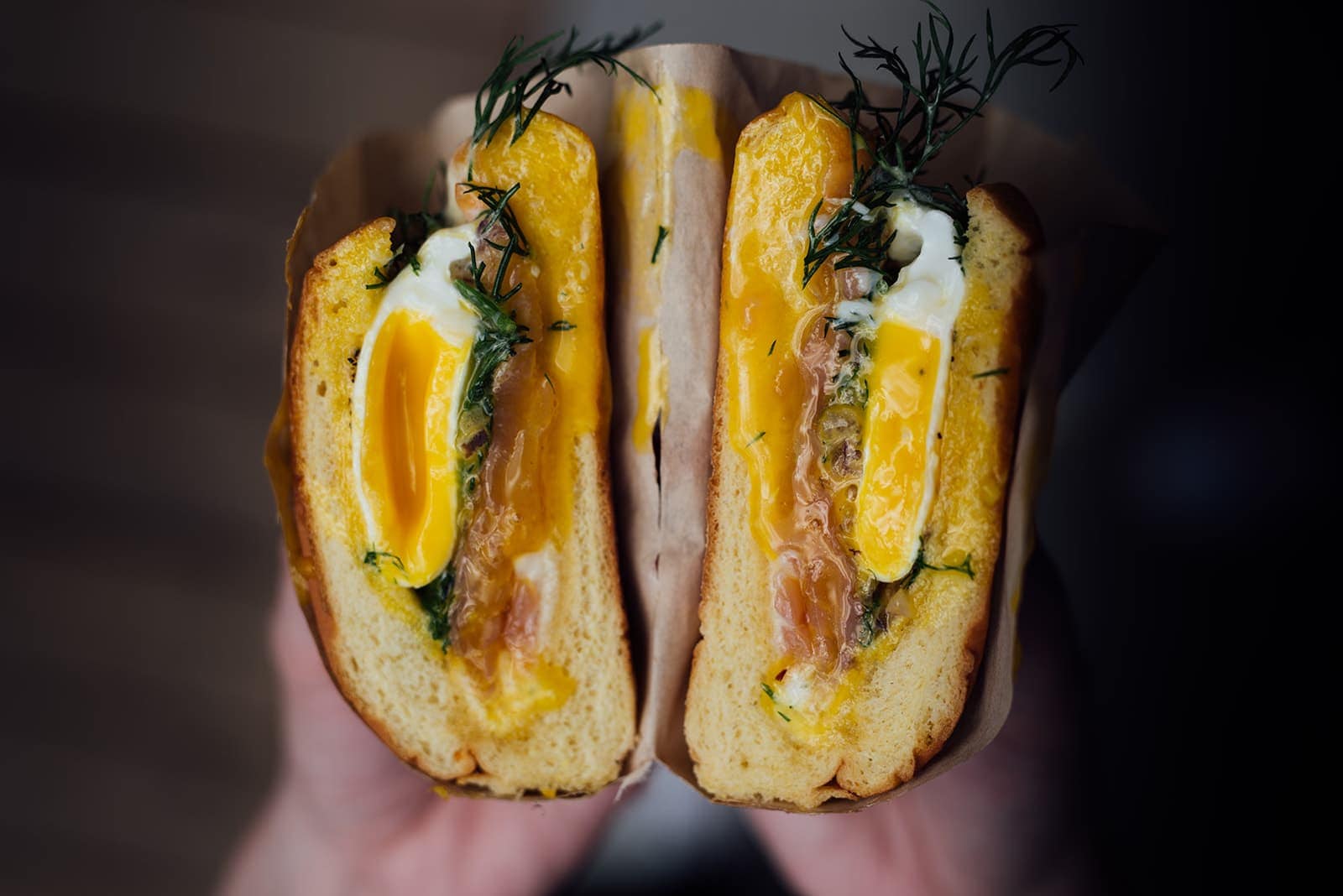 Breakfast sandwiches are little bits of heaven in the morning, as they contain all the best things of a classic breakfast: bread (brioche, English muffin, bagel, multigrain, etc.), an egg (however you like it), meat (bacon, sausage and ham – or all three!), cheese, tomato and a little lettuce. The magic happens when all the elements come together in your mouth. The cheese melts over the cooked egg; the crispness of the lettuce contrasts with the juicy tomato; the meat is drenched in mustard and mayonnaise; while the bread does its best to hold all the ingredients and their flavour.
Breakfast sandwiches charm many sleepy Montrealers with their simplicity, versatility and of course, deliciousness. They can be eaten quickly on the go without compromising the beloved flavour of a classic breakfast. And with Montreal's creative and talented chefs, breakfast sandwiches have become an art form where everyone is innovating by adding an ingredient that enhances the breakfast sandwich experience. The options are as vast as the imagination allows.
Whether you prefer the comfort of a classic breakfast sandwich, the decadence of a rich and imposing version, or the freshness of a light and healthy sandwich, we've got you covered with our list of the best breakfast sandwiches in the city.
Good morning and bon appétit!
See on map
5201 Boulevard Saint-Laurent Montréal H2T 1S4
93 Avenue du Mont-Royal Ouest Montréal H2T 2S5
1995 Rue Masson Montréal H2H 1A5
4621 Rue Notre-Dame Ouest Montréal H4C 1S5
351 Rue Saint-Paul Ouest Montréal H2Y 2A7
2381 Rue Beaubien Est Montréal H2G 1N3
9 Avenue Duluth Est Montréal H2W 1G7
2009 Avenue de la Salle Montréal H1V 2K6
5501 Boulevard Gouin Ouest Montréal H4J 1C8
5524 Rue Saint-Patrick Montréal H4E 1A8
Rue de Bullion Montréal H2W 2E5
2471 Rue Notre-Dame Ouest Montréal H3J 1N6
2483 Rue Centre Montréal H3K 1J9
3852 Rue Wellington Montréal H4G 1V2
3981 Rue Notre-Dame Ouest Montréal H4C 1R2