The Best Bánh Mì in Montreal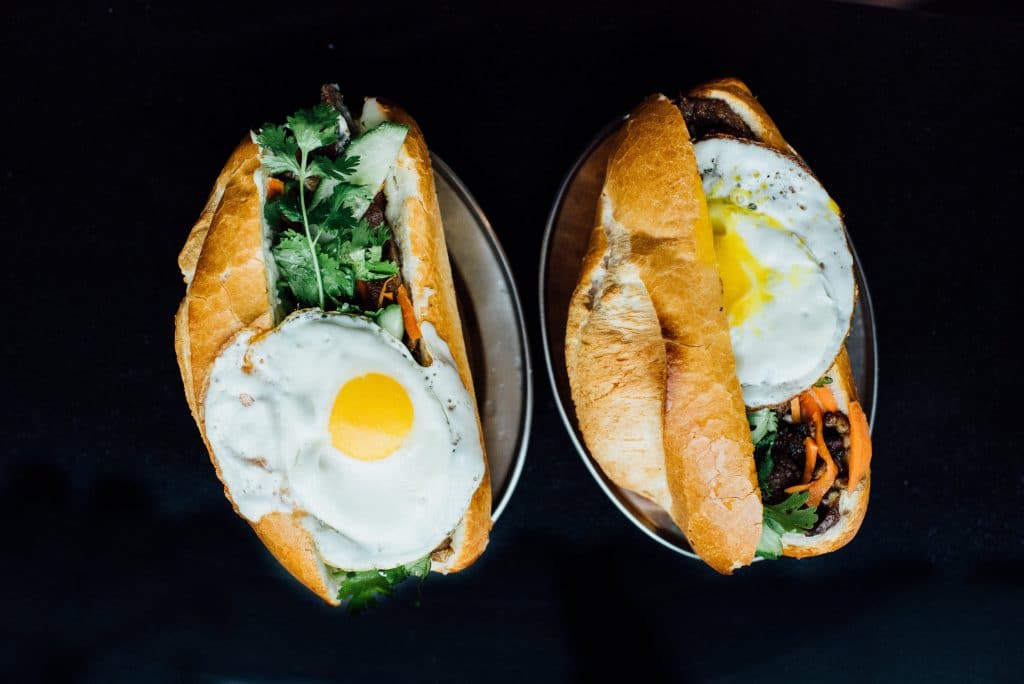 Bánh mì a Vietnamese word meaning "wheat bread" – and also the name for the delicious Vietnamese sandwiches that are eaten if you are in a hurry. It may be a simple sandwich but Bánh mì are all about the flavours!
The staple of this food is the Vietnamese baguette, a legacy of the days of French colonialism in Asia. These baguettes are smaller than the French version and are made with a mixture of wheat and rice flours so the result is a thinner and crustier baguette.
Banh mi are filled with raw vegetables and meatballs (Banh mixíu mại) or pâté (Banh mi pâté). They combine French-influenced ingredients such as pâté, as well as Vietnamese-inspired ingredients like carrots, pickled white radishes, cilantro, soy sauce and meat. Banh mi can include other fillings too, like grilled pork meat, grilled chicken, Silkie chicken, sardines with tomato sauce or pork meatballs in tomato sauce. Mayo can also be added.
In Vietnam, these sandwiches are served with a spicy sauce made from a chili base but here, the sauce is replaced instead by sliced jalapeños. Another variation is found in southern Vietnam and western countries where mayo, butter and egg yolks are added.
The classic Banh mi is served with pan-fried pork slices, pork patties, pork liver pâté, pork bristle and head cheese. The veggie version (Banh mi chay) is made with tofu or seitan. And we are seeing a breakfast version more and more, made with fried eggs, onion slices and served with butter or soy sauce.
Banh mi are a bit like our basic ham and cheese sandwich and they are found on every street corner in Vietnam. It's simple, easy to carry and ideal for eating-on-the-go. All the big cities in the US have adopted this delicious food and now in Montreal, several restaurants have incorporated Banh mi into their menus. So here is our list of the best Bánh mì in Montreal: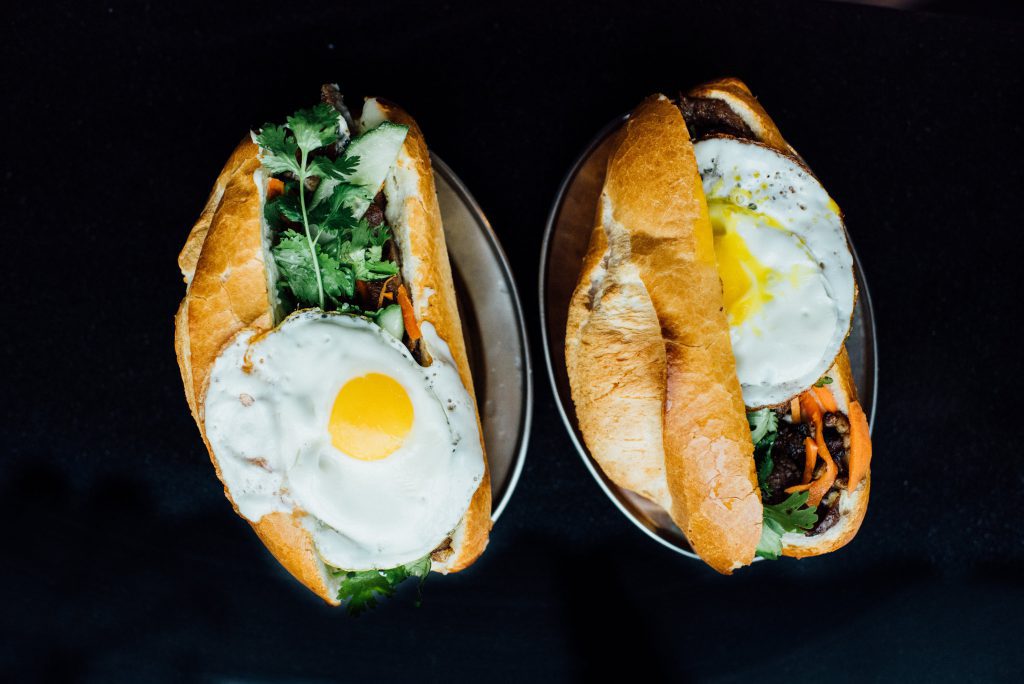 Tran Cantine is a small Vietnamese restaurant that opened in the late spring of 2017. It is located on rue Notre-Dame Ouest at the corner of rue Courcelle and every item on the menu is affordable. Everything at Tran Cantine is homemade, from the soup broths to marinades. The succulent Banh mi come in your choice of chicken, beef or pork and if you want, add an egg or some side-dishes to your order! These Vietnamese specialties are delicious and the service is exceedingly friendly. St-Henri will enjoy having Tran Cantine in the heart of the neighbourhood!
4690 Rue Notre-Dame Ouest
Montréal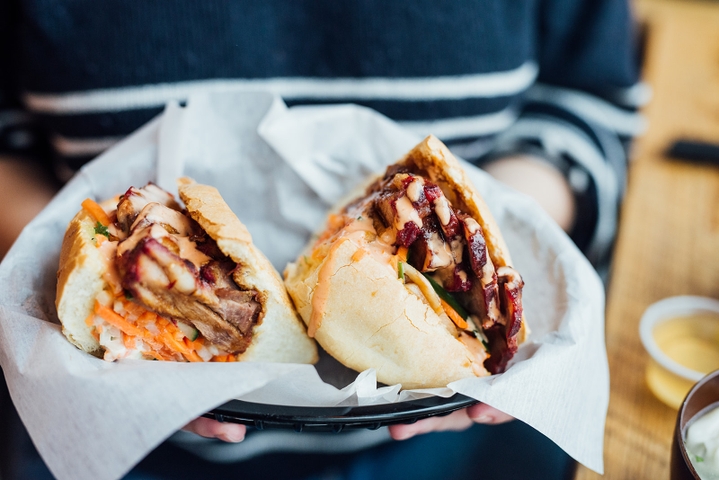 Sue's on rue Beaubien Est serves flavourful and hearty Vietnamese sandwiches!  In a nice setting, there are eight delicious Banh mi options on the menu to choose from, including the traditional (liver pâté, BBQ ham and Vietnamese sausages), a veggie (purple cabbage, cucumber, marinated carrots and daikon), Auber-Chine (Chinese eggplant sautéed in a Szechuan sauce) and Shiitake (fresh mushrooms sautéed in soy sauce). All Banh mi are prepared with homemade aioli, cucumber, cilantro, carrots and marinated daikon, spicy mayo and jalapeños: every one is a delight!
2524 Rue Beaubien Est
Montréal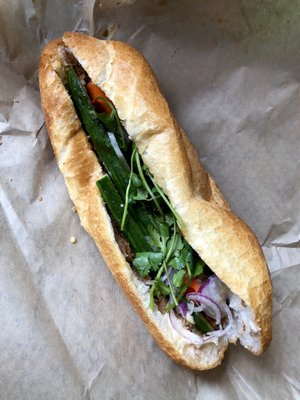 Banh Mi 79
Báhn Mì 79 prepares some of the best Vietnamese sandwiches in downtown Montreal. The Báhn mì served here came recommended by several food enthusiasts and we were not disappointed! They are really fresh and delicious and the service is very friendly. Coming here for a quick lunch and a good Bành mí is well worth it.
79a Rue Sainte-Catherine Est
Montréal
Banh Mi Saigon
Located on rue Jarry Est in Villeray, Banh mi Saigon serves delicious Banh mi at low prices. Run by the former owner of Café Saigon, the choices include chicken, pork, beef and minced pork. There is also a special Banh mi with Vietnamese ham and pork, and nem (grilled Vietnamese sausage)! If you are in the area, do drop in and try these Bánh mì.
696 Rue Jarry Est
Montréal
Café Banh Mi Linh
This unpretentious little restaurant on rue Fleury Est serves good Banh mi but there's more on the menu to choose from : soups, noodles, rolls, stir frys and several traditional Vietnamese dishes. Café Banh mi Linh is one of its places where you eat well, discover delicious small snacks and all without putting a hole in your pocket.
2151 Rue Fleury Est
Montréal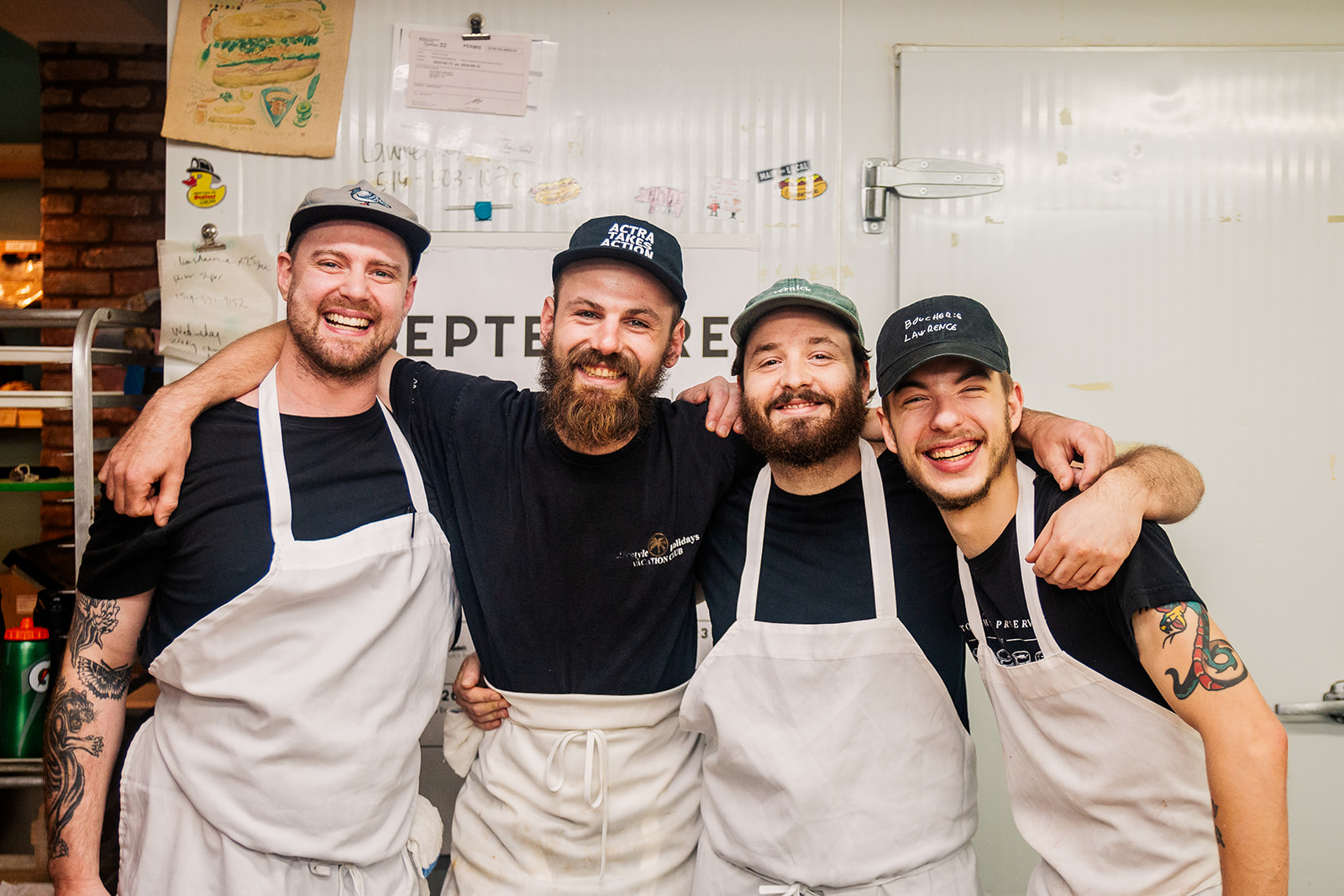 Concerned about the origin of their meat, the owners of Restaurant Lawrence decided to open their own butcher shop and in June 2013, Boucherie Lawrence opened its doors. A butcher's shop with a streamlined design but above all, offering local and organic products where you come to purchase meats, charcuteries and delicious sandwiches, all made with ingredients from small producers and very small farm holdings in Quebec. So you may ask why this is in our list? Because among their sandwiches, there is an excellent Banh mi!
5237 Boulevard Saint-Laurent
Montréal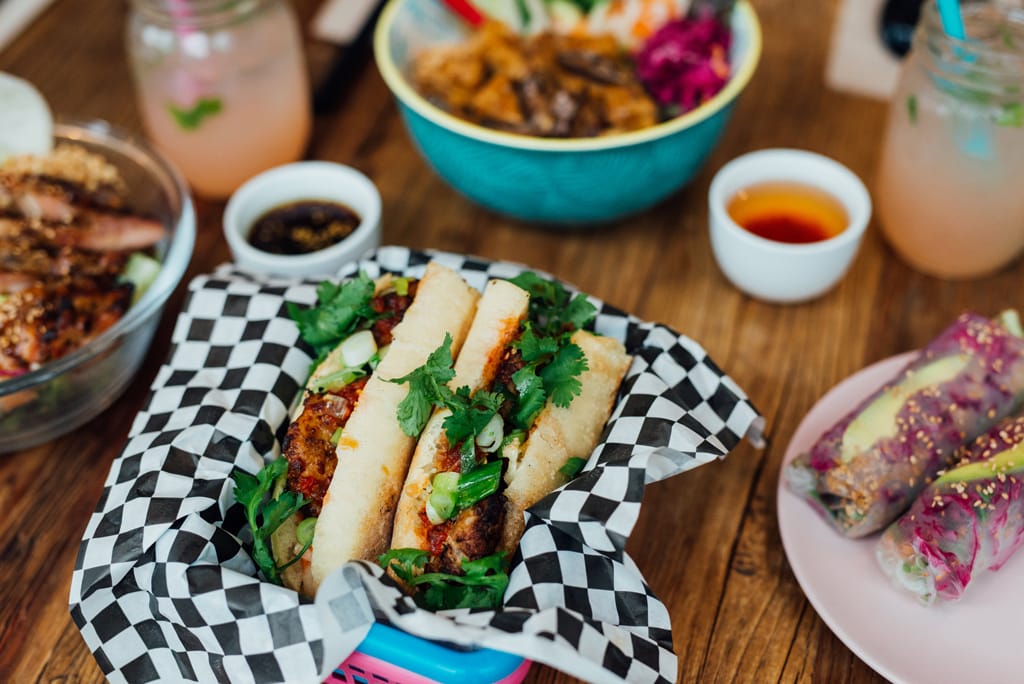 Located in Point-Saint-Charles, this charming restaurant offers a very tasty home-made Vietnamese cuisine. We come here to taste Pho soups, buns, Goi Cuon, Goi, Nuocs and of course, Bánh mi served with a delicious home-made baguette. The place is warm and friendly to enjoy very good small Vietnamese dishes revisited!
1870 Rue Centre
Montréal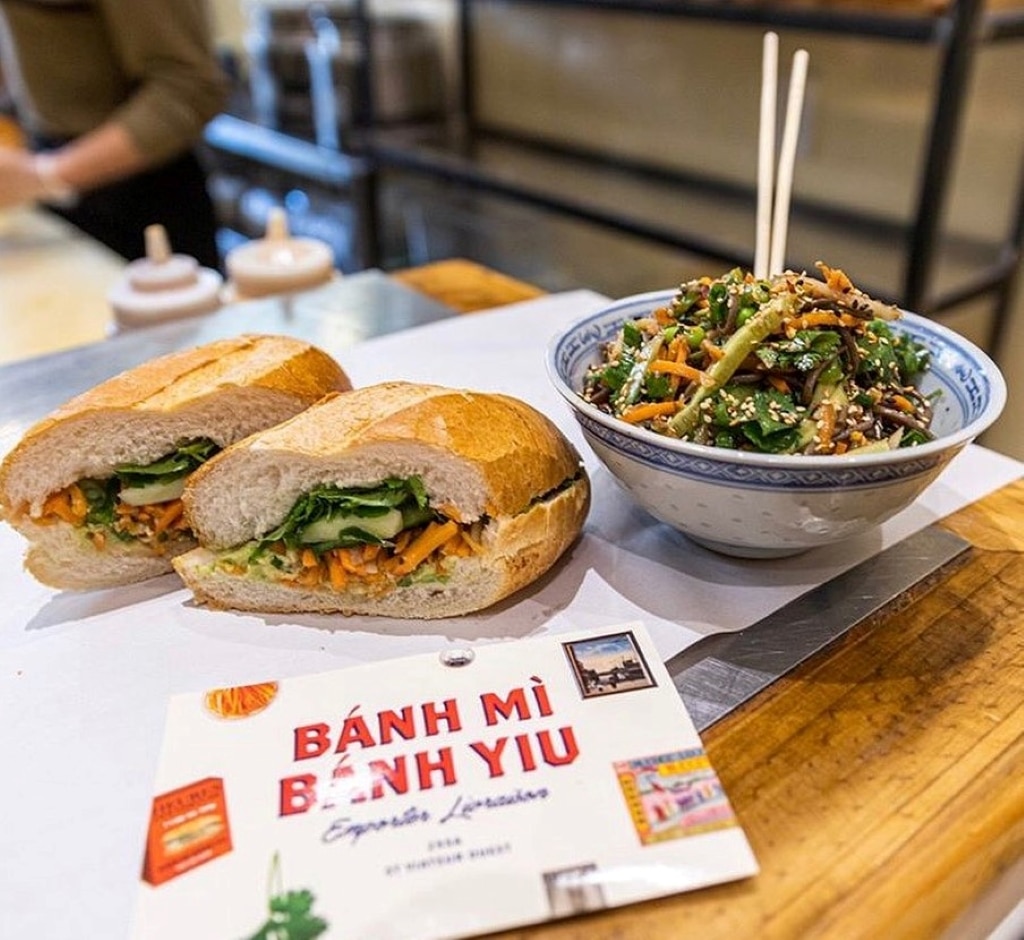 Banh mi Bánh Yiu recently opened in Mile-End in a very nice space and with a friendly young owner. It is unique in the neighborhood, serving very affordable Banh mi such as satay chicken, Char Xiu chicken, braised pork, Chermoula tofu, avocado pâté, dried octopus and sweet potato noodle salads.
255a Rue Saint-Viateur Ouest
Montréal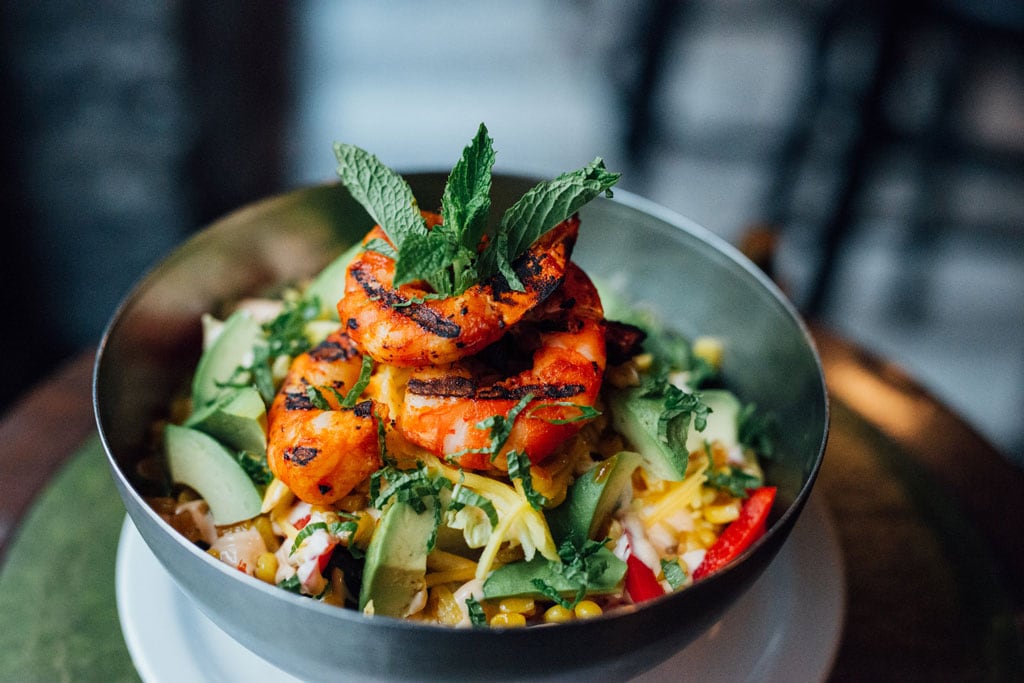 The Pub Saint Pierre is a beautiful address in Old Montreal where you can eat very good food in a warm and relaxed atmosphere. The atmosphere of the house is very friendly and the team's welcome is very warm; this is surely why we find here many loyal customers. The menu leaves room for the creativity and spontaneity of the kitchen team. This approach is reflected in their banh mi, a somewhat revisited delicacy that has everything to conquer your palate. Photos Alison Slattery
410 Rue Saint-Pierre
Montréal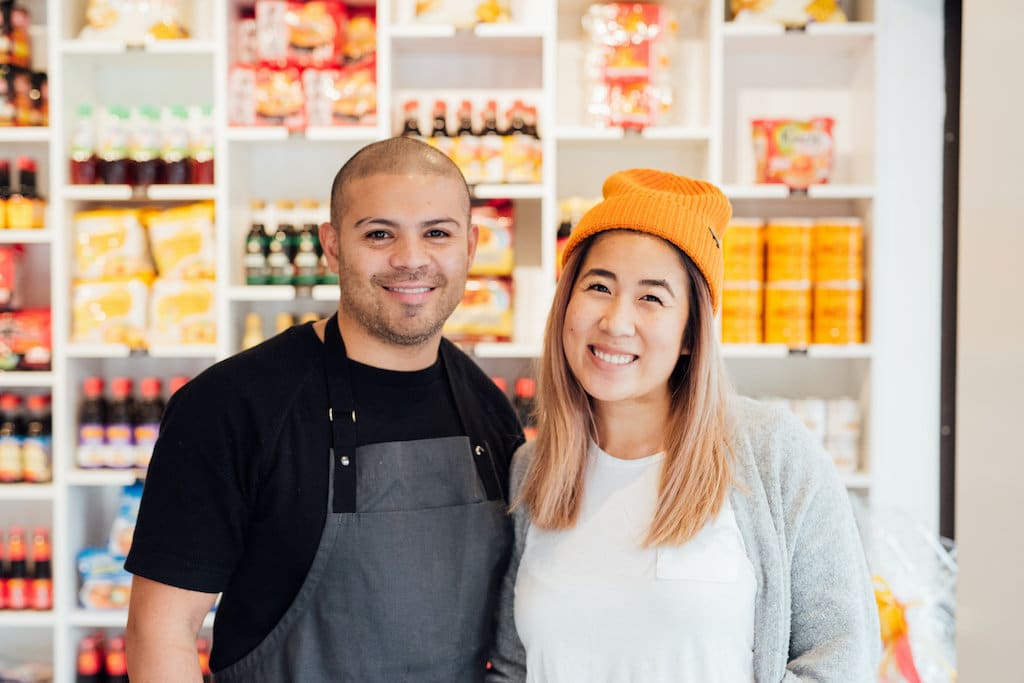 Épicerie Sue is the latest branch of the famous Sandwicherie Sue in Rosemont. On Duluth Avenue East, Épicerie Sue offers delicious banh mi and Asian products. On the menu, there is always the much praised "char-siu" pork banh mi, as well as the more traditional homemade liverwurst and cold cuts sandwich, and a few other sandwiches. The menu is rounded out with spring rolls and salads. Photos Alison Slattery
951 Avenue Duluth Est
Montréal
See on map
4690 Rue Notre-Dame Ouest Montréal H4C 1S6
2524 Rue Beaubien Est Montréal H1Y 1G2
79a Rue Sainte-Catherine Est Montréal H2X 1K5
696 Rue Jarry Est Montréal H2P 1V9
2151 Rue Fleury Est Montréal H2B 1J9
5237 Boulevard Saint-Laurent Montréal H2T 1S4
1870 Rue Centre Montréal H3K 1H7
255a Rue Saint-Viateur Ouest Montréal H2V 1Y1
410 Rue Saint-Pierre Montréal H2Y 1Y3
951 Avenue Duluth Est Montréal H2L 4X5