Satay Brothers: A Saint-Henri staple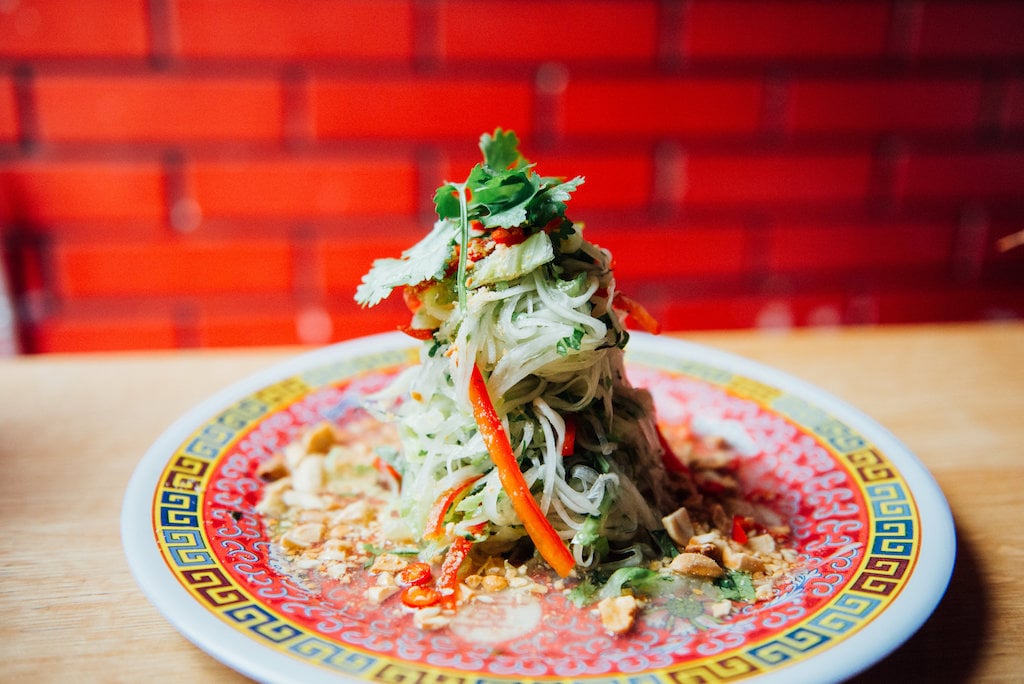 Satay Brothers is a success story between brothers Alex and Mat Winnicki. Their restaurant on Notre-Dame Street West is one of the most popular in town. Montrealers flock there to enjoy classic Asian street food-inspired delights in a beautiful, vibrant atmosphere.
Today, Satay Brothers boasts a 130-seat restaurant, a private room, a counter at the Atwater Market, a canteen at the McGill University Health Centre, and a catering service. Above all, it is authentic Singaporean street food, like nowhere else. It's also a must-visit institution and one of our favourite restaurants for both family lunches and group parties. But it all happened gradually.
Their history is inspiring; here's our attempt to recount it for you.
The Market Stand
The Satay Brothers story begins in the neighbourhood of Saint-Henri, where Mat and Alex grew up. "We lived for 25 years in a neighbourhood that was pretty poor at the time, but our parents always took us out to eat all over Montreal. That must be why we love the cultural diversity of Montreal's restaurant scene [which they are now a part of!]," they confide.
Alex started selling fruit at the market. Mat studied visual arts and graphic design. In 2010, they wanted to open a "hawker" style counter (that's what street food counters are called in Asia) and chose to set up shop at the Atwater Market. "My dad told us that 'Winnicki Brothers' wouldn't be descriptive enough, whereas with 'Satay Brothers' people would know what to expect." So they started with a simple menu: satays, buns, papaya salad and the now legendary Laksa soup. "Those dishes will always be there, that's our base, although now we're expanding the menu and always adding a few new things."
The evolution of the restaurant
Following the success of their market stall—which was only open during the summer—they opened a 20-seat restaurant on Saint-Jacques Street. However, soon after, the small space proved too small to meet the growing demand, and Satay Brothers moved to an 80-seat space at 3721 Notre-Dame West in 2013. The new space also included a small waiting room and a private room for groups. Ten years later, the adjacent business became available, and it was the perfect opportunity to expand and add a second room for busier nights.
Why we love Satay Brothers
Satay Brothers' reputation is built on the quality and authenticity of their menu and experience. Their favourite dishes? Laksa soup (our favourite, too), Rendang (a tasty braised beef dish in a coconut milk sauce) and Otak Otak (grilled fish in a banana leaf). "Our dishes are prepared with a variety of spices that give strong flavours. Our cuisine is inspired by many different countries and regions, which is why we use a wide variety of ingredients. Almost all our products are homemade." Also of note are the delicious meat or tempeh satays, steamed pork belly buns, gado gado salad, and the essential papaya salad—all finger-licking good! The desserts feature recipes from their mom, who passed away in February 2015. She was a huge support in the creation of Satay Brothers and has been watching over the project from up there ever since.
Beyond the food, there is also the warm and lively atmosphere of the restaurant. Why exactly did you open a restaurant? "We like to make people happy. I think it's as simple as that." Mat and Alex succeed brilliantly at doing just that, which is why we continue lining up at the Atwater Market in the summer, and meeting up with those closest to us to share a delicious meal in their dining room on Notre-Dame Street.
Forever a favourite, the Satay Brothers hold a special place in our hearts—and in our bellies!
Written by Sarah Laporta