Satay Brothers: Festive & delicious address in St-Henri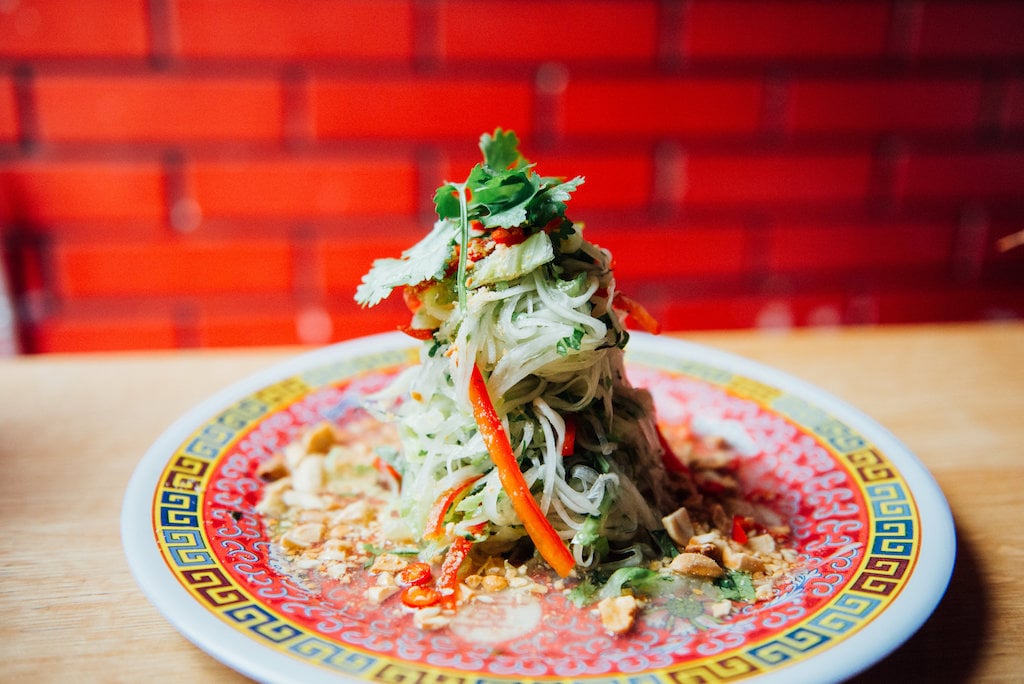 Satay Brothers is a small haven of happiness on Notre Dame St West. This is surely due to the hard work of Alex and Mat Winnicki and also the efforts of other people close to them.
The market stall
Their story really started while they were growing up in St Henri. "We lived in a neighbourhood that was poor at the time, but our parents always took us to eat all over Montreal. This must explain why we love the cultural diversity of the restaurants here." So from an early age, they were eating good food, and in a neighbourhood they loved.
Alex started selling fruit at the Atwater Market while Mat was studying art, painting and graphic design. Four years ago, they opened their own stall; "My own father used to say that the name Winnicki Brothers won't mean much to anyone but when it's the Satay Brothers, then everyone will understand". So they started with satays, buns, papaya salad and their legendary Laksa soup. "These are items that will always be available, and even if we expand the menu, these are our classics. And we do plan to add lots of new things."
Satay Brothers is a comfortable, lively place where you dine on food that will transport you far away from the Quebec winter. As the Satay Brothers say themselves, this is Singaporean Street Food, with a delightful mixture of very tasty Malaysian and southeast Asian flavours. This is the cuisine they grew up with, and they are passionate about the ingredients and the flavours. Since the restaurant offers delicious dishes at low prices, the place is among our list of Montreal's cheap eats!
The first restaurant
Following the success of the stand at Atwater Market, Alex and Mat opened a small, 20-seat restaurant on Saint Jacques St.  Everything worked well, from the service and food to the layout. "I remember, whenever a beautiful girl walked into the restaurant, my mother would tell me 'seat her next to such & such, he's single' (laughs) and relationships were made. We hardly meet anyone anymore. Large tables allow strangers who enjoy talking to each other, to become friends because they have shared something, the story of an evening or more."
The new restaurant
The problem was that people were waiting too long. There were even customers who didn't come anymore, so in 2015, they opened their new restaurant on Notre Dame St West with 80 seats, more cooks, a larger food station, a bigger cold room, more catering facilities. Ah! Satay Brothers does catering ? "Well, yes: cocktails for weddings, outdoor parties and what I prefer is the charcoal grill. We take email orders."
The Market and the restaurant remain their priority, but they can now do a little more of everything. The boss is your brother? "Yes, it's Mat. I'm the cashier (laughs). I do the service at the tables with my half-brother Phil." Phil, where did he come from? "From Hong Kong and Quebec. His father makes the candy at Dragon Beard in Chinatown! Phil takes care of the wines, the cocktails and helps me with the service." In the Gazette article, Alex says "We have a team that's like a body, if some of the parts fall off, it's not going to work."
The menu
The favourite items? Laksa soup (ours too), beef Rendang, Otak Otak, Nasi Lemak – such exotic names. The dishes offer a multitude of spices, with pronounced tastes. This is cuisine inspired from many countries with not just many different ingredients but also regional differences. Everything on the menu is made by them: soup stock, buns, etc. except they do bring in the sandwich bread, but note that it is made according to their recipe. All the desserts are from their mother's recipes. She passed away last February, but they're pretty sure she still watches over everything to make sure the restaurant and her children are working well.
Why did you open a restaurant? "We like to make people happy… I think it's that simple."
Even when there is a line (and that happens often), it's worth the wait. There's so much to enjoy, from the food to just being there.
Written by Élise Tastet