Les Crazy Chickens: Korean fried chicken in Saint-Henri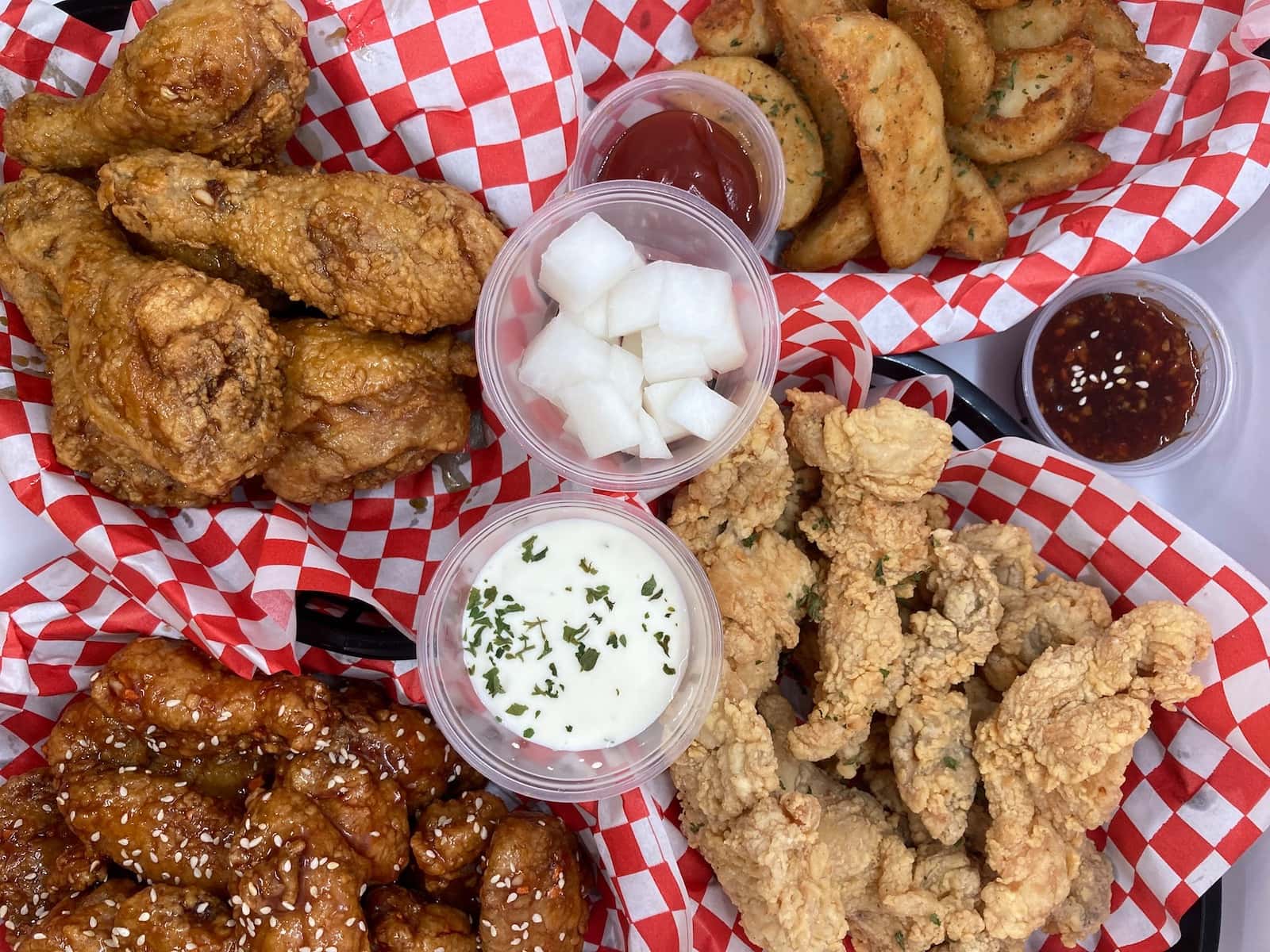 Les Crazy Chickens

Monday: 12:00 – 2:00 PM, 5:00 – 9:00 PM
Tuesday: 12:00 – 2:00 PM, 5:00 – 9:00 PM
Wednesday: Closed
Thursday: 12:00 – 2:00 PM, 5:00 – 9:00 PM
Friday: 12:00 – 2:00 PM, 5:00 – 9:30 PM
Saturday: 12:00 – 9:30 PM
Sunday: 12:00 – 8:00 PM

Since October 2020, a new restaurant has been added to the long list of good gourmet addresses in Saint-Henri. Les Crazy Chickens is a restaurant that specializes in Korean fried chicken. The owner of the restaurant, Jisoon Park, arrived in Montreal in 2017 and has since embarked on her first adventure in the restaurant industry.
Jisoon grew up in Korea, and it was the experience of her country's cuisine that inspired her to open a restaurant where chicken is the star of the show: "Chicken is a very common dish in Korea. We used to prepare it and share it with the neighbours. I was getting good feedback, so I decided to open a Korean chicken restaurant". The decision to open in Saint-Henri was not difficult. Jisoon likes to frequent the Atwater Market and appreciates the many good restaurants in the neighbourhood.
The main event
On the menu, the fried chicken is the main event. They offer many different cuts of chicken as well as six different sauces which you can have smothered on the chicken, or on the side. The flavours vary and there is something for everyone's taste, whether you prefer spicy or sweet. The most popular is the "hot and spicy sauce". The menu was created by the owner with the help of her friend Hanhak Kim (Otto Yakitori). Korean fried chicken is different from American fried chicken in several ways. First, the chicken is fried twice, which makes it very crispy on the outside but always tender on the inside. The chicken pieces are also lighter and very tasty. Another very popular dish on the menu is the spicy bao. We love the flavours in Les Crazy Chickens dishes, but a wider variety of fresh sides would make the meal more balanced. All in all, the experience is still very satisfying.
The restaurant does have seating for the near future when customers will be able to dine inside, but in the meantime, it operates on a take-out basis. Les Crazy Chickens is open seven days a week! A new address to try for fried chicken lovers.
Written by Marc-Antoine Ranger
Photography by Les Crazy Chickens