Montreal's Best Poutines: Where to eat an amazing poutine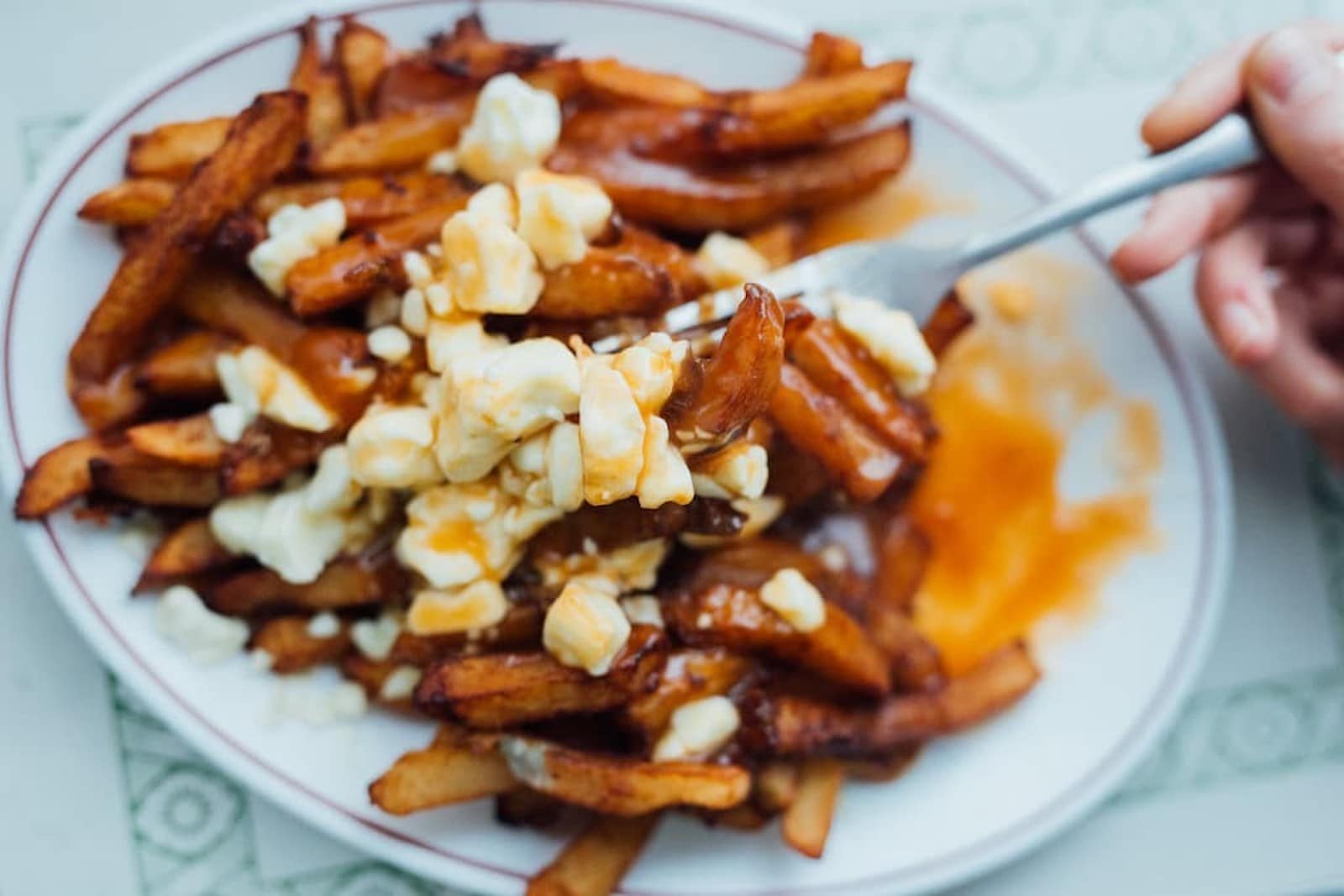 Are Montreal's best poutines really gourmet food? We certainly think so! When we talk about Quebec gastronomy, and let's remember that gastronomy is a word associated with « what we eat », poutine simply can't be ignored (pronounced « poo-teen, yes – poo-teen!). Poutine is becoming more and more famous around the world, and continues to make inroads on some menus in parts of Canada.. And poutine is such comfort food. We know it's popular – we've witnessed overflowing restaurants at 4am, with customers clamouring for this unique delicious food!
The book « Maudite Poutine », (That Damn Poutine) published by Héliotrope, mentions that « Quebec gastronomy is really like a lumberjack's kitchen and not advisable to eat if you are dieting ». Maybe that's why Quebeckers tend to be so cheerful? We enjoy life and this is reflected in our cuisine. And just to get us through the lethargy and harshness of our winters, of course it can help the soul to eat the kind of things that dieters would never touch!
The origins of poutine are controversial. What we do know is that this traditional Quebec dish first appeared in the late 1950s in central Quebec (where coincidentally, many Quebec cheese producers specializing in cheddar cheese curds are located).
Best poutine essentials :
Cheese curds (also affectionately called « cheese droppings »)
Brown gravy
French fries
+There are also some creative versions with added meat, vegetables and other ingredients (think of Martin Picard who adds foie gras to his poutine at Le Pied de Cochon and Chuck Hugues's version with lobster at Garde-Manger).
Here are Montreal's best poutines: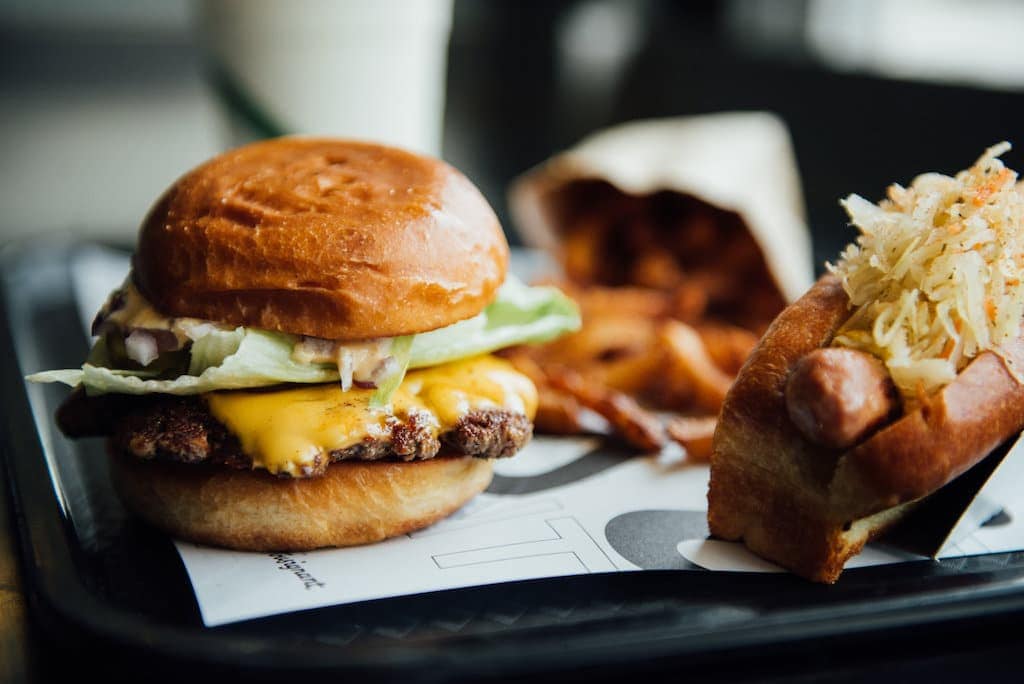 This exceptional little snack bar offers a canteen-style menu of Quebec dishes where you can eat one of the best poutines in the city! The retro decor reminds you of a diner right out of the 1950s and 60s. They serve a classic poutine made with Quebec-grown potatoes, sprinkled with Tousignant's own spice mix.  These are then topped with Quebec-sourced cheese curds and a chicken gravy. There are both small and large sizes.
6956 Rue Drolet
Montréal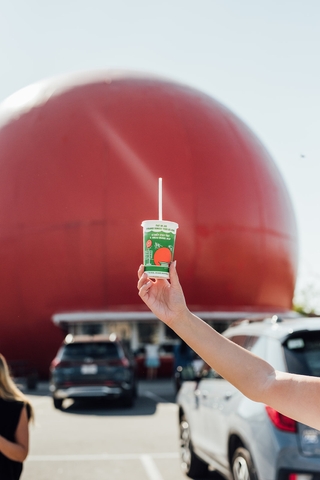 Julep's doors were opened by owner Hermas Gibeau way back in 1932 but the huge orange-shaped structure only appeared later, in 1945. Julep has been at its present location on Blvd Décarie since 1966 (51 years!). This is your classic fast-food kind of menu but the inside of this huge orange ball-shaped structure counts as a must-see place in Montreal. The specialty is, as the name suggests, Orange Julep but the poutine is also great! During the summer, Julep is open 24 hours a day.
7700 Boulevard Décarie
Montréal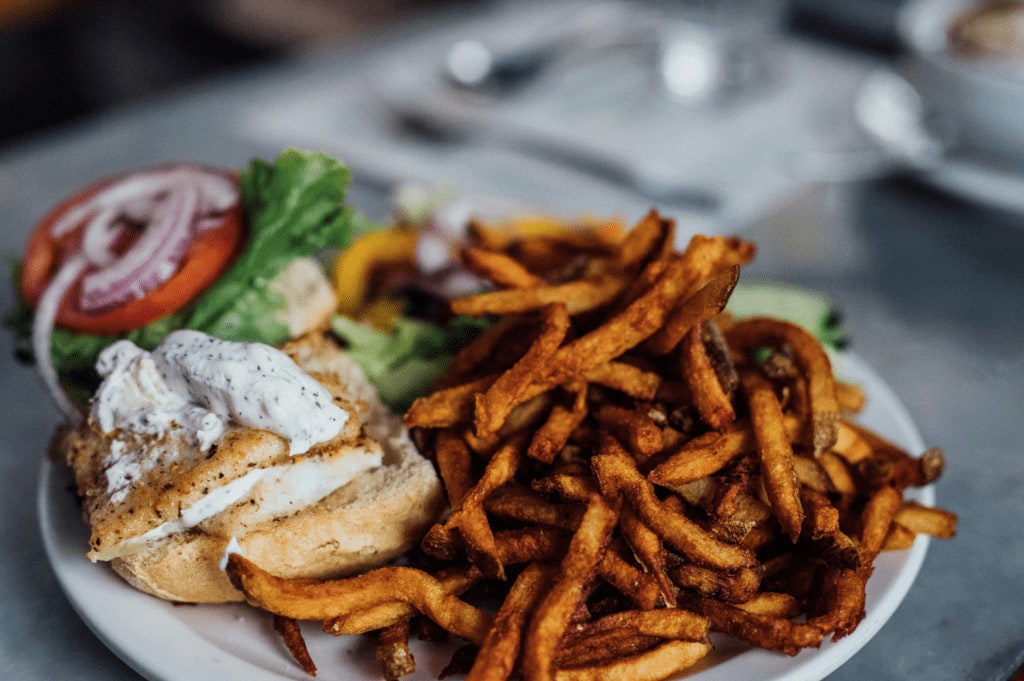 Patati Patata is a charming "Friterie de Luxe" on Blvd Saint-Laurent, serving its customers for over 20 years! Don't be taken aback by the small size of the place because you're here for the excellent poutines not the location. This is a place of mythical proportions, along with their classic poutine. The portions are reasonable, not enough to give you indigestion but certainly enough to satisfy any cravings. Patati-Patata also offers their "patatine" version with mushrooms, onions and peppers.
4177 Boulevard Saint-Laurent
Montréal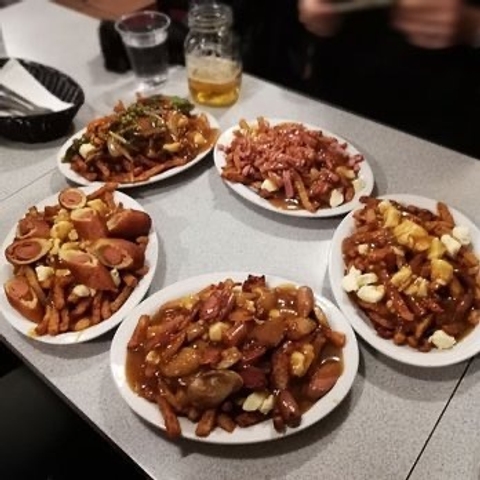 Chez Claudette
Oh my! Choose from 35 different poutines chez Claudette! This is a classic Plateau Mont-Royal restaurant where regulars come to enjoy a classic breakfast or a great poutine and are always made to feel welcome. Some want to eat quickly and go, others stroll in and read a book. Even if they offer some of the most original poutines, it's the classic one that keeps bringing us back either in the small or large size.  
351 Avenue Laurier Est
Montréal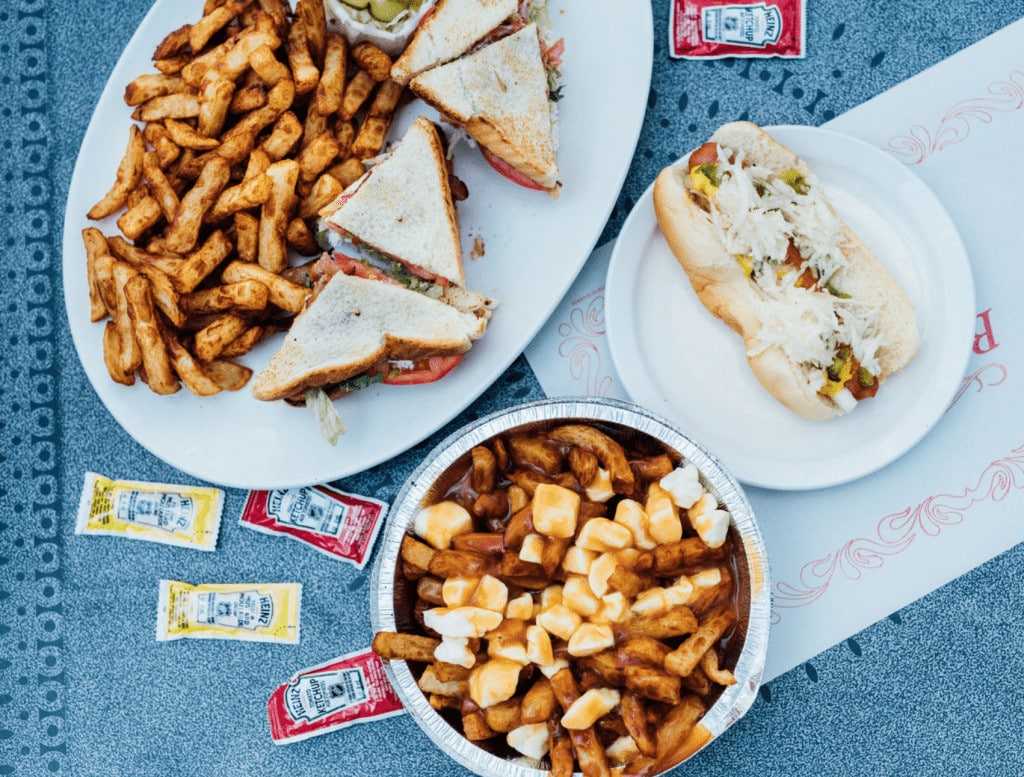 Paulo & Suzanne is open 24/7, and located right next to Sacré-Cœur Hospital. This is a Montreal landmark where some of the city's best poutines have been served for more than 30 years. The traditional poutine comes in two sizes, small and large, and there are a dozen or so different poutine options. The service is delightful and portions served are plentiful.
5501 Boulevard Gouin Ouest
Montréal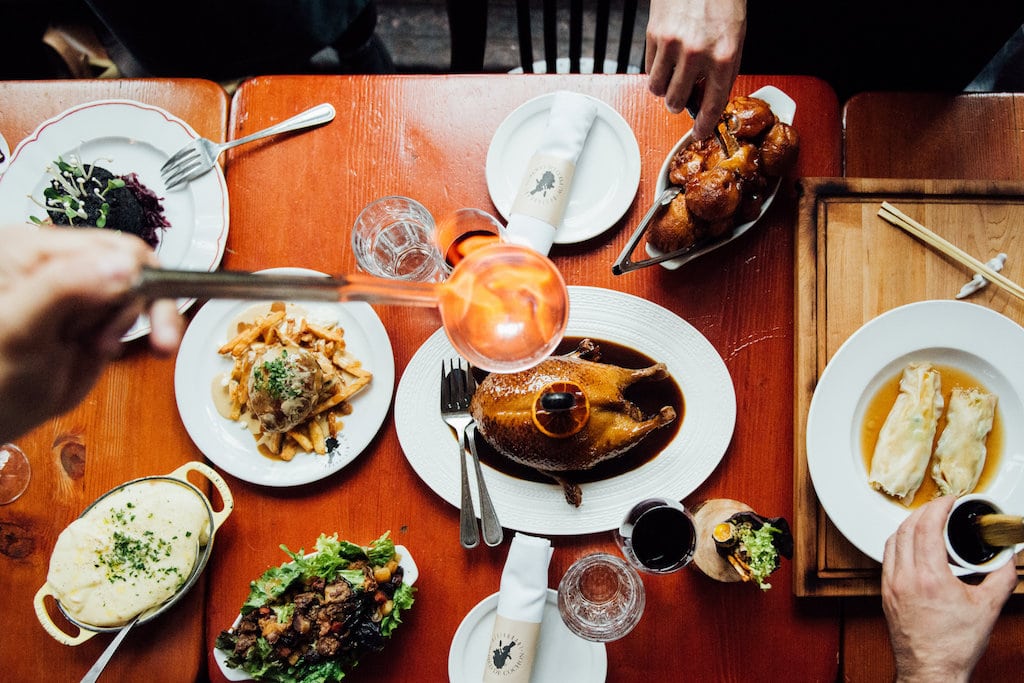 Fancy poutine : Au Pied de Cochon is not to be missed. This Montreal landmark was one of the first upscale restaurants to add poutine to its menu. And your not talking just any kind of poutine but poutine with foie gras. This is poutine at its best and for good reason – it is both decadent and delectable. Prepared with a gravy of foie gras and cream, then topped with pieces of fried foie gras, it is memorable. There's regular poutine as well … just so you know.
536 Avenue Duluth Est
Montréal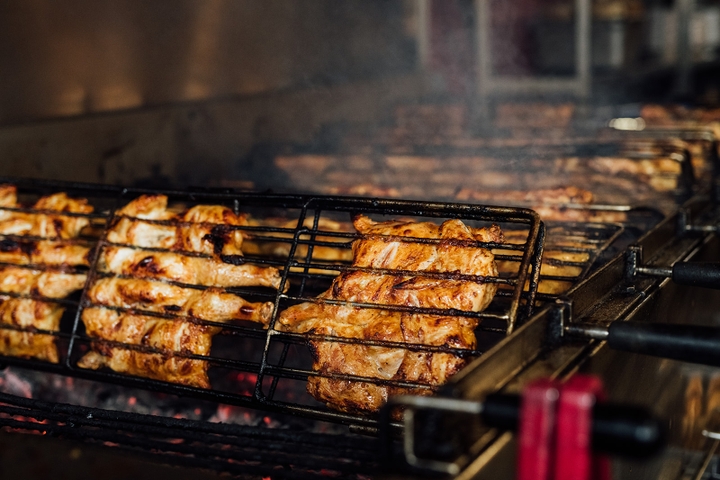 Ma Poule opened in 2013 at the corner of Rachel and Boyer and has turned into one of the best Portuguese restaurants in Montreal in the style of chicken/take-out snack bars. This is another spot where we devour one of the best poutines in the city! Headlined as  « Awesome, the Portuguese are doing their own poutine! », at Ma Poule you can enjoy delicious Portuguese-style poutine with São Jorge cheese, chicken and grilled chouriço. Of course, the traditional poutine is also available.
969 Rachel Street East
Montreal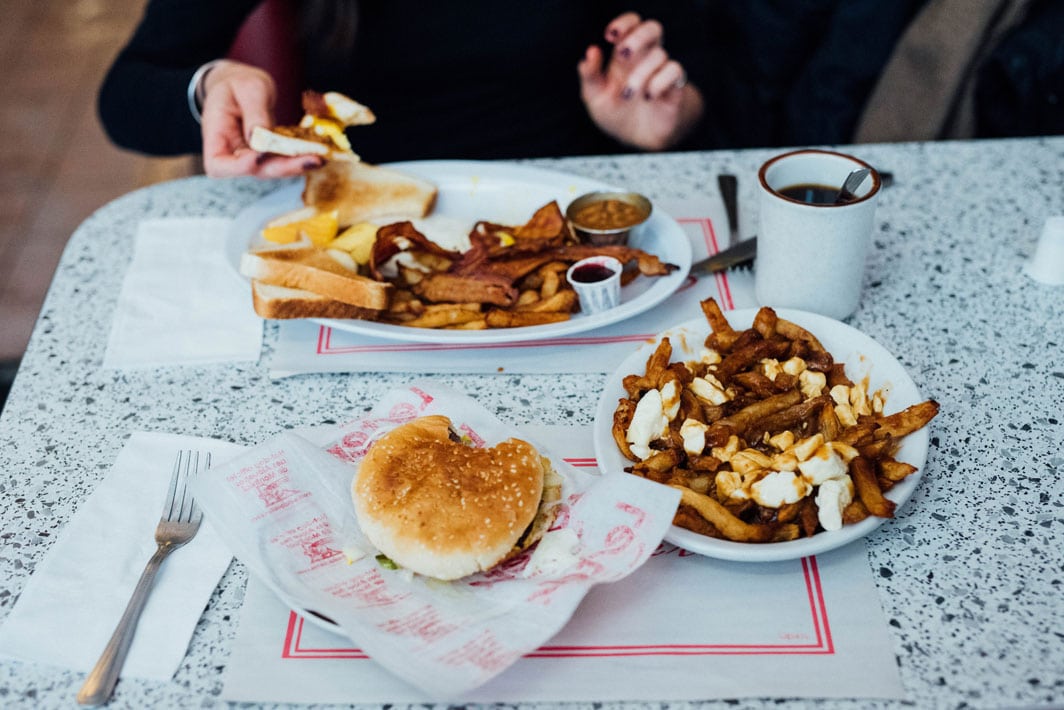 Open since 1962, restaurant Nouveau Système is an absolute classic of Beaubien Street, and must-try for anytime that you're on the hunt for a good old traditional poutine. Open 7 days a week, this place serves all of the typical Quebec dishes, from breakfasts to late night snacks. Regular or Italian-style, this traditional Quebecois dish is offered between $6.20 and $8.20, and is to be enjoyed in Nouveau System's retro and welcoming atmosphere. Alison Slattery —
323 Rue Beaubien Est
Montréal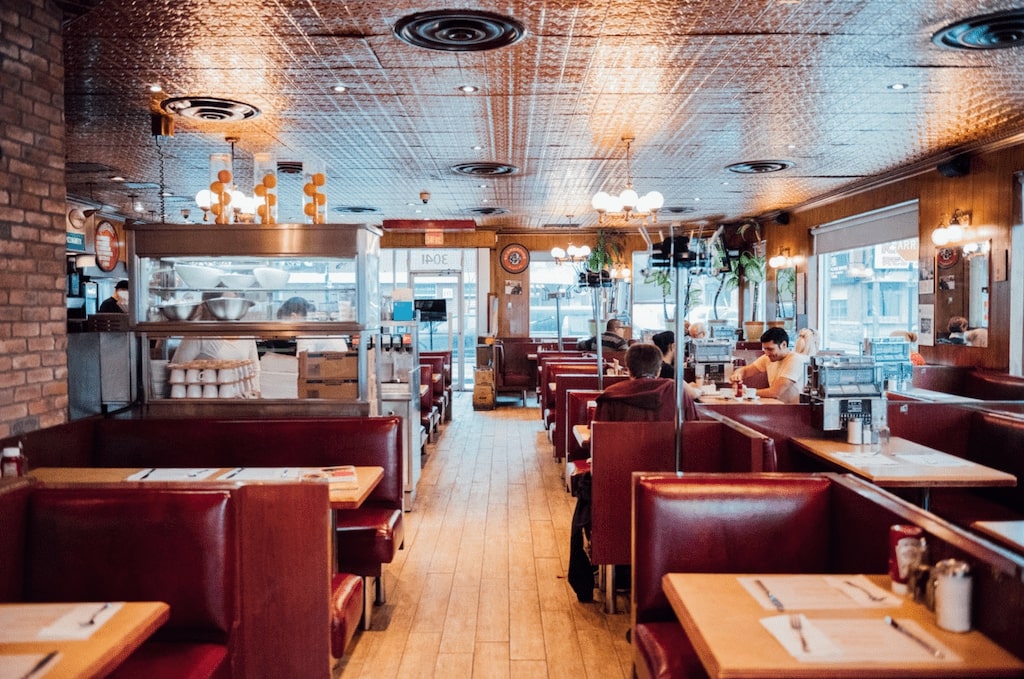 Greenspot is a classic that seems to have been around forever… which may as well be the case seeing as it first opened in the 1940s. This spot offers simple and well-made fast food dishes. Their burgers, hot dogs and poutines are a blast from the past, and we love them for it! This is the type of place that we visit to soak in the retro and relaxed setting – we really feel like we're back in the '50s when we're here! Greenspot is the type of place that you either love or hate, and the same goes for their poutine. We love it.  Alison Slattery —
3041 Rue Notre-Dame Ouest
Montréal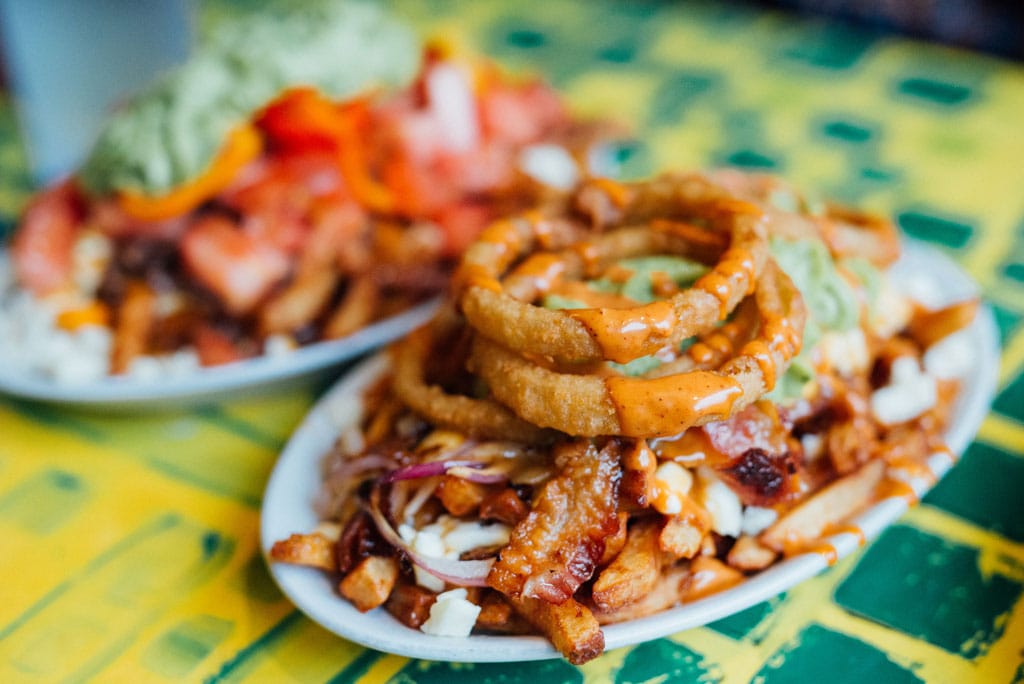 Of course, when you're thinking of Montreal poutine, you can't forget la Banquise. This restaurant is a Montreal institution and we come here to enjoy all kinds of poutine,  at any time of the day. Yes, La Banquise is open 24 hours a day, seven days a week! Among the most popular with customers, there are variations where meat is in the spotlight, such as the T-Rex (ground steak, pepperoni, bacon and hot dog sausage) and the Fred Caillou (ground steak, smoked meat, spicy sausage and merguez sausage). There are also more surprising flavours, such as La Taquise (guacamole, sour cream and tomatoes) and La Sud-Ouest (bacon, red onions, guacamole, onion rings and Chipotle sauce). Alison Slattery —
994 Rue Rachel Est
Montréal
See on map
6956 Rue Drolet Montréal H2S 2T3
7700 Boulevard Décarie Montréal H4P 2H4
4177 Boulevard Saint-Laurent Montréal H2W 1Y7
351 Avenue Laurier Est Montréal H2T 1G7
5501 Boulevard Gouin Ouest Montréal H4J 1C8
536 Avenue Duluth Est Montréal H2L 1A9
969 Rachel Street East Montreal H2J 2J2
323 Rue Beaubien Est Montréal H2S 1R9
3041 Rue Notre-Dame Ouest Montréal H4C 1N9
994 Rue Rachel Est Montréal H2J 2J3