Where to go on a first date: 10 restaurant suggestions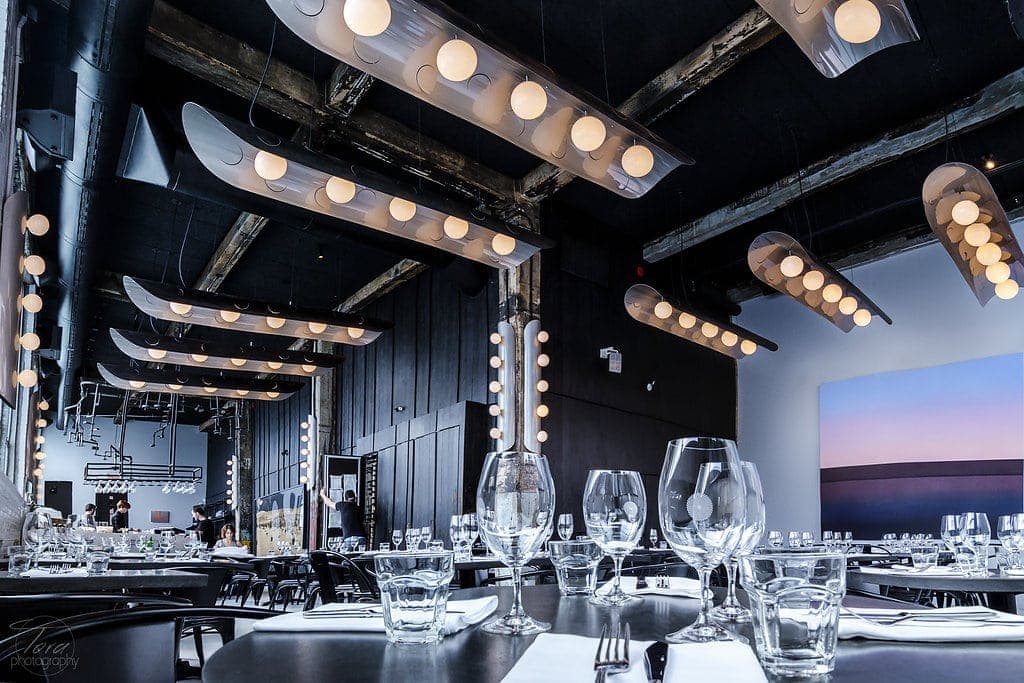 It is with honour that this list is presented in collaboration with Cacao Barry, a high-end French company that offers some of the most delicate and refined chocolate in the world! Working with cocoa producers and chefs from across the globe, Cacao Barry offers a wide range of cocoa products, couverture chocolates, dried fruit products, chocolate from exclusive plantations as well as delicious chocolate recipes.
A first date can be super exciting, but it can also be a nerve-wracking experience for some. Of course, you can go on a date anywhere. Some will prefer our list of fun and affordable restaurants, while others may prefer our list of bars where we eat very well.
Our suggestions of restaurants to go to on a first date in collaboration with Cacao Barry: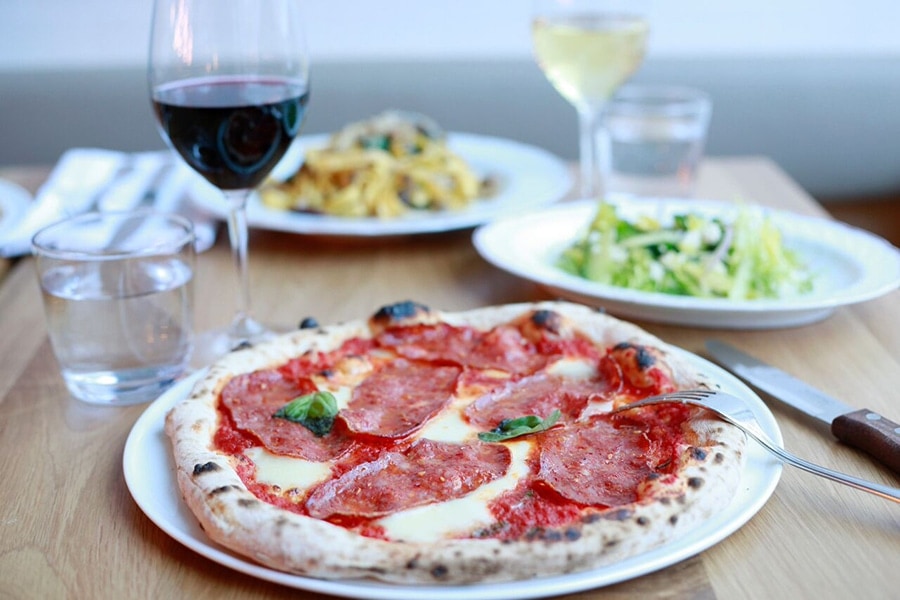 Fiorellino opened its doors fairly recently, after 24 years of dreaming. Located on de la Gauchetière Street West, between Downtown and Old Montreal, it has quickly become one of the best Italian restaurants in the city, and also serves some of the best pizza in town. Fiorellino impresses with its decor, designed by Jean-Guy Chabauty of Atelier Moderno. The place is contemporary and original. The menu includes pasta, pizzas, appetizers and salads; with exceptional freshness, simplicity, taste and authenticity. The atmosphere is warm, festive and romantic, and suitable for all occasions. Note that the restaurant has a bar license as well.
470 Rue De La Gauchetière Ouest
Montréal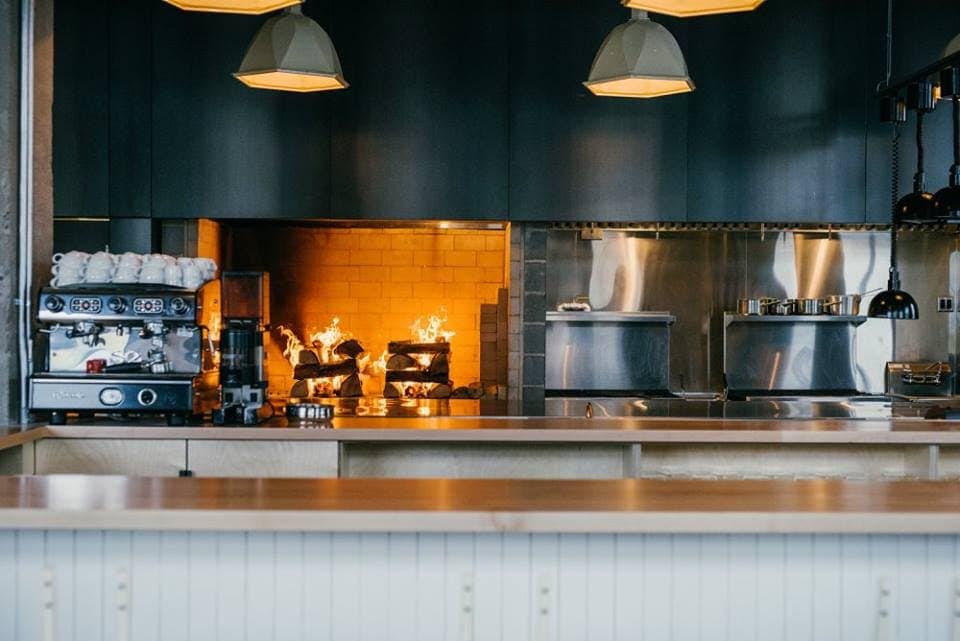 Hoogan et Beaufort is a restaurant that opened its doors on the edge of Rosemont in the Angus Shops. Upon entering, the space is impressive. The restaurant is located in a former transformation and construction factory for trains, which lends a certain historic charm to the place. Moreover, the decor is airy and elegant; a mix of modern and old arranged with great taste, with the kitchen at the center of it all. Under the direction of one of Montreal's best chefs, Marc-André Jetté, the restaurant promises memorable evenings in pleasant company, where you can hear yourself talk. You can eat delicious small dishes, a dozen appetizers, plates of good pasta and a few main courses, with the emphasis always on vegetables. As always, save room for dessert – they're really good.
4095 Rue Molson
Montréal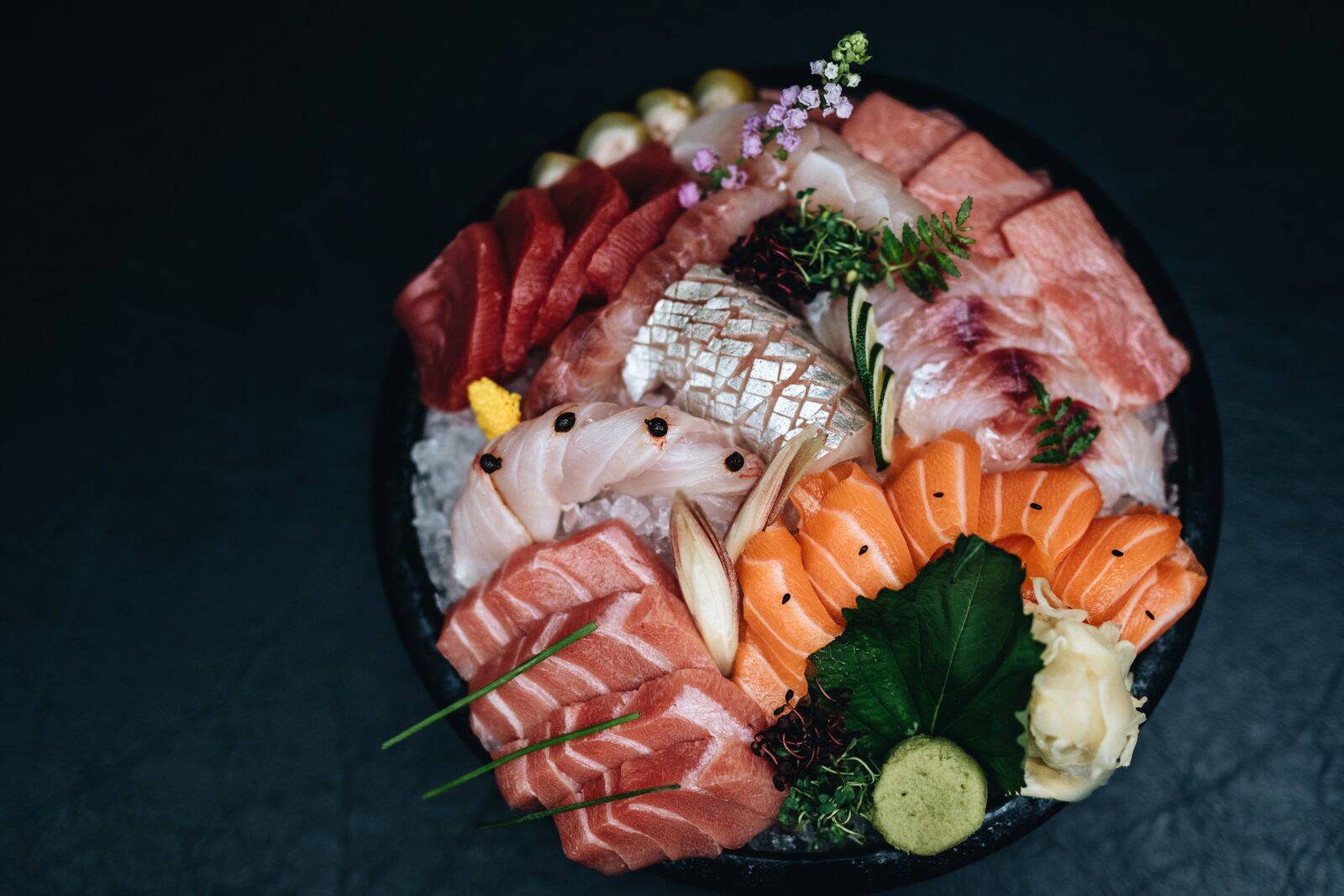 Jatoba
Jatoba is a very impressive restaurant. Starting with its decor, this address is located in the former Philips Lounge, and it was La Chambre Design who designed the place. Everything is chic and beautiful, with a lovely terrace equipped to welcome you all year long (and one of the most beautiful in town). At Jatoba, you can enjoy a Japanese-inspired menu. Their seafood platters – the specialty of chef Olivier Vigneault – will be sure to impress. They also offer simple dishes for all tastes; salads, vegetables, dumplings, fish, seafood and meat. Note that the restaurant has a bar license as well, but it never gets too loud.
1184 Rue du Square-Phillips
Montréal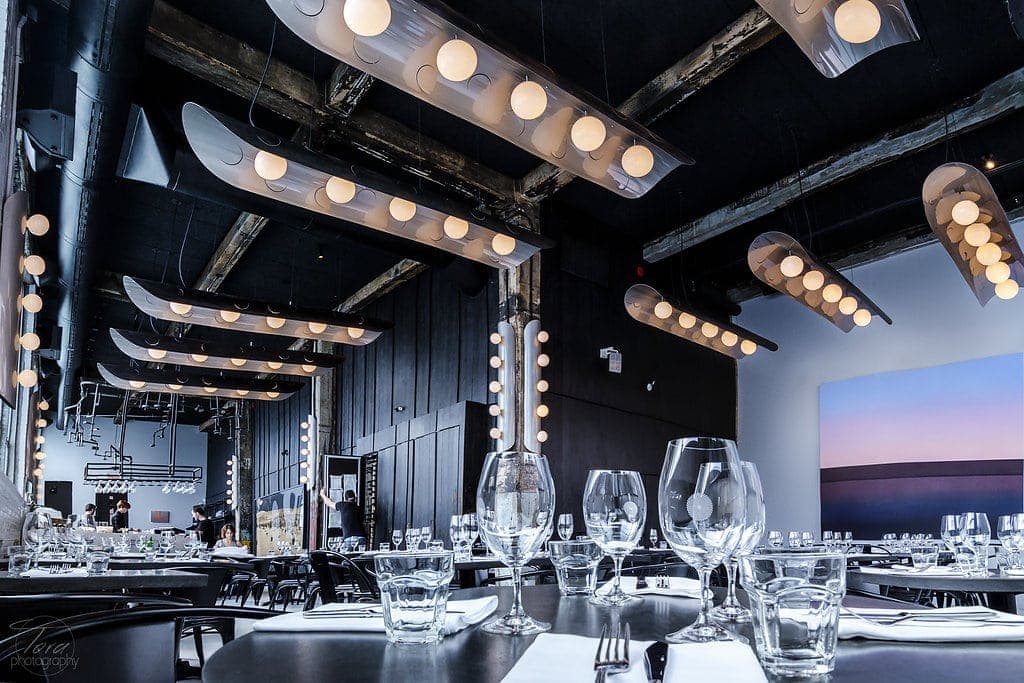 Le Serpent is one of our favourite restaurants in Montreal. Firstly, because its location in the Darling Foundry is beautiful; and secondly, because its décor is both simple and impressive. The atmosphere here is eclectic and lively, but it might not be the quietest space for a first date. Our favourite spot to sit is at the bar. The restaurant offers superbly executed dishes to be shared, and a few of their dishes of note include their bucatini, confit pork ribs, black garlic, soy, speck linguini and lobster risotto. Be sure to save room for the desserts; chef Masami Waki is one of the best in town.
257 Rue Prince
Montréal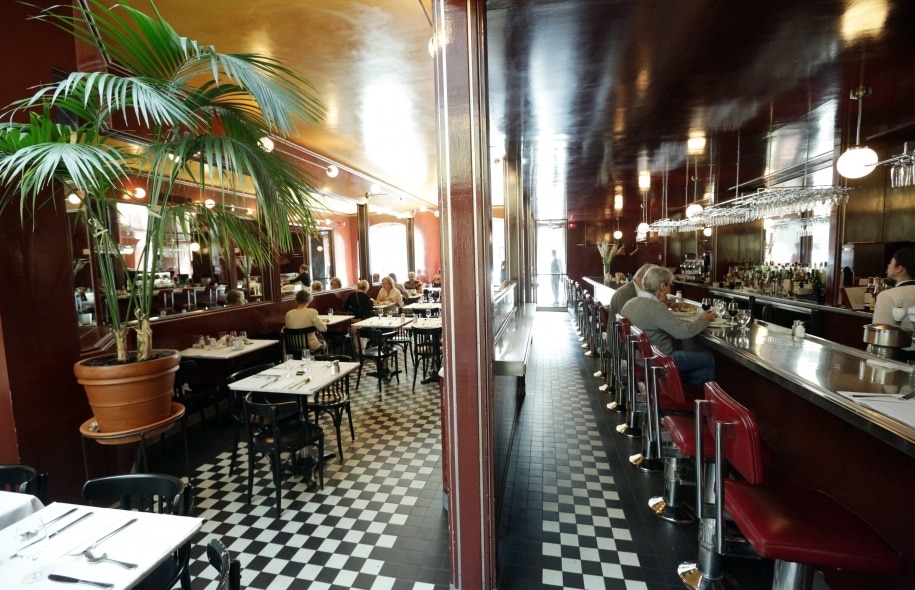 L'Express
L'Express is a Montreal staple for its menu, classic decor and outstanding French brasserie service. Here, the menu doesn't change, but the quality remains the same; French classics executed with flair. The ambiance of the Express is that of a brasserie, which adds to the experience, and we like to sit at the bar to take it all in. Throughout the restaurant the atmosphere is buzzing with energy, and there is a lot of action. The wine list also contributes to the charm of the place since the prices are quite accessible.
3927 Rue Saint-Denis
Montréal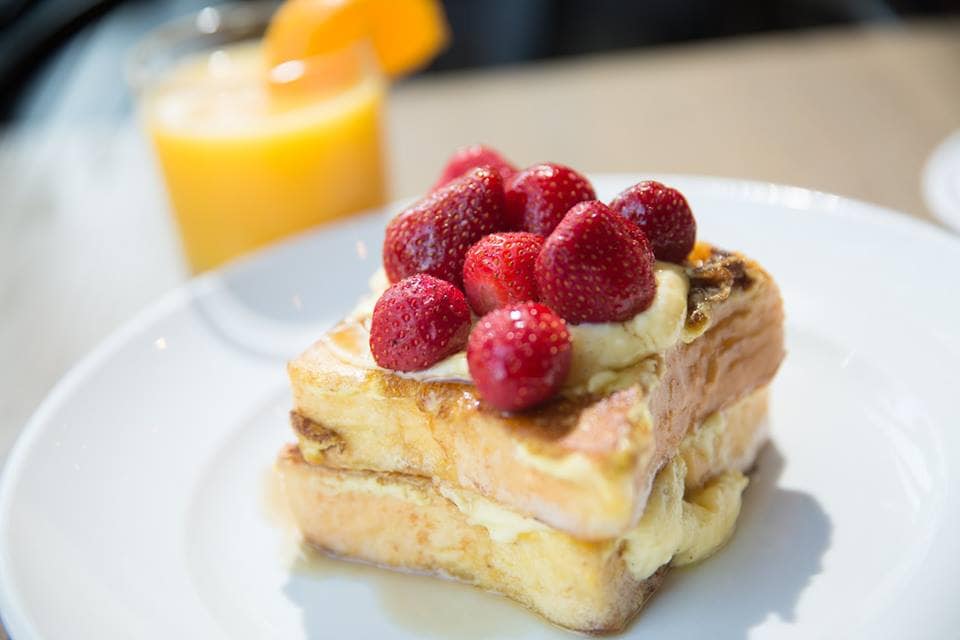 Mesón is a Spanish restaurant in the Villeray neighbourhood that prepares delicious and generous dishes with a modern decor. The design of the space, created by surface 3, is both elegant and casual. Here, you can enjoy comfort food inspired by the different regions of Spain. There are Sopas & Ensaladas, Entradas and Cocas (soups, salads, appetizers and flatbreads), Carnes, Pescados Y Mariscos, Arroces Y Fideos (meats, fish and seafood, rice and meats) and Postres (desserts). Everything is made with fresh ingredients, and prepared with great flavour and simplicity. A visit here will evoke the traditional cuisine of this vibrant country.
345 Rue Villeray
Montréal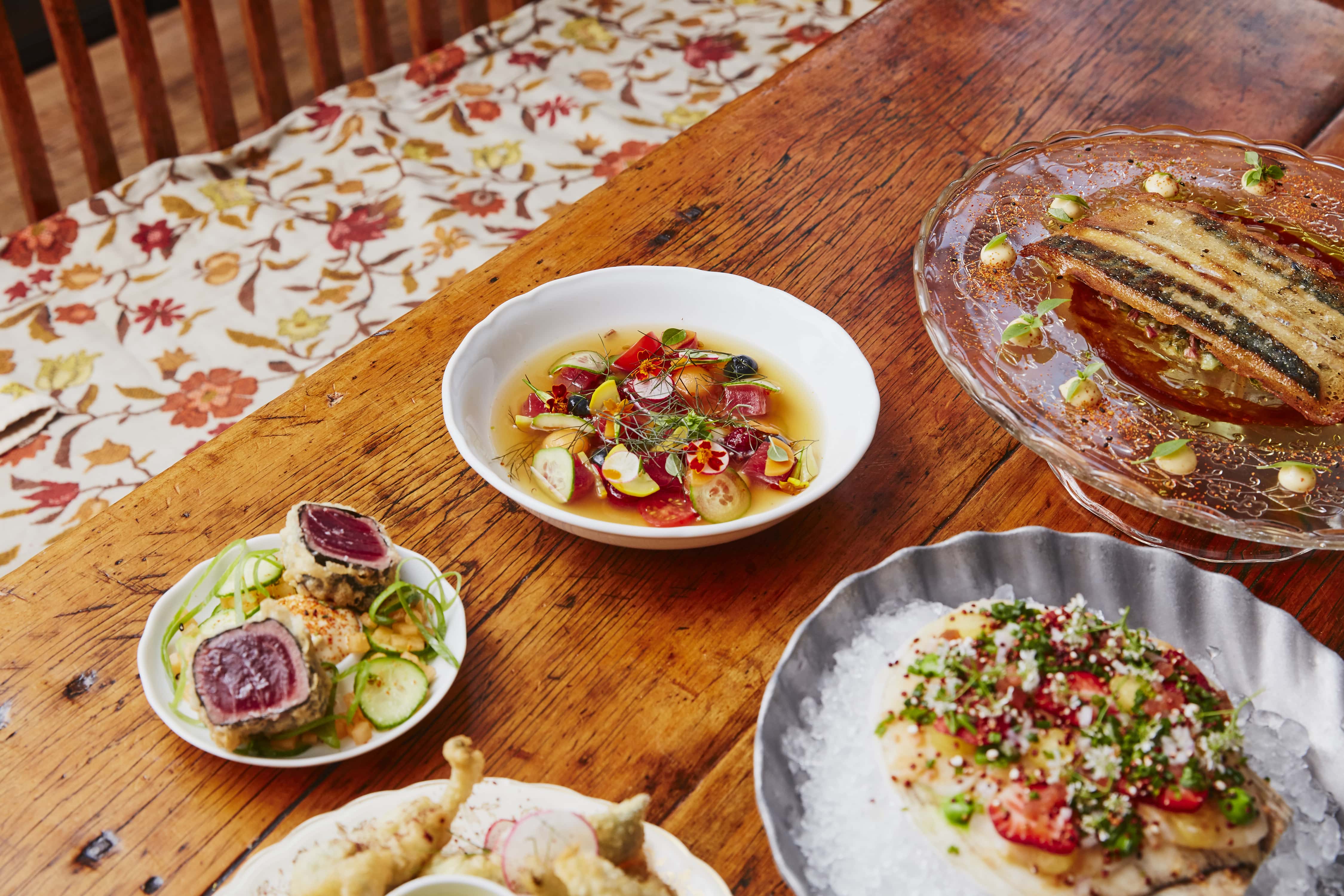 Montréal Plaza
Montreal Plaza is the long-awaited restaurant of Charles-Antoine Crête, who has brought a breath of fresh air to Plaza Saint-Hubert. You walk in here as though it were the home of the co-owner's parents: with a very warm greeting in a festive atmosphere, and always with a glass of wine in hand. The decor, by Zébulon Perron, has a brasserie feel that is quite elegant, with a touch of charming madness. The food here is local, fresh, and often extravagant. With Sébastien Blanchette, Charles-Antoine Crête, Amin Nasrallah (ex Toqué), Sophie Juneau (ex Conti), Cheryl Johnson (chef and co-owner) and Samuel Chevalier (ex Filet et Toqué!) working there, you are in very good hands.
6230 Rue Saint-Hubert
Montréal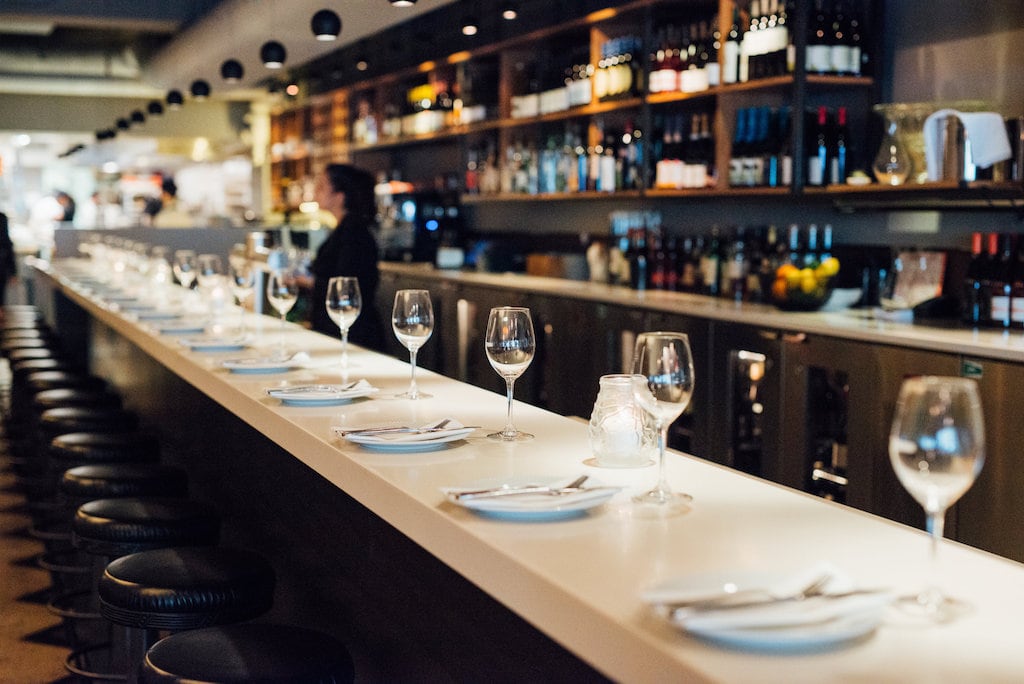 Cadet
Located in a former army surplus store, Cadet is the most recent restaurant from the owners of Bouillon Bilk. The cuisine here is thoughtful, and always delectable. In this sleek and elegant space, designed by architect Gilles Maillé of Yelle Maillé, you'll find a four-part menu: vegetables, fish, meats and desserts. The restaurant offers a large bar (with about 20 seats), a very comfortable dining area and a warm atmosphere thanks in part to its lovely lighting. The atmosphere here is more festive than at Bouillon Bilk, but the food is just as good and you can hear yourself speak.
1431 Boulevard Saint-Laurent
Montréal
470 Rue De La Gauchetière Ouest Montréal H2Z 1E3
4095 Rue Molson Montréal H1Y 3L1
1184 Rue du Square-Phillips Montréal H3B 3C8
257 Rue Prince Montréal H3C 2N4
3927 Rue Saint-Denis Montréal H2W 2M4
345 Rue Villeray Montréal H2R 1G8
6230 Rue Saint-Hubert Montréal H2S 2M2
1431 Boulevard Saint-Laurent Montréal H2X 2S8