Nora Gray: An essential Montreal restaurant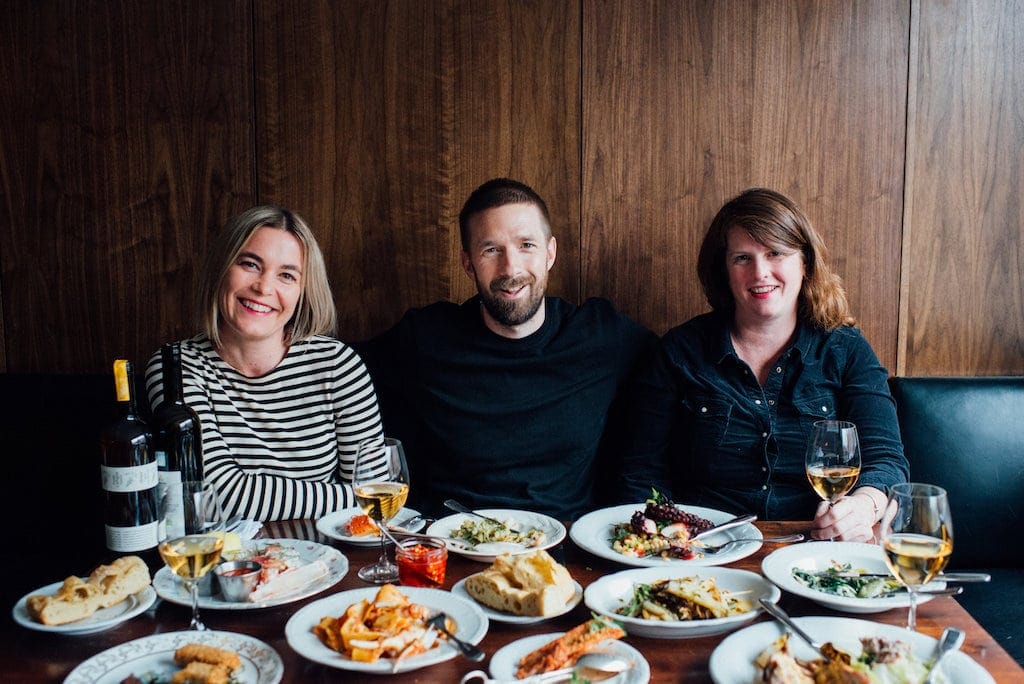 Nora Gray is one of the best Italian restaurants in Montreal – it is an absolute must-try! Since opening in September 2011, the small restaurant on Saint Jacques Street has since made the city's community of foodies very happy.
First and foremost, Nora Gray is run by a team of gourmet aficionados. Emma Cardarelli, co-owner and chef, completed her education with ITHQ before working at the beloved Globe restaurant in Montreal. Eventually, Emma's career guided her to Liverpool House, where she met chef Frédéric Morin (of Joe Beef, Liverpool House & Vin Papillon), who later became one of her most influential mentors. Another co-owner of Nora Gray, Ryan Gray, also worked at Liverpool House for about five years. He was responsible for the wine list at the restaurant, which garnered him the title of a top wine connoisseur in the Montreal culinary scene. Last but certainly not least, we have the third co-owner, Lisa McConnell. Lisa worked in the design world in New York City for just over a year before joining Liverpool House and teaming up with Emma and Ryan. We love that one of our other favourite restaurants, Liverpool House, is what brought these three special entrepreneurs together and allowed them to take flight on their own.
Named after a combination of Emma's grandmother and Ryan's family name, Nora Gray truly represents the hard working journey that the three owners have traveled.  Emma explained the opening process to us: "We were looking for the perfect location and came across this little place on Saint Jacques Street, which was kind of unique. It was a former Portuguese restaurant. The space was really weird and a little bit in the middle of nowhere, but what it had going for it was the proximity to the Bell Centre and that it was downtown, so we thought why not?" The young entrepreneurs took over the premises in March 2011, and the journey of Nora Gray officially began the following month. It comes as no surprise that the final result of the space is more than attractive.
One of the core qualities of Nora Gray, and part of why it has been one of our favourites since it opened, is their focus on creating the best atmosphere. The small room (approximately forty seats) features a lot of wood accents that were made by the cabinetmaker David Roussel, leather benches and a very large bar. Credits for the decor go to architect Philippe Hazan and co-owner Lisa McConnell – what they have created is a welcoming and warm environment. Upon entering the restaurant, you will immediately feel as though you are in the family home of a close friend. The duality of elegance and comfort is what keeps regulars coming back every week – as well as the movie stars that are in town to shoot! It is never a quiet night at Nora Gray.
The menu here is simple but exquisite. Inspired by Emma's cultural roots, the traditional Italian-style menu offers delicious antipasti, memorable pastas and incredible entrees (meat or fish simply grilled and seasoned according to traditional Italian cuisine). The menu is designed to highlight the best and freshest local ingredients. While the dishes lean more towards the traditional end of Italian cuisine, each dish is executed perfectly. This restaurant is also featured on our list of the best Italian cuisine in Montreal!
In terms of wine, Nora Gray offers a very good selection of wines from private imports and small-scale producers. By working with agencies such as Oenopole, Vin Dame Jeanne, Rezin as well as other smaller companies such as Primavin, Wino, and Ward and Associates, Nora Gray has an impressively stalked cellar of  organic, natural and biodynamic labels. Of course, they also keep some good classics on hand in order to keep all of their customers happy. In terms of service, you can expect an efficient, perceptive and intelligent staff (especially if you're lucky enough to be served by the handsome Nick).
Nora Gray has been named one of the best restaurants in Canada by En Route magazine, is #19 on Canada's 2017 top 100 restaurants, is ranked one the best restaurants in the world by Monocle, and of course, is one of our favourite restaurants in Montreal.
We highly suggest that you try Nora Gray!
© Photos Alison Slattery
Written by Élise Tastet