Café Parvis: Magnificent café downtown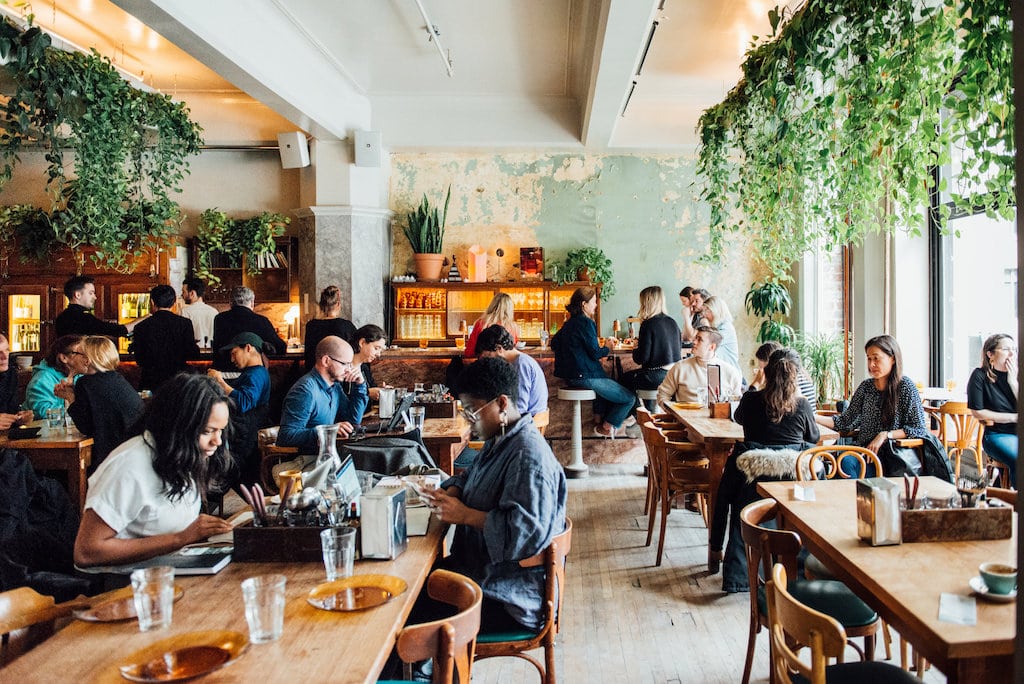 Café Parvis is a beautiful café and a great place to eat in downtown Montreal!
Oxford Dictionaries describes « parvis » as:
« Noun : An enclosed area in front of a cathedral or Church, typically surrounded with colonnades or porticoes. »
« Origin : Late Middle English, from Old French, based on late Latin paradisus 'paradise', in the Middle Ages denoting a court in front of St Peter's, Rome. »
Café Parvis is the vision of a group of entrepreneurs we really admire : Simone Chevalot (La Buvette chez Simone), Alejandra Ponce, Jean-François Gladu, Michel Bergeron (formerly of chez Bergeron les vins), Eric Bélanger, Fabien Lacaille and Zébulon Perron (connected to pretty well everyone & everywhere). These are individuals who are known to work hard and know precisely what they are doing.
The café is absolutely stunning! From the start, the location itself is exceptional, with its huge windows that let in extraordinary amounts of natural light, not to forget the size of the space. And it goes without saying that when someone like Zébulon Perron is involved, his successful imprint will be left on the interior design, as he has achieved in places like La Buvette Chez Simone, Continental, Furco, Hof Kelsten, Lustucru, Philémon, Impasto … the list goes on! The inclusion of many green plants, especially the vines descending from the ceiling, is very effective and adds a fresh, natural pop of colour, somewhat like an urban oasis. The space is quite retro with the diner-style counter stools and a great mix/match selection of vintage chairs – pretty simple yet perfectly functional. We like the peeling paint on the walls that gives the space a look of having been there for a long time, it works well and provides a contrast to the polished marble countertop. It is such a magical space that people come by just to take pictures.
The menu changes weekly, but regardless of the time of day, it is possible to eat there for a small price, and you are right in the city center ! Considering its location, Café Parvis counts as one of Montreal's best cheap eats! is one of the The house salads here are famous, very tasty and very generous, and their pizzas count among the best in Montreal. Even if you are just feeling peckish, try their excellent cakes, cookies with a delish juice.
In October 2017, Café Parvis opened a workspace upstairs, offering individual stations, a boardroom (seats 10), casual seating area, with all the conveniencies needed to work. From Monday to Friday, these can be rented during the day and on the weekend as well. The space is bright, filled with green plants and even some retro furniture, including funky old school lockers ! It's easy to reserve too, through Café Parvis' website.
Café Parvis must be one of the busiest places in Montreal and it is easy to figure out why – friendly service, great comfort food served in generous portions and all this to be enjoyed in beautiful surroundings. Try it, we know you will like it !
Written by Élise Tastet