Cadet Restaurant: Delicious refinement on Saint Laurent Boulevard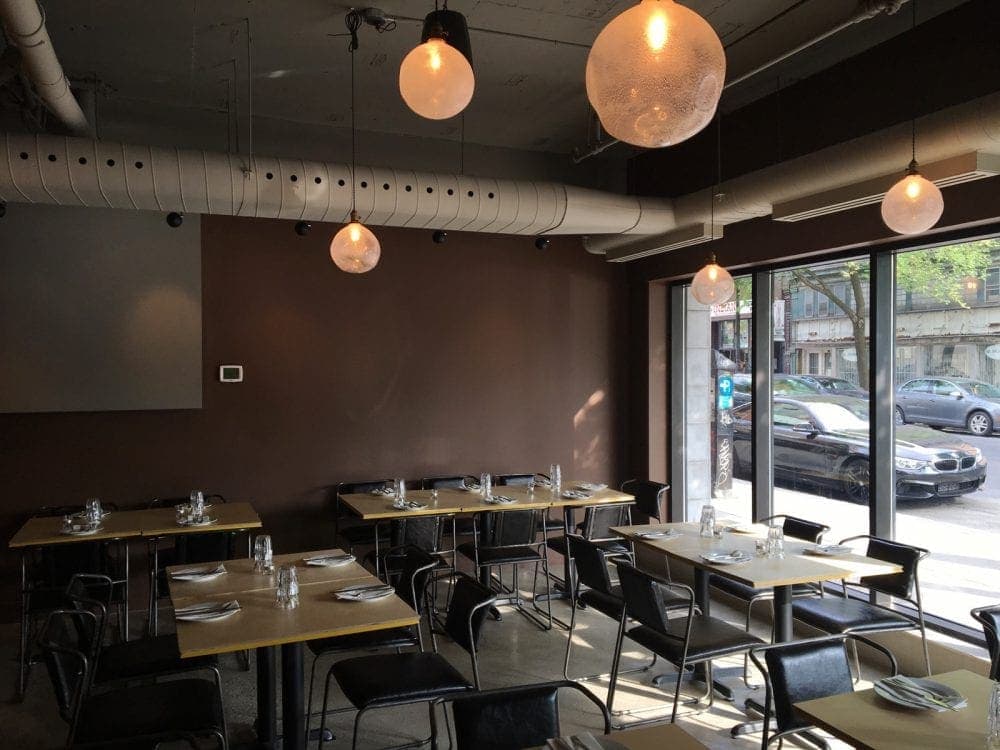 Cadet Restaurant opened its doors in May 2015. "The name is 'Cadet' because it means the youngest and it's like our second child." This is the little brother of Bouillon Bilk and it meets all our expectations, which were numerous.
In a former army surplus store, the new Cadet restaurant on Blvd St Laurent seats more than 90 but the location is very discreet; you have to search a little bit to find it, yet it's just a block away from Bouillon Bilk.
Just like its older sibling, the decor of the Cadet restaurant is very simple. It was designed by the architect Gilles Maillé of Yelle Maillé's, who had also been involved in the expansion of Bouillon Bilk. The aesthetics are quite similar and still elegant. There are neutral tones, luxurious materials. Everything seems simple, but it is the details that show the care taken to create the refined look. The restaurant offers a large bar – with about 20 seats – comfortable chairs and beautiful lighting.
The atmosphere in Cadet is more lively than in Bouillon Bilk and is open only in the evening, closing at 1am. The music is a little loud and the bottles of wine displayed at the bar invite you to have a drink. "Even after expanding Bouillon Bilk, dropping in there spontaneously was not possible; on Thursdays, Fridays and Saturdays, we were turning away customers. So we knew there was a certain need. Now our clientele can try both places and come for different reasons", says co-owner Mélanie Blanchette.
In the kitchen, we find Antonio Ferreira, whose work in the kitchen at Bouillon Bilk for years has been appreciated. The regularly changing menu offers dishes to share, real delicacies. Not so small, by the way – a person with a light appetite could be satisfied with one of their heartier dishes. It is recommended to take three or four for two people, depending on your appetite. The menu is divided into four sections: vegetables, fish, meat and desserts. In the vegetable section, you can find local products, prepared with great care and bold flavours. Always ask for recommendations from your server because the menu often changes. Everything that was tasted at the Cadet restaurant proved to be delicious and of a delicacy that we already knew well at Bouillon Bilk.
The place is not a wine bar, but offers very interesting labels that perfectly match the menu suggestions. It is a restaurant that offers very good bottles – with prices ranging from about forty to a hundred dollars. The cocktail menu was prepared by Félix Roy, and takes shape as a short menu of well-made classics and a few beers.
Le Cadet offers you an intelligent and efficient service. Mélanie Blanchette will make sure everything goes well. She is also happy to be accompanied by such talented people. "The most fun is to be able to take the people from Bouillon Bilk and grow with them, take them on another project, see how strong the team is. This is really coming for me! "A superb and delicious address that you never get tired of!
What a wonderful and delicious addition to the Montreal food scene. We are just waiting for our next opportunity to pay a visit to restaurant Cadet!
© Photos Alison Slattery — Instagram
Written by Élise Tastet