L'Express: A beloved Montreal classic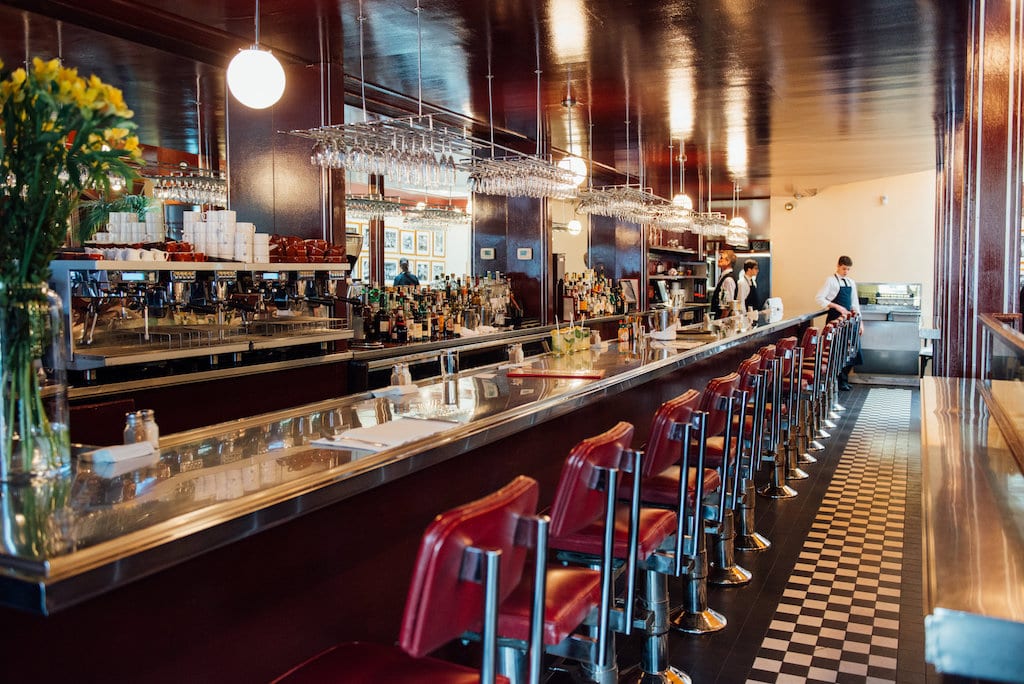 L'Express is a staple Montreal address. A community favourite, L'Express offers such consistency, it will never disappoint. The restaurant first opened on rue St Denis in December 1980 (!) by François Tremblay, Colette Broissoit, Pierre Villeneuve and two silent partners.
Colette and Pierre were theatre people and, at the time, rue St Denis was a popular and very busy centre of the arts in Montreal. Their goal was to open a restaurant to serve the theatre community after a show, a place where everyone from the theatre technicians to the actors could find something decent to eat. L'Express was thus created with the idea of conviviality and accessibility to all social strata – to this day, the address still offers appetizers and wines at very affordable prices! Starters are priced at $9.40 and dishes at $7.25! As for the wine, a glass starts at $7.50, and the bottles are about the best value for money in town.
When the restaurant first opened, the owners had very little catering experience and L'Express offered simple small sandwiches with no specific menu. The owners worked in the kitchen themselves, trying their best to serve great food. After eight successful months, they realized they couldn't keep up the pace, and so they decided to reorganize. They soon placed an ad looking for a chef – Joël Chapoulie applied and became the new chef at L'Express. It is thanks to him  that we all have the menu we know and still love today. If you come to L'Express, the must-tries are the bone marrow with coarse salt, chicken liver pâté, calf liver with tarragon, veal kidney in mustard sauce, homemade raviolis and beef back steak. For the regulars, L'Express does offer some daily and seasonal dishes that change according to availability. Everything here is made in-house, with the exception of the bread. From their pickles that are prepared twice-a-day to their signature sauces garnishing each dish, L'Express puts a lot of love and attention into everything it serves. Since January 2016, following the well-deserved retirement of chef Chapoulie, the talented Jean-François Vachon has taken over the kitchen and he is ensuring that the very high standards of this renowned restaurant continue.
Many customers remain loyal and continue to dine at L'Express since it opened nearly 40 years ago, and noticeably, the team is also very stable. 
The decor of L'Express has undoubtedly contributed to the success of the establishment. It was designed by the famous Montreal architect Luc Laporte, whose buildings and interior designs are renowned in our city. Joël Chapoulie once said: "The architect Luc Laporte created a fantastic setting of a remarkable classicism, you can't improve on this style. Everything is perfectly balanced, just the way it should be". It's hard to disagree with him. The fully open room offers a unique atmosphere. The 15 seats at the bar allow you to enjoy a meal alone or with someone else, and the 60-seat dining room, still to this day, sets the  tables with white tablecloths. This adds the perfect touch of elegance to the whole L'Express experience.
"All the people who grew up here are coming back with their children, we have a new generation, it's great! The atmosphere of L'Express is unique – people in the midst of moving, lots of artists come here, others come by before their wedding, after the theatre, before an event, after a birth, etc. We're a big family and I think the customers do feel this."
Today's owners – Pierre Villeneuve, Mario Brossoit and Hélène Dansereau and two silent partners –  give the place a lot of love and continue to ensure the recognized quality of L'Express, while still keeping it relative to today's dining scene.  Coming to L'Express is not about being dazzled by a menu full of originality, but to enjoy the excellent classics that are perfectly prepared and served by the wonderful L'Express team.
Written by Élise Tastet
Photography by Alison Slattery