Otto Yakitori: Yakitori and other Japanese specialties in downtown Montreal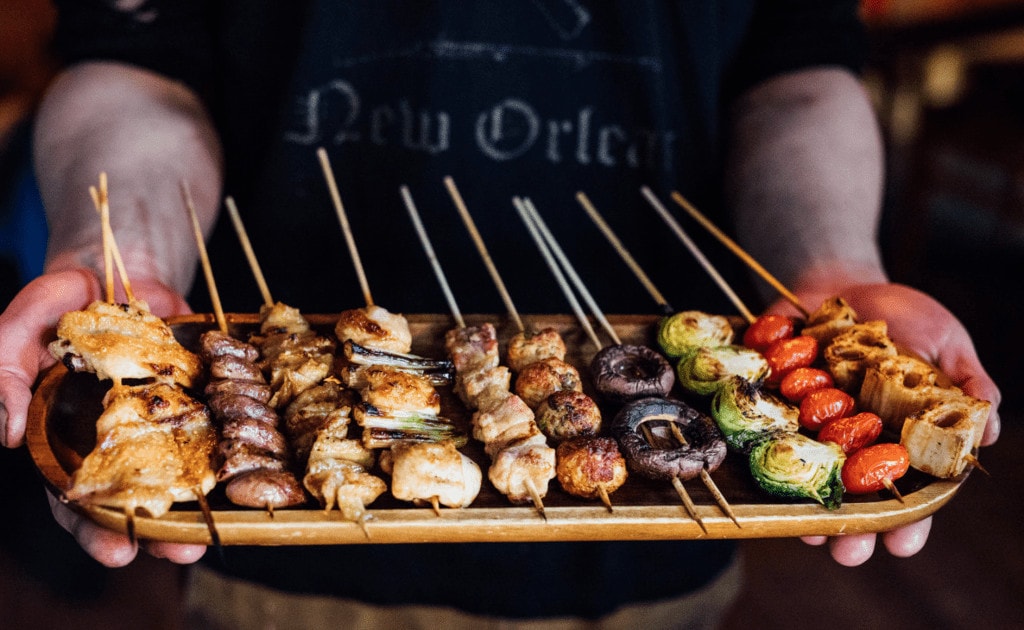 Otto Yakitori is a small Japanese restaurant on Rue St Mathieu and the only one in Montreal where charcoal-grilled yakitoris are served.
« Otto » means father in Japanese so one shouldn't be surprised to know that two fathers are behind this charming place: Hanhak Kim and Hiroshi Kitano.
« Yakitori » is a Japanese type of skewered meat, traditionally using chicken meat (thigh, wing, neck, heart, etc.). They are cut to bite-size pieces and grilled on skewers over charcoal.
Otto Yakitori opened in Spring 2016 and has the look of a typical, no frills izakaya, a type of Japanese casual pub for after-work. The surroundings are simple and it does the job, together with the relaxed, friendly atmosphere. Otto Yakitori is located in an upstairs room and does not benefit from a lot of light but the sconces on the white walls provide some down-lighting as do the ceiling pendants. The rest is mostly wood, and more wood, yet it all works and the colourful wall painting depicting various figures, patterns and the word 'Otto' is a nice whimsical touch. The restaurant is only open in the evening and seats 40.
The concept of yakitori renders the menu very simple, listing mainly yakitoris and some Japanese specialties. There's always chicken breasts and thigh, however we suggest being a bit more adventurous and try an offal (giblets, neck, skin) yakitori or even something else. The dishes of raw fish and other specialties are well-worth considering as well : sashimi, uni chawanmushi (sea urchin), bibimbap-Japanese style, burgers, ramen, tataki and soups. The dishes are both original and easy to share and there is plenty to choose from so everyone will be happy. Moreover, there is a daily menu that changes every day so even the regulars discover new dishes ! Otto Yakitori also offers a selection of alcoholic beverages and a small selection of beers, sakés, wines and cocktails.
We love the friendliness here and needless to say, the charcocal-grilled yakitoris! Otto Yakitori is ideal for a fun evening with friends, sharing food and some Japanese saké.
Written by Élise Tastet