Elena: Coffee, Pizza and Wine in Saint-Henri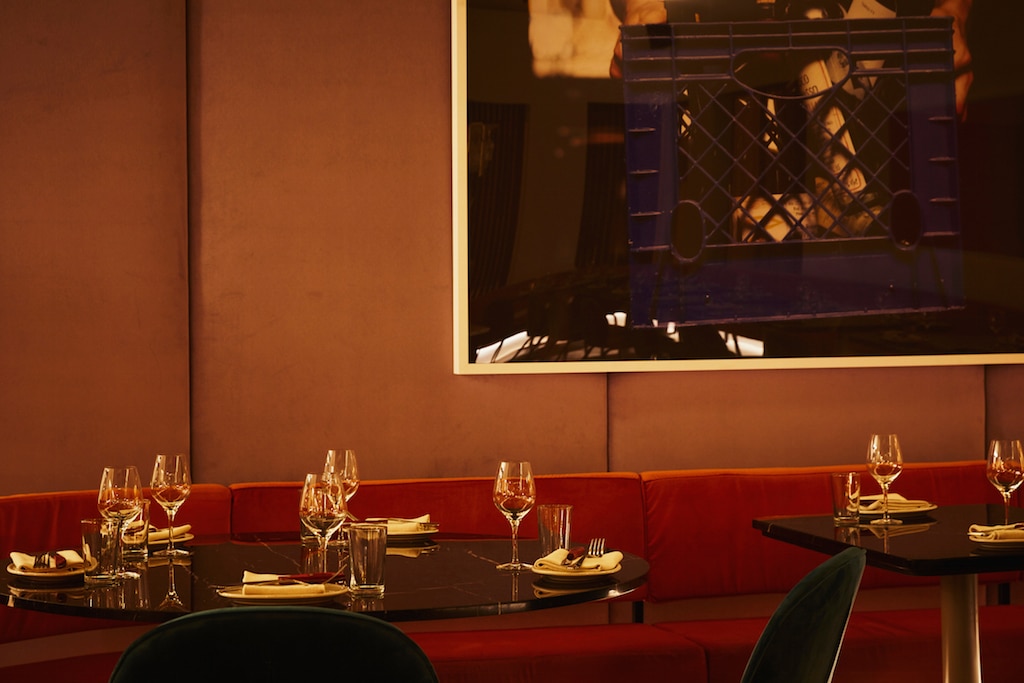 Elena

$$
Monday: 5:00 – 10:30 PM
Tuesday: 5:00 – 10:30 PM
Wednesday: 5:00 – 10:30 PM
Thursday: 5:00 – 10:30 PM
Friday: 5:00 – 10:30 PM
Saturday: 5:00 – 10:30 PM
Sunday: 5:00 – 10:30 PM


Owner(s) Marley Sniatowsky, Ryan Gray, Emma Cardarelli
Chef(s) Janice Tiefenbach, Emma Cardarelli
Host Ellen Eamon
Opened 2018

Accepts mastercard, visa, amex, cash, debit
62 Seats
Is accessible
After months of renovations, Elena opened in early February 2018 and we were welcomed into this superb new restaurant by owners Marley Sniatowsky, Ryan Gray and Emma Cardarelli (Nora Gray).
« The name Elena comes from our friend Elena Pantaleoni (La Stoppa). She is very inspiring and there is something in her hospitality and her character that really is touching. The way she thinks and sees things is also what we want, so the restaurant is really about honoring her, » explains Ryan.
You can find Elena's in Saint-Henri, on rue Notre-Dame Ouest, at the corner of rue Yamaska (after rue Saint-Rémi). « The location of Elena was chosen along the same lines as Nora Gray. We didn't want to be in anyone's way and wanted a neighborhood where we would fit in and become part of the fabric. When we opened Nora, there wasn't much going on around us. And in a similar fashion, Elena is taking up its place in an area which is undergoing some transition," says Ryan.
What was the concept? « Coffee, pizza, wine. Elena is the natural evolution of Nora Gray; it is the next step. For years, we have been dreaming of a place that would offer pizza, and we have always wanted to make Italian brunch. We wanted a place where we could eat good pizza, have some fun, drink good wine and maybe watch the hockey game. » They have succeeded and Elena is now on our list of Montreal's best Italian restaurants. They are open every evening of the week.
If you are someone who chooses a place to dine because of the imaginative decor, then this is one you would want to add to your list. Much care has gone into the details and the end result is quite stunning yet not in the least overdone, thanks to our friend and designer, Kyle Adams Goforth (Boxermans, Loïc). Much thought has gone into the details, from the flooring which was laid in different directions, and the beautiful petrol blue color that is carried from the velvet dining chairs to the tops of the eclectic bar stools with their canary yellow legs. And this same color pops out again in the form of the oversize spiral textile artwork hanging on the wall of white-painted bricks. All the colors are fresh and modern, accented even more by the lighting under the orange-colored banquette seating and at the top along the wall. The use of a soft plum hue on one banquette and another wall is very attractive and the overall look is modern, elegant and impressive. « Bringing everything together with Elena was interesting. The space is a superb canvas, allowing a lot of freedom which then opens up more possibilities. » The space includes a bar with seating for 12 and an open kitchen. The dining area can seat up to 50 guests, around tables with both black and some white marble tops. In the center of the room is a marble-topped counter that enables the staff to provide for a more efficient and practical service.
The menu is a collaboration between Janice Tiefenbach and Emma. The menu lists antipasti, three homemade salads, three homemade pastas and many pizzas (now on our list of Montreal's best pizzas). The dishes are all designed to be shared. The prices are all affordable while maintaining a high quality. The menu will change according to customer's tastes, the seasons and the kitchen's own creative pursuits. « We take the Italian classics and tweak them. By having our guys use our ingredients from here to create their own version of these recipes, there is a real sense of terroir. Everything is inspired by Italy, starting with our local products. The pizza is made with natural sourdough, which gives it a very thin and much more digestible crust, » Emma explains.
The wine list is Ryan's creation. There is a very fine selection of natural wines, with an emphasis on Italian wines – rosé, sparkling, orange, white and red. « These are very fun wines, all natural, from excellent producers and affordable. » In addition to the classics, Elena also offers a few simple cocktails.
What we find so cool is that Elena comes at you from many different angles; it's a multi-faceted business with the potential to grow and evolve. « We always say: up top, down on the bottom, inside, outside, here or to go, every day of the week. » Indeed, they'll be opening a casual café at the back of the restaurant in the springtime, including take out. Elena will also have an attractive all-year sunny terrace, with heating.
« We are super excited to have a new team, to work with extraordinary people and to grow Nora's family. We're also really happy working with Marley because without him we couldn't have done it. » We are very excited that Elena has opened. The atmosphere, pizzas, pastas and especially their beautiful surroundings are to be enjoyed as are the prices which are especially affordable. We look forward to watching Elena evolve into a very long life in Saint-Henri.
Written by Élise Tastet
Photography by photos Dominique Lafond —