Martin Juneau's favourite addresses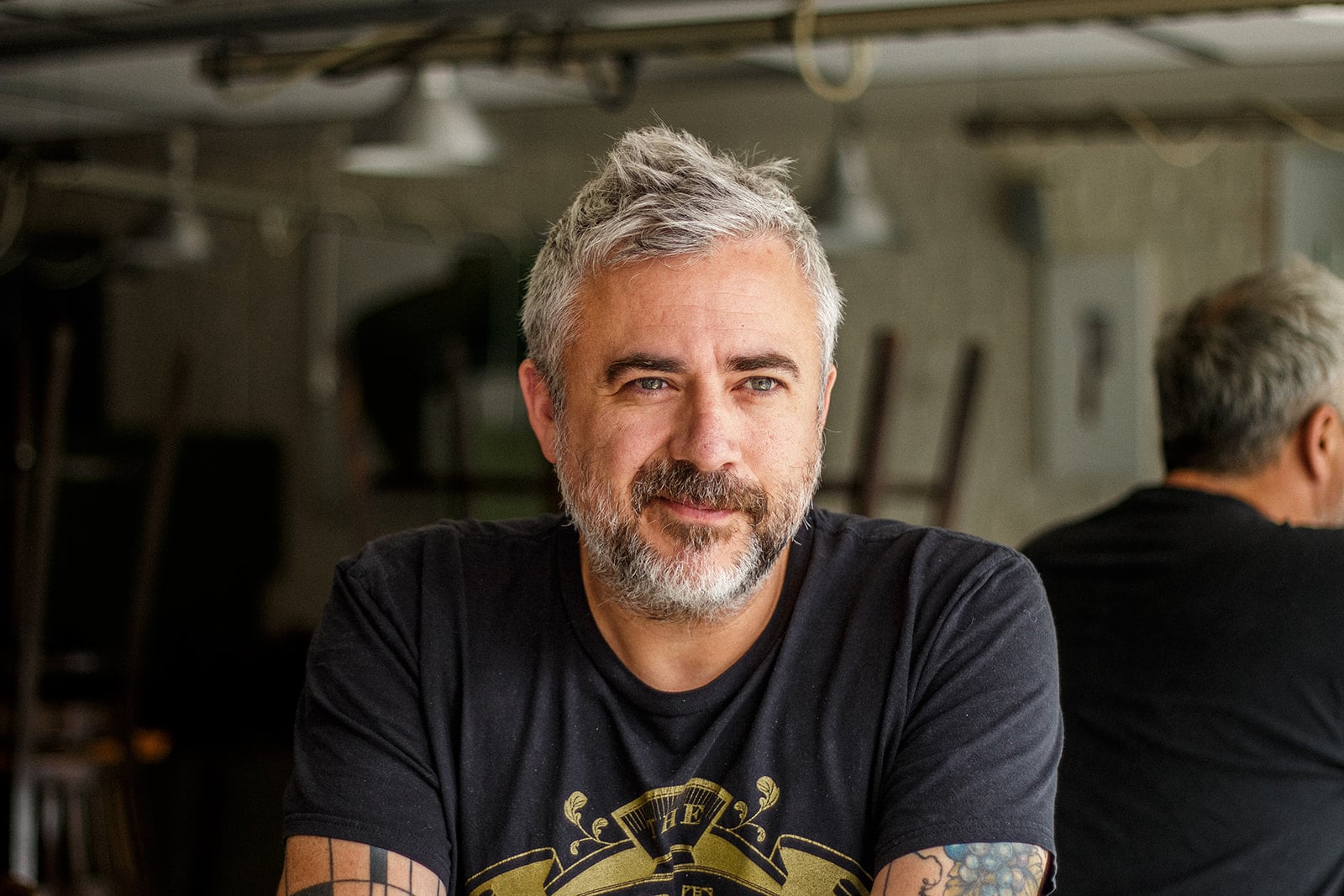 Chef Martin Juneau was in the middle of setting up his patio when we went to his restaurant Pastaga on St-Laurent to talk about his new cookbook, Festif! : 75 recettes colorées pour goûter l'été à l'année (currently available in French only). While we were at it, we also took the opportunity to discuss his favourite addresses.
Six years after his first book, Simplicité Culinaire, Martin Juneau wanted to go elsewhere and explore a more accessible and simple cuisine.
"I'm no longer in the kitchen [of the restaurant] on a daily basis," he explains. "The place where I cook the most is at home, with my daughters, with my girlfriend. It's food I make to welcome guests home, everyday food."
Published by Éditions de l'Homme, the colourful book offers 75 recipes perfect for entertaining without breaking the bank; for an impromptu apéritif with friends, a family dinner, or a weeknight supper that's out of the ordinary. All of this, of course, using local and seasonal products as much as possible.
A little taste of what you'll find in the book: homemade pogos with chorizo, a revisited version of the famous melon-prosciutto, and an air-fried piri-piri cauliflower (yeah!), among others.
Hungry? Festif! is now available online and in bookstores—just in time for Father's Day!
Without further ado, here are Martin Juneau's favourite addresses.
"The places I like always revolve around wine. Basically, if the wine list is made up of natural wines, then I can eat anything," he says.
A big fan of "exotic" breweries, Martin Juneau has a soft spot for Satay Brothers, in Saint-Henri. "What they do is always impeccable, and the wine list is nice," he says.
But his most recent favourite is without a doubt La Belle Tonki. "It was really my favourite restaurant of the past year," he says. "The Kimcheesy poutine, when I tried it, I was like, 'Oh my god!' "
For years, Martin celebrated all his birthdays at Mousso. But the ups and downs of the past few years have forced him to rethink his habits.
This year, he plans to celebrate with his friends at a bring-your-own-wine restaurant: "I'm playing hockey with some young restaurateurs who just took over O'Thym. It's an old bring-your-own-wine. It's been around for a super long time, but there's been this turnover in the last year. I've already started booking it with my friends."
For their last meal before the birth of their daughter Lucie, who will soon be a year old, Martin Juneau and his partner Valérie Roberts enjoyed the first moments of Bar Mamie's patio, last summer. "What they're doing is working! There are so many people on their patio! And every time I pass in front of La Cave de Mamie, I tell them: 'Great job, guys! It's so beautiful!' "
For their first outing after the baby was born, they chose Beau Temps, which opened during the pandemic in Maïs' former space, and by the same owners. "It was a really great time. The wine list is super sharp, super fun. It was really nice," he says.
"What I love is seeing a lot of little places like that that end up opening. Salle climatisée, Lundis au soleil. When I see young people who end up starting their thing and seem to be doing it right, I find that very exciting," he adds.
"With Simone, my oldest, we used to go on a quest to find the best burgers in Montreal," says Martin Juneau.
His latest discovery: L'Hamburger, on St-Zotique. "They serve nothing but burgers, with great fries and milkshakes. The only thing you can do differently is add meatballs and cheese, and you'll end up with something special," he says.
So, do they take the cake for the best burger? "The competition is not over yet, but the last good one we had was there!" he answers.
Even though he was very sad to have to close Cul-sec, Monsieur Crémeux and the grocery store Le petit coin, Martin Juneau is very happy to see other small businesses taking over today.
The spaces are now occupied by the wine shop Vino Rama, the Asian grocery store J'ai Feng, and Pizza Bouquet, three addresses that he really likes.
"As much as I'm torn, because it belonged to us, I'm proud to see what it has become," he says.
Written by Mikael Lebleu
Photography by Mikael Lebleu