Le Mousso: A gastronomic highlight in Montreal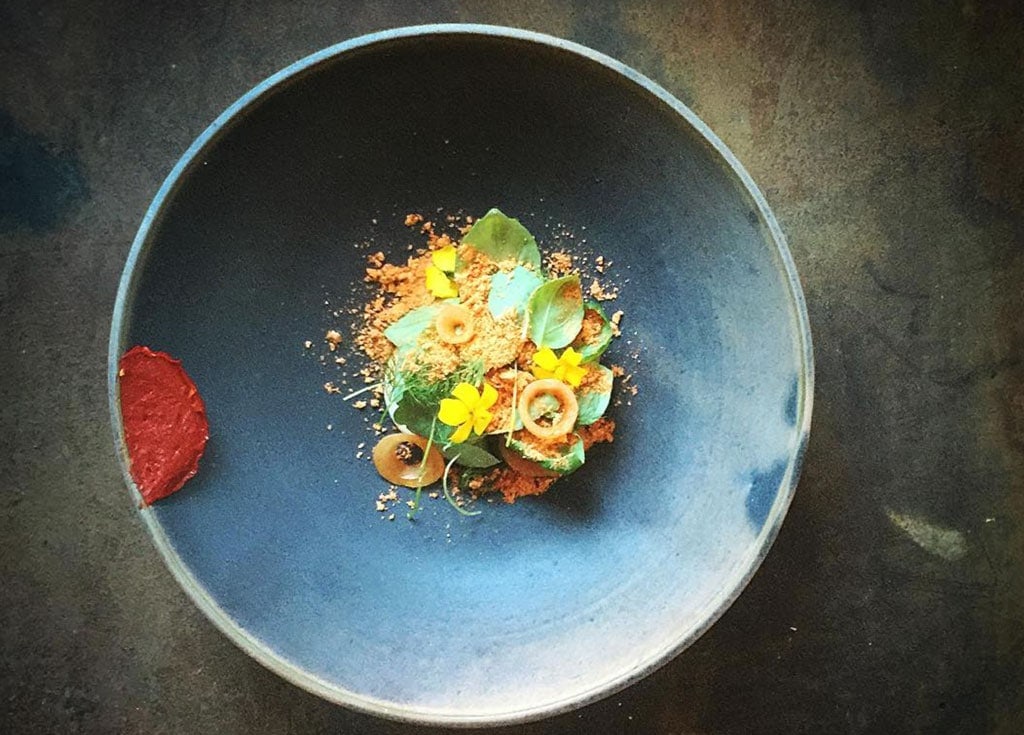 Antonin Mousseau-Rivard first opened his restaurant Le Mousso in February 2015. It is highly successful, right up there with Montreal's best, and they recently completed a move to a new location only a few steps away from the original for an even better restaurant experience.
Le Mousso is the shared project of Antonin Mousseau-Rivard and Katerine Mousseau. Antoine calls the shots when it comes to the daily tasks, the kitchen, and the dining room, and Katerine takes on the administrative management of everything so that the restaurant continues to run like a well oiled machine. Le Mousso is a family team that works together perfectly.
If opening a gourmet restaurant with a fixed tasting menu was a bold choice, this young prodigy chef rose to his own set of challenges and more. Antonin Mousseau-Rivard is definitely a one-of-a-kind, but this may explain why he has been so successful. He is known for his intense character but also his sensitivity, abundance of creativity, and impressive ambition.
Le Mousso is still on Ontario Street, but moved next door into the former premises of La Réserve du Comptoir, just at the corner with Amherst St. "Depending on where you look, you see different neighbourhoods. I am at the edge of Centre-Sud, the Plateau, Centre-Ville and the Village."
This new space has a more fashionable and chic style, aided by its somewhat muted tones and certainly more in line with Le Mousso's formula of fixed tasting menus. It has a few seats less, 48 instead of 55, but more appropriate for the restaurant's overall concept. Antonin and Katerine's design includes eight seats at the bar and beautiful wooden tables surrounded by chairs covered in grey felt to softens the look. Being in this restaurant will make . you feel like you're surrounded by elegant works of art. "It's jokingly called Mousso 2.0, inspired of course by Noma 2.0."
"I am now more of a restaurateur than a chef and I have learned how to surround myself well. As chef-owner, its learning about delegating and trusting others. It's great fun to see the team evolve." Proof of this comes with the talented Massimo Piedimonte who is now the executive chef of Le Mousso.
Le Mousso's menu plays brilliantly on flavours. Le Mousso's tasting menu is certainly one of the best in Montreal, if not the best. The dishes are full of originality. Everything that appears at your table is beautifully plated and well-prepared. Antonin's talents may well go back to the creativity of his artist grandfather Jean-Paul Mousseau – colorful, full of awareness, and with extraordinary textures. The tasting menu at Le Mousseau is $225 per person, and they offer a wine pairing for an additional $115. For those who prefer non-alcoholic beverages, there is a selection of 'mocktails' and infusions specifically crafted to pair alongside the menu. The pairings are generous: the wine list is put together by sommelier Luana Aubert. Le Mousso has welcomed Executive Chef Gabriel Molleur-Langevin, Sous Chef Yoann Therer, Pastry Chef Geneviève Beaudin and Maitre d' Thomas Déziel-Gagnon.
The menu is seasonal and succeeds in both challenging and pleasing our eyes, nose and tastebuds. Dining at Le Mousso is a memorable experience in terms of the comfortable surroundings and ambiance, and most importantly for the fabulous cuisine. Le Mousso classifies as a true gastronomic experience and according to us, one of Montreal's best gourmet restaurants and a must-try dining destination.
"I like to watch people's reactions. Everyone told me not to go into gastronomy but in the end, everyone seems to like what I do. I do believe we've proven that our formula is successful. Allowing people to discover and realize they actually do enjoy eating something they thought they didn't like – I love it ! We are all much more open-minded than we think."
If you want to celebrate a special occasion, experience something extraordinary, discover one of Montreal's best tasting menus, then head for Le Mousso because this is where you will have all of this. Bon appétit !
© Space photos Alison Slattery — Instagram, food Antonin Mousseau-Rivard
Written by Élise Tastet