Quebecois cider: A drink for all occasions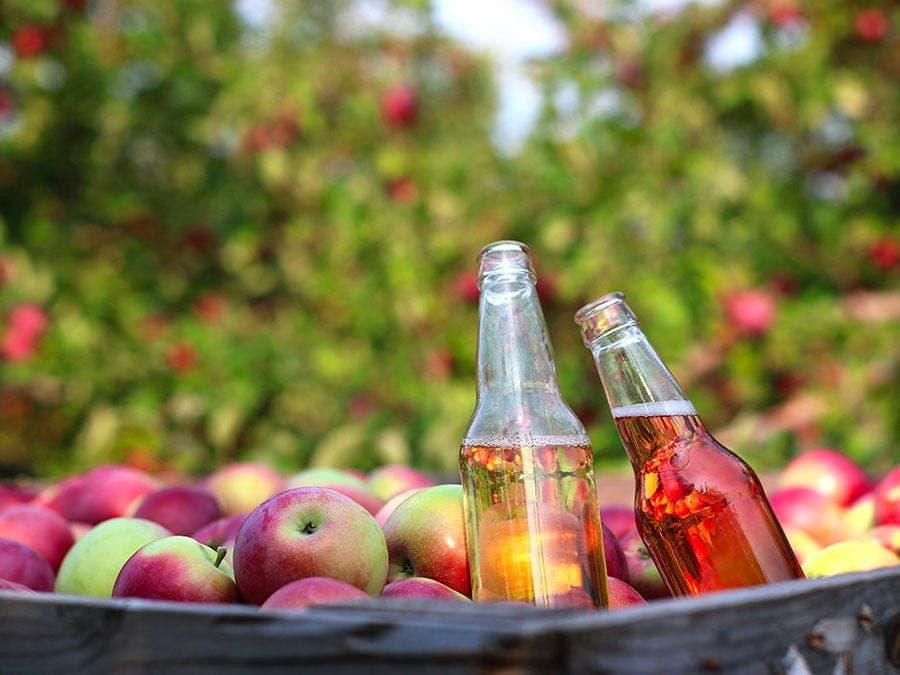 Cider is undeniably the most celebratory product made from apples. Harvesting, crushing, pressing, fermenting, maturing and bottling: its production process is much the same as wine. And its use at the table is just as versatile. While cider as an apéritif is well known, have you ever enjoyed a rich, semi-dry cider with a fat, salty ham cooked on the bone? This elixir promises to enhance your meal, as long as you follow a few basic principles.
A dining companion for 400 years
In Quebec, cider making is a tradition that dates back to New France. However, it has been of interest to gourmets for less than 30 years. From a rough product, good for deglazing pans, it has become a refined, artisanal beverage, designed to please. What distinguishes Quebec is the quality of its apples and the expertise and creativity of its cider makers.
Moreover, Quebec cider does not allow for any added fragrance or artificial flavour. For the advocates of the locavore movement, this is another great selling point!
Cider variations and pairings
Flat cider, or still cider, as its name suggests, is without effervescence. To understand its place at the table, it should be treated like a white wine. If it is light, very dry and lively, it will pair best with your apéritif bites; dry, fruity and supple ciders will be the best match for poultry, fish with sauce, and seafood au gratin; if it is a little more bitter and full-bodied, it will be best with meats. And lastly, a semi-dry, flat cider is a perfect complement to sweet or sweet and sour sauces.
Sparkling cider owes its bubbles to different methods. Whether it is produced by carbonation, in a closed tank or, like champagne, by the traditional method, it can be appreciated as an apéritif or with dessert, depending on its sugar content. From the oyster platter and its cider mignonette to caramelized apple blinis with a creamy whipped cream, the harmony with sparkling cider is irresistible. The bubbles offer a refreshing complement to your fried food. In mixology, sparkling cider is a great substitute for tonic, sparkling water, and sparkling wine! Beyond the table, ready-to-drink sparkling cider in cans or bottles is a sure bet to quench your thirst. Whatever you choose, the choice is vast.
Rosé cider owes its colour to the red flesh of certain varieties of apples, or to the maceration of the peel with the juice; which also imparts tannins and structure. It is the beverage of choice with charcuterie, rillettes, and smoked salmon. Raspberry, strawberry, or cranberry flavoured ciders also flaunt a lovely pinkish colour, and are best savoured on their own.
Ice cider is one of the most precious gems of Quebec's terroir. Obtained from must or apples frozen by the natural cold, it ferments for months before giving this complex and unctuous nectar that we recognize with its flavours of caramel, spices, and candied fruits. On the palate, the balance of sugar and acidity is unparalleled and allows not only sweet pairings with desserts and chocolate, but also sweet and salty pairings with foie gras, aged and blue-veined cheeses, and fatty meats.
Fire cider, which is produced by a process of evaporation through heat and concentration of sugars, offers a nice alternative to ice cider. Its lower sugar content makes it a great digestive to savour on its own at the end of a meal.
You see, cider can stand on its own as much as it can be enhanced with food. In gastronomy, exploration is the most beautiful thing, but to succeed in your agreements, keep in mind that the intensity of your cider must be equivalent, or nearly so, to that of your dish. For the rest, you are the chef! It's easy to find Quebec cider, just go to the Made in Quebec section of your local store and let yourself be inspired by the recommendations of the moment.
Written by Sophie Monkman