Huis Clos: Villeray's lively neighbourhood restaurant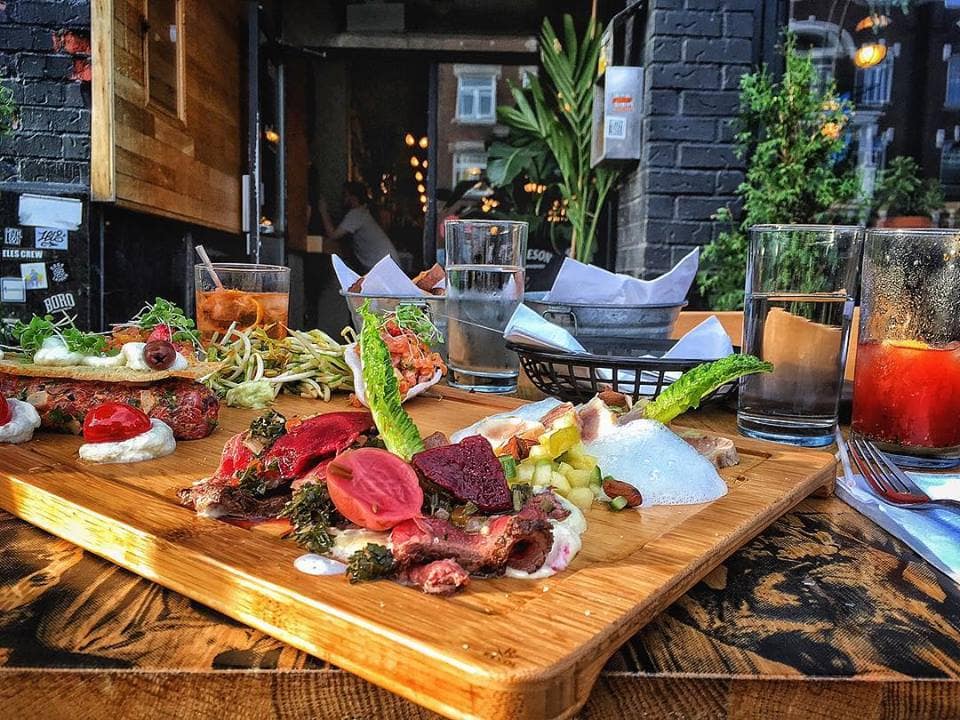 Huis Clos is a restaurant and bar for regulars in the Villeray district where you can eat, drink and enjoy the festive atmosphere!
Located in the heart of Villeray, Huis Clos has been open since 2013. « Huis Clos » is a reference to the famous literary work from Jean-Paul Sartre where the protagonists are kept together with no possibility to leave until their differences have been resolved.  In the case of the bar Huit Clos, it refers to an inviting place that is difficult to leave. Yet, «if people come here and do settle their conflicts then have a good time, that's great! » explains one of the owners, Jean-Phillipe Gauthier. This restaurant-bar replaced « Mundial », the old Portuguese brasserie which already possessed a bar license. The owners, François Forêt, Charles Landreville, Dany Pyton and Jean Philippe Gauthier, felt that the neighbourhood lacked a good bar and good food, and thus they jumped at the opportunity but to develop their concept, they first needed to identify the needs of the Villeray residents so they created an online survey. The owners have made every effort to represent the neighbourhood's values.
The decor, inspired by a submarine, was created by Louis Beliveau. The bar with its solid wood countertop is formed into an angular « S » shape and behind the tables, an impressive modern lattice screen has been installed. The industrial-style lighting is very original and effective, and the space seats 96. In a lively atmosphere, chef Pierre-Luc Ouelette proposes a menu where seafood is front and center (oysters; tartares of tuna and salmon; crab and shrimp « guédille » (hot dog bun); and crab cakes).  Everything is priced at $18 and from 10pm to midnight, cost $15. What works really well at Huit Clos is sharing the dishes while enjoying a glass of wine or cocktail.  Good suggestions are selections from « la mer » (salmon tartare, salt cod fish cakes, and oysters), « Trio de tartares » (beef, salmon, and tuna tartares), and « la dégustation » (choice of two tartares with garnishes, warm chèvre and four oysters), ranging from $35-$60.
Almost all the wine and other alcohols are from private imports and the wine list includes many organic and natural wines, thanks to Charles Landreville and Geneviève Morneau. The creator behind the cocktails is the head bartender Jean-Philippe Gauthier.
The owners are proud to have opened a friendly, unpretentious restaurant-bar where they serve good quality food and drink. Jean Philippe Gauthier adds that at Huis Clos, « you can come and drink a glass of wine at $8 in your running gear and it's not a problem ». There's a great ambiance at this neighbourhood bar and we like coming here for a drink and some fun!
Written by Kashanti Sandy