La Maison de Séoul: delicious Korean cuisine on Sherbrooke West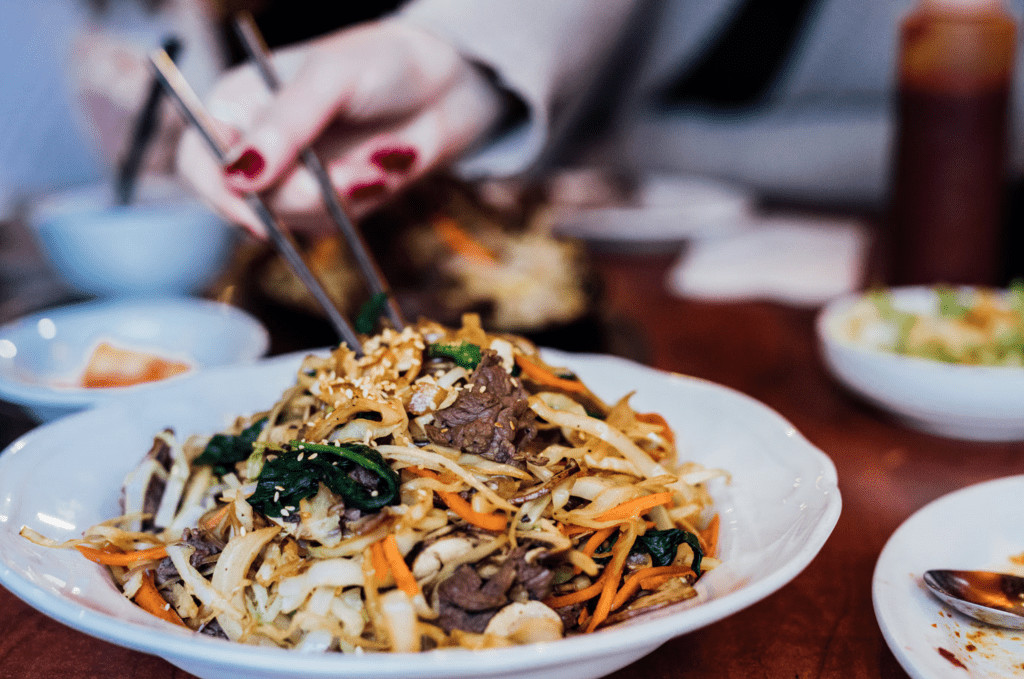 La Maison de Seoul is one of the best Korean restaurants in Montreal and also one of the best Bring Your Own Wine in town. It's a nice place to go for a meal with eclectic flavours!
The façade of La Maison de Seoul doesn't look like much – faded awning, white curtains and a pink sign. The decor may not look like much on the inside either (blue carpets, orange and red walls), but don't let looks deceive: the restaurant is an excellent little intimate address. The room of about forty places welcomes its regulars and newcomers alike, with the emphasis found in the plate rather than in the decor.
The restaurant's sign says "Fine Korean cuisine", and it's true: the chef Yong Hyun Kim prepares small delicacies here. Of Korean origin, the chef is from Seoul. He and his wife Imsoon Kim established themselves in Montreal in 1998 and in 2005 they decided to open La Maison de Seoul with the goal of introducing a bit of Korean family food to Montrealers. They now run the restaurant with their children.
The dishes are prepared by Mr. Kim, are quite hearty, and offer lots of exotic spices and Korean flavours. On the menu, there are many choices: starters (kanpunggi, vegetable croquettes, spring rolls, tofu, shrimp, squid, edamame, seaweed), main dishes (bibimpap of all kinds, yeongyang dolsotbap, raw fish, bulgogi deopbap, albap, stri-fry, unagi donburi, oyako donburi and teriyaki chicken or salmon), noodles (japchae, jajangmyeon, jjamppong, udon), Korean BBQ (pork, bulgogi, chicken or kalbi), soups (sundubu, yukgaejang, kimchi, downjang, neajeang tang, fish soup), and Korean seafood stews. The portions are quite generous and the value for money is reasonable ($13-22 for the dishes). We come here for the specialties of the house: the bibimbap and the Korean BBQ. Our other favourites include the kkanppunggi (fried chicken with sweet and sour chilli sauce), the japchae (sautéed vermicelli, beef or tofu and vegetables), and the yukgaejang (spicy or mild beef broth soup with beef or chicken strips, vegetables, egg and vermicelli noodles)!
Not only is the address very good, and without any pretense, but remember that it is also a bring your own wine restaurant. Customers are greeted with a smile and served with delicacy and politeness. Mrs. Kim is in the dining room with her daughter, and Mr. Kim is in the kitchen. A truly charming and friendly family operation that is especially very good for the price.
Written by Sophie Monkman
Photography by Alison Slattery