Jun I restaurant: Some of Montreal's best sushi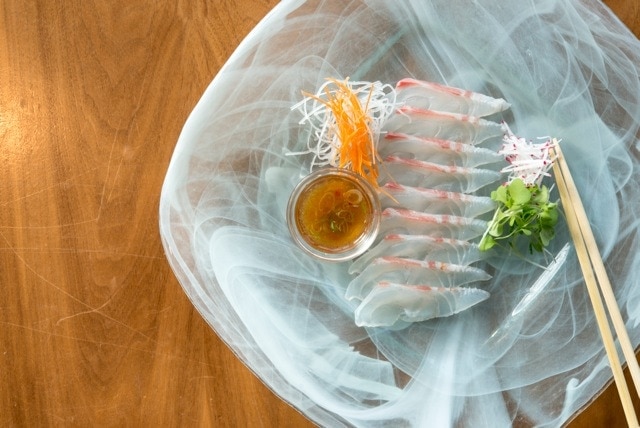 Jun I

$$$
Gift cards from Treater
Monday: Closed
Tuesday: 12:00 – 2:00 PM, 6:00 – 9:00 PM
Wednesday: 12:00 – 2:00 PM, 6:00 – 9:00 PM
Thursday: 12:00 – 2:00 PM, 6:00 – 9:00 PM
Friday: 12:00 – 2:00 PM, 6:00 – 9:30 PM
Saturday: 6:00 – 9:30 PM
Sunday: Closed

Jun I serves remarkable sushi, if not some of the best in Montreal. Having opened on Ave Laurier Ouest over 10 years ago, Jun I has built up the reputation of being a landmark restaurant for Japanese dining.
The name Jun I is a nod to the chef Junichi Ikematsu. Originally from Kyoto, Junichi left Japan at the age of 18 to attend French cooking school. Later, in 1989, he came to Canada and settled in Montreal. Soon after his arrival, he worked as a sushi bar chef on Blvd St Laurent and Rue de la Montagne. Six years later he joined the renowned Sotto Restaurant as executive chef, and stayed there until it closed in 2005. It was then that colleagues Ped Phimphrakeo, Jonathan Daunais and chef Junichi decided to open their own sushi restaurant. Ped takes care of the administration side, Jonathan covers the room service and Junichi is responsible for the menu.
They chose Ave Laurier Ouest « for the quality of its neighbourhood ». The restaurant can seat about 40 around the tables and there are also 12 seats at the bar, facing the open kitchen. The long, narrow interior, designed by Jean Pierre Viau, is classy yet unfussy and very comfortable. Viau has introduced a number of interesting elements, one of which is particularly reminiscent of our Canadian winter, the wall mural of bare trees in a snowy forest. This mural stands out against the subdued plush grey chairs and similar counter-height chairs. Under the simple, yet elegant table settings are beautifully polished wood topped tables. The look is one of casual sophistication.
As we mentioned, this is where some of Montreal's best sushi is eaten. You can find this address in our list of the best sushi in Montreal. Serving excellent sushi means knowing how to filet fish, using not only excellent knives but the right knives, preparing fresh products of high quality, and knowing simply how to use the fish to its best advantage, preserving its value and taste. "This is of paramount importance in our kitchen." On the menu, there are a few delicious and refined starters, a superb bar preparing sushi and maki, plus some house specialities which depend on what has arrived from Japan. Aside from sushi, there are other delicious dishes to choose from, thanks to Samuel Mercury, and chef pâtissier Tomoko Watanabe's desserts are not to be passed over lightly, because these include some of the best Japanese desserts in Montreal.
The wines are from private imports and chosen by Sommelier Guillaume Laliberté. He is also behind the cocktail and saké lists. Junichi himself is a saké lover, hence there is an interesting list to choose from and they too, come from private imports.
Dining at Jun I is a most enjoyable experience from the menu choices, service, atmosphere but most of all, the quality of the food. "Our job is to please our customers and make them happy."
Written by Élise Tastet