Well: Delicious and generous brunch in Verdun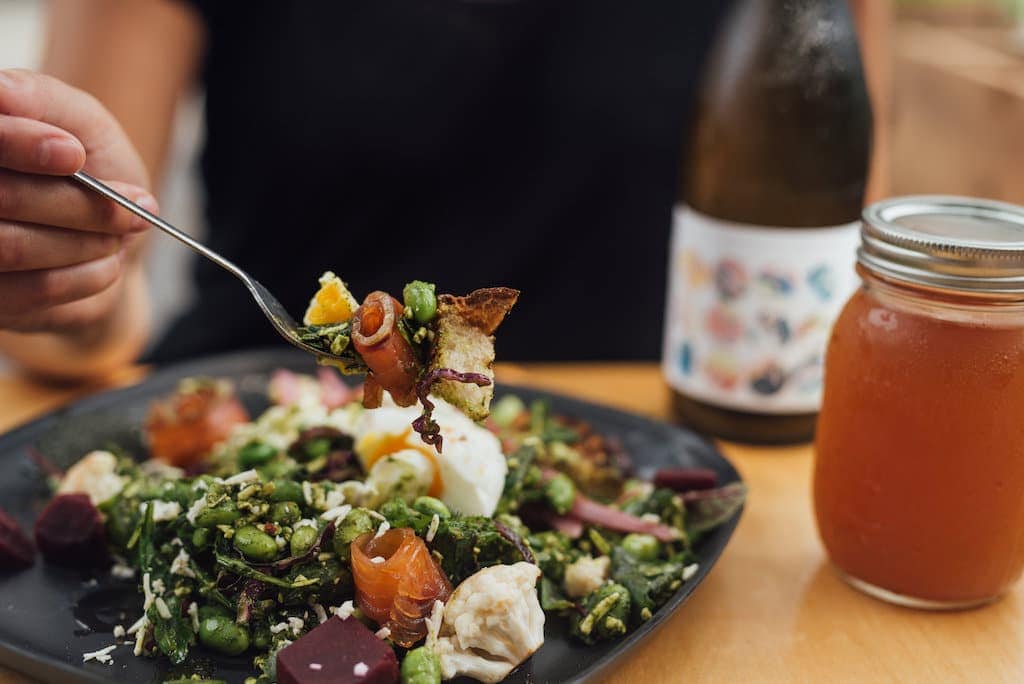 Established since 2017 on Wellington Street in Verdun, Well offers a generous and comforting brunch menu in a friendly, unpretentious atmosphere.
The idea for Well took shape in the minds of owner Peter Simard and his partner at the time, Paule Vezina, while they were both working at L'entre-pots Masson. They opened the restaurant with the desire to create a comfortable space, where one would feel a bit at home. That's why they chose the name "Well", which also echoes the name of the street it's on, Wellington.
Sharp, but casual
The space, which seems small at first glance, is quite charming and casual. Designed by interior designer Michèle Beauchamp-Roy, she was able to give the place its air of welcoming simplicity and take full advantage of the configuration of the place. Indeed, there's room for 32 guests here, with about ten at the bar or the counter overlooking the street. The predominant colours here are gray and white, although wood accents offer the space a warmer touch. In the corner of the restaurant, a bright sign illuminates the word "sharp". This is the motto of the place: everything is worked, attractive and simply well done; sharp. The space is designed to have a view of the kitchen where you can see the team at work.
A generous and comforting brunch menu
Speaking of cooking, Peter is in charge of the menu with the help of his sous-chef, Jean-Charles Gagnon. The team has designed a generous and comforting brunch menu—served all day long! The menu is short but meticulous, with a dozen classics like the breakfast sandwich and the deliciously decadent breakfast poutine, served with a choice of ham, bacon, fried chicken or tofu. The shakshouka and the pancakes with bacon and ricotta are also favourites on the menu. The tartiflette and the grilled cheese with duck confit will satisfy the appetite of the most demanding.
The portions are generous and most dishes can be adapted to be either vegetarian or vegan. The prices vary between $10 and $19, and we can assure that you get your money's worth!
To accompany everything, manager Daniel Abécassis and his team offer a nice list of natural and organic wines selected with love, as well as the delicious coffees from ZAB.
The restaurant is open all week, offering brunch seven days a week from 8am to 3pm. The menu is also available for delivery via Pizzli and Doordash or for take-out by calling the restaurant directly on the vintage pink phone that sits proudly on the bar.
In sum, Well offers generous and affordable food in a friendly and relaxed atmosphere. You'll leave feeling full and happy. No wonder the restaurant attracts crowds every weekend. It's worth the wait!
Written by Élise Tastet
Photography by restaurant Well