Wren's is bringing fine-dining chops to the humble casse-croûte burger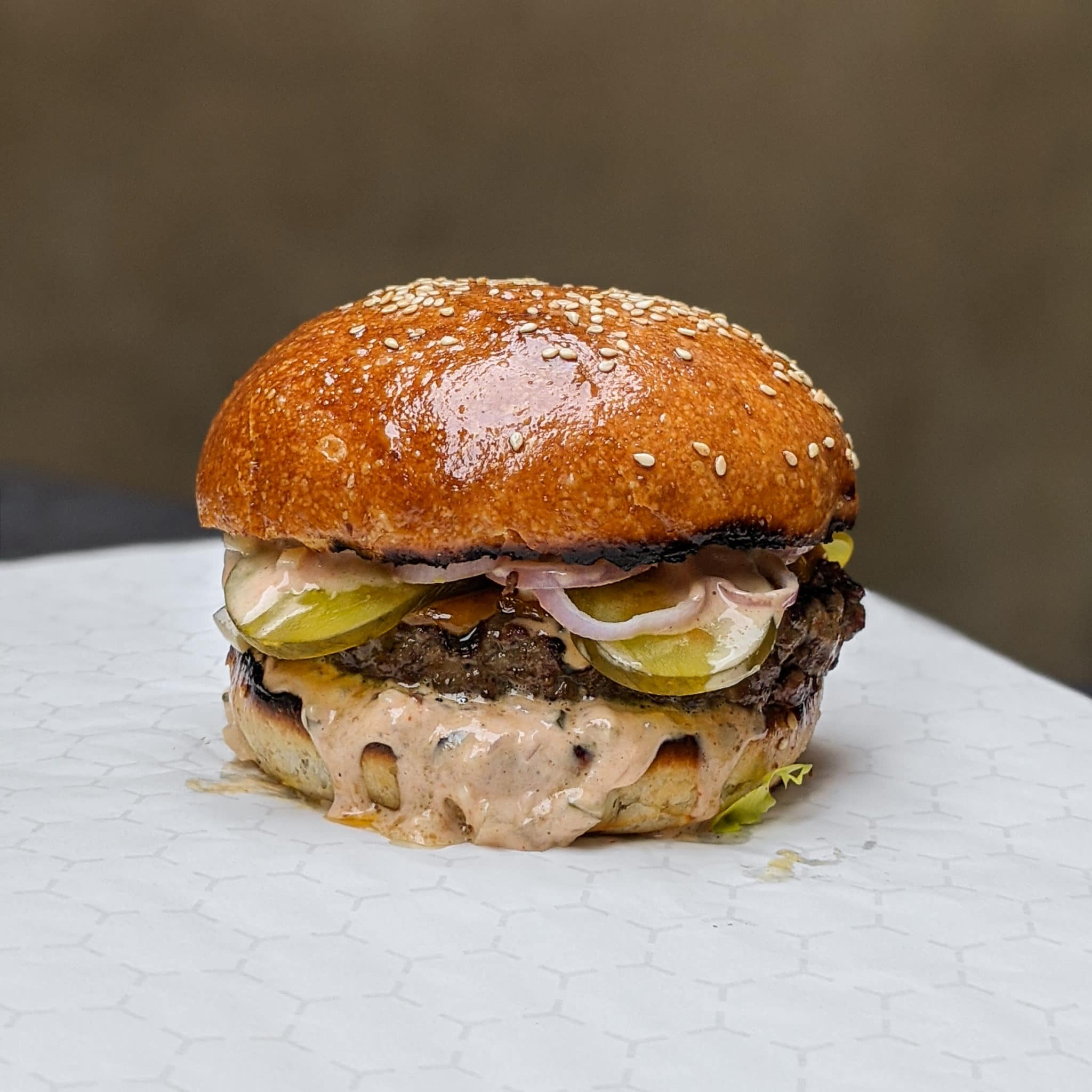 This address closed their doors; the content of the article is not valid anymore.
Restaurant 212, a recently opened (and recently locked-down) fine-dining restaurant in the Old Port is reinventing itself as Wren's, a casse-croûte with one goal in mind: serve Montreal's best burger. Co-founders Brooke Walsh (École Privée) and Trevor Coulton (Kampai, Apt. 200) joined forces to create 12th Round Hospitality — 212 would be the group's first project. Covid-19, however, would cut the launch of the restaurant short and after a brief two-weeks of operation, the business would be forced to close its dining room. Joining Walsh and Coulton in 212 is Chef Patrick Marion whose culinary pedigree is marked by a lengthy list of highly praised restaurants in both Canada and abroad, most notably being Noma, the legendary Nordic restaurant in Copenhagen. Marion's signature style, one that mirrors the local, sustainable and finessed style of Noma, would prove impossible to replicate in a take-out format. Ultimately, guests wishing to enjoy the lavish, Gauley Brothers (Atwater Cocktail Club, Bird Bar, Foiegwa) designed space and Marion's technical and meticulously composed food would have to wait for better days. 
Pressed with having to develop a new concept, the team turned to Marion for inspiration. "We basically created a brand new concept in 48 hours" explained Walsh as Marion focused his attention on something unexpected, the humble cheeseburger. Drawing on the same local and sustainable ethos, he brought to 212 and leaning on his fine-dining chops, Marion tasked himself with creating Montreal's best burger. A few frantic days later, Wren's was open for business. Named for Marion's daughter, the concept is deeply rooted in home comfort. The idea wasn't to create an expensive, ultra-fancy burger it was to make something approachable, recognizable but ultimately better because it's made fresh in-house and with the best possible ingredients. 
On the menu, you'll find three burgers: A classic all-dressed burger, a cheeseburger topped with Pacific Rock cheddar and a "cherry bomb" burger that's dressed with spicy aioli. Additionally, Wren's offers an excellent veggie burger, a selection of fresh market salads, hand-cut fries and a few homemade hotdogs, including 'tLe Montrealais", a celery-root-slaw and secret-mustard topped dog that happens to be Walsh's favourite thing on the menu. There's also a short, but carefully curated, wine list put together by Alexis Demers (Le Mousso, Menu Extra).
What makes Wren's stand out is the process. The buns have been laboured over and are baked daily. The beef too is ground fresh every day ensuring that you're always getting the freshest, tastiest burger possible. While Wren's isn't reinventing the wheel, it's certainly rethinking the way in which it turns. 
Wren's is open for take-out (and delivery via UberEats and Skip the Dishes) Wednesday to Sunday from 3 PM to 9 PM. Why not see for yourself, if Wren's, is truly making the city's best burger? 
Written by Clay Sandhu
Photography by Photos by Scott Pilgrim