Take-out: Local ordering and delivery applications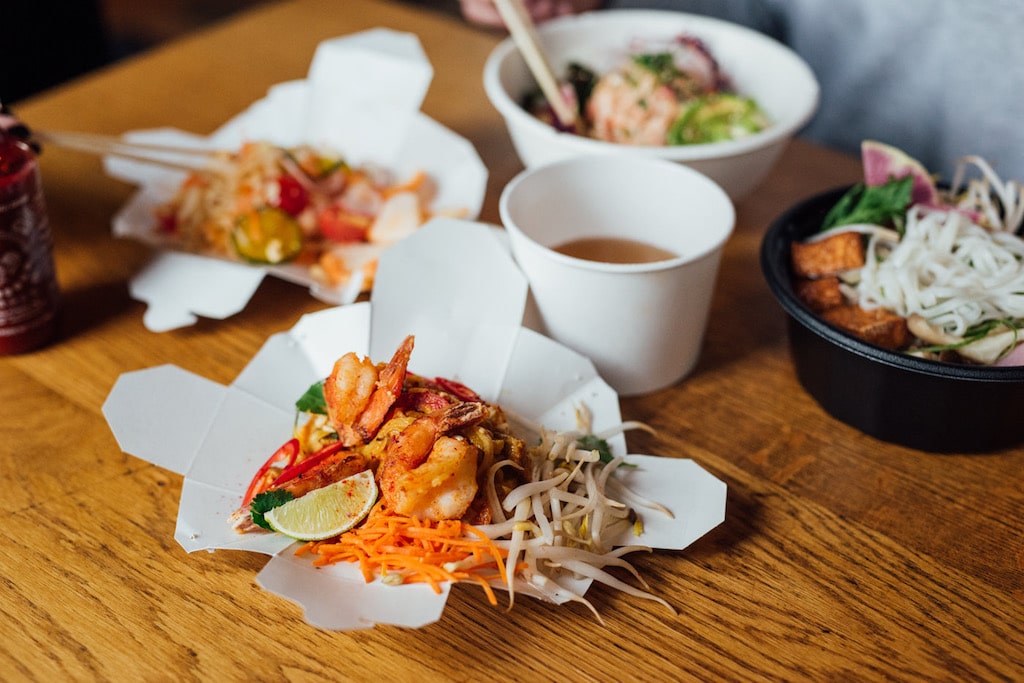 Take-out: local applications
The restaurant business is not exactly in its heyday these days, and it's hard to deny it. Evenings with friends sitting in a restaurant sharing pitchers and appetizers are distant memories; a memory that we would pay a lot of money to relive today. Covid-19 has forced all of us, restaurant owners and consumers alike, to do things differently, to rethink the dining experience, from payment to service.
Since last March, several local businesses have surfaced or gained popularity because of Covid-19. The companies that we're telling you about today are making it easier for restaurant owners, each in their own way. Whether it's developing a contactless payment app to pick up our take-out more securely or setting up a delivery service for restaurants, they all offer an alternative that, at the same time, helps encourage the local economy.
There's no denying that the Uber Eats and Skip The Dishes of this world make our lives a lot easier when we suddenly have a craving for a dish and are looking for the perfect restaurant to satisfy it. That said, many Quebecers are looking for local businesses that offer similar services so that their money stays in Quebec pockets instead of going to the pockets of large multinationals abroad. Many restaurant owners have also chosen these alternatives to encourage local business or expand their clientele.
Your "take-out" parties can now become 100% local if you want. Here's our short list of local companies that are helping restaurants serve you better through this tougher time.
Pizzli
Pizzli is an application developed by lntek+, a Quebec-based company, which was created following the first lockdown last March. The app was designed for restaurants wanting to equip themselves with an online ordering service quickly. They offer a simple and efficient service, perfectly adapted to the needs of restaurant owners who must reinvent themselves in this covidian reality. The platform puts forward a range of local restaurants from which you can order take-out, without contact. You can enjoy Montreal's gastronomy without the stress of the virus.
CHK PLZ
CHK PLZ is another local company that facilitates contactless payment. Users can pay for their purchases directly via their smartphones. They have adapted their business to the challenges of Covid-19 to better serve restaurants and their customers. Some of the restaurants they serve include some of our favourite gourmet addresses in Montreal such as Agrikol or Arthur's Nosh Bar.
À la carte express
À la carte express is a service like no other that has been in operation for over 20 years, long before the arrival of this global pandemic. The company specializes in delivering meals to businesses at their place of business, whether for meetings, team lunches, corporate events or other occasions. Available 7 days a week, they offer choices for companies that want to order in larger quantities and often have limited and inflexible schedules. That said, you can also use the app for individual orders as you would on any other popular platform. À la carte express is an easy to use and 100% Montreal service.
Eva
Eva, a homegrown company, was originally designed to compete with Uber. It was, and still is, a local application for carpooling. That said, since the arrival of the pandemic, it has ventured into a new sector, delivery. Eva, unlike some of its larger competitors, does not take any profit from the restaurant owners and the delivery fee is paid directly to the driver. Eva is the first alternative of its kind to offer an instant delivery solution with real-time tracking that currently serves UEAT, CHK PLZ, Resto Loco, Shopify and Pizzli. The platform encourages Montreal consumers to support the local economy. It is also a social economy enterprise since it forms a cooperative whose ownership is shared among its members. The service is, without a doubt, advantageous for the restaurant owners who do not have to pay for it.
Written by Sophie Monkman