Ta Chido : Delicious Mexican snack bar in Mile-End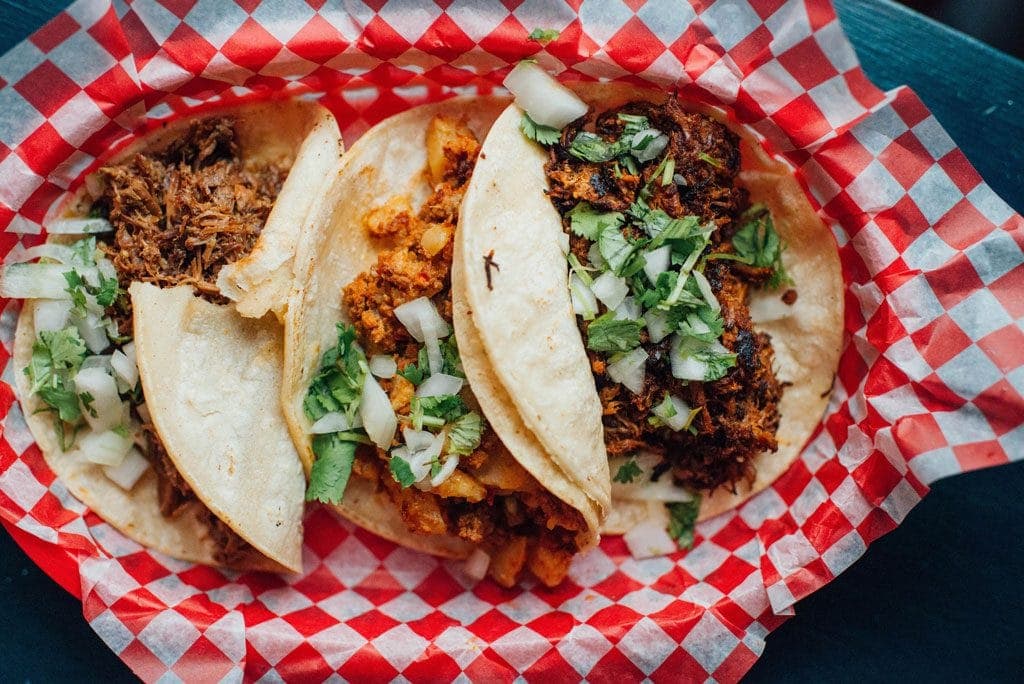 Ta Chido is a small restaurant in Mile End serving great Mexican dishes in an eye-catching atmosphere.
"Ta Chido" is a slang expression from "esta chido" meaning 'it's cool' in today's Mexican dialect. Once you cross through these front doors, the atmosphere is indeed very 'cool'. It was back in 2011, when owner Mariano Franco Jr., his father Mariano Franco and his sister Maria Del Sol Franco, opened Ta Chido, to offer tortas, (Mexican sandwiches).  "Our concept was to reproduce the traditional botaneras of Mexico City. These are old restaurants and bars where traditional dishes, tacos or tortas are served, accompanied by alcohol and good popular music," explains Mariano.
The decor of Ta Chido is certainly very colourful and original, and you can't help but have your eyes drawn to the numerous fascinating objects belonging to Mariano. There are toys and figurines, including some piñata-looking paper mâché figures hanging on a wall (the shark «jaws» is most impressive). «I had collected many vintage toys and strange objects and so I decided to share some of my treasures with our customers.» Even the outside with the bright turquoise and red sign on the old red brick façade catches your attention. The pops of red inside on some walls, chairs, espresso machine add to the lively feel.
The menu is a collaborative effort between Mariano, his mother and Julia, the chef. There are delicious classic Mexican dishes like tacos, quesadillas and tostadas (crunchy tortillas).  But the speciality is the torta, a Mexicain sandwich using a telera bread, made by Mariano's father and these are also available in a gluten-free version. The tortas are filled with bean paste, mayo, tomatoes, avocados, caramelized onions, cheese and a choice of meat. They are absolutely delicious and the servings are very generous! Our favourite torta is the torta Pierna, a sandwich filled with thinly sliced braised pork and sweet chipotle sauce. There is a selection of desserts and traditional corn bread as well, also prepared by Mariano's father.
If you are a fan of tequila and mezcal, feel free to order one of the cocktails that have been created by Maria. We enjoyed a great Margarita with hibiscus and a Mojito with mezcal.
What does Mariano like best about Ta Chido? «I'm addicted to the Mole Verde, Res, Cecina tacos and Bacalao torta.» confesses Mariano. «I could eat them every day». This is a casual eatery with a great atmosphere so take your time to look around at the quirky decor.  Ta Chido serves tasty, delicious Mexican tortas and we appreciate their very generous servings. It is for all these reasons that their tacos are on our list of best tacos in Montreal.
Written by Kashanti Sandy