Paris, but affordable: Marie l'Enfer's favourites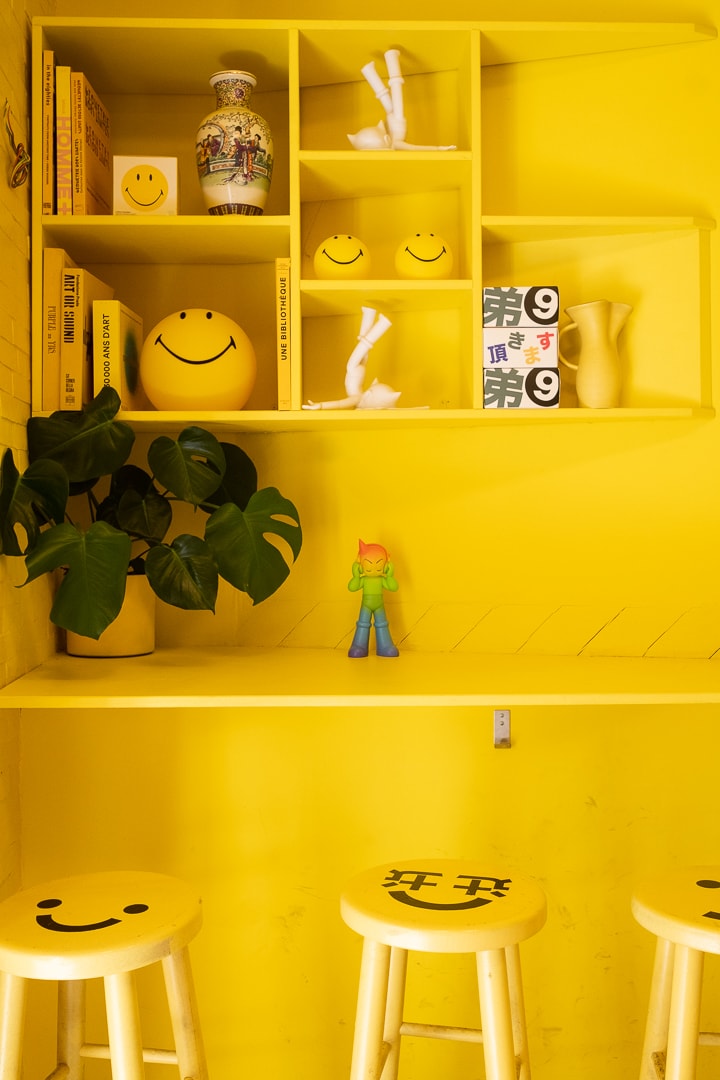 After more than two years of pandemic life, it feels good to be back in the city of light. You don't come to Paris to sleep. Between art galleries, museums, architectural relics, luxury stores, fashion, culture, terraces and cafés, there's no shortage of things to do and see. There is something for everyone, and time flies faster than you'd like!
What better way to explore the city leisurely than to ride a bike or an electric scooter from one neighbourhood to the next?
Of course, there is no lack of restaurants in Paris. A labyrinth of choices is offered to us, from street food to bistronomy to multi-starred gastronomy. To maximize your dining experience, it is essential to plan ahead. Restaurants often fill up and it can be difficult to book a table at the last minute. And so, it's less likely you'll be disappointed if you plan ahead. Note that most places keep seats available even if they are sold out online. Don't hesitate to call.
While still enchanted by the extraordinary addresses we've already visited—Clamato, Au passage, Septime, Frenchie, Déviant, Servan—the city is offering more and more delicious and interesting options that won't break the bank. These are addresses inspired by street food and a "small dishes to share" formula.
Here are a few nice addresses, many of them very affordable, that are sure to charm.
Bang Bang – 9 Rue du Liban, 75020 Paris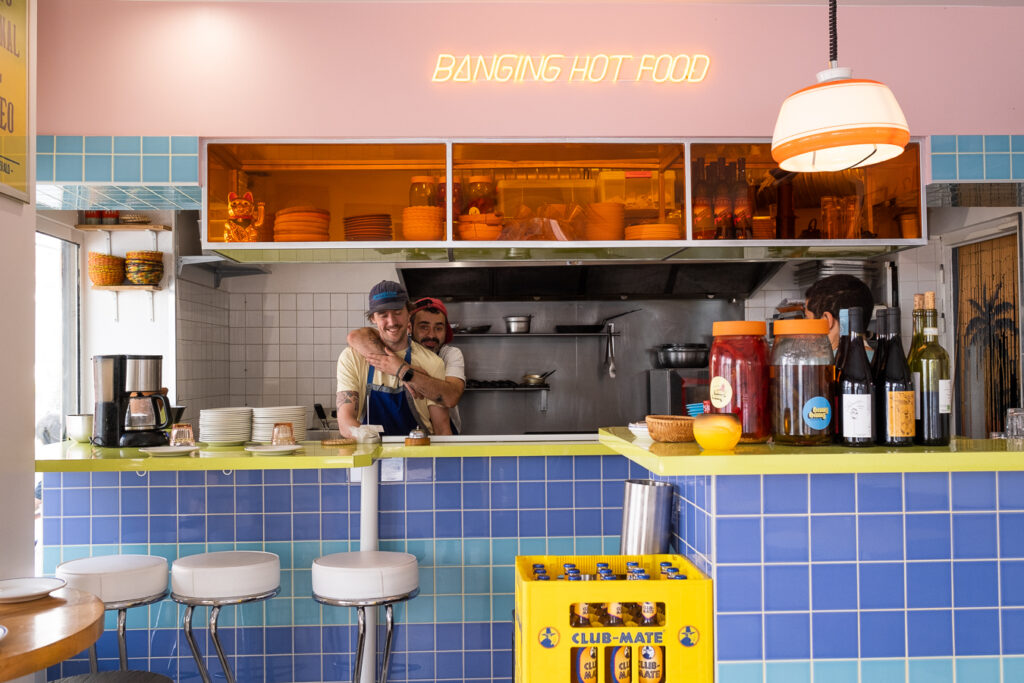 A nice little restaurant in the 20th arrondissement, halfway between Belleville and Ménilmontant. Bang Bang looks like a "modern retro diner": lime green counter, yellow tables, orange neon lights. Here, it's not just the look but the spicy flavours that make a BANG! The cuisine here is colourful and inspired by street food, without lacking finesse. We taste small sharing dishes inspired by the four corners of the world, with a particular Asian focus, all beautifully executed. On the menu: chili cheese croquetas with a mango-ginger sauce, tender caramelized octopus skewers and sweet onion pickle, smashed cucumber salad, Charentais melon, sorrel, chipotle chili jam, green papaya and chicharron salad, decadent pork empanada with red curry apricot, BBQ chicken and some stronger dishes like fish curry and pork tomahawk chimichurri with shiso leaves. We appreciate the festive and generous cuisine enjoyed in a relaxed space with a background of rap music.
To drink: Craft beer, mezcal, natural wine and exotic soft drinks infused with CBD. Dishes between 8€ and 32€.
Fabula – 16 Rue des Francs Bourgeois, 75004 Paris
Fabula is the ephemeral restaurant of Top Chef candidate Thibaut Spiwack. It is also the perfect place to escape the hectic pace of the vibrant and noisy Le Marais district. A well-kept secret, this diamond in the rough is nestled in the majestic interior garden of the Carnavalet Museum, between two iconic Marais mansions. It is worth a visit not only for its vast and sumptuous terrace lined with flowers and greenery, but also for its inspired cuisine and its cocktail menu signed by Nico de Soto (best French bartender 2014).
During the day, a limited self-serve snack menu is offered. In the evening, the menu is expanded with chic sharing dishes offered in four themes: vegetable, meat, fish and sweet. You have to be quick to enjoy it, the ephemeral address closes in October 2022. Reservation strongly recommended.
Faste – 52 Rue du Faubourg Saint-Martin, 75010 Paris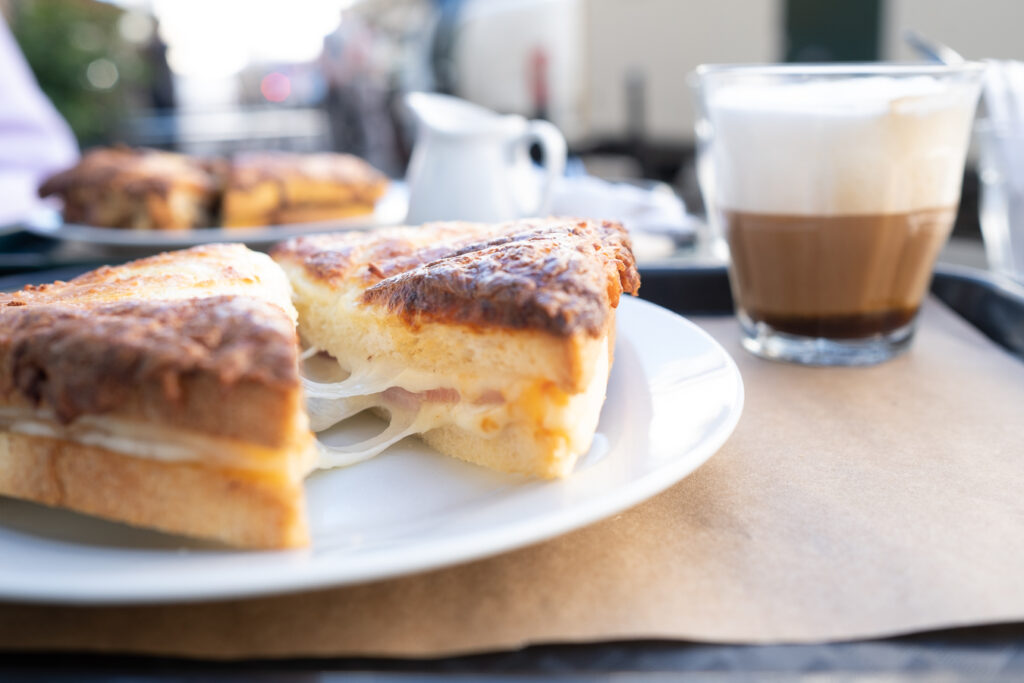 Faste: A French word meaning magnificence, luxury, and splendour.
At Faste, we don't mess around with the emblematic croque-monsieur, a flagship menu item of French culinary heritage. Chef Nicolas Duquenoy makes it according to his mood and seasonal products in his small restaurant on rue Faubourg Saint-Martin. A dozen varieties are offered at the counter, from the most classic to the funkiest, all prepared with the best products available on the market. In addition to the classic ham and béchamel, you can opt for the excellent veggie, made with boursin, eggplant, zucchini, fennel, tomato, mozzarella and basil, or the Plaisant pastrami, with pastrami, gherkin, cheddar, béchamel and candied tomato. A few salad choices are also offered to complement these generous and filling cheese sandwiches. Perfect for a quick and casual lunch that's a little different.
From 8€ to 13€, Monday to Saturday, from 10am to 10pm.
Gramme – 86 Rue des Archives, 75003 Paris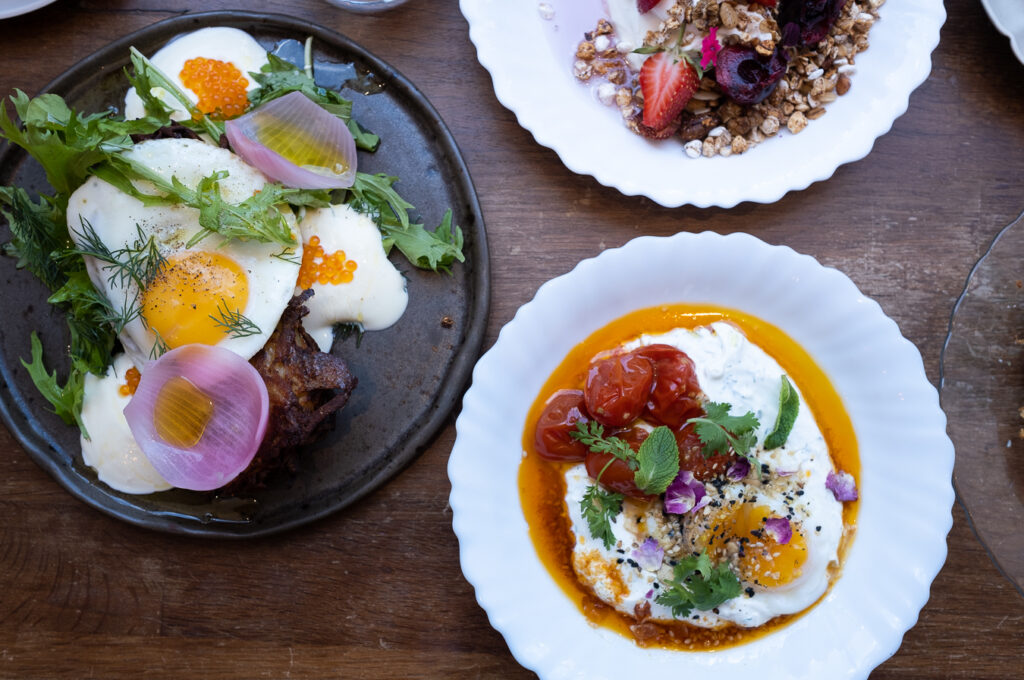 A real gem in the Haut Marais, Gramme is the perfect place to have brunch in a welcoming setting. Located on the rue des Archives, the restaurant's vintage decor reflects the warm personality of the owners, Marine and Romain. Drawing their inspiration from the cultural mix of Paris, they offer an original cuisine, based on the quality of seasonal products from local producers.
One of their specialties is their bánh mì-dog: soft milk bread topped with pulled pork, crunchy cucumbers, coriander mayonnaise, and fried shallots. For brunchers, the Turkish egg on yogurt with herbs, roasted tomatoes, rose chili oil and dukkha is simply delicious.
The menu changes with the seasons and is complemented by an array of mouth-watering pastries and delicious coffee. Note that the wait on weekends can be long since there are only about 20 seats. No reservation required.
Le Dauphin – 131 Avenue Parmentier, 75011 Paris
Le Dauphin is a magnificent wine bar. Adorned with marble from the counter to the ceiling, you can't go wrong visiting this gem of a tapas restaurant located in the 11th arrondissement. The quality of the dishes and the wine list will make you forget the typical Parisian welcome and service. Sublime croquette with Iberian ham, artichoke vinaigrette, delicately smoked haddock with cucumber, pink pepper and samphire, tuna with caper butter, marbled clams, beef tartar or whole pigeon; each dish is a delight executed to perfection and makes us want to dive a little deeper into the sublime wine list.
Tuesday to Friday for lunch and Tuesday to Saturday in the evening.
Mokonuts – 5 Rue Saint-Bernard, 75011 Paris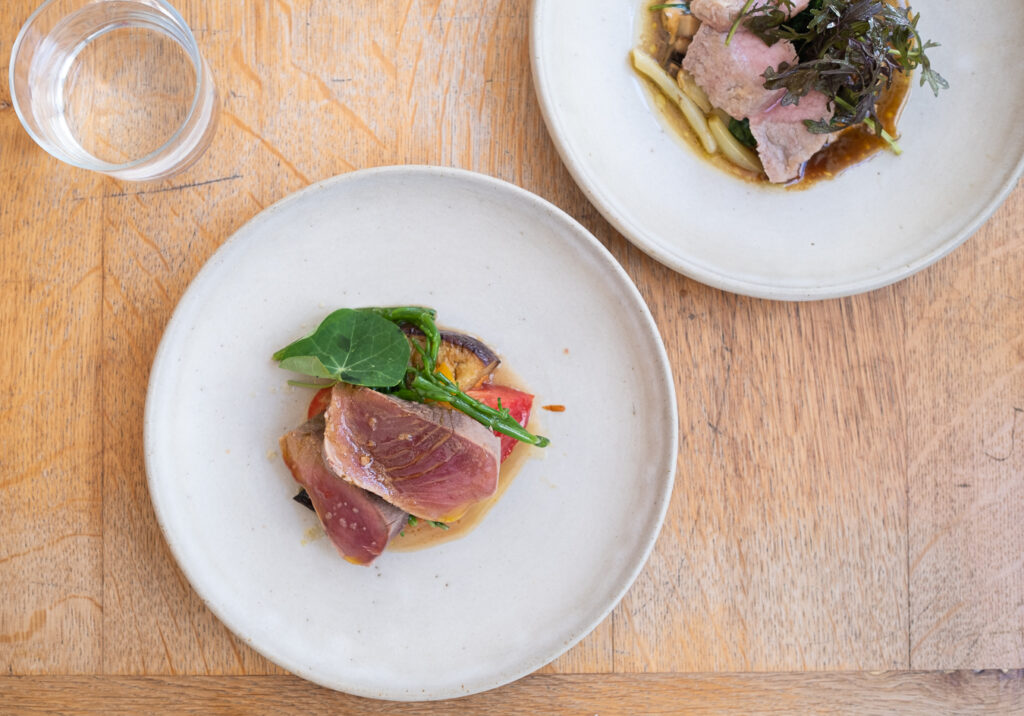 A charming little café tucked away in the 11th arrondissement that is anything but ordinary. The café offers a gourmet breakfast of toast, granola, waffles and coffee until 10:30 am. This is followed by a fabulous fresh lunch, according to the chef's mood and seasonal products, from noon to 2:30 pm.
Mokonuts is the project of Moko Hirayama, originally from Japan, who grew up in San Francisco and New York, and her husband Omar Koreitem, born in Lebanon but raised in Paris. She takes care of the pastry menu and service, and he manages the kitchen and the lunch menu.
Here, we find sophisticated, inventive and minimalist cuisine, in a warm and friendly atmosphere. Heirloom tomato salad, watermelon and capocollo, horse mackerel tartar, cucumber and green tomato pesto, red tuna, smoked eggplant, tomatoes and romesco sauce, and more. The menu changes according to the seasons and the availability of products, but always reflects the same spirit of respect for the product with a Mediterranean touch. It's impossible not to be tempted to try Moko's inspired and tasty pastries. Full of surprises, they incorporate unusual ingredients such as sumac, tahini, miso or dried olive. We leave the place enchanted, with a smile on our face and a pastry in our bag for the road.
Monday to Friday for breakfast and lunch. Reservation for lunch strongly recommended.
Ototo – 3 Rue des Ecouffes, 75004 Paris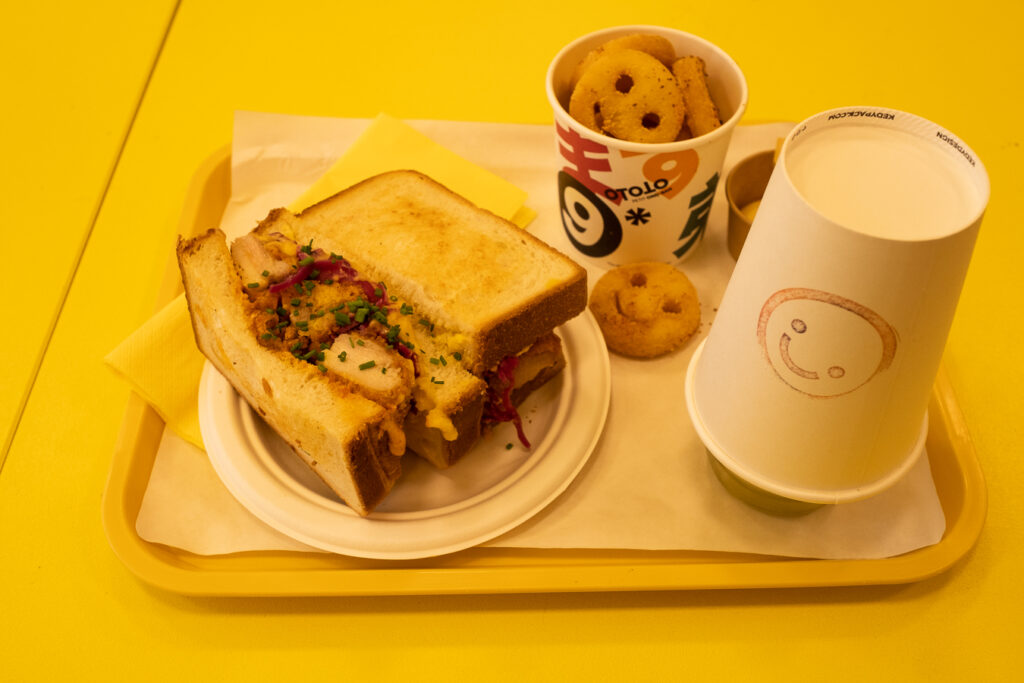 It's impossible not to smile when you step into this fun instagrammable popup in the Marais. Walls and ceilings are painted in bright yellow, and objects, stools and accessories are adorned with the omnipresent smiley face. The space is decorated with vintage toys and posters that take us right back to childhood.
The specialty at Ototo are sandos, the cult Japanese street food sandwich made on a soft bread created from a traditional Japanese recipe. Four choices on the menu: the Torikatsu, topped with fried chicken and gojuchang mayo; the Katsu 'O' fish, with fried cod and shiso-wakame-tarragon tartar sauce; the Tamago Sando, with Japanese egg salad and omurice sauce; and finally the Teriyaki Smash with beef and teriyaki mayo. All are topped with cheddar cheese and tangy red cabbage to balance it all out, and served with spicy smiley face fries or juicy chicken karaage. Hurry up and enjoy! Ototo will be closing in December 2022.
Tuesday to Sunday for lunch and weekends in the evening.
Reyna – 41 Rue de Montreuil, 75011 Paris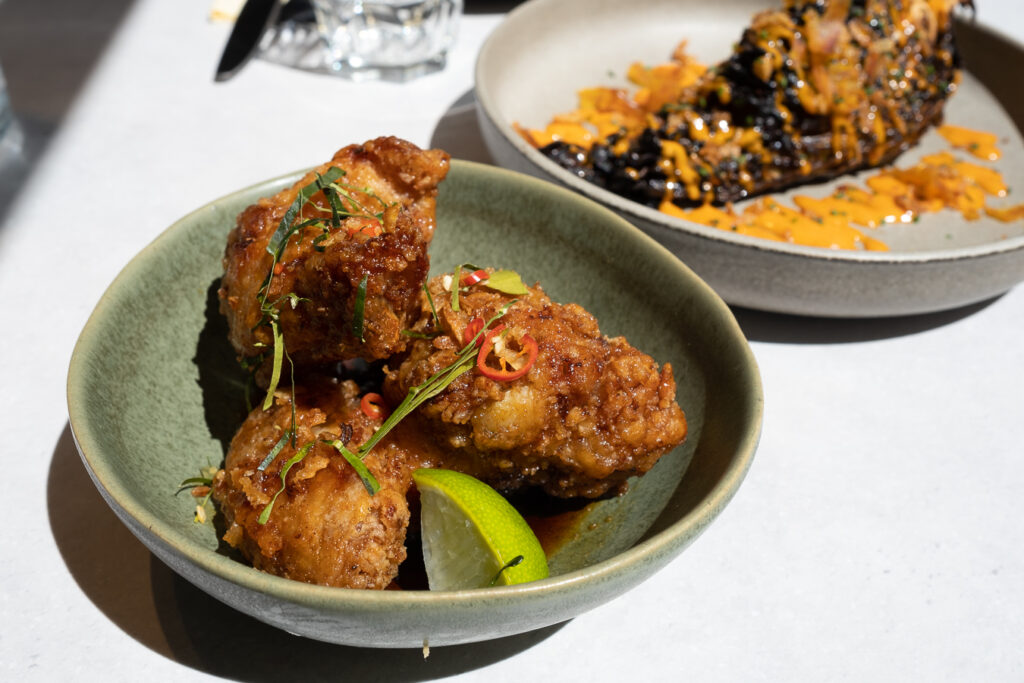 Head over to Reyna (which means queen) for a quick Filipino stopover, and discover the cuisine of chef Erica Paredes (formerly at Mokoloco) at the helm of her umami queendom. The pink sign hints at an inventive experience, full of character and bursting with flavour. There's no mistaking it. The tiny space with its minimal decor and powder pink walls is much more subdued than its menu, which explodes with exotic flavours.
You can taste dishes inspired not only by the chef's origins but also by her travels and apprenticeships. There is no need to be formal about "authentic cuisine", it's all about having fun after all. The pointed cabbage is definitely a highlight of the menu. Braised, grilled with miso butter, then topped with sesame kewpie mayo and gochujang. Who would have thought that this humble vegetable could reveal so much nobility? We share small dishes such as burrata with kecap manis and chili oil, three varieties of fried chicken garnished with herbs and fresh chili, bursting with flavour and juicy as can be, before moving on to bigger dishes. It would be a travesty not to share several dishes and a bottle of macerated wine.
From $10 to $36. Wednesday to Saturday 7 to 11 pm, Sunday noon to 4 pm.
Sapid – 54 rue de Paradis, 75010 Paris
In the heart of the 11th arrondissement is renowned chef Alain Ducasse's restaurant Sapid. The address follows the approach of several starred chefs of late, namely to offer sustainable, vegetarian-based, low-waste cuisine. Less salt, less fat, vegetables accompanied by grains and seasoned with marine proteins.
In this spirit, the space is beautifully decorated with old tables from 1882 from the Lycée Lakanal, in Sceaux, and marble effect panels made from recycled police uniforms. The lighting fixtures are explosion-proof lamps that were used in the chemical industry in northern France in the 1950s.
There is no table service here. You order on the iPad and serve yourself a glass of water and utensils at the back of the room. Unusual combinations and fresh and healthy dishes are expected on the menu: radish and raspberry ceviche, leche de tigre and ice cream, fresh peas, creamy ricotta, burnt pea pod juice, whole zucchini baked in the oven, ricotta, sunflower seed puree, cumin octopus sandwich.
We head there to enjoy a fresh and healthy lunch. Perfect after overindulging in the butter-rich gastronomy that the city has to offer.
Dishes between 10€ and 14€. Monday to Friday from 11:30am to 2pm and from 7pm to 9:30pm (last reservation).
Sur Mer – 53 rue de Lancry, 75010 Paris
Just a stone's throw from the Canal Saint-Martin is a rare gem featuring impeccably fresh seafood. The space is quite small, with an open kitchen, a counter, and two long sharing tables.
The chef-owner Olive Davoux, who studied at Le Verre Volé, a few steps away, prepares a fresh and sexy menu of fish and shellfish, complemented by a nice natural wine list. At Sur Mer, the fish is line-caught from small boats and the menu is adapted to seasonal products and the chef's desires.
Platters of shellfish, oysters and whelks are available to eat in or take away. The menu changes according to the arrival of new products: steamed clams, dashi with langoustine and samphire, grilled squid, horse mackerel ceviche, sea bream carpaccio, grilled red tuna ventresca, Pyrenean trout. The menu is so exciting that it is difficult to choose. The savoury menu is complemented by a single choice of dessert to round off this wave of tasty and well-executed dishes. We recommend 2 to 3 plates to share per person.
About Marie l'Enfer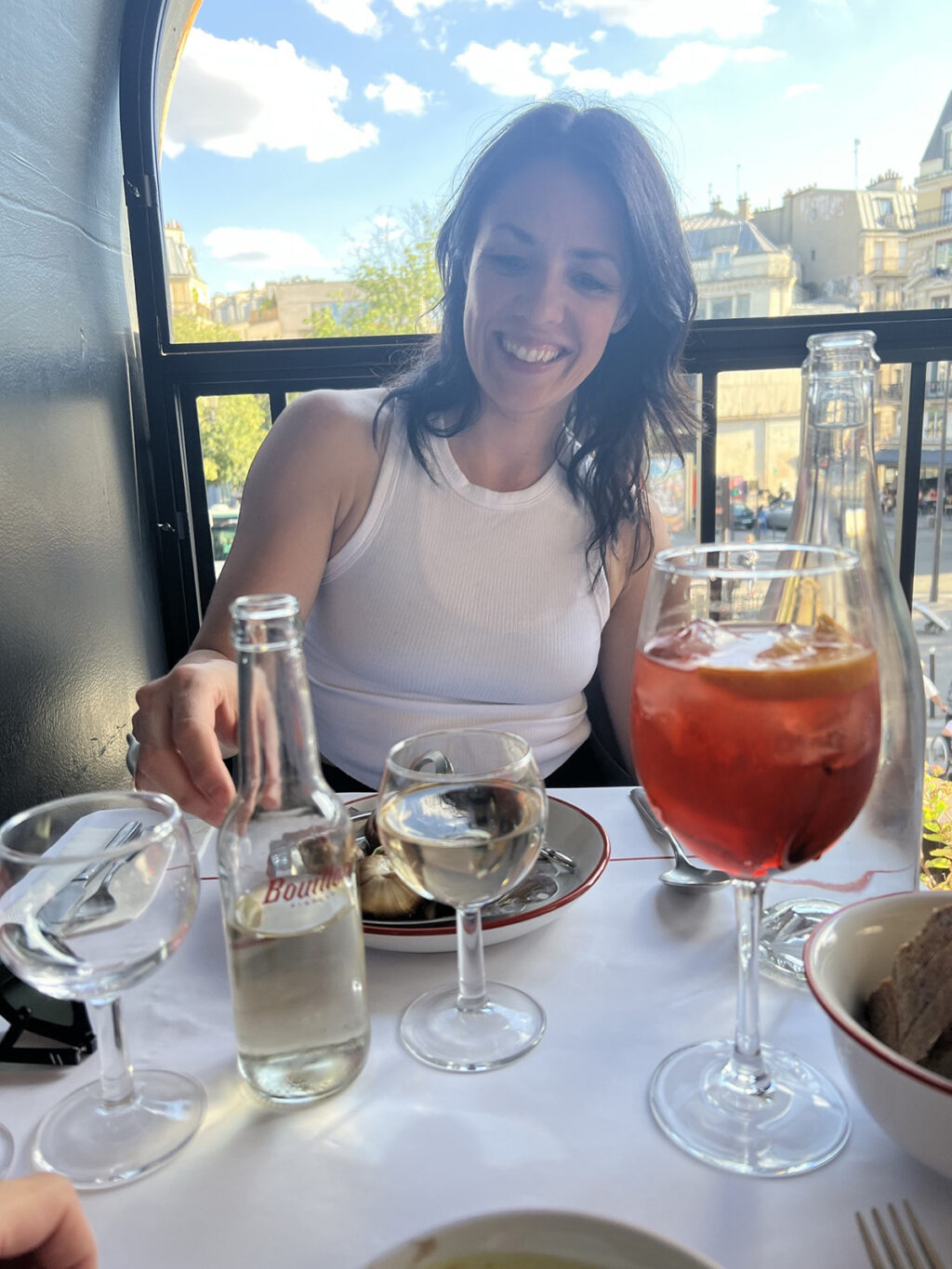 Before becoming a food stylist and photographer, Marie-Élaine Thibault – a.k.a. Marie L'Enfer – worked in the kitchens of several renowned Montreal restaurants, including Kitchenette, Bouillon Bilk and Au Pied de Cochon. Today, she shares her culinary creations on her website marielenfer.com, in addition to collaborating with Le Devoir, Dinette and Mitsou Magazine.
A woman of many talents, she is also an emblematic figure of the nightlife of the 2000's: the wild electro parties she organized under the name of DJ Mary Hell made the great years of Saphir, Belmont and Royal Pheonix (now Ping Pong Club), among others. Today, she pursues her passion for music as manager of Laurence Nerbonne, whom she accompanies on tours throughout Quebec and elsewhere in the world, taking the opportunity to make culinary discoveries—much to our delight.
Written by [email protected]
Photography by Marie l'Enfer