Paris: A gastronomic guide to the City of Lights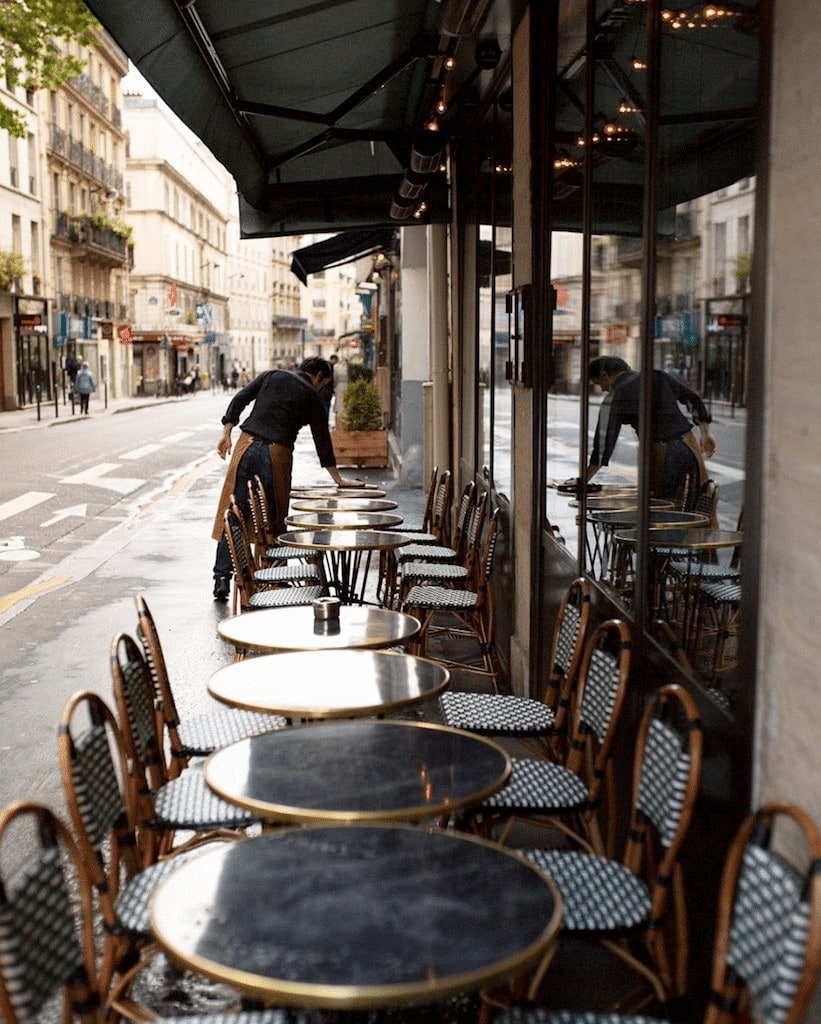 Today we are flying to the French capital, and we all know what that means; we're talking about some seriously good food. As one of the worlds most extensive culinary hubs, it took some time to choose the addresses that we have featured on this list. Of course, Paris is home to some of the most renown fine dining restaurants around, but we chose to focus our list on the smaller-scale, gastronomic gems that made us feel like true blooded Parisians.
Considering the city's size, population, and tourist traffic, Paris is constantly welcoming new gourmet addresses that cater to all budgets and occasions… and we tried lots of them. That being said, here are some of our favourite addresses, ranging from wine bars (of course), bistros, neo bistros, nice patios, and more.
It's not hard to find the names of the biggest Parisian dining icons – think Pierre Hermé, Ladurée, Café de Flore, Angelina, La Dame de Pic, or La Tour d'Argent. Today, however, we present you with a full roster of off-the-grid venues to impress your travel partners, while supporting the democratization of fine gastronomy and a more accessible approach to the culinary arts.
When visiting the City of Lights, you will undoubtedly partake in some shopping, museum wandering, touring historical monuments, and many other activities that help categorize Paris as a UNESCO Intangible Heritage Site. But let's be honest here … your stay will not be complete if you don't take the time to stop in a few great cafés, bars, restaurants and wine cellars.
We can't forget to mention the star of the show : fine wine. Here, good bottles and low prices are legion, so we always suggest asking your waiter for input on food and wine pairings so you can make the most of your experience. Another option : take it to go, and enjoy a picnic and bottle of wine on the banks of the Seine!
Septime
In the Top 50 best restaurants in the world Orchestrated by Bertrand Grébaut, a gourmet prodigy who worked alongside Robuchon, Passard and Agapé, Septime reflects the very essence of vogue gastronomy, combining modernity and tradition seamlessly. After an experience at Septime, it will come as no surprise that this restaurant has earned a place in the list of the 50 best restaurants in the world. This restaurant is built on a foundation of limitless creativity, abundant freshness, and meticulous precision. Nestled away in the 11th arrondissement (a district that is known to attract the contemporary Parisian epicureans), Septime sports a modern industrial décor. The house offers a 5 course carte blanche menu at 60 € (+ 45 € for the food and wine pairing) for lunch, and a 7 course menu for 95 € in the evening (+ 60 € for the food and wine pairing). Septime is truly an exceptional neo bistro that perfectly combines top of the line quality foreach aspect of the establishment; from the inventive wine list and ingredient sourcing to the stunning decor and amazing service. Due to the popularity of the address, we strongly suggest booking well in advance. Please note: Septime also has its own wine cellar on rue Charonne, so if you feel like drinking on the banks of the Seine, or bringing some souvenirs back to Canada.
Clamato
A trendy fish bar in the 11th arrondissement Born from the same family as restaurant Septime, Clamato is another of Paris' most celebrated gourmet addresses. Here, we find the same creativity, friendliness and precision in the dishes that we would at Septime, but this time, they do not take table reservations. The restaurant offers a fish bar concept, and the charming "cabin style" décor compliments it perfectly. At Clamato, the atmosphere is relaxed – we sit on small stools while we enjoy our company and admire the amazing ceviche preparation that takes shape right before our eyes. The daily menu is built around the arrivals of the day from Saint-Jean-de-Luz, Île d'Yeu or Concarneau, and is available in both a single dish format or a sharing format. Highlights from the house? Banka trout with pickles and raw cream, octopus with shitake, accrabes with wankaina, and so much more. Just like at Septime, we look to the wine list to further enhance this amazing seafood cuisine.
Le Verre Volé
A relaxed wine bar with great natural wines If you're passing by the Canal Saint-Martin, we suggest stoping in at Le Verre Volé, a small neighbourhood bistro that offers a delicious French menu based around seasonal produce. We also come here to meet Cyril Bordarier, an apostle of natural wines, and to familiarize ourselves with the impressive selection of labels he has curated. Verre Volé is a quaint establishment that does not take itself too seriously, but it still offers an exceptional menu and wine list. If it were us at Verre Volé, we would be sipping a glass of French wine and indulging in their amazing pork delicatessen platter!
La Felicità
A paradise of Italian food in Paris Following the resounding success of the Big Mamma group's first restaurant, Pink Mama, La Félicita opened its doors in the Halles in the 13th arrondissement. Beyond the good food and fun atmosphere, this restaurant is the largest restaurant in Europe, ringing in at an impressive 4,500 square metres. It is difficult to define La Félicita, but the best way to put it is "the embodiment of the dolce vita". Here, it always feels like a festival of good food, drinks, and Italian inspired epicureanism. The Big Mamma group defines the space as a cool Italian food market where you can celebrate the bounty of Italy by eating delicious dishes with good company. We immediately fell in love with the stunning decor, decadent dishes, and with the amazing team that is at your service for the duration of your visit. Truly, la dolce vita! To stay inline with their hedonistic philosophy, we also recommend the group's other restaurants : East Mamma, Ober Mamma, Pink Mamma, Big Love, Mamma Primi, Popolare and their speakeasy, No Entry.
Racines
Simone Tondo's raw cuisine Awarded a Michelin star in January 2019, Racines is a project by Simone Tondo. Located in the Passage des Panoramas, discreet and incredibly charming, the décor of Le Racines is ideal for an intimate one-on-one evening. Racines is the perfect combination of Simone's grandmother's recipes, and the culinary art of neo bistros. The plates served in casseroles and soup tureens add a comforting and nostalgic element to the experience. Here, we can taste the flavours of Sardinia, Italy and Paris on our plates, and we love it! The experience would not be complete without Stephanie Crockford's short but effective selection of vibrant wines.
Bouillon pigalle
A Parisian brewery at a very attractive price point Located next to the Pigalle metro station, Bouillon Pigalle is a modernized Parisian brasserie with a menu of traditional dishes. On the program at Bouillon Pigalle : a dining room with 300 place settings, long and sleek leather benches, really affordable prices, and a superb terrace on the 1st floor! The only thing missing are the old school server uniforms that are iconic of classic French breweries. On the menu, you can taste the spicy mayo eggs (€1.90); herring apples in oil (€4.50); beef bourguignon bazaar and shells (€9.80); over-regressive sausage purée (€11.50); delicious blanquette (€10.50) and, the icing on the cake, delicious homemade profiteroles (€4.50).
Bachir
The best Lebanese ice cream in Paris As you stroll through the Marais, it will be hard to miss the long line in front of Bachir, a Lebanese ice cream parlour. Located a stone's throw from the Centre-Pompidou and Les Halles, Bachir has been offering 100% organic ice cream with Lebanese flavours since 1936 (!). We strongly recommend the flavours of warde and festouk (rose petals and pistachio), or Ashta ice cream, a combination of rose petals, pistachio and milk topped with a homemade whipped cream, and topped off with a dusting of crushed pistachios. There is no better way to cool off during a long day of touring than with tasty, organic, and uniquely flavoured frozen treats!
Holybelly
Holybelly… or the brunch revolution of the 10th century In Paris, it is customary to have "breakfast", which includes croissants, good bread, farm butter and homemade jam. However, the brunch culture is resonating more and more in the capital city… and we are happy about it. Holybelly is an expert in the field of brunch, and the almost permanent line in front of the restaurant is proof of this. The mantra of the house: "It's good because we care!" In the kitchen, you will only find local products…. as if it couldn't get better.
Massale
Modernized seasonal menu and local wines in the 11th arrondissement This restaurant embodies, to put it simply, the perfection of simplicity. The owners are passionate about high quality products which attract most of the attention, but the subtle decor is also very pleasant and charming. The seasonal menu has a touch of modernity that sets it apart from the rest, and the list of natural and unique wines from France and elsewhere is the perfect pairing. Massale opens its doors as a restaurant from Monday to Friday during lunchtime, and transforms into a bar/wine cellar with tapas in the evening.
La Buvette
High quality and natural cuvées on rue Saint-Maur A very small address nestled in the 11th arrondissement, La Buvette is one of the trendiest wine bars in Paris. People come here for its natural wines, sold by the glass or by the bottle. It is hard to miss this venue, located on Saint-Maur Street, thanks to its blue neon light and its oyster boxes in front, although it is quite small. The address also displays a short menu of deli meats, oysters and small plates to share. Don't miss the white beans zested with lemon and splashed with Greek Profile olive oil, the buckwheat burrata with buckwheat seeds or covered with raspberry powder, the poultry liver terrine with dried fruit or the smoked tuna and flowers. An ideal place to try for a typical Parisian aperitif in the capital!
Brutos
The comforting Brazilian grill next to the Square Gardette Brutos can be summed up as an amalgamation of a super trendy wine bar and a classic South American steak house. At 5 rue du Général Renault, the portions are as generous as the service is welcoming. Here, the meat lovers will be delighted by Brazilian chef Lucas Maur (trained by Joël Robuchon) as he prepares his meats on an inclined barbecue, just as we see in southern Brazil. It is impossible to resist salivating once you catch sight of the lamb shoulder, sweetbreads or beef picanha, all accompanied by roasted onions, homemade golden fries, farofa (typically Brazilian manioc semolina) and chimichurri sauce. The house also includes beautiful natural wines on their menu, and the famous 'cachaçaça' for caïpirinha lovers.
Buvette Gastrothèque
Where Paris meets New York in Pigalle It is in the heart of the 9th arrondissement that Paris meets New York, inside the wonderful Buvette Gastrothèque. Beginning in the early morning with a "boho-chic" brunch, all the way until dusk with cocktails accompanied by a delicious homemade chocolate mousse, this address has open arms all day long. Enjoy a homemade ratatouille sandwich or a cod brandade to take away, or one of their daily specials onsite, such as coq au vin served in a casserole dish or a superb fresh octopus salad. To respect French traditions, the house also offers a substantial wine list, classified by region.
Tontine
The delicious ephemeral canteen at Le Perchoir A brand new restaurant in Le Perchoir, Tontine is a rooftop terrace that all of the Parisians flock to at any spotting of sunshine. This establishment offers an alternative format to a classic restaurant, where multiple chefs take turns running the kitchen over a period of time, showcasing the best market cuisine accented by Asian culinary influences. Tontine brings together a multitude of culinary talents from all over the city, and the constant creative innovations that emerge as a result is what makes this place so special. And it's all done in a friendly and welcoming setting!
Double Dragon
The fantastical Asian cuisine of the 11th arrondissement Responsible for the resounding success of restaurant Servan, sisters Katia and Tatiana Levha have opened up a new a restaurant inspired by Asian flavours, and it is has been full since the day it opened. Every detail has been thought of at Double Dragon, from the chic and amusing décor to delicious Chinese inspired dishes, not to mention the well thought-out wine list. Among the most popular dishes, we suggest tasting the raw scallops with calamansi, the longanisa sausage in Sriracha or the pig and cake ravioli with spicy broth. This is a favourite address of ours, with the only flaw being that it is pretty much always very busy (a little advice: arrive as soon as the opening at 7:30 pm).
Le Servan
Cuisine from the French terroir with a fusion of Asian flavours Another success created by the winning sister duo, Katia and Tatiana Levha, Le Servan is a delicious and chic neo bistro that offers a market cuisine with bold fusion flavours from around the world. On the menu, the freshest of seasonal arrivals are combined with unique spices, such as the spicy tandoori, the white butter asparagus, and the harissa seasoned fresh fish. Essentially, we come here to enjoy delicious French recipes, only with a discreet dose of Asian influences.
Bistrot Paul Bert
The classic Parisian bistro you will never get tired of Paul Bert Bistro is one of the best classic bistros in Paris, and for good reason. Located very close to the Charonne metro station, there is nowhere better to stop in for a refreshment thanks to the consistently high quality of everything served. On the menu, you will spot some eternal classics that will never be replaced, victims of their success: of course, the steak-fries, andouillette, soufflé and Tatin pie. The house masters the art of simplicity by using superb ingredients and a technique that is unparalleled in any kitchen. Furthermore, the bistro is founded in the philosophy of eating well AND drinking well, which we can see at a glance of their list of classic and natural wines.
Quinsou
Intimate gastronomic gem in the 6th arrondissement Quinsou is the creative and refined restaurant from the passionate chef ,Antonin Bonnet. The expert kitchen behind Quinsou introduces us to the gastronomy of tomorrow through reinvented market cuisine. The focal point of the restaurant is none other than the food, highlighted by the front of the house, which is subtle and inspired by minimalist Scandinavian-influenced décor. The intimate space welcomes all those curious about new gastronomic discoveries in the Notre-Dame-des-Champs district.
Yard
Only hand-picked wines Yard House is divided into three parts. First, we have the bistronomic restaurant (reservation required), which offers a delicious land and sea cuisine. It is located near the Père-Lachaise cemetery. Next, we have the tapas bar & takeaway cellar. Finally, the icing on the cake, there is the wine bar at Galeries Lafayette Champs Elysées. Yard displays a synergetic encounter between sophisticated and accessible cuisine, which makes us want to come back very soon (also because we loved it's superb list of natural wines, perfect to accompany a small tasty dish.) For the wine, we have expert Clovis Ochin to thank. Clovis meticulously selects labels according to the philosophy of respect for the land, the seasons and the workers. He curates the list for all three of Yard's locations. A little something extra as the cherry on top : the menu is super affordable! At lunch, the three-course package is only €19, the five-course package is €25.
Faggio
Comforting wood-fired pizzas As a Montrealer in Paris, it's against our nature to turn down good pizza. The Faggio Pizzeria in the Trudaine / Rochechouart district is a sure bet. Whats on the menu? Delicious pizzas, a creamy burrata, and a tiramisu to cry about. On the side of décor, we also embrace the comforting vibes : brick walls, a mosaic floor and a period wood-burning oven…that's it. Are you wondering about drinks? Natural wine again and again and again, all at small prices (4.50 € per glass)!
La Chambre Noire
Homemade cocktails and natural wine In a romantic and chic setting, bar La Chambre Noire welcomes you to enjoy delicious cocktails that are creations from the house, or a fine selection of natural wines. The decor is very intimate, thanks to it's aging finishes, abundance of candles and climbing plants on the walls. To accompany the delicious bottles, the house also offers dishes of delicious delicatessen and other tapas as an aperitif.
Le Dauphin
Restaurant/ chic tapas bar between République and Belleville With white marble and mirrors decorating the space, this restaurant does a good job of catching people's attention. But the real magic happens inside, at a table with a delicious menu of small dishes to share, inspired by creative French cuisine. The chef plays with bold and incredible combinations of flavours and textures. You can taste the balancing act between hot and cold in the fresh cucumber and chilli pepper knives, or indulge in the superb secreto tartar with smoky flavours, or one of their many other sublime creations.
Le Grand Bain
Cuisine d'auteur in the 20th century On the programme: a charming and unpretentious setting, a festive room, a menu of a thousand and one beautiful tapas to enjoy. Here, the author's cuisine reigns as king, but the ingredients are reinvented with innovative techniques. The mantra of the house is 'the best products and constant renewal'. On the menu, no starters, main courses or desserts, but rather lots of small dishes to share. Impeccable service and a festive menu.
Frenchie
A tiny restaurant that will make you feel good The Frenchie family is a restaurant group in Paris, made up of the bistro rue du Nil (awarded a Michelin star), the wine bar, the wine cellar and the newest on the list, FastGood (a takeaway counter that serves English and American streetfood). When the team opened Frenchie, the chef and owner imagined the type of establishment he would like to go to personally. What came to his mind was a place to share, discover and enjoy… that sums up Frenchie perfectly. Here, you can experience a contemporary international cuisine characterized by creative and original combinations of flavours. At Frenchie, the wine flows freely and the food/wine combinations are hard to turn down. Ask your server for advice, he will guide you through this classically French experience.
Terra
Charming restaurant under a glass roof in the Marais To the north of the Marais, restaurant Terra offers a space that is out of touch with the hustle and bustle of the City of Lights. With a delicious menu to share, the house pays tribute to raw products as a direct nod to nature. It goes without saying that the selection of wines does not deviate from the same 'natural path'. Here, you can taste a soft-boiled egg with black truffle, celery and poultry juice, or an artichoke stuffed with pine nuts and turmeric emulsion, homemade tagliatelle with cuttlefish ink, or Lardo di Colonnata and shells. Nothing is permanent, the menu changes with the seasons.
Citron
The amazing address to the tunes of Provence by Jacquemus and Kaspia at Galeries Lafayette This restaurant opened it's doors in the beginning of 2019. Citron is the new sanctuary for all of Paris. This restaurant is the result of the collaborative work of fashion designer, Jacquemus, and the high-end caterer, Kaspia, from the metropolis. With a Provençal-inspired café on the Champs-Elysées, Citron is the place to go for a gourmet break at any time of the day. You can also enjoy the sublime creations of pastry chef Cédric Grolet, as well as fruits that are so beautifully sculpted, you wont want to eat them. On the menu, we taste Provence through delicious aïolis, tapenade, tarama, burrata, niçoise salad, pissaladière, etc… In the evening, we sip a cocktail accompanied by a focaccia and delicious olives.
—
Unfortunately, it is not always possible to drop everything and embark on a trip to Paris. If this is the case for you, have a look at our list of the best French restaurants in Montreal. And if you are looking for more gastronomic insights to the European continent, consult our lists of the best gourmet addresses in Barcelona and in Lisbon.
Please note that this list is by no means exhaustive – it contains only some suggestions for delicious addresses to eat well during your stay in Paris, without getting caught up in all the hype.
Bon voyage and Bon appétit!
Written by Sofia Shendi
Photography by The Social Food