San Pellegrino Young Chef 2018: World finals and a participant from Quebec!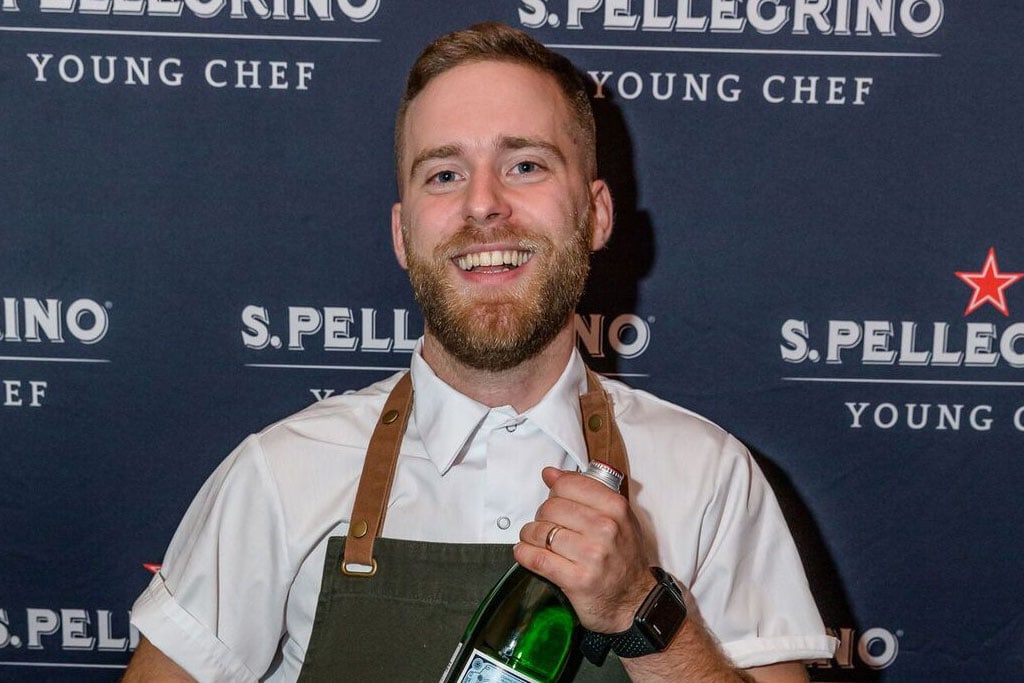 Benjamin Mauroy-Langlais : "Canada's Best Young Chef" and  the first participant from Quebec in the 'World Finals' of the San Pellegrino Young Chef competition 2018!
Benjamin Mauroy-Langlais is the chef at Le Petit Mousso, a new restaurant that will be opening very shortly in Montreal.  Benjamin has worked at Salle à Manger, Hôtel Herman, Automne Boulangerie, Montréal Plaza, Le Mousso, and Amass, to name just a few. His track record and talent make him  worthy of his place in this final – he is simply an excellent chef.
Last fall, Benjamin gathered up his courage and submitted his proposal  to the San Pellegrino Young Chef 2018 competition. "Spring in Kamouraska" (a beautiful town on the St Lawrence River), is his signature dish, but we need to be more specific to understand just how talented Benjamin is. These are succulent ingredients – smoked eel flavored with maplewood, accompanied by a raw celeriac salad, gently rolled in a sheet of pickled celeriac.  This was lightly dusted with a fine powder of seaweed and served with fresh mussels, a hint of spring onions, and a sauce of fermented celeriac, beer and herb-infused oil.  This delight was topped with seasonal greens and flowerets, and served with a homemade algae sourdough bread.
The first jury selected Benjamin's dish. In early October 2017, the competition held the semi-finals in Toronto where Benjamin again presented his "Spring in Kamouraska".
Competing against nine semi-finalists from across Canada, Benjamin won first place, earning the title of "Canada's Best Young Chef"!
The next step for Benjamin was to receive the support of a mentor and in his case, the popular chef Riccardo Bertolino (London, Paris, Singapore, Daniel in New York, Maison Boulud in Montreal) took on this role. Over several months, Riccardo helped Benjamin perfect his dish and presentation for the Grand Finale. "I think Benjamin has a good chance of winning," said Bertolino. "He is creative, passionate and hard-working. He is a fitting representative of the talent of Canada's young chefs today."
The last step for Benjamin was San Pellegrino's Grand Finale in Milan on May 11 & 12,  2018.
A few facts about the San Pellegrino Young Chef 2018 competition:
The competition covers 21 regions around the world.
More than 2,000 applications are submitted by chefs aged 30 or under.
210 semi-finalists are chosen.
21 finalists are invited to Milan.
The competition is the cumulation of nearly one year's preparation for each participant.
In the culinary world, it is a "really big deal".
To note : unfortunately, only 5% of all applicants were female which was disappointing.  Out of the only 21 female contestants, two were chosen for the finals in Milan, Elizabeth Puquio Landeo (Peru) and Constadina Voulgari (Greece). There was one female mentor to accompany the 21 finalists: Jacqueline Qiu, a chef from Shanghai.  However, San Pellegrino's seven members of the jury included 4 women.  In general, the issue of low representation of female chefs goes beyond such a competition, and needs to be addressed by asking such questions as why is this the case, and more importantly, how can this change?
The seven judges for the San Pellegrino Young Chef 2018 competition are all world-renowned chefs.  All finalists faced a tough challenge when presenting their signature dishes to this prestigious panel. The "Seven Sages" were:
Dominique Crenn — French chef, Atelier Crenn and Petit Crenn (San Francisco). Two Michelin stars. Dominique was a participant on the Netflix show "Chef's Table".
Brett Graham — The Ledbury (London). Two Michelin stars, #27 on The World's 50 Best Restaurants.
Annie Féolde — First female chef in Italy to receive three Michelin stars, with her prestigious restaurant Enoteca Pinchiorri  (Florence).
Virgilio Martínez — Central (Lima, Peru). Top spot on Latin America's 50 Best Restaurants for three consecutive years, Chefs' Choice Award at The World's 50 Best Restaurants (2017).
Margarita Forés — Owner of an empire with 14 restaurants (the Philippines), voted Asia's Best Female Chef.
Paul Pairet — Owner, Mr & Mrs Bund, The Chop Chop Club, Ultraviolet (Shanghai). Three Michelin stars, included in The World's 50 Best Restaurants since 2015, Chefs' Choice Award (2016).
Ana Roš — Hiša Franko (Kobarid, Slovenia). World's Best Female Chef (2017), a true ambassador of Slovenian gastronomy.
"With this Young Chef's competition, we seek to develop the next generation of talent in gastronomy and inspire fine dining around the world. We hope to encourage young emerging chefs and give them international visibility. This competition is rooted in passion and talent." The 21 finalists worked for months with their mentors to perfect their signature dishes, seeking to impress the Seven Sages and earn the title of the World's Best Young Chef.
Benjamin is the first participant from Quebec in these world finals!  San Pellegrino's Head of Public Relations is Clément Vachon, and he too, is from Quebec. He was very pleased to see someone from his own province competing among the finalists.
The competition was the real deal, it was a genuine show :  a large room with the latest media tech, seven perfectly equipped kitchens, and a large stage for the official presentations to the judges. The event was well-documented and streamed live, and as you can imagine, placing even more stress on these talented chefs. Each of the 21 finalists was given five hours to prepare, introduce themselves, and present their signature dish to the seven judges. The finalists were also judged on a number of aspects that needed to be highlighted in their signature dishes.
These aspects were:
ingredients chosen
techniques used
creativity demonstrated
visual presentation
message conveyed
These young chefs demonstrated an incredible amount of talent, passion and energy in these dishes from beginning to end.
Benjamin prepared his dish with ease and his presentation was outstanding. The judges appeared to like both his dish and his personality, and even asked for another serving of the dressing! For someone who is rather shy, Benjamin showed charisma and expressed himself eloquently—the judges' comments included the mention that he gave one of the best presentations. We were convinced he would win and in our eyes, he already had 'won' by representing Quebec in this global culinary competition.
Nevertheless, the 2018 winner was Yasuhiro Fujio, a young Japanese chef, whose mentor was Luca Fantin. Yasuhiro also won the "Acqua Panna Taste of Authenticity Award", an award judged by the 21 mentors, thus he received two accolades that night. His dish "Across the Sea" highlighted the East Asian fish Ayu (also known as Sweetfish), whose taste reflects its habitat.  Yasuhiro gave a humble speech and displayed remarkable wisdom. Congratulations, Yasuhiro! More details here.
The San Pellegrino Young Chef competition is, in our opinion, an excellent opportunity to showcase the talent of young chefs from around the world. We would recommend that the judges provide additional feedback to the participants so they may work on their skills, based on what these experienced judges have seen and tasted. We would also love to see more participants from Africa and the Middle East, and certainly more women participating.  Yet all in all, this was an extremely valuable and moving experience : the effort towards creating, preparing and presenting each dish before the judges; the relationship between the young chefs and their mentors; and the excitement of having succeeded in presenting their dish before the judges – everyone walks away having benefited from the competition in some way. Moreover, as much as possible, each young chef works with local products and in an eco-friendly manner, which is highly promising for the future of world gastronomy. All these young people gave it their all—talent, time, passion, energy, and more—in an effort to win. It was impressive and inspiring.
Congratulations once again, Benjamin, and thank you for representing Quebec so well!
Written by Jean-Philippe Tastet