Rome: Massimo Covone's favourite addresses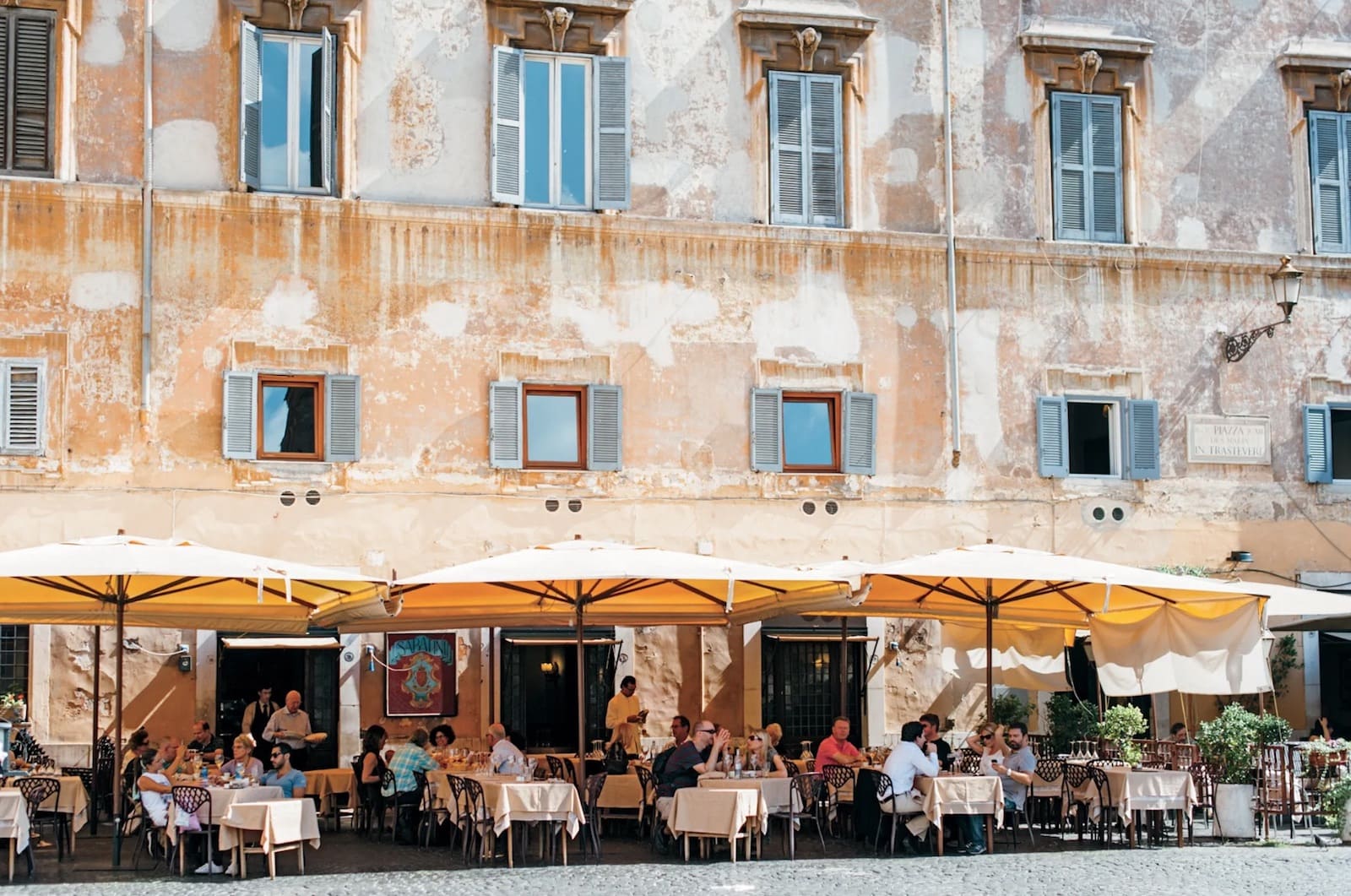 Italy, la dolce vita… Just thinking about it makes you think of Rome, the Vespa paradise, pasta and Aperol Spritz.
If you're planning a holiday in Rome soon, or if this list simply inspires you to go there, here are the gourmet suggestions of Massimo Covone, co-owner of Montreal's beloved Bottega and San Gennaro.
For a great culinary trip to the beautiful Roman city, consider these classic Roman dishes:
Porchetta
Cacio e pepe
Carbonara
Carciofi alla Giudia (Jewish recipe for fried artichokes)
Supplì (Roman version of arancini)
Amatriciana (pasta sauce made with guanciale, pecorino and tomatoes)
Saltimbocca (thinly sliced veal cutlet with a slice of prosciutto crudo and a sage leaf on top)
Baccalà (cod)
Fiori di zucca (zucchini flower)
Trippa alla romana (Roman-style tripe)
Cicoria alla romana (Roman chicory)
Maritozzo (brioche filled with cream)
Torta ricotta (ricotta cake)
Need help planning your holiday in Rome? Tastet can be your personal travel guide! Find your personal itinerary here.
Bonci Pizzarium – Via della Meloria, 43, 00136 Roma
Pizzerium is Bonci's famous pizza al taglio, located behind the Vatican. The al taglio pizza shop run by Gabriele Bonci is dominated by a counter where more than a dozen different pizzas are on display. The place is tiny, but so charming that you could come here every day. Bonci also has a stand at the Termini food market.
Trattoria Sora Lella – Via di Ponte Quattro capi, 16, 00186 Roma
Sora Lella is one of the restaurants that have marked the history of the city of Rome. Located in Via di Ponte Quattro Capi, you can taste traditional—and nearly forgotten—Roman dishes, as well as slightly revisited ones, while always respecting the great local tradition.
Armando Al Pantheon – Salita de' Crescenzi, 31, 00186 Roma
This small restaurant located a few metres from the Pantheon has been run by the Gargioli family since 1961, with the third generation at the helm. It is appreciated by locals and visitors alike for its traditional cuisine, which includes Roman and Lazio dishes, meat and fish, and specialities such as offal, veal intestines, and suckling lamb.
Flavio Al Velavevodeto – Via di Monte Testaccio, 97, 00153 Roma
This intimate restaurant by Michelin-starred chef Oliver Glowig is located in the barrel room of the Poggio Le Volpi winery. What do you eat here? The rigatoni alla gricia – cacio cheese, guanciale and tons of black pepper – are to die for; the polpette are absolutely divine, and the abbacchio (roast suckling pig) will satisfy any hunger.
Il Goccetto – Via dei Banchi Vecchi, 14, 00186 Roma
Il Goccetto, or "a little drop", is a favourite local stop for aperitivo, with 400 references lining the walls. The producers on the wine list change every month and there is something for every taste and price. This quaint enoteca is one of the oldest wine shops in Rome and fills up quickly with passers-by stopping in for a glass of wine and small plates to share.
Suplizzio – Via dei Banchi Vecchi, 143, 00186 Roma
A delicious street food shop in the heart of Rome, Supplizio specializes in supplì* and golden croquettes.
*Note: Arancini in Rome are known as "suppli".
Nonna Betta – Via del Portico d'Ottavia, 16, 00186 Roma
Here you can enjoy the recipes of Nonna Betta (grandmother of the current owner); these include agnolotti stuffed with beef, and tagliolini with dandelion and mullet roe. This is the best place in Rome to try artichokes (carciofi alla Giudia) in the Roman Jewish style (spiced with chilli and fried).
Freni e Frizzoni – Via del Politeama, 4, 00153 Roma
In the Trastevere area, don't miss Freni e Frizioni, a cocktail bar with a relaxed atmosphere; ideal for an aperitivo or for staying up all night! Massimo's tip: "You can go here, then go to LA PROSCIUTTERIA for a plate of charcuterie and right next door you have an old school wine bar called da Biaggio. Ma Che Siete Venuti A Fà is a really cool bar in Trastevere too."
La Torricella – Via Evangelista Torricelli, 2, 00153 Roma
A classic osteria in the trendy neighbourhood of Testaccio. Everything here is absolutely delicious: from the spaghetti ai frutti di mare (with seafood) to the tasty bucatini all'amatriciana (hollow spaghetti in a sauce with tomatoes, onions and guanciale) and the homemade gnocchi. They also offer excellent Roman seafood dishes.
Pro Loco DOL – Via Domenico Panaroli, 35, 00172 Roma
Pro Loco DOL is a delicatessen and dry goods shop specializing in cheeses, cured meats, pulses, pasta and other products from Lazio (the name of the region where Rome is the capital) to take out. You can also buy the cheeses and charcuterie served in the dining room. For refreshment, the menu includes a few local craft beers, as well as many affordable wines from all over Italy.
Mordi e Vai – Nuovo Mercato Comunale di Testaccio, Via Beniamino Franklin, 12/E, 00153 Roma
Looking for the best sandwich in Rome? This place is definitely in the running with its tripe sandwich; a must-try!
Written by Inès Duguen
Photography by Miles & Miles