Pushap : Our preferred Indian restaurant 100% vegetarian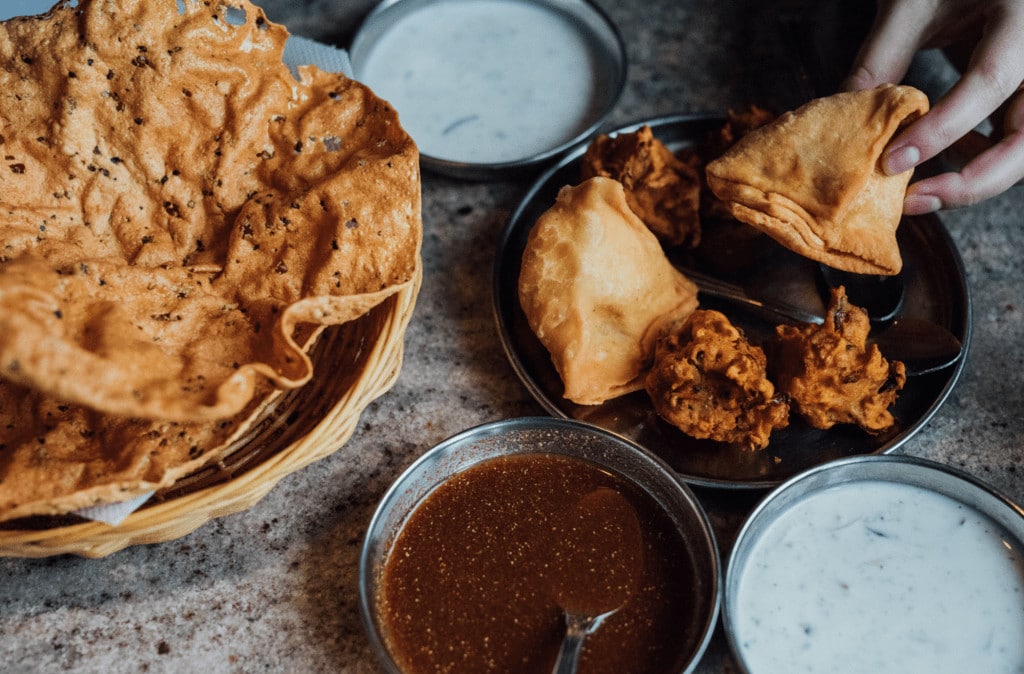 Pushap is a very small location in the northwest of Montreal that offers entirely vegetarian Indian food, both authentic and tasty! With its very affordable prices, the restaurant is one of Montreal's best cheap eats.
Daljit Mohan is from the Punjab (a state in northwestern India) and he arrived in Canada with the wish to open an Indian restaurant offering the kind of authentic food that Indians enjoy eating : vegetarian. In 1986, he opened Pushap restaurant with his wife Seema Sharma.
Pushap is located at the corner of Paré and Mountain Sights, next to the Décarie Autoroute and Jean Talon. The restaurant is very welcoming and seats about 30 customers. Upon entering, you head to the counter where you order to eat in or take-out, and pay.  This is the same counter where you have to take a good look at the display of the famous Pushap sweets. The decor does have its charm with the yellow, white, green and red walls, covered with numerous frescoes and paintings. The black chairs and the tables with their marble tops cover a floor laid with practical beige tiles.
The room is crowded and the service fast, with many regulars here to read their books and enjoy a meal, have coffee after lunch, come with their families for dinner or pick up take-away between work shifts.
« Pushap is the name of Daljit's mother and the restaurant's name is a tribute to her»,  says Sonia Sharma, Seema's sister, who has also been working in the kitchen for some time.
Daljit greets the guests and manages the place, while the two sisters prepare these good, small dishes in the kitchen. « Everything is homemade and prepared on-site. The menu at Pushap is very traditional. » Their thalis are very popular and the menu is entirely vegetarian with all the authentic Indian flavours.  For starters, choose from samosas, Aloo tikki, Chaat Papri, Bhel Puro, Pakoras, dal soup, dal-sabji ($1.50-$3.50) and there are seven different types of bread ($0.75 -$3.00). For the meals themselves, the menu lists a variety of light meals with bread, and other light meals of lentils and curries, vegetables and curries, and a few specialties – like Shani Paneer, Mattar Kofta or Mailai Kofta ($2.95-$5). You can also savour raita, papadum, dahir or rice. Pushap has a reputation built on its sweets and there are at least a dozen typical Indian homemade desserts ($0.75 each) that are truly one of a kind! The dishes here are tasty, original and everything is always available. Choose from some soft drinks, juices, lassi, chai tea, green tea and coffees to go with your food.
« Everything is good here and everything is fresh! I gained 20 pounds since I started helping here! We make our own cheese and our own sauces. »
What a pleasure it is to know that Pushap – a family business – readily extends a special family welcome to everyone, and that customers are served and treated like family. What's more, the food is really very good and the prices are unbelievably low and such good value! Pushap counts as one of our favorites.
© Photos Alison Slattery — Instagram
Written by Élise Tastet