A Trip to Lisbon: Our favourite gourmet addresses in Lisbon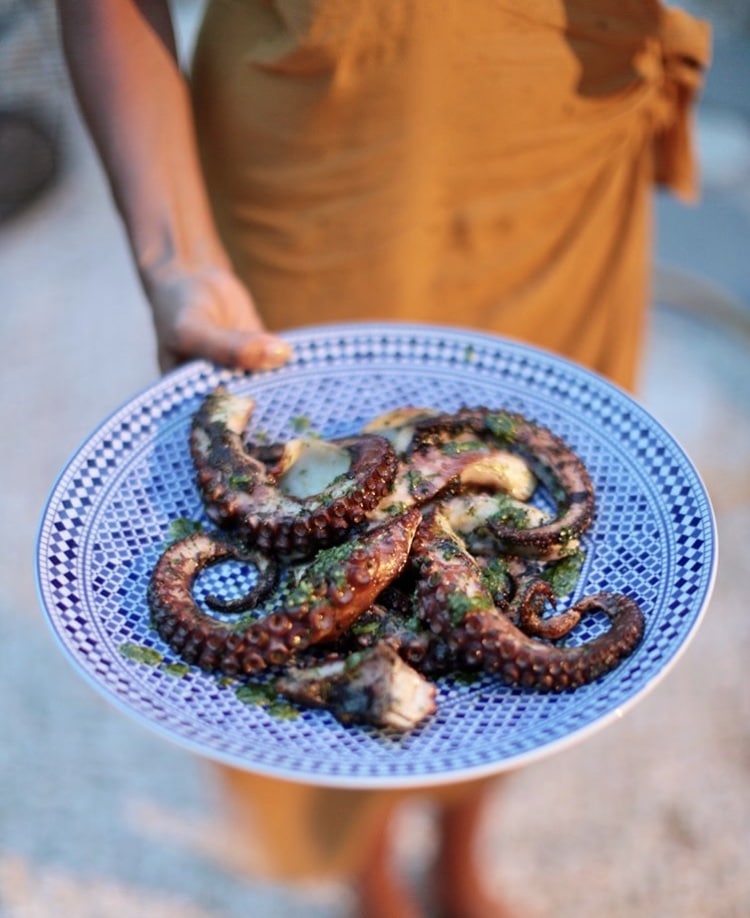 When we hear the word 'Portugal', a few things immediately come to mind. First, we think of the wonderful, historical city of Lisbon – Portugal's capital. Next, our mind wonders to the rooster icons that are almost always affiliated with Montreal's Portuguese establishments and rotisseries. Lastly, we end up fantasizing over all of the delicious seafood dishes that Portugal is so famous for – sardines, fresh fish, pastéis de nata, octopus or squid, we love it all.
Portuguese cuisine is full of refined flavours and skillful techniques that have been cultivate over generations. Most famously, Portuguese cuisine centres around the abundance of fresh seafood that the country sources daily from the expanses of ocean that line the coasts. The gastronomy is simple and focuses the lime light on the complex flavours of each ingredient in their natural, from the moment they are harvested.
In addition to a rich culinary culture, Portugal has a long history of wine making, which dates back to the 6th century BC in the southern Iberian Peninsula. In particular, we love to drink the delicious vinho verde, a wine which, as its name suggests, is made from grapes that have not yet fully ripened. Vinho verde is only one among many delicious wines from Portugal, and we highly suggested taking some time to explore them all!
If you're wondering how exactly you can experience all of these incredible wines and culinary treasures, the answer lies in the beautiful streets of Lisbon! As the capital of Portugal, Lisbon is home to a diverse mixture of cultures and flavours, with something to please travellers of all kinds. Whether you are looking for a simple coffee, a good meal or just a glass of wine, the gourmet streets of Lisbon welcome you with open arms.
Comida Independente
Gourmet deli with some of Portugal's best products Comida Independente is a charming little deli that set out on a mission to promote high quality Portuguese products. Whether it is behind the glass counters, on the well stocked shelves, or in the restaurant's open wine cellar, Comida Independente will introduce you to some of the most refined products the country has to offer. On the menu, expect local specialities that are already prepared and ready to go. As a bonus, this address also has a table dedicated to tasting wines and delicious cheese and sausage dishes.
Prado
Refined market cuisine from terra ao mar – our favourites Prado is a fan favourite among Lisboners and tourists alike, thanks to its delicious market cuisine and extremely impressive setting. This restaurant focuses on the 'farm to table' concept, which makes it the perfect place to discover the authentic and natural flavours of Portugal. While you dine on refined dishes, we suggest taking a moment to admire the stunning ceiling covered in vegetation and the restaurant's unique 'farm-chic' decor. Prado's aesthetic was even the inspiration for the name 'Prado', which translates to 'prairie' in English.
Taberna Sal Grosso
A festive tapas tavern – our favourites Another fantastic address to fall in love with while traveling through Portugal, Taberna Sal Grosso is a charming tavern with a relaxed atmosphere. The address of about twenty seats is constantly crowded, but all the hubbub only adds to the experience. We recommend making a reservation a few days in advance, because this is an all-day go-to, especially for the locals. On the menu, expect to see Portuguese and tavern classics, perfectly designed to share, and all at an affordable price! By the way, it's worth trying Taberna Sal Grosso's Stout and Pilsner style microbrewery beers – we loved them.
Prado Mercearia
Excellent hybrid address with an amazing wine selection Prado Mercearia – another great Prado restaurant – adopts a smaller-scale concept than the first. This establishment is a small gourmet grocery store that showcases beautiful Portuguese products. However, Prado Mercearia extends its services in the café, convenience store, wine bar, and restaurant industries (wow!) While we do love all of the services this establishment offers, we have a special affinity for the evening concept, where Prado Mercearia becomes one of Lisbon's most charming wine bars. Perfect for sipping a refreshing drink while people watching on the capital city's streets.
Maçã Verde
A nice and quaint tasca This address is a simple and unpretentious restaurant, nestled behind the green doors of the Green Mason, just a stone's throw away from the mouth of the Tagus, which is a magnificent river that flows through Lisbon. Maçã Verde means 'Green Apple', a fruit that is proudly displayed on the counter in the restaurant at all times. We refer to this type of establishment as a tasca, which simply means a bistro or tavern that serves food. Here, you can enjoy small dishes such as fried smelt, great fried potatoes, or rich stews. And of course, everything should be accompanied by one of their delicious beers or a glasses of wine.
O Palácio
The palace of the sea O Palácio is a marisqueira – a restaurant specializing in seafood and fish. Here, you can enjoy impressive plates of the some of the freshest seafood available, delicious crayfish, and tasty dishes of clams, crabs or fish, prepared to perfection. This spot is every seafood lover's paradise! Thanks to the red and blue neon lights outside the restaurant, O Palácio is easy to pick out from the street. Inside, you will be met with a more sober decor and a room of tables set for four. At the back of the restaurant, you're invited to admire the seafood display, the partially visible kitchen, as well as the impressive roster of wine bottles that sit above the bar.
LxFactory
Very pleasant food fair LxFactory is not an establishment, but a cluster of about fifty shops, restaurants, cafés and bars. Exploring this area will entertain you for a few hours, and the wide range of gourmet addresses will ensure you stay well fed and hydrated while touring around. If you're looking for somewhere to sip on a cold beer while in the area, we suggest Taberna 1300, which has lovely outdoor seating!
Toca da Raposa
Charming bar for an intimate evening Toca da Raposa offers an intimate and comfortable bar experience. The small establishment (around 12 seats) has an incredibly cozy, cavernous feeling, thanks to its stone walls and romantic lighting. The decor oscillates between rustic and modern. On the menu, you will find amazing cocktails that have all been skilfully concocted by the owner himself. A charming and classy address to visit with a loved one or a good friend.
Manteigaria
Pastel de nata please! – our favourites Have you ever heard of Pastel de Natas? No? What about Portuguese custard tarts? This sweet pastry is commonly available in Portuguese restaurants here in Montreal, but there is nothing like having a Pastel de Nata straight from Lisbon. The line starts early, because even native Lisboners can't resist a custard tart straight out of the oven at Manteigaria. The address was originally a butter factory, but has since been optimized for Pastel de Nata production. Best of all, customers can watch the entire production of these delicate pastries from behind Manteigaria's glass counters. This place is a must-see!
Ramiro
A fun and festive restaurant Although Ramiro may be a little more 'touristy' than the other addresses on this list, it is no less delicious! In this case, we can definitely say that it is popular with good reason. We come here to enjoy a very good seafood cuisine, accompanied by a pint of beer. Ramiro is constantly crowded, tourists and residents alike, which maintains the energizing and festive atmosphere that trademarks this address.
Sol e Pesca
Seafood specialties… in cans. Located in what was once a fish market, Sol e Pesca pays tribute to it's history in every way possible. Fishing rods, nets, hooks and boat reproductions adorn the walls of the eclectic Sol e Pesca, and their cuisine focuses almost entirely on canned fish! That being said, the canned seafood served at Sol e Pesca does not match the definition of canned food that we know here in Montreal – the canned food here actually ranges in a wide expanse of preserves, which are served as delicate and refined dishes as per direction of the talented kitchen team. You can enjoy bluefin tuna, sardines, trout, eel, mackerel, cod, sardine eggs, all served with side dishes. This is a small restaurant perfect for those in search of an unusual dining experience to add to their travel itinerary.
A Tabacaria
A historical cocktail bar The premises of A Tabarica are full of history – the history of its customers, but above all, the history of its setting, which opened for the first time in 1885 in the form of a foreign exchange office. Now a popular bar for Lisbon residents, A Tabarica has kept the magnificent original wood flooring behind its bar, and superb stained glass windows from the 1800s. Here, we mainly drink beer, gin and tonics, prepared from a homemade maceration. The bar is ideal for those who want to experience a little bit of history, away from the city's usual sightseeing tours. Of course, all while sipping on a good drink.
Ginja Com Elas
One of the best Ginjinha Local bar Ginja Com Elas is one of the many places in the city where you can enjoy a glass of Ginjinha (a sour cherry liqueur originating from Lisbon). More precisely, Ginjinha combines teaser (an eau-de-vie) and ginja fruit (a bitter-tasting cherry variety.) It is drunk all over Lisbon, but this bar adds a special touch of charm to the Ginjinha tasting experience. Ginja Com Elas also has a nice wine list and very good charcuterie boards.
Água Pela Barba
Beautiful, tasty, and cheap! Água Pela Barba is beautiful, tasty and cheap. Lisbon is known for its seafood and freshly caught fish, and Água Pela Barba takes advantage of this resource. Here, expect to enjoy generous plates of dishes to share, selected off their small menu. Among the plates of ceviche, crab and seafood rice, they also have excellent fish tacos! The restaurant's charm lies in its warm decor, well designed menu, fresh products, and above all, its very reasonable prices.
Estrela da Bica
Friendly neighbourhood address Estrela da Bica is a small local restaurant with a rustic and welcoming atmosphere. It has a rather varied menu, but certainly knows how to celebrate the bounty of the local resources. You can enjoy salmon tatakis, dim sum, hummus, bruschetta, hamburgers and many other varieties of cuisines, alongside some more traditional Portuguese dishes. Away from the eyes of tourists, this place is very popular with the locals.
The Mill
Small cafe between Portugal and Australia The Mill serves the best of Portugal's products…. with an Australian flair. Why? Well, quite simply because its owners are Portuguese and Australian. We come to the Mill for awesome coffee, pastries and other small dishes for lunch and dinner. In the evening, the Mill also offers a very nice list of Portuguese wines, which changes on a monthly basis. The menu is made up of seasonal products, so it is the perfect place to enjoy the flavours of Portugal!
Senhor Uva
A wine bar with a taste of home This address stands out from the rest, because you can spot a little piece of home whenever you stop by. This wine bar with great vegetarian cuisine is owned by a pair of Montrealers! The philosophy of the address is based on the principle of eating simply and drinking well, all in pleasant company. The small plates are perfect for sharing with your group, and the wine list features a diverse of great labels.
A Cevicheria
Delicious chic restaurant Don't be distracted by the octopus hanging from the ceiling of the restaurant, because the star of the show at this address is on the plates. A Cevicheria is a stunning restaurant, and the perfect place to celebrate a special evening… at a fine price. The Peruvian-inspired restaurant is even among the best restaurants in Lisbon, and focuses their menu around a series of excellent ceviches. The room is bright, and the seats are set up around the main counter where everything is prepared, so it has a uniquely communal and festive vibe. A Cevicheria is not an address for every night; it should be reserved for a special occasion.
Tapisco Lisboa
Chic Portuguese tapas At Tapisco, we feast on the cuisine of Portugal and Spain. Tapisco is a chic address in Lisbon, with a menu that strongly encourages sharing. All plates are designed to be enjoyed by more than one person, tapas style! You can always sit intimately at a table for two, but we also recommend a seat at the bar, where you can enjoy dinner and show by watching the hustle and bustle in the open kitchen nearby. At the front of the restaurant, cocktails are prepared directly in the shop window, so passers-by can see the work of the mixologist.
Copenhagen Coffee Lab
Charming Scandinavian cafe Some may already know the name, as Copenhagen Coffee Lab is a small Danish chain with four locations in Europe and one, surprisingly, off the west coast of Africa. In Lisbon, Copenhagen Coffee Lab offers a typical cafe experience, with an all day long lunch menu (sandwiches and homemade salads), juices squeezed on the spot, lemonade and of course, a great coffee made right in front of you. Nothing out of the ordinary, just a charming cafe experience that would surely provide a pleasant interlude to your day of sightseeing.
Os Gazeteiros
Lisboet creativity The appearance of Os Gazeteiros is modest – not much more than a wall covered with excellent bottles of wine. Behind the simplicity of the room, however, lies a superb tasting menu! Every day, the chef and owner of the establishment creates a brand new menu, made up of fresh market produce. You never know what to expect from this four-course dining experience, which is part of the fun. Sitting at one of the restaurant's tables, you can see the tiny open kitchen at the back, and appreciate the hard work that went into your meal.
Damas Bar Lisbonne
Bar and concert hall We come to Damas Bar to enjoy original and tasty small-plate dishes with the accompaniment of a good glass of wine. At times, you may also get lucky enough to see one of the alternative concerts that take place in the venue. The menu changes daily, and also offers vegetarian and vegan options. The decor oscillates between simplicity and complexity – the walls are white with small touches of blue, and feature an illustrated procession of giraffes at one end of the room.
Fama d'Alfama Charcutaria
Comforting address in Lisbon Hidden behind the modest storefront and old-fashioned doorway, there is a very small restaurant called Fama d'Alfama. Inside, a nicely decorated space of very modest size hosts guests as they indulge in good wines and a comfort food-style meal. The menu of the Fama d'Alfama is composed of very well executed classics, all served by a friendly staff. The address is a well hidden treasure, making it the perfect place for a casual and quiet evening.
Zazah Good View
Splendid terrace overlooking the Tagus There is no denying it… Zazah Good View is one of the most touristy addresses on this list. The reason lies in the name : this restaurant offers one of the most beautiful views of the Tagus in all of Lisbon! Fortunately you can admire the view of the port even from inside, but the large terrace can accommodate a significant number of guests. We come here mainly to have a chilled out cocktail while taking in the view.
—
If you'd like to experience Portugal's delicious cuisine but can't manage to book a trip to Lisbon at the moment, we suggest checking out some of our favourite Portuguese restaurants in Montreal : Café Ferreira, Campo, Portugalia, to name a few. And if you're planning a full blown euro-trip, have a look at our lists of the best gourmet addresses in Paris, and in Barcelona.
This list of addresses is by no means exhaustive. It is rather a collection of good restaurants, cafés and bars that will help punctuate your gastronomic tour of Lisbon.
Bon voyage and bon appétit!
Written by Sofia Shendi
Photography by The Social Food