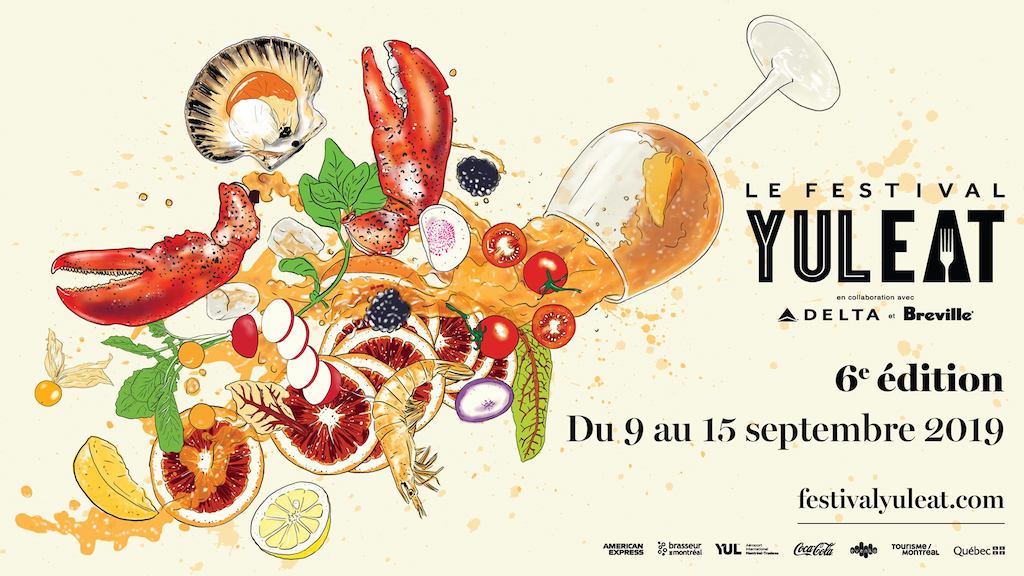 The YUL EAT Festival is returning to Montreal for its 6th edition, and with it they are bringing a full itinerary of new and exciting activities! Following tradition, this year's festival will be held in the Quartier des Spectacles from September 9th until the 15th. The theme is none other than "From farm to table", which you will be able to discover throughout the many activities and events that will unfold over the course of the 6 days.
The YUL EAT Festival is a true paradise for Montreal foodies, thanks to the whole host of creative gastronomic activities that will be taking place throughout the week.  There may even be a couple of special surprises in store for event-goers, so keep your eyes peeled!
On the agenda : uniquely themed evenings, special gourmet tours of the city, workshops, demonstrations and conferences of all kinds, an ephemeral restaurant experience, and to cap it all off, lots of beer, wine, cocktails and coffee themed events to enjoy!
You definitely do not want to miss the gourmet tours, which will take place at the Société des Arts Technologiques on September 13th and 14th. They will be divided into 3 separate time slots, the first on Friday the 13th from 6.30pm to 11pm, the second on Saturday the 14th from 12pm to 4.30pm, and finally, on the 14th from 6.30pm to 11pm. This year's tours will be even more impressive than previous years, and will focus on celebrating the culinary diversity of the city. Each tour will include 20 stops for food and 10 stops for drinks of all kinds, as well as 4 culinary demonstrations by renowned chefs throughout the service. Every participant will also receive a passport with vouchers for both snacks and beverages. There is no doubt that you will leave the experience with a full belly and newly awakened taste buds. For more details on the contents and logistics of the gourmet tours, click here.
The YUL EAT Festival is helping those of us who have not yet let go of summer with a special evening themed around the colours of Mexico, "Destinación Mexico". The festivities will be held on Thursday the 12th from 6:30 p.m. until midnight under the SAT dome, and will feature a combination of 5 traditional and contemporary Mexican tapas stands, as well as 5 cocktail bars. This specially theme evening will encourage you to discover the flavours of Mexico to the tune of festive music by Dj Dany-O and performances by Mariachis Figueroa. For more information about the event and how to get your hands on some tickets, click here.
As if it couldn't get any better, YUL EAT Festival is creating a brand new outdoor space that will host fun activities and be openly accessible to all. Through the various workshops going on, visitors will gain a unique glance into typically unseen aspects of the restaurant industry.
A major innovation of 2019: the Ford Smokehouse will have a space installed directly on the festival grounds. This temporary pop-up will host 3 teams of local chefs, each one offering their own unique menus and BBQ workshops each day. Visitors will be able to directly experience the creativity and skills of chefs like Eric Dupuis (Taverne Square Dominion, Balsam Inn, Henrietta, Taverne Atlantic), Samuel Fortier-Auclair (Les Fillettes), Vincent Russel (Foxy), Sébastien Harrison Cloutier (Grumman78) and Mélanie Gervais (Un Po Di Piu), among many other talented Montreal names.
As if there wasn't enough already, the YUL EAT Festival is also offering another whole host of exciting activities and community spaces for the foodies of Montreal :
The "100% Tomatoes, an Exposition" will feature more than 100 varieties of Quebec tomatoes and a photo exhibition of chefs and market gardeners who are participating in the Seed Guardians Operation.
The "Family Corner" where you can picnic, play and deepen your culinary knowledge with a rally hosted by La Tablée des Chefs.
"Lab Breville" is a space where you can sharpen your knives, learn about the best kitchen equipment, and even try some things out first hand.
There will be a selection of workshops to cater to all interests, including : "The Art of Pizza", "Espresso At Home", "Cooking the Harvest", "The Art of Cutting Vegetables" and "Caribbean Rum and Tapas", as well as a few others.
The General Store is where you can go to discover the superb products of Quebec's terroir and meet local artisans and learn from their experience and skills. In the same space, you will also be able to attend demos and conferences with a dozen guests including Jean Soulard, Jerome Ferrer and Vickie Vaillancourt.
For more information on the YUL EAT Festival in general, visit the event website or watch the video below.
Written by Sydney Carter