Lloydie's: Caribbean cuisine in the heart of Mile-End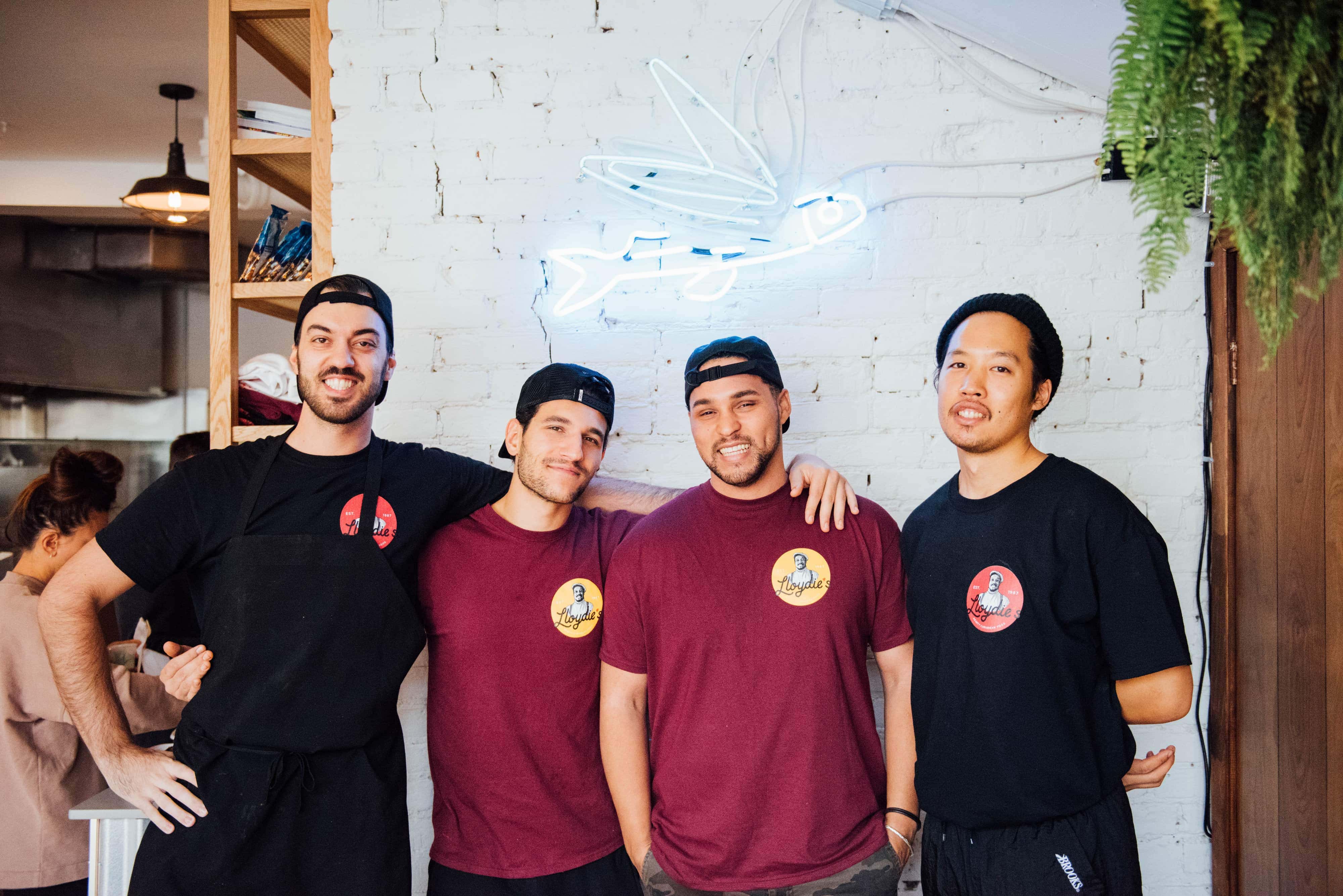 Lloydie's is a recent, Caribbean-style combination of a grocery store and counter take-out service on St. Viateur Street.
Lloyd Tull is over 70 years old. In 1987, Lloyd opened the restaurant Carabec in NDG but he always wanted to sell affordable Caribbean products in the Quebec region. So in the early 1990s, under the nickname « Lloydie's », he became a producer and provider of Caribbean food products. This is about a hardworking family and they can be justifiably satisfied with the knowledge that today, Lloydie's « Jamaican Pattys » are found in several large supermarkets, as well as in small, well-hidden supermarkets.
Lloydie's is now enjoying a second wind with this latest venture in Mile End that opened in September 2017. Together with his sons Nathanial and Rem Tull, and their friend Julian Chemtov, Lloyd has created a charming small space offering Caribbean food (in generous portions), including the famous pattys. You can eat at the counter, buy groceries and order take-out. « We want to use our brand and expertise to bring our Caribbean cuisine to our customers. » Lloydie's St Viateur location has a menu proposing six different takes on contemporary Caribbean cuisine, all created by Lloyd:
Mains – jerk pork, jerk chicken, oxtail or vegetarian, served with rice or fries and cucumber salad ($11-$15);
Poutines – regular, plantain, meat or oxtail ($7-$12);
Sandwiches – jerk chicken, jerk pork or oxtail ($8-$9);
Sides – cucumber salad, rice, macaroni pie, jerk fries, peas or plantain ($4)
Pattys – beef, chicken or vegetable ($3);
Desserts – coconut bread, pound cake, coconut turnover.
All dishes are served with a few homemade sauces (spicy or not). There are a number of homemade soft drinks to choose from with flavours like sorrel, Mauby and ginger beer. « These are Caribbean recipes but it's also exactly what I eat at home, » Nathanial confides. Lloydie's also proposes monthly specials, highlighting the different countries in the Caribbean.
Why Mile-End? « We all love Mile-End, » says Julian. « Nath used to work in some of the stores around here, going in and out of the places all the times. Some of his family lives in Outremont, and I worked for a dozen or so years in some of the local restaurants. » With around a dozen seats, the lively space is welcoming and friendly with a successful design concept reminiscent of the 1970s, through the use of wood and bright colours. Nathanial and Julian are behind this, together with Atelier.ad, Daniel Finkelstein from Make co., and their artist, graphic designer and photographer friend Gustavo Lopez Riveros, who is behind Sweet Nothings.
It's always a pleasure to watch young people who are happy to be working hard on a project because it is an indication of its importance to them. There is a constant stream of customers at Lloydie's from opening to closing, a clear sign that the food is good. We certainly agree and do note that the portions are generous. All in all, a nice place for our readers to discover.
Written by Élise Tastet