Café Pista: Bike right up to the café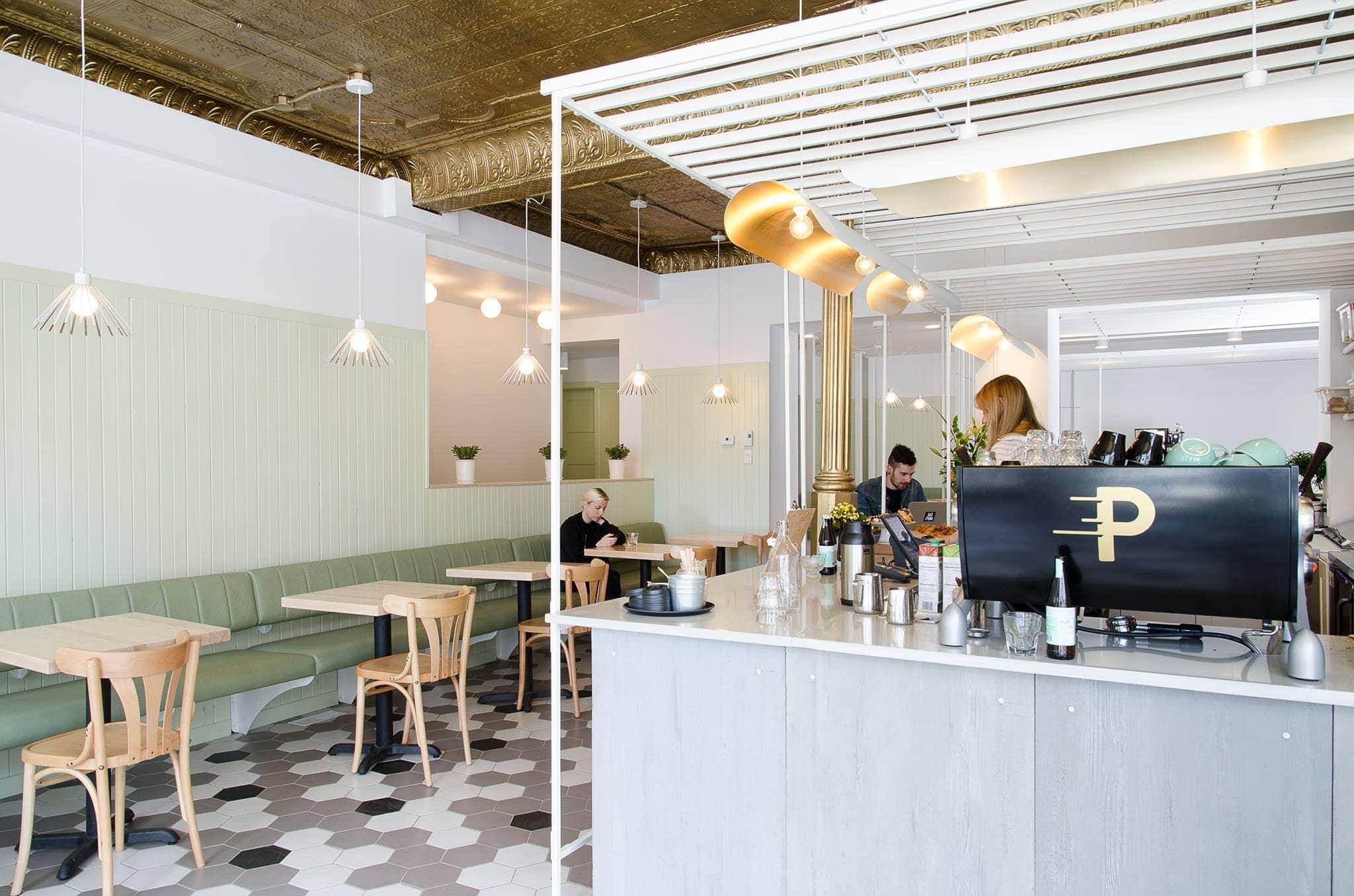 Café Pista is one of the most beautiful cafés in Montreal. You may have seen Maxime Richard, owner and "bicyclist barista" of Café Pista at a gourmet event … he's the one who set up the first specialized bicycle coffee shop in North America that goes to its customers.
Café Pista – this came from the world of cycling and piston machines. The concept also stems from the wish to use human energy and bicycles to grind the coffee beans. The result is very good and efficient; "What I like is that I don't need to plug myself in! And it's a bit more entertaining at events". And yes, the concept is original and unique! Maxime is the first in the world to do this: "I came across Lasse Oiva and Amos Field Reid of Velopresso in London who were doing a school project using this idea. I jumped on it immediately:  Food trucks were just starting in Montreal and I was crazy about the idea. The coffee is freshly ground using leg power, no electricity or engines other than my legs." The Café Pista on-wheels is available for all types of events, both indoor and outdoor: pop-ups, conferences, filming, corporate events and more. More details here.
Although Café Pista on-wheels has been going for three summers, there's been a bricks and mortar Café Pista for some time now on Beaubien St East in a charming 40-seat space! The design, created by Felix Guyon, is gorgeous, and the natural light entering this corner café is just as sublime. With grey and white tiles, pale green walls, lots of white, golden ceilings, a small room at the back and the famous bike-torrefactor on show in the rear, it's not difficult to be charmed by the attractiveness around you.
In addition, both Café Pista on-wheels and Café Pista use Kittel coffee, roasted in Rosemont Petite Patrie; "This is now part of the third wave of specialty coffee; we're interested in the origins of coffee, the region of the bean, its history, etc".
"I started with a bike because I found the idea to be very original, but also because it didn't label me as a local, I had the freedom to take my time to find my dream location that would fit all my needs." With the popularity of events and requests, it became more interesting to find a warehouse that could offer a place for returning customers. There are a few small things to nibble but you come here mostly for coffee and space.
You can now also enjoy a delicious brunch in the café . Do try! What makes Café Pista on-wheels and Café Pista remarkable is the original idea, followed by the gorgeous premises. We also appreciate the kindness of the staff and the owner. "What I like best are everyone's reactions! We have a business synergy: we can be found most places, we follow our customers at events and they follow us to the café. That's cool!" We agree – very cool!
Written by Élise Tastet