H4C: Excellence and modesty in Saint-Henri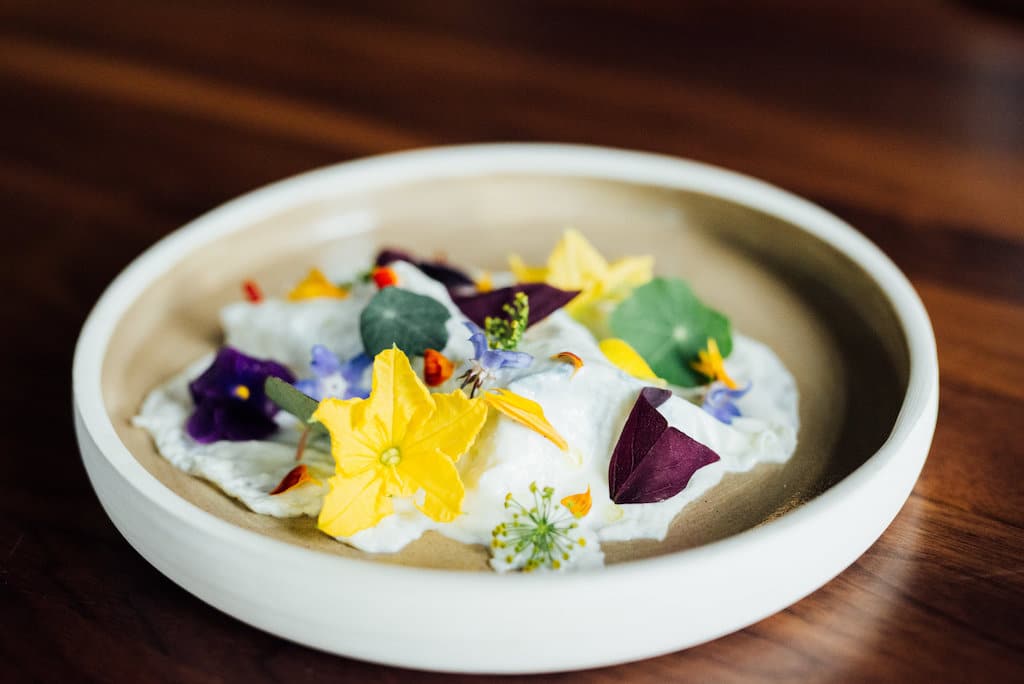 Note: We're sad to inform that this address has closed permantently. Our hearts go out to Dany Bolduc and his team.
The H4C restaurant is an exceptional address in the Saint-Henri district. Its unique style and chic atmosphere will surely impress anyone who comes in!
Although the restaurant has always been eye catching, H4C has recently been given a makeover. After a few months of closed doors, we are finally able to enjoy the new scenery, as well as the same high quality menu that we know and love.
The H4C adventure began with the idea of combining responsible and sustainable architecture with gastronomy. Chef and owner, Dany Bolduc, has lead this mission since 2013. His impressive team is made up of Renaud-Philip Méthot (sous-chef), Jonathan Benchetrit (sommelier), and Alexandra Dubreuil-Gagnon (director and maître d').
The restaurant is located in a former post office in Saint-Henri; the building dates back all the way to 1893 and was cartefully restored so that the restaurant could highlight its original elegance and character. "H-4-C" are the beginning characters of the of the neighbourhood's postal code, and so they made for the perfect name for the restaurant!
The original opening of H4C August of 2013 brought us a unique and charming neighbourhood restaurant. In March of 2019, the restaurant announced its temporary closure for a large renovation. Since reopening in June, the new and improved H4C has only surpassed our expectations!
The updated décor and space were redesigned so that the overall customer experience would be at its most optimal – the result is very successful. The dining room, previously seating over sixty people, has been reduced to 36 seats. The benches that were once there have been removed to make way for larger and more stylish tables that compliment the cozy atmosphere. In addition, in order to limit noise when the restaurant is at full capacity, the renovation has significantly improved the soundproofing so the restaurant now facilitates conversation far more easily.  In the basement of H4C, there is a private room with 22 seats, as well as a pretty terrace in the back which is ideal for enjoying an aperitif outside. Finally, the team has now decided to take on only one service per evening so that guests can then take their time and fully enjoy the experience.
Chef Dany Bolduc, his assistant chef Renaud-Philip Méthot and the rest of their team, offer you a superb menu that highlights creativity and high quality products. The team is also offering a tasting menu in both a shorter service (5 courses) and a longer service (approximately 10 courses). This menu will be faithful to what we have always known and loved about Bolduc's cuisine: seasonal, very creative and modern, with a touch of inspiration from French cuisine but never in the traditional sense. The use of fresh and local produce is a top priority at H4C. The restaurant deals with farms in the area and the menu will evolve with the seasons. Brunch is also back, to our great delight, and this time, in a sharing-style formula at a fixed price: $45 for adults and $25 for children under 15.
Jonathan Benchetrit is in charge of the wine list,  where bottles start at $47. The restaurant is known for its food and wine pairing service, which is available for an extra $85 per head.
"I am very proud of where we started and where we are now. I feel like we've brought the restaurant to where we want it to be, and now we just have to keep going. The work, the team, the wines, the food and wine pairings, the symbiosis between the room and the kitchen, the unity… Our approach to clients is unique, I think that at H4C, we are here to take good care of our clients, to make them spend a pleasant and memorable evening. »
We love H4C for its welcoming service, beautiful space and delicious and creative fresh food. Of course, we can't forget about the beautiful terrace in summer. For a gourmet meal, this chic restaurant is certainly worth remembering!
Written by Sydney Carter
Photography by H4C