The Brome-Missisquoi Wine Route: an idyllic destination for wine lovers in Québec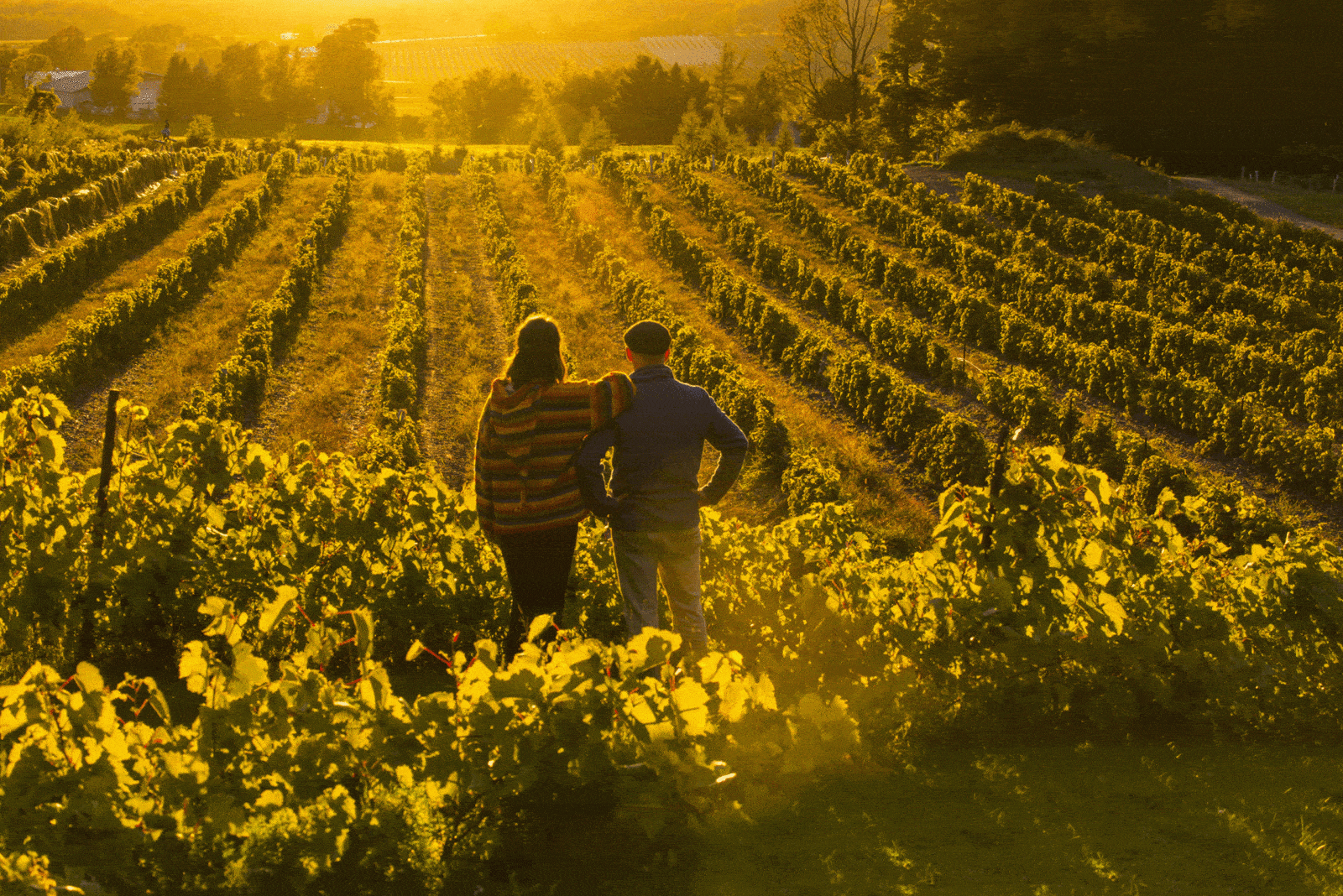 Contrary to popular belief, you don't have to shell out thousands of dollars and travel to the other side of the world to spend your holidays in a dream setting. Québec offers many idyllic destinations to recharge your batteries. We recommend you head to the Eastern Townships, less than an hour from Montréal, for a superb stay on the Brome-Missisquoi Wine Route with its some twenty wineries within a 25-kilometre radius.
Still, the Brome-Missisquoi Wine Route is so much more than vineyards. It's also wonderful gourmet addresses, committed producers and grocery stores like treasure chests filled with the best of the local terroir. You'll find a multitude of restaurants, cheese and cider makers, microbreweries, gourmet stores and artists' studios to make the most of the incomparable Eastern Townships.
We've concocted a very special tour of the Wine Route that you can do by car or by bike with stops at beautiful vineyards and delicious addresses!
Start at the charming Vignoble la Bauge, with its exceptional setting and fine wines. Founded in 1986 by the Naud family, the estate is in full organic transition. To make the experience even more enjoyable, the owners offer educational tastings on their lovely terrace with food and wine pairing that turn the spotlight on local flavours: homemade terrines and charcuteries, as well as cheeses and chocolates. Choose between the classic or prestige tasting.
With the classic option, you'll select five wines, from light and refined whites to round and rich reds, sweet aperitifs and the delicate late harvest vintages.
Meant for epicureans, the prestige tasting samples wines and house delicacies, including wild boar liver mousse, deer terrine and smoked yak sausage.
While you're in Brigham visiting the vineyard, stop by Gosselin Smokehouse in Cowansville and taste know-how passed down from father to son for three generations in the form of hot-smoked salmon on maple wood. If you have a smaller appetite, you'll find everything you need at La Mie Bretonne bakery, which has a range of great sourdoughs, pastries, gourmet sandwiches and deli products, like artisanal Québec cheeses, pâtés, rillettes and jams.
Afterwards, make your way to Léon Courville Vineyard. The charming owners host guided tours and tastings in a magnificent setting so visitors can learn more about the estate that has become a favourite of Quebecers. The tasting focuses on six wines, the winemakers and their know-how.
The long rows of vines growing on the hillsides that plunge into Brome Lake and breathtaking views of the Appalachians are a unique place to enjoy a picnic in good company.
If you're not in the mood for a picnic, there are many gourmet restaurants in the area.
For a quick and delicious stop, we suggest Bolt Café, a new and very popular address in Knowlton that lends itself equally well to a coffee break in the middle of the day or a glass of wine at cocktail hour.
And even though you can't eat on site, we strongly recommend you visit Boutique Canards du Lac Brome—an iconic shop that has specialized in Peking duck since 1912. For those of you who like discovering new things, there are more than 65 duck products to choose from!
No Eastern Townships wine tour is complete without a stop at the Orpailleur Vineyard—Québec's wine-producing pioneer! The estate is one of the oldest in the province, with its first vines planted in 1982. It also happens to be the biggest selling Québec wine at the SAQ. While you're there, tour the vine and wine museum and restaurant. If you're lucky, you'll get to meet co-owner and winemaker Charles-Henri de Coussergues, who led the advancement of Québec's wine industry and founded the Association des vignerons du Québec. The tasting package gives you a tantalizing glimpse of the best of Orpailleur Vineyard. Under the team's expert guidance, you will discover four wines of the winemaker's choice. As a bonus, you'll leave with an Orpailleur glass to remember the great time you spent there.
Nearby is Brasserie Dunham, which is perfect for beer lovers. Get a table at its gastropub, which concocts gourmet cuisine inspired by local products.
In Frelighsburg, Clos Saragnat is a must-see stop. Looking for something new? You'll find it there, including straw wine and very good organic ciders. Louise and Christian will guide you through the domaine. For the record, it was Christian who invented ice cider in Québec in 1989. His idea literally revolutionized the world of cider and brings countless visitors to Clos Saragnat every year.
Nearby is the charming café-resto Les sucreries de l'érable. Many agree that this sweet spot makes the region's best maple syrup pie. You HAVE to try it!
You can also grab a bite at Beat & Betterave, a charming cultural café where simple local cuisine often comes with a performance!
Enjoy!
Written by Inès Duguen