The Nespresso Boutique Has a Sleek New Takeout Counter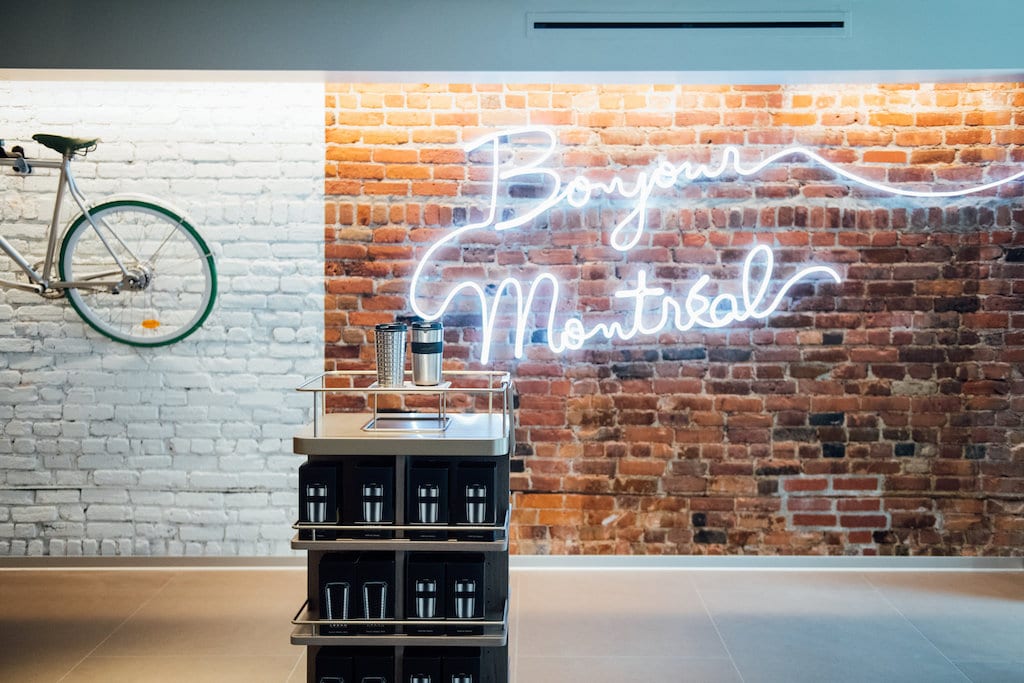 The Nespresso Boutique, located on Crescent Street in the heart of downtown, closed its doors for renovations last year. Although it felt like forever, the long-awaited reopening day has finally arrived. On May 2nd, the freshly revamped boutique opened its doors once again, only this time with a new design and a wide range of coffees and local products to take away.
Having been around for over ten years, the boutique was well deserving of a redesign, and the end result is nothing less than perfect. The best part of it all is that now, beyond just admiring the wall of colourful coffee flavours that you can take home to try, you can also enjoy a delicious coffee and snack right on site.
The biggest renovation to come out of the makeover: the Nespresso takeaway counter, a first for the Canadian branch of the brand. At the counter, you will be guided through the extensive range of coffees and special seasonal products by the Nespresso coffee specialists. The coffee counter has something for everyone, whether you prefer a cappuccino, latte, or a chai latte. To say the least, a morning at the Nespresso Boutique is a great way to start the day!
Furthermore, the café is rewarding customers who bring their own reusable cup to the coffee counter with a $1 discount. And of course, we can't forget to mention the 15% discount for Nespresso members and students!
In addition to coffees to-go, Nespresso has teamed up with local brands Loop Mission and La Fabrique Arhoma to offer complementary drinks and pastries as an accompaniment to your coffee. Upon walking in, you will quickly spot the colourful Loop juices from Quebec and a full array of fresh pastries from La Fabrique Arhoma at the café counter…. and we recommend embracing the temptation.
On the second floor, you will (re)discover a sleek and refined space in which thousands upon thousands of coffee capsules are displayed, as well as some of Nespresso's most effective and efficient machines. And to take things all to the next level, the location is now offering a station where you will be able to have your broken Nespresso machine analyzed and repaired on site, by experts.
Nespresso is always innovating their approach to sustainable development. There are a few elements that stand out in particular, such as the luminaires made of recycled aluminium and the tabletops made out of used coffee grounds. Here, everything has been designed to introduce customers to a new type of coffee drinking experience. The company's eco-responsible philosophy also extends to their capsules, which are made from aluminium and are 100% recyclable.
We love the new Nespresso boutique for its beautiful and chic interior which stands out in the heart of downtown, and for the consistently high quality of every product they serve! If you're looking for somewhere to enjoy a refined coffee break, the Nespresso Boutique on Crescent Street is the place for you.
For more details on Nespresso, click here.
Written by Sydney Carter
Photography by Alison Slattery