6 great places to try in Victoria, British Columbia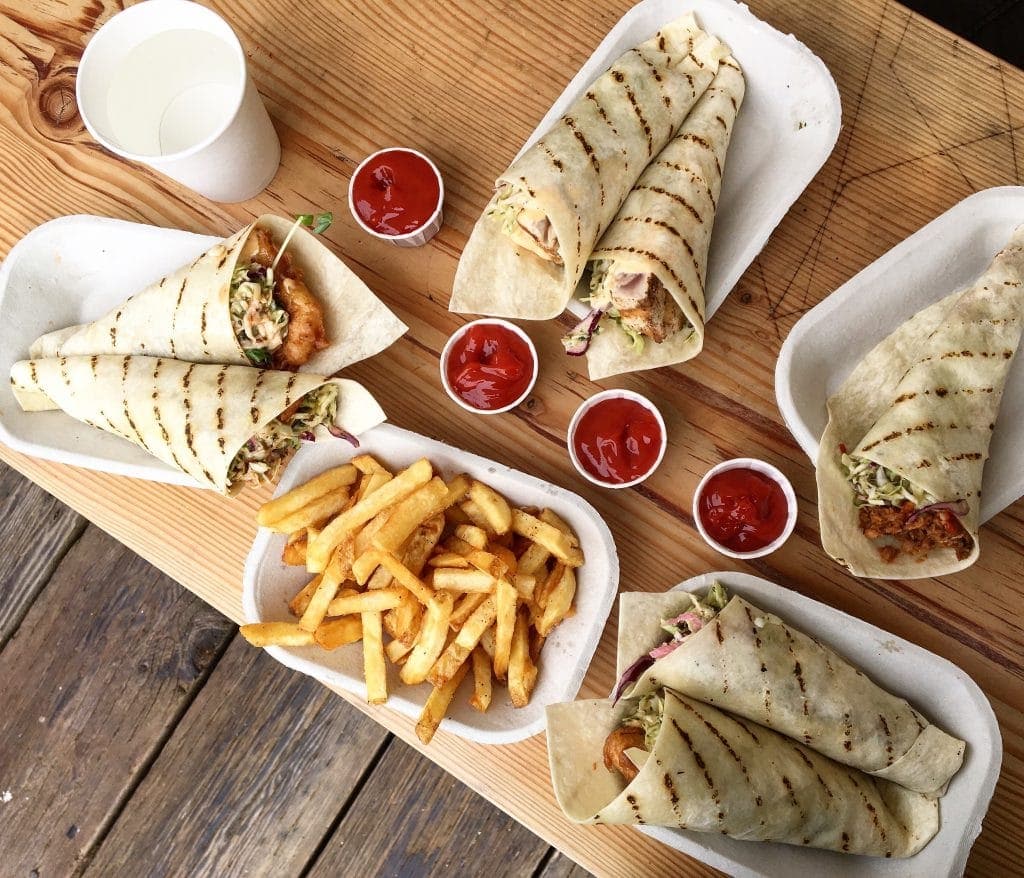 Victoria is a dynamic city with great food on Canada's West Coast!
Victoria is located at the southern end of Vancouver Island – the largest island on the West Coast of North America. Victoria offers breathtaking views of the mountains and the ocean. The city is also surrounded by dense forests, beautiful parks and endless stretches of shoreline. While the general population isn't super youthful, many young couples from Vancouver are flocking here to start families, and the university attracts young minds from across the country.
Victoria is one of the cities where, in terms of gastronomy, we found the most similarities with Montreal. The city has many excellent gourmet addresses – reflecting the city's British, Asian and European roots – and they're popping up everywhere. Here are a few suggestions for your next visit to this beautiful coastal city:
Red Fish Blue Fish – 1006 Wharf St, Victoria, (250) 298-6877
This taco stand gets a lot of press, and with good reason! This place has the best tacos we've ever had as well as the best chowder! Here, you'll find tuna, jerk chicken, halibut or oyster tacos of incomparable freshness for super reasonable prices. Over 10 years ago, owners Libby and Simon moved to Victoria and opened the Red Fish Blue Fish stand. The stand quickly captured the interest of the Lonely Planet guide, was featured on the Today Show and appeared on segments of Food Network Canada's "Eat Street". When in Victoria, a visit here is a must. The lines are long, but we promise it's worth the wait!
Zambri's – 820 Yates St, Victoria, (250) 360-1171
Zambri's is the restaurant where one of our favourite chefs, Derek Dammann, started his career! Zambri's first opened in 1999 on Yates Street, an unconventional location, which Derek told us many a rocky tale between the kitchen and the alley it overlooked. At Zambri's, it's like eating in a good trattoria. Not long after opening, the restaurant had several notable successes; they received gold in the category of Best Casual Italian Restaurant from Vancouver Magazine, Dammann was named Chef Of the Year in Victoria, and they were featured in both EAT Magazine and The Urban Peasant James Barber. We can tell you with conviction that Zambri's is the best Italian restaurant in Victoria. The new location is much larger and a bit fancier, but the food is just as good. Excellent pasta, pizza and other delights. The menu is traditional Italian, and is always homemade and delicious.
Part and Parcel – 2656 Quadra Street, Victoria, (778) 406-0888
Part and Parcel describes itself as "handcraft cooking." The little eatery is somewhat reminiscent of our Olive and Gourmando, but much less touristy. Owners Sterling, Grant and Anna are three of the most laid-back epicureans. Their restaurant also stays in that spirit. The menu changes constantly, but they always offer great sandwiches, tasty salads and a few gourmet sides, all at very reasonable prices. The products used are fresh, local as much as possible, and the atmosphere is both warm and welcoming. Part and Parcel is a little gem in Victoria.
Fernwood Coffee Company – 1115 N Park St, Victoria, (250) 590-3320
If you're a coffee lover like us, be sure to stop by Fernwood Coffee Company, where they roast their own award-winning beans. The coffee here is some of the best, if not the best, in Victoria. Fernwood is a tiny space that greets you right at the door with the aromas of their freshly baked goods and expertly roasted coffee, luring you right in. Their amazing coffee – any way you like – scones, muffins, bagels, brownies, cookies and more, offer an ideal start to your day, and are perfect to bring with you to the beach. The little cafe also offers great sandwiches made with local farm products: amazing!
Discovery Coffee – 1964 Oak Bay Avenue, 250-590-7717
Discovery Coffee has been so successful in Victoria that it now has several locations. Personally, we prefer the one on Oak Bay Avenue. This second location opened in 2009 and now serves many regulars in the Oak Bay area. The coffee is good and their motto "nothing goes better with a coffee than a donut" makes perfect sense here. The café offers Yonni's Doughnuts – delicious homemade pastries made fresh each morning. The café is cozy, the staff friendly, and the location not too far from the sea. A must try!
The French Oven – 1701 Douglas St, Victoria, (778) 433-6938
The French Oven is a bakery that was started by Montrealers! Nick Castro, a French baker, and Sandra moved here in 2013 to open this small bakery. The goods served in the establishment are French-style, similar to what Nick would make back in Lyon. There is great natural light in the space and you can take the opportunity to visit Victoria's Hudson Public Market while you're there. The bakery offers good products: breads, croissants of all kinds and many other delicacies. The owners are also quite charming.
A special thanks to UB for his particular epicurean interest and for discovering most of the addresses on this list! If you have other addresses to share with us in Victoria, please share them with us at: [email protected]. For other addresses outside of Montreal, check out our Sidewalk-Blog section.
Written by Sophie Monkman