Open for take-out: Restaurant suggestions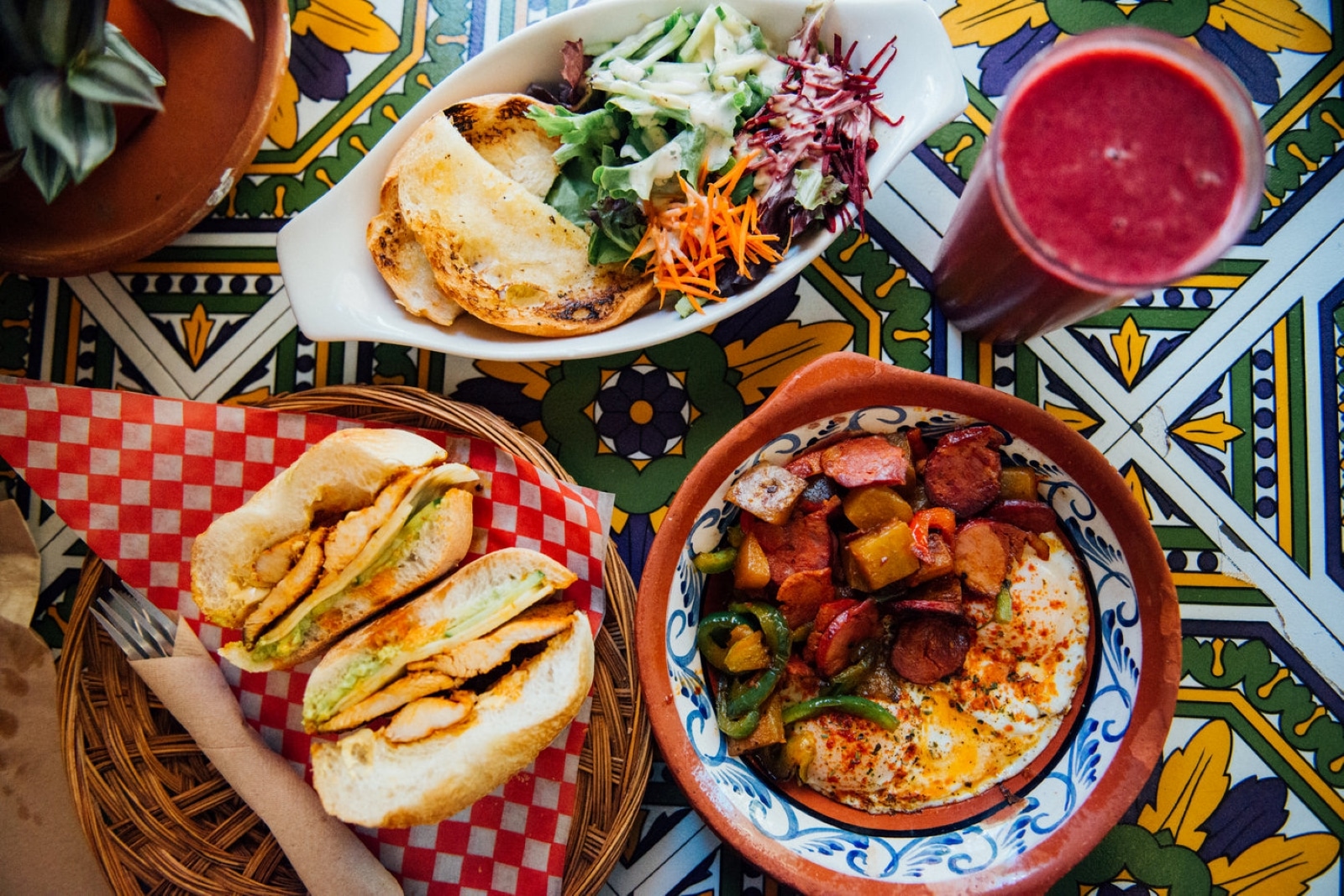 As we all know, Montreal is one of the best food cities in the world with good restaurants in every corner of the island and in the suburbs. But fortunately for us, more restaurants than ever offer a take-out service that we can enjoy every day of the week at any time of the day. So here's our list of favorite take-out spots!
For the best places that offer delivery,

it's here

! And here are a few of our favorite addresses:
We were really missing of

vinvinvin

. Good news, the house has gone back to work and prepares small dishes in a take-out formula in addition to offering the cuiellette and the delivery of good bottles.

Tandem

operates in take-out mode. Stay tuned for their new take-out menu.
Chez Victoire: This great neighbourhood eatery has a take-out menu that changes weekly so you can enjoy their food at home!
Elsdale: This little café-buvette invites itself to your table and offers a nice "ready-to-eat" menu with delicious bottles of wine! Don't miss their brunch boxes either!
Mesón: Marie-Fleur is pleased to be back in the kitchen. Her tasty dishes are offered in ready-to-eat or ready-to-cook formulas at Marché Tapéo-Mesón! Thanks Cheffe!
Tinc Set: Order online and pick up in the alley! This charming Outremont address offers a rotisserie and wine shop formula to go. It will be back in February!
Lapin Pressé: A little spot on Laurier Street East where you'll find the most delicious grilled cheese to go as well as great juices and coffee.
La Fabrique: This bistro continues to prepare comfort food to take home.
Larrys +: The best fries! And many good small dishes like fried cauliflower, lentil salad, eggplant with zatar, everything is delicious!
Knuckles: The charming little canteen offers a menu inspired by seasonal ingredients. It is impossible not to order a panzerotti, the classic of the house! The team also offers a very nice selection of natural wines, at friendly prices! The take-out menu changes weekly.
Sandwiches:
Provisions : The butcher shop/wine bar offers a host of take-out items.
Clarke Café: For its delicious Italian sandwiches and authentic desserts!
Falafel St. Jacques: This delicious little Middle Eastern eatery offers a variety of take-out treats.
Mitch Deli:

The Rosemont-La-Petite-Patrie sandwich shop will be back in February.
Beba : a spot in Verdun that will continue to serve sandwiches and empanadas until it reopens.
Chez Jose: Among our favorites, we find the Churrasco chicken sandwich; marinated chicken, guacamole, cheese, cucumber: the perfect simplicity!
Favourite Asian restaurants for take-out :
Fleurs&Cadeaux: The chefs at Marusan take the kitchen by storm to offer one of the best Japanese take-outs in town.
Tran Cantine: The Tran Cantine offers its entire menu of good pho soups, banh mi and others to take out.
Satay Brothers: The friendly restaurant on Notre-Dame Street West offers many delicious Singaporean dishes to take out as well as a great selection of wine!
Otto Yakitori and Otto Bistro: The friendly downtown address offers Japanese boxes to go. Soju and sake also available!
Cafeden : Small delicacies to take away on Saint-Laurent Boulevard from Tuesday to Friday.
Joon : The new Iranian restaurant in Little Italy that you can discover in take-out!
HÀ: The Vietnamese restaurant we all love will be there to take your take-out orders.
Le Red Tiger: Le Red Tiger offers its Vietnamese food for takeout or delivery.
Favourite Italian restaurants for take-out :
Mano Cornuto : One of the best Italian restaurants in Montreal prepares all the delights from its take-out menu!
Vesta: One of Montreal's best take-out pizzas, Tuesday to Sunday.
Bottega Saint-Zotique and Bottega Laval: The signature dishes of the house to go or for delivery.
Le Moccione: Back soon with a new formula!
Fiorellino, Laurier Avenue and Fiorellino, Downtown offer their menus for take-out and delivery.
Antonietta: Small but efficient, this could be attributed to the neighborhood restaurant Antonietta. Fresh pasta, delicious pizzas and comfort food, the team works hard to keep us well fed! The charming address also has a very nice wine list and a small "grocery" section to take away with Italian delicacies!
Kesté : a must if you are craving a Neapolitan pizza… Kesté is there for you!
Stella Pizzeria : The pizzeria of choice on Laurier East, you only have to order.
Barcola Bistro: You can now take the take-out option at this delicious Mile-End neighbourhood bistro. The restaurant also offers free delivery on the Plateau, Mile End, Outremont and Little Italy!
Favourite Sushi / raw restaurants for take-out :
Jun I & Okini : Take-out and delivery!
Tri Express: Small address, big sushi! We recommend you try their tartars.
Saint-Sushi: Pick-up or delivery at the Westmount or Plateau Mont-Royal locations.
Ryu on Peel Street and Ryu in Westmount: Both locations offer take-out and delivery. Menus vary depending on the location.
Mikado sushi: For classic sushi that is always delicious.
Bistro Lustucru offers a take-out menu for those evenings when you want to treat yourself!
Favourite Healthy restaurants for take-out :
Mandys : For healthy and gourmet salads.
Omnivore : The middle-eastern "healthy fast-food" restaurant offers its take-out menu.
Tendresse : A 100% vegan and eco-responsible cuisine to which we must now add a grocery formula. You can enjoy it 7 days a week!
Venice MTL : For beautiful dishes made with fresh food, in addition to having plenty of vegan options.
Darna Bistroquet: for a little souvenir from the Mediterranean to take away with lots of vegan and vegetarian dishes.Café chez Téta: The charming address offers classic Lebanese cuisine in a take-out formula with third wave coffee!
Favourite Fancy restaurants for take-out :
Marconi: We're happy for them and for us. Take home the table d'hôte menu or the groceries!
Montréal Plaza: (closed until further notice for an extended post-holiday break) Charles-Antoine Crête and Cheryl Johnson's brilliant restaurant offers its menu (+wine) to take away or to be delivered!
L'Express: A beloved institution on Saint-Denis Street, the address is now open to take your orders by phone.
RoseRoss : It's now Rose Ross on the grocery side; the menu is updated every week!
Hoogan&Beaufort : (closed until further notice for an extended post-holiday break) Ready-to-eat, ready-to-cook and ready-to-grill, the Hoogan and Beaufort team even offers free delivery for orders over $100 within a 5km radius of the restaurant. Fantastic, isn't it?
Damas: The famous Middle Eastern restaurant offers a delicious take-out menu. Damascus now has a grocery store side… to stock up your pantry!
Le Boulevardier: The beautiful restaurant of the equally inviting Hôtel Le Germain offers a three-course menu each week with a choice of bubbles and red or white wine. Ah, Madame Germain!
Taverne Square Dominion: Order to go!
Joe Beef: The classics to go! Pick up on site or home delivery!
Ferreira Café: In take-out mode – travel a bit by treating yourself to one of the best Portuguese culinary experiences in Montreal, all in the comfort of your own home!
Les Cavistes : Tartar and meat lovers will be served at this Ahuntsic restaurant. You can take a bottle to go too!
Le Chien Fumant : Located in the Plateau, this one offers nice dishes and good meat for dinner.
Favourite Indian restaurants for take-out :
Atma: This restaurant is one of the best Indian restaurants in Montreal – it offers all its dishes for take-out or delivery.
Malhi Sweets : One of the best Indian restaurants in the city offers its entire menu for take-out.
Pushap: The pleasure of tasting vegetarian dishes.
Bombay Mahal: Always efficient and friendly even in the middle of a pandemic. And delicious.
Super Qualité: In Rosemont, Super Qualité is a delicious introduction to South Indian cuisine. The team offers a take-out or delivery menu from Tuesday to Sunday on Belanger! Good news – Super Qualité is now open for lunch too. The branch at Le Central is currently closed.

Favourite lunch/brunch restaurants for take-out :
Merci la vie: the succulent bakery offers a complete take-out menu.
Larrys-Lawrence: Special take-out menu and good wines.
Helico: (closed from Jan. 1 to Feb. 10) Our favorite Hochelaga café offers all its dishes to go. An opportunity to enjoy one of the best lunch sandwiches in town. Note that the Hélicoptère will also be open for take-out.
Restaurant Well : For brunch or dinner, go to Verdun for good pancakes and more!
Favourite Fast Food restaurants for take-out :
Icehouse : If you're in the mood for fried chicken, burritos or popcorn shrimps, we recommend this tex-mex!
Paradis BBQ: Whether it's fried chicken, chicken wings or a good mac&cheese, the address offers take-out and delivery.
Tousignant : Our favorite snack bar offers one of the best burgers, best hot dogs, best poutines and other homemade delights for takeout and even delivery!
Roch le coq : Our favorite fried chicken! We recommend the fried chicken sandwich!
Kwizinn : Plantain burger, grilled chicken, mac&cheese, this place offers exceptional Caribbean dishes.
Nouveau palais : One of the best burgers in town and lots of comfort food… Must try!
Campo: One of the best Portuguese chickens (grain-fed too) – try it in any form as a take-out.
Lloydie's: A favorite spot for good carribean food in Montreal, just order in.
Uniburger: Burgers that are sure to satisfy!
Paulo & Suzanne: One of the best cantine in town!
OTHER FAVORITE ADDRESSES:
Lundis au soleil: Somewhere between a delicatessen and a cafe, this one has the perfect dishes to go with the aperitif.
Candide: This restaurant in Little Burgundy has a whole menu to enjoy at home.
Ibéricos: You can now take the delicious Spanish tapas to go!
Perles et Paddock: A cuisine inspired by seasonal ingredients to be enjoyed in the comfort of your home with a beautiful selection of natural wines. The menu is available for take-out or delivery.
Le Garde-Manger: An excellent restaurant in the Old Port that combines fine dining and comfort food.
Le Virunga: Le Virunga offers the best of African gastronomy in Montreal.
Sainte-Thérèse:
Karine E. reports that it is now possible to order food for the house at 425F.
Laval :
Chez Lionel: The French brasserie offers the take-out formula! (Chez Lionel Boucherville also)
Val David :
La table des gourmets: Just the name and you know what to expect! Take-out menu available every week!
L'épicurieux : Take out orders!
Sainte-Marguerite-du-Lac-Masson :
La belle histoire : (Back on February 3rd). Étienne's cooking, Sophie's bottles, happiness for the people of the region who can come here to get their meal washed down with elegance.

Note also that the cafés are, for the most part, all open and you can take your coffee or take-out food there. Ex. San Genaro, Cordova St-Henri, and others!
Written by Sophie Monkman
Photography by Dat Aliis, Chez Jose et Alison Slattery