Café Vasco da Gama: Good sandwiches in downtown Montreal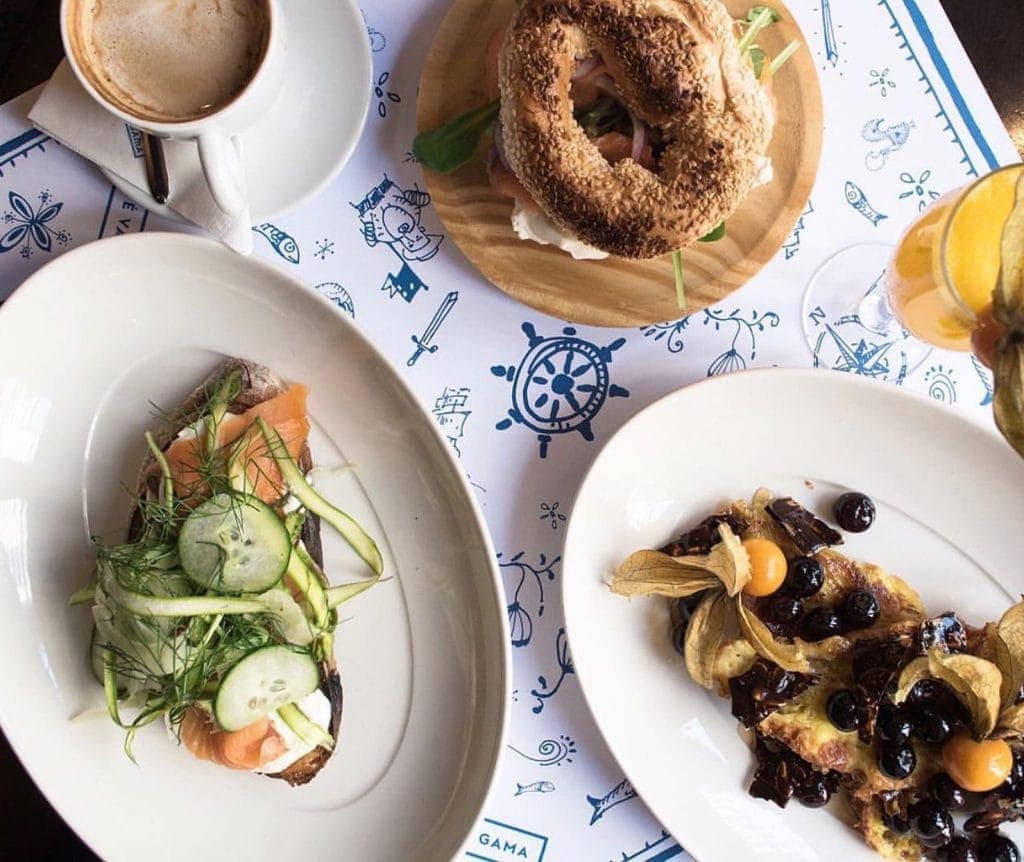 Café Vasco da Gama is a nice place to stop in for a sandwich if you are in the heart of downtown Montreal. Located not far from its big brother Café Ferreira, if you are on the go and looking for a fast meal, this is the place for you.
Carlos Ferreira, as owner of Café Ferreira, Taverne F and Campo, was already aware of the necessity for snappy meals in the business district from the early 2000s. Being able to fill this gap by offering quality food with good ingredients was, he thought, the way to proceed. Later, on a trip to Switzerland, he was so impressed by all the good sandwich shops, he returned with the inspiration of opening a European-style snackbar. Subsequently, when a space opened up a few steps from his Café Ferreira in 2004, he jumped at the chance and opened Café Vasco de Gama, serving Mediterranean-influenced gourmet sandwiches, salads and tapas.
Vasco da Gama was a Portuguese explorer from the 15th/16th centuries who discovered the sea passage to India and the café is named after him. The café has about 40 seats and the decor, designed by Yves Montpetit, is Portuguese-oriented with the typical azulejos tiles on the walls, depicting a sea voyage. The dishes are not complicated but tasty and the service is timely. The menu includes some classics and there is also a daily special. Our sandwich preferences are the duck and fig, shredded lamb, vegetarian and goat cheese, but our top favourite is the tuna burger. At noon, burgers and sandwiches are served with soup or salad and the prices range from $10.75 to $18.25. We would like to thank Café Vasco da Gama for the kind invitation! If you have never tried natas – Portuguese custard tarts, then this is the place to do so! These come from Les Anges Gourmets, on Blvd Saint-Laurent, famous for this delicious Portuguese pastry. Café Vasco da Gama is open every day of the week, serving tapas after 4pm from Monday-Friday, and brunches on the weekend. They also provide a catering service.
The wine list is in the competent hands of Jorge Ferreira, manager and brother of Carlos, the owner and a choice of classic cocktails are also available. Sandra Ferreira, Carlos' daughter, is in the process of bringing herself – the next generation – into the family business to take over. Sandra says quietly that what she likes best about the Café Vasco da Gama is the atmosphere : « When I'm here, it's like being somewhere else. Vasco is unique and it is always busy ».
Café Vasco da Gama is a great spot for a quick lunch downtown or for a business meeting.
Written by Élise Tastet