Taverne Square Dominion: One of Montreal's most beautiful restaurants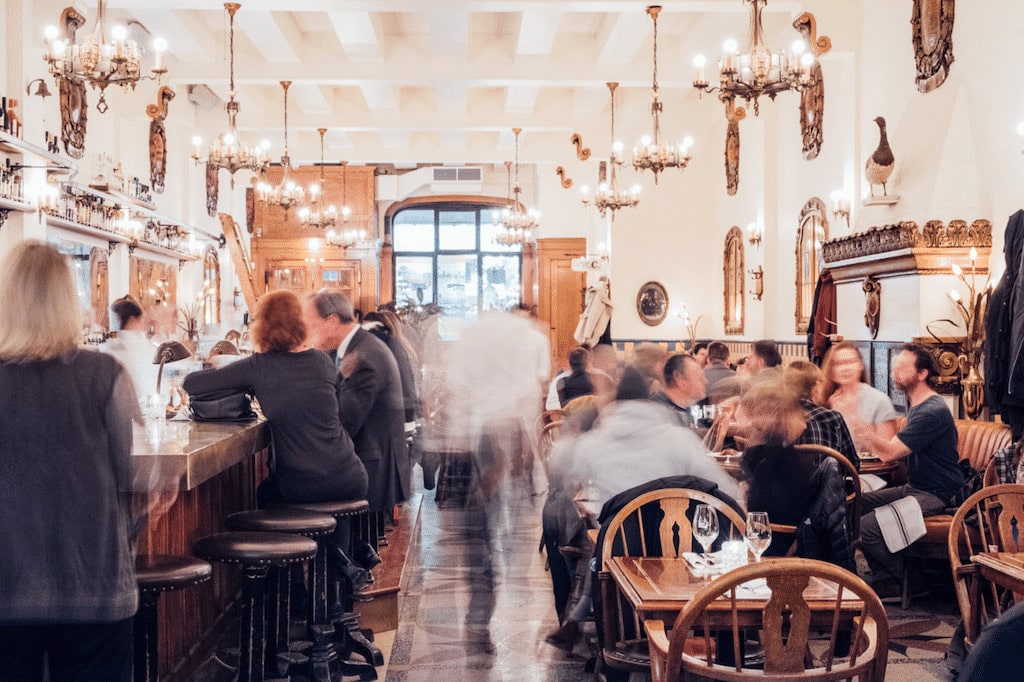 * Dear readers, it is with great sorrow that we inform you of Taverne Square Dominion's permanent closure. To all the staff, you will be missed dearly. On a brighter note, Tavern Atlantic and Bar Henrietta, the owner's other venues, are still open for business.
We are always asked which places impress us the most in Montreal and where are our "go-to" spots; well, this place definitely fits into these categories. Taverne Square Dominion is a magnificent place where you eat very well.
The original tavern opened its doors as a hotel and restaurant in 1927, during Montreal's Roaring Twenties and survived the Great Depression. Located in the heart of Golden Square Mile, the Taverne Square Dominion, as we know it today, was created in December 2009 and is definitely one of the most beautiful restaurants in Montreal. Inspired by archival photos, the decor of the Taverne Square Dominion resembles those taverns of the 1920-30s – perfectly appropriate to the heritage architecture of the building where it is located. Through their attention to details, three of the owners, Alexandre Baldwin, Alexandre Wolosianski and Nicole Lemelin, have created surroundings that reflect this past historical era through the installation of items such as an antique chandelier, period furniture, a grand bar, tiles and woodwork. The space is quite large – it seats 90, including around 20 in the bar – it is one of our favourite places between 5-7pm in the city centre. There are at least a dozen cocktails created by Alexandre Baldwin to try, a few beers and ciders, and a wine list curated by Morgane Muszynski, mostly via private imports with organic and biodynamic choices- priced between $45 and $75. Taverne Square Dominion has a bar licence, so stopping by just for a drink is always possible.
On the menu, chef and co-owner Eric Dupuis, chef Bertrand Le François and their team concoct small-sized soups, salads, charcuterie, cheese platters, pâtés, scotch eggs, osso bucco and other delicacies as appetizers. The main dishes are hefty: Ploughman's – the worker's choice with fish or meat, mussels and fries, chicken, sausages, pork, cod, salmon and more. This is a gastro-pub with touches of English and French Canadian culinary know-how; English cuisine entwined into Quebec culture. Taverne Square Dominion sometimes serves haggis – a traditional Scottish dish of savoury pudding stuffed into the casing of a sheep's stomach. There is a standard menu but there is also a dish of the day: veal steak, fish, pork loin, duck confit, fish & chips, and Sunday roast – the famous Sunday Roast! Everything is made on the premises, except the bread which is delivered by Hof Kelsten. We like the simplicity of the menu, the well-made dishes and the consistency of the food.
In the dining room, co-owner Virginie Bergerot manages the staff and ensures that the service is always impeccable, courteous, efficient and experienced.
What is remarkable about the Taverne Square Dominion is that once you enter, it is easy to feel like you are on a trip, transported elsewhere, to another city, to another time. The location, the quality/price ratio, the magnificent decor and the efficient service make us return again and again, and we are always happy to do so.
Taverne Square Dominion is open Monday to Friday from 11:30am to midnight ; weekends from 4:30pm to midnight.
Written by Élise Tastet
Photography by Shayne Laverdière