Mile End: Our take-out suggestions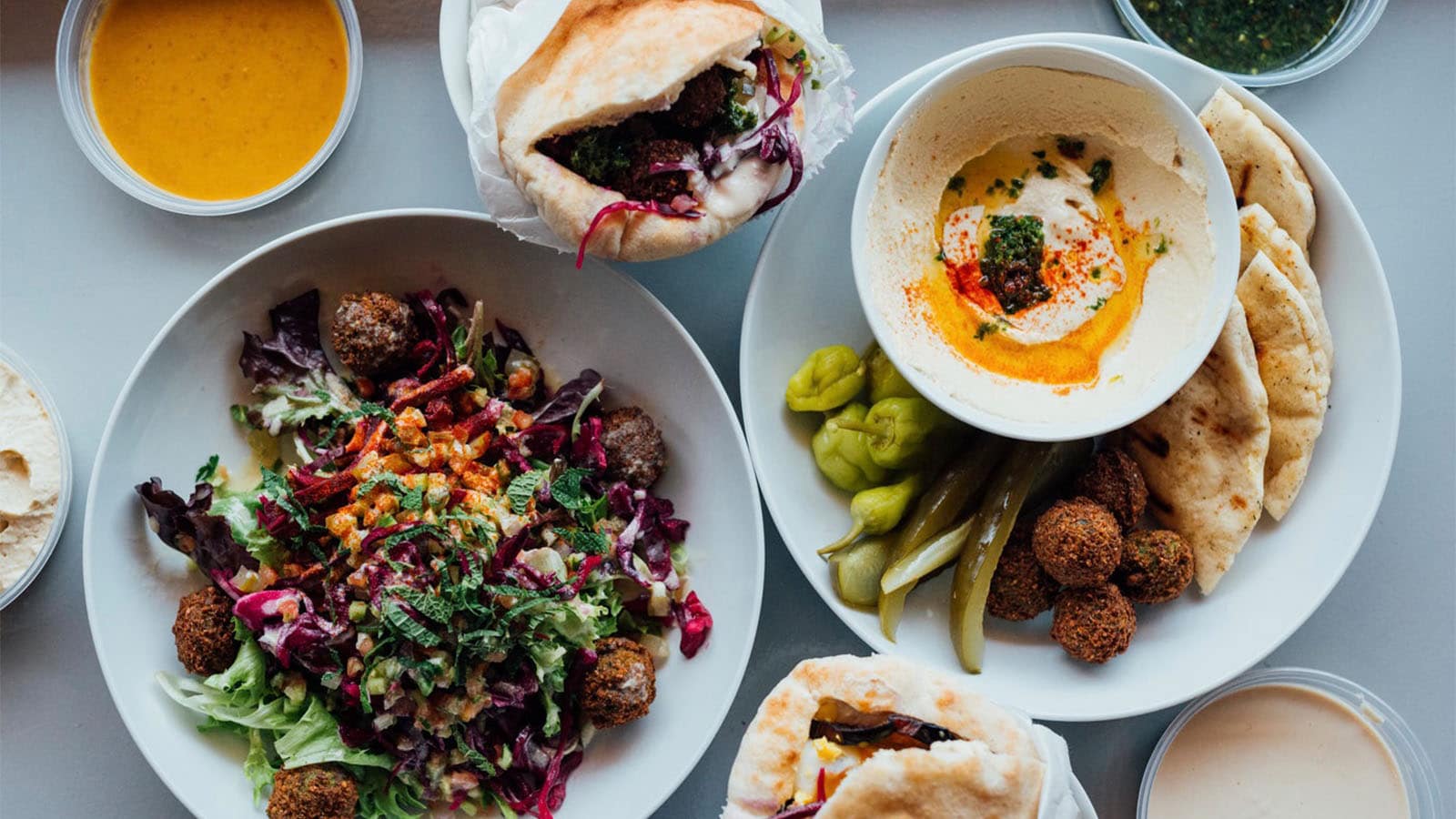 Although adjacent to the Plateau Mont-Royal, Mile End has a very distinct personality; it is a great neighbourhood to live for all generations. It is also known as one of the coolest neighbourhoods in the world, a place where many artists grew up or began their careers. Creativity is at the forefront of this rather eclectic neighbourhood.
Beyond the creativity and sense of community that sets the neighbourhood apart, its gourmet addresses often attract a swarm of tourists every year who love to stroll along St. Viateur and Fairmount streets to discover the best of Mile End. Although the neighbourhood is very small, it has carved out a well-deserved place for itself in the Montreal dining scene.
Mile End restaurants offer plenty of varied take-out options, so you can discover the hidden treasures of the borough while we wait patiently for the dining rooms to reopen. It goes without saying that each of these addresses contributes in its own way to the reputation of the Mile End being one of the most gourmet neighbourhoods in town.
For other suggestions, consult the general list of open restaurants that offer a take-out menu. If you're craving a particular dish (burger, dumplings, sushi, pizza…), we recommend consulting our other lists of good take-out places, specifically designed to give you ideas in the particular context of the pandemic. It's always great to discover your neighbourhood and the best it has to offer.
Don't hesitate to send us your suggestions if you have any other ideas for good places to go in Mile End.
See on map
5687B Avenue du Parc Montréal H2V 4H2
5201 Boulevard Saint-Laurent Montréal H2T 1S4
66 Rue Saint-Viateur Ouest Montréal H2T 2K8
281 Rue Bernard Ouest Montréal H2V 1T5
5149 Avenue du Parc Montréal H2V 4G3
5836 Boulevard Saint-Laurent Montréal H2T 1T3
68 Avenue Fairmount Ouest Montréal H2T 2M2
275 Avenue Fairmount Ouest Montréal H2V 0A1
5607 Avenue du Parc Montréal H2V 4H2
7901 Rue Saint-Dominique Montréal H2R 1X8
104 Rue Saint-Viateur Ouest Montréal H2T 2L1
255a Rue Saint-Viateur Ouest Montréal H2V 1Y1
201 Avenue Laurier Ouest Montréal H2T 2N9
54 Rue Saint-Viateur Ouest Montréal H2T 2K8
5761 Boulevard Saint-Laurent Montréal H2T 1S9
5417 Boulevard Saint-Laurent Montréal H2T 1S5
5263 Boulevard Saint-Laurent Montréal H2T 1S4
5235 Boulevard Saint-Laurent Montréal H2T 1S4
5014 Boulevard Saint-Laurent Montréal H2T 1R7
5163 Boulevard Saint-Laurent Montréal H2T 1R9
101 Avenue Fairmount Ouest Montréal H2T 2M4
5329 Boulevard Saint-Laurent Montréal H2T 1S5
15 Avenue Fairmount Est Montréal H2T 1C7
16 Rue Maguire Montréal H2T 1B8
5237 Boulevard Saint-Laurent Montréal H2T 1S4
5245 Boulevard Saint-Laurent Montréal H2T 1S4
34 Avenue Fairmount Ouest Montréal H2T 2M1
5210 Boulevard Saint-Laurent Montréal H2T 1S1
156 Avenue Laurier Ouest Montréal H2T 2N7
6896 Rue Saint-Dominique Montréal H2S 3B2
5733 Avenue du Parc Montréal H2V 4H2
5357 Avenue du Parc Montréal H2V 4G9
5375 Avenue du Parc Montréal H2V 4G9
52 Rue Saint-Viateur Ouest Montréal H2T 2K8
263 Rue Saint-Viateur Ouest Montréal H2V 1Y1
74 Avenue Fairmount Ouest Montréal H2T 2M2
124 Rue Saint-Viateur Ouest Montréal H2T 2L1
107 Avenue Fairmount Ouest Montréal H2T 2M4
5170 Boulevard Saint-Laurent Montréal H2T 1R8
381 Avenue Laurier Ouest Montréal H2V 2K3
399 Avenue Laurier Ouest Montréal H2V 2K3
156 Avenue Laurier Ouest Montréal H2T 2N7