Le Bay Cà Phê: New Vietnamese bistro in the Mile End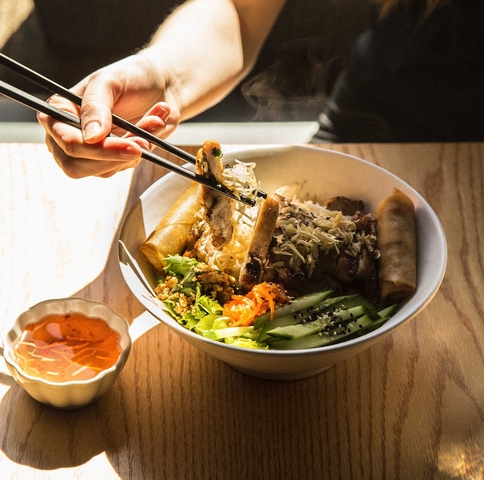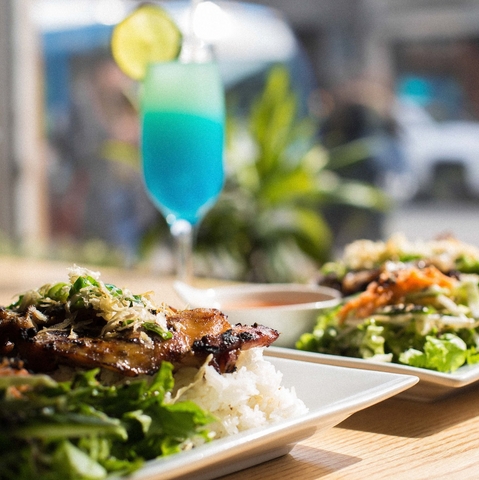 Le Bay Cà Phê

$$
Monday: Closed
Tuesday: 11:30 AM – 9:00 PM
Wednesday: 11:30 AM – 9:00 PM
Thursday: 11:30 AM – 9:00 PM
Friday: 11:30 AM – 9:00 PM
Saturday: 11:30 AM – 9:00 PM
Sunday: Closed

We are so excited to welcome the brand new Le Bay Cà Phê to the Mile End! Located directly on St. Laurent Boulevard, this new Vietnamese bistro opened on October 26, 2018. If you're craving amazing Vietnamese food or are in search of a new evening hangout, this is an address you'll want to check out.
Comforting & welcoming
The concept of Le Bay Cà Phê is centred around comfort; beautiful surroundings, friendly faces and delicious food. Restaurant owner Yan says that his initial goal was to create a space where people felt at home. Despite the beginnings of his professional life in the finance industry, Yan had always wanted to open a restaurant. His father was a restaurant owner himself, so it is clear where the inspiration comes from. Upon entering, we noticed the unique blend of traditional Vietnamese culture with that distinct Montreal feel. This has resulted in a space where people feel free to fully enjoy their dining experience. Modernity is also key to Le Bay Cà Phê's identity, and is reflected in the menu, the decor, and the team itself.
Yan discussed the rationale behind the location, as Mile End is a notoriously fun, artistic and youthful neighbourhood.  His desire to be surrounded by the local community made Mile End the perfect choice. Yan is also a practical person, and he disclosed that the proximity of Ubisoft was a major selling point, as he hopes they will drop in for some lively lunch hours!
Inventive Vietnamese delights
Apart from the amazing location and fun theme, the highlight at Le Bay Cà Phê is the food. The kitchen is run primarily by a chef whose 40 years of experience include some notable 5-star Asian restaurants. The menu was developed collaboratively between Yan and chef Ma, and proposes an inventive twist on traditional Vietnamese dishes. Menu highlights include beef flank pho, and tofu and vegetable curry served in a nest of crispy rice noodles. According to Yan, the pho and banh mi sandwiches are the most popular. Also, stay tuned as a new tapas-style evening menu will soon be offered here.
The decor speaks to Yan's focus on comfort and modernity, perfectly balancing cozy dark woods and warm toned walls with fun neon signs and Vietnamese-inspired light fixtures. The space was designed by Yan and his sister, and its unique look reflects their desire for a familial and welcoming space. There are only 40 seats and every corner showcases Le Bay Cà Phê's distinct style—framed photographs and floating shelves showcasing plants, Asian motifs and other cute knick-knacks. 
Le Bay Cà Phê will undoubtedly become your new happy place! We wish them the best of luck!
Written by Sydney Carter