Chez Ta Mère: Gourmet sandwich shop in the Mile End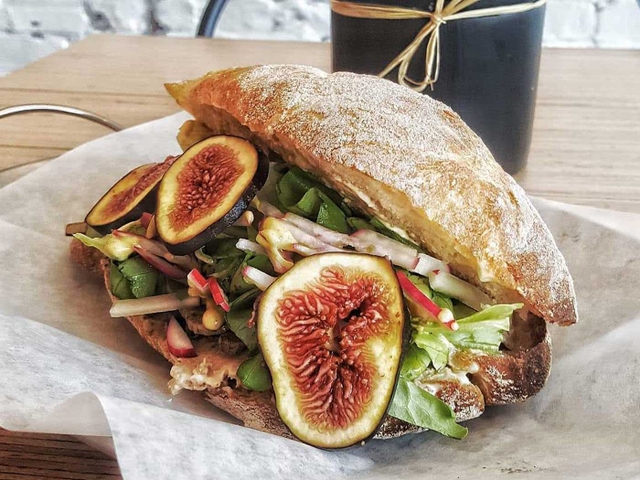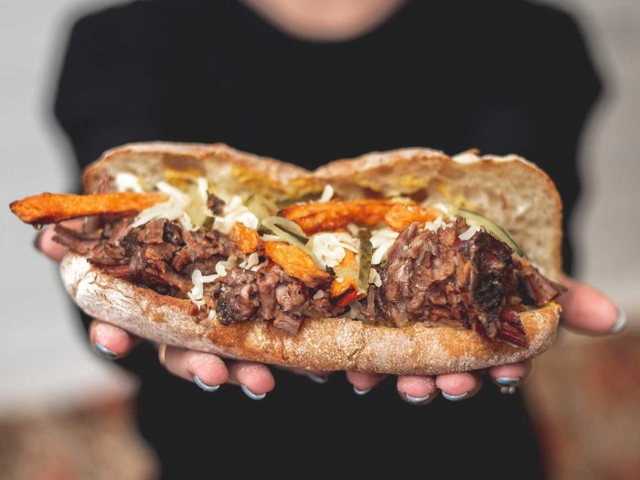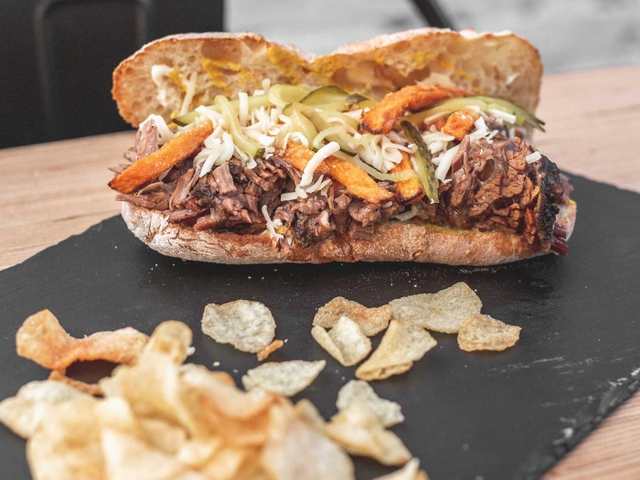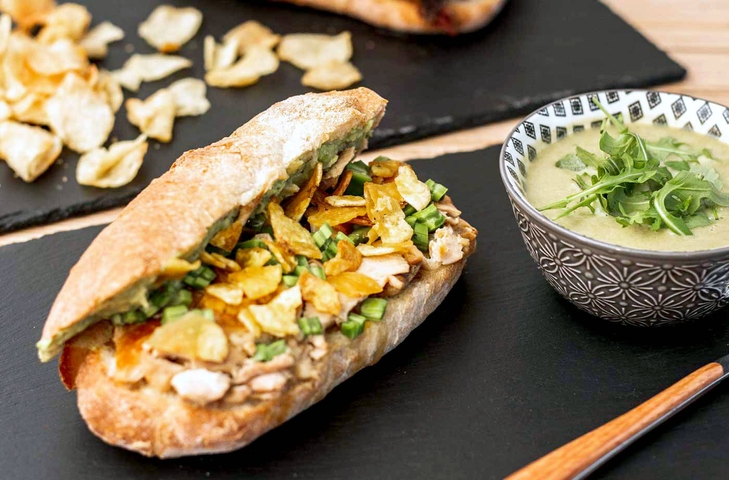 Chez ta mère

Monday: Closed
Tuesday: 9:00 AM – 5:00 PM
Wednesday: 9:00 AM – 5:00 PM
Thursday: 9:00 AM – 5:00 PM
Friday: 9:00 AM – 5:00 PM
Saturday: 9:00 AM – 3:00 PM
Sunday: 9:00 AM – 3:00 PM

The charming sandwich shop Chez Ta Mère offers comforting creations that do more than just fill you up. A hybrid between a counter and a café, this small address is perfect for a gourmet lunch break in the heart of the Mile End!
Established since August 2018 in a small location a few doors down from Larry's, Chez Ta Mère is the project of Ramy Massarini and chef Hamza Bousaidan. When we stop by, the two men talk about their deep love for sandwiches, struggling to hide their excitement. It is this passion that fuelled the creation of the sandwich shop. The name, which started out as a joke, is a testament to the comforting lunches that are offered here.
The menu was created in the image of Montreal: a cosmopolitan city. Every day, Hamza prepares five sandwiches inspired by the cuisine of five regions. And since we are "at your mom's'", each sandwich is named in honour of a mother; Madre Raquel for South America, Me Thi for Asia, Yemma Fatima for North Africa, Maman Sandrine for our French cousins, and Môman Sylvie for Quebec. We are charmed by the lightness of Maman Sandrine with duck rillettes, Dijon mustard and grilled fennel. The owners tell us that it is the Môman Sylvie—with homemade smoked meat, poutine, and pickles—that customers love the most. What's more, each month the house prepares a new sandwich inspired by the flavours of the moment.
Chez Ta Mère also offers two soups, an empañada, a quiche, tacos, and smoked chicken wings as side dishes. To accommodate the café clientele, small desserts are also available, including Argentinean shortbread and matcha éclairs. Note that the house has just started offering tartines during brunch on weekends.
The location, overlooking Fairmount Avenue East, is extremely bright. Upon entering, a few small tables separate the friendly counter where you can order coffees and sandwiches. At the back, the small open kitchen invites you to watch Hamza make his sandwiches. Behind the counter is a little cozy corner with small colourful sofas. All in all, without overdoing it, Chez Ta Mère's decor is welcoming. Perfect for stopping in for a sandwich on the go, or linger for a while, with a coffee in hand.
With the abundance of surrounding offices, Chez Ta Mère is a great option for lunch in the Mile End; their tasty sandwiches are sure to satisfy!
Written by Samuel Gauvreau Des Aulniers