Molasses Sandwich Cookie Recipe from Cheryl Johnson of Montreal Plaza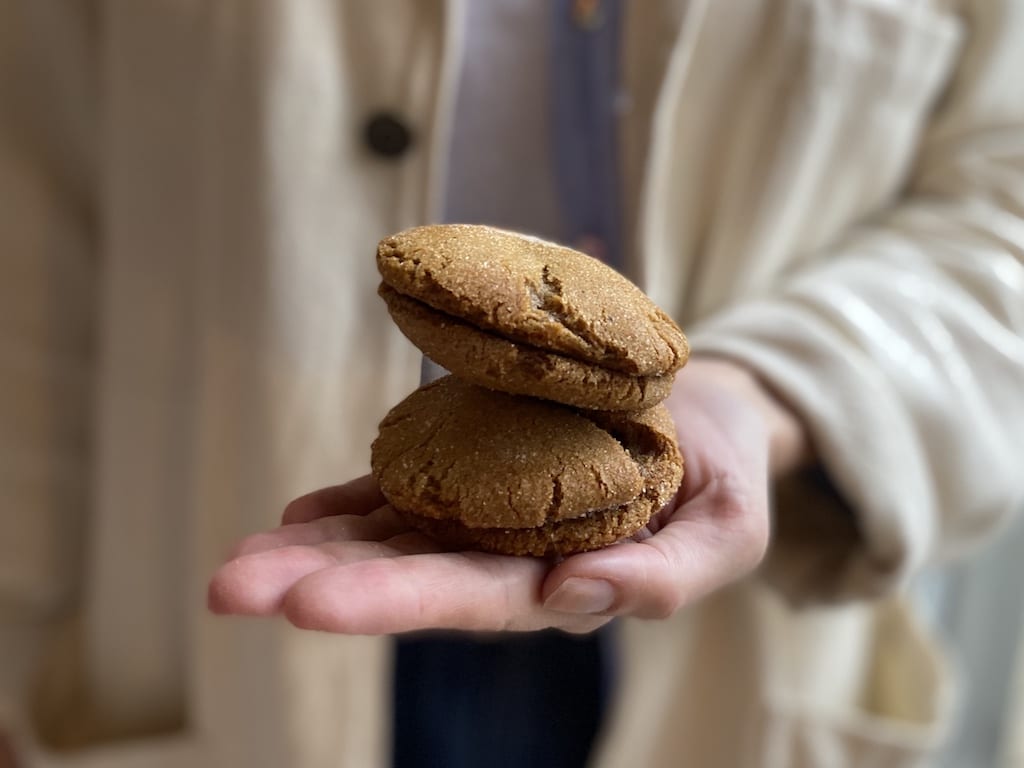 Everything that comes out of Montreal Plaza's kitchen is excellent. When it comes to desserts, we can't hide our small (read huge) weakness for the molasses sandwich cookies from the exceptional Cheryl Johnson. Sandwiched between two delicious and tender molasses cookies is a cream cheese and vanilla ganache. Sublime, divine, and decadent!
Cheryl has generously agreed to share – for the first time – her recipe for molasses sandwich cookies. Enjoy!
Ingredients
Cookies
2 cups all-purpose flour
2 teaspoons baking powder
½ teaspoon salt
1 ¾ teaspoons ground cinnamon
1 teaspoon ground cloves
1 teaspoon ground ginger
¾ cup melted butter
1 cup sugar
½ cup brown sugar
1 egg
¼ cup molasses
Ganache
2/3 cup softened butter
1 package 250 g cream cheese
1 tablespoon confectioners' sugar
½ vanilla bean
Recipe
Cookies
Preheat oven to 375˚F.
In a small bowl, combine flour, baking powder, salt, cinnamon, ground cloves and ginger, set aside.
Combine melted butter, brown sugar, egg and ¾ cup sugar on low speed in mixer (keep ¼ cup sugar aside). Add molasses. While mixing on low speed, gradually add the flour mixture. Mix until everything is homogeneous, let rest 1 hour in the refrigerator.
Make about 30 balls of dough of about 30 g each. Roll the balls in the remaining ¼ cup of sugar. Place on a baking sheet covered with parchment paper, leaving about 2 inches between each ball.
Bake, 8 to 10 min, or until cookies crack a little on top. Cookies will still be a little soft when removed from oven. Let cool.
Ganache
In a blender, blend all ganache ingredients until smooth.
When cookies have cooled, top with ganache and close cookies to form sandwiches.
For other decadent recipes, we suggest the famous brownies from Olive & Gourmando, the chocolate-pinoli cookies from Marc-Olivier Frappier of Mon Lapin, the pancakes from Danny Smiles of Bremner, and the pikelets from Larry's.
Launch of Carte Paperole x Tastet
Written by Samuel Gauvreau Des Aulniers