Chocolate-pinoli cookie recipe by Marc-Olivier Frappier of Vin Mon Lapin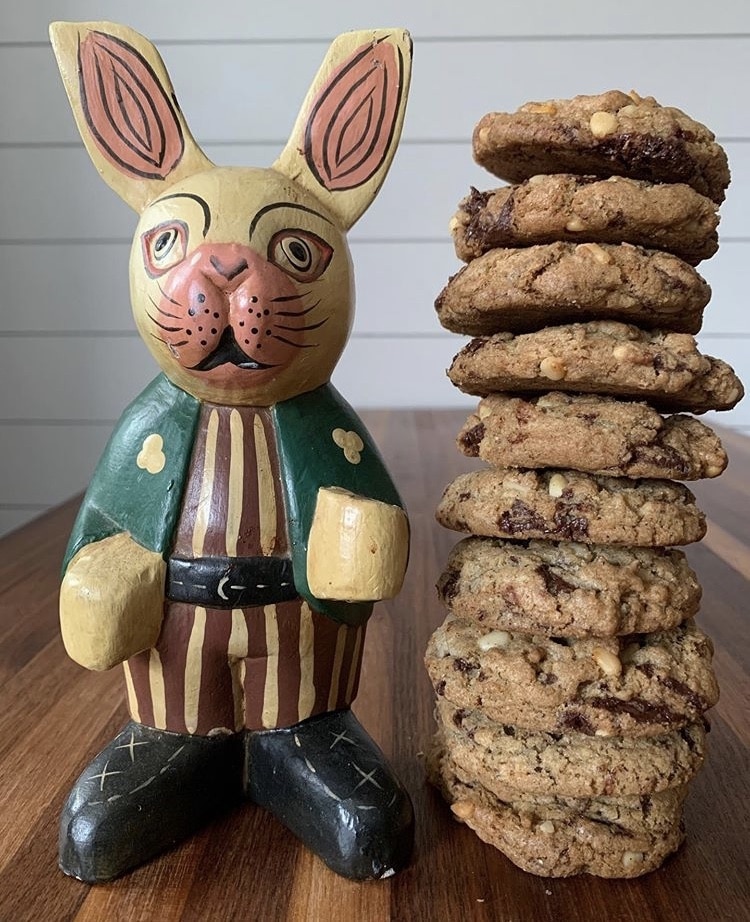 Every week, we present three easy-to-make recipes at home by local chefs, pastry chefs, and mixologists. After having introduced you to Janice Tienfenbach's delicious Spaghetti Ubriachi and Henrietta's Gin Martini, here is Marc-Olivier Frappier's chocolate-pinoli cookie recipe from Vin Mon Lapin.
Ingredients
210g unsalted butter, room temperature
230g brown sugar, sifted
110g white sugar
1 egg + 1 egg yolk
195g all purpose flour
195g rye flour
95g buckwheat flour
3g baking powder
5g baking soda
250g coarsely chopped dark chocolate
75g pine nuts (or other nuts)
Method
Preheat oven to 375F
Mix the flours, baking powder, baking soda, and salt in a bowl and set aside.
In another bowl, mix the butter, brown sugar, and sugar until well incorporated. Add eggs and mix.
Stir dry ingredients, chocolate, and nuts into butter-egg-sugar mixture.
Let rest for a few hours.
Using an ice cream scoop, scoop out dough on a cookie sheet.
Bake for about 8-10 minutes. The center should still be soft.
Let cool and enjoy while looking out the window and wondering how it will all turn out.
Note/Variation
Tip from the chef: "Cooking them a bit less is much better than a bit more."
Get your aprons on!
This recipe is perfect for sharing with your family or for leaving at the doorstep of loved ones.
Among our recipes, check out also:
Henrietta's Gin Martini: The easiest cocktail to make during quarantine
Spaghetti Ubriachi from Elena: Janice Tiefenbach's excellent red wine pasta recipe
Bon appétit !
Photography by Marc-Olivier Frappier