Larry's pikelet recipe: Delicious from morning till night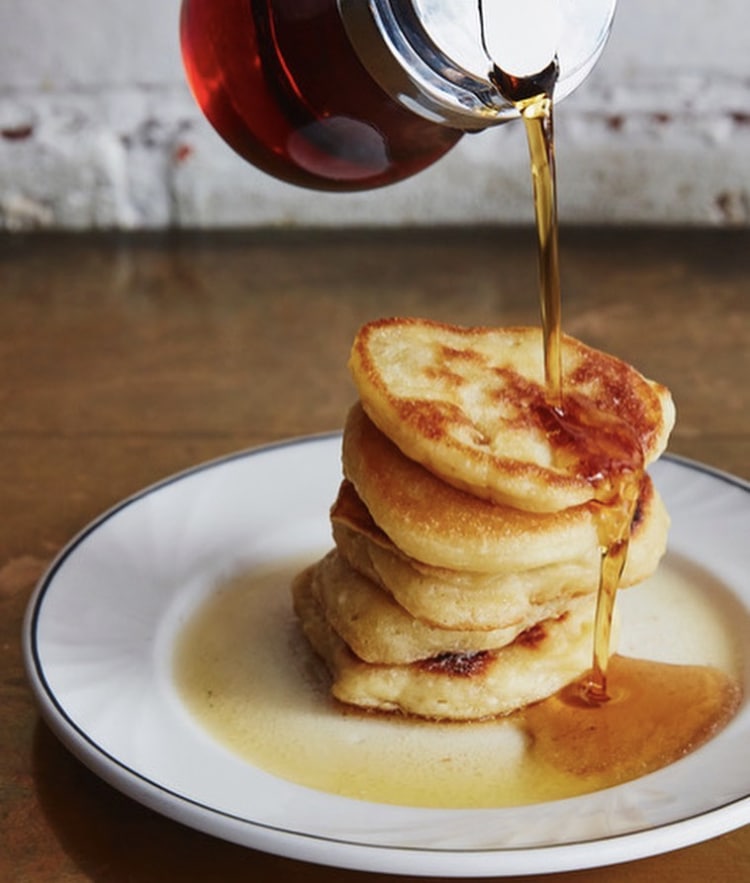 Larry's Pikelets — At first glance, pikelets look a lot like pancakes, their American cousins (see chef Danny Smiles' delicious pancake recipe here). Very popular in Scotland, Australia, and New Zealand, these pancakes are usually smaller (in diameter). The batter also has to be thicker and the result is usually thicker and spongier than pancakes, due in part to the presence of yeast in the mix.
Although enjoyable at any time of day, at Larry's, pikelets have quickly become a classic on the brunch menu. The house recommends savouring them with bacon, eggs, maple syrup, smoked salmon, a bit of caviar, "pretty much anything really," to quote the owners.
Here is the recipe for Larry's pikelets, just in time for your weekend brunch!
Bon appétit!
Larrys pikelet
Serves: 12

Ingredients
125 g bread flour
125 g all purpose flour
½ tsp. salt
½ tsp. sugar
1 tbsp. canola oil (or any other oil with a neutral taste)
14 g fresh yeast
360 g whole milk (about 1 2/3 cups)
80 g of salted butter
Method
In a large bowl, mix together the two flours, salt, and sugar and set aside.
Meanwhile, put the milk in a small saucepan and warm it slightly to just above room temperature. Remove the milk from the heat to add the yeast and oil and mix until completely incorporated.
Then add the contents of the saucepan to the bowl of dry ingredients and whisk until the mixture is smooth.
Cover the bowl and leave at room temperature for about an hour. What was once a thick batter should now look more like a thick mousse.
Place a heavy-bottomed non-stick skillet over medium heat and melt 20 g of butter. As the butter foams, use a large spoon to transfer the batter to the pan, leaving a little room between each spoonful.
When the pikelets reach a golden brown colour on the bottom, flip them over to finish cooking on the other side. This should only take a few minutes.
Repeat the process, adding more butter until you have no batter left.
For the best experience, the Larry's team suggests eating the pikelets hot off the pan, spread with a little cold butter. They can also be kept for a few days. To do so, let them cool on a cooling rack and store them in an airtight container. To serve, simply heat them in a toaster or gently in the pan with a little butter.