Olive & Gourmando's famous brownie recipe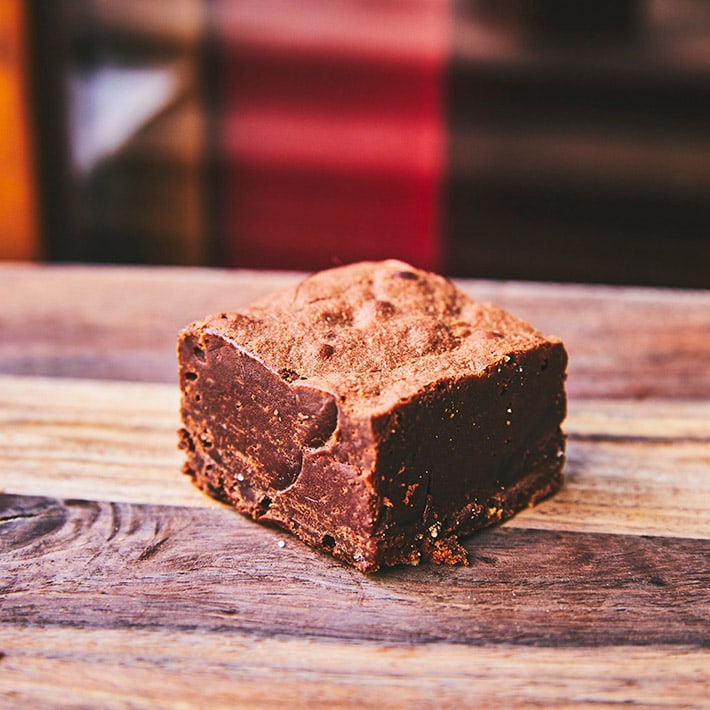 Olive & Gourmando, a staple address in Old Montreal. In order to continue to treat her loyal customers, co-owner Dyan Solomon has kindly agreed to share with us the recipe for Olive & Gourmando's famous brownies, a recipe that can be found in Olive & Gourmando's beautiful recipe book.
Olive & Gourmando's famous brownies
Serves: 22
Preparation: 30 minutes
Cooking: 18 minutes

Ingredients
Coffee ganache
375 g (about 2 ½ cups) dark chocolate chips
22.5 mL (1 ½ tbsp.) coarsely ground espresso coffee
180 mL (¾ cup) 35% cream
Brownies
220 g (about 1 ½ cups) all-purpose flour
7.5 ml (1 ½ tsp.) kosher salt
375 g (about 1 ½ cups + 1 tbsp.) unsalted butter, softened
175 g (about 1 cup) 70% dark chocolate chips
280 g (about 1 2/3 cups + 2 tbsp.) 54% dark chocolate chips
6 eggs, room temperature
255 g (about 1 ¼ cups) white sugar
5 mL (1 tsp.) vanilla extract
Method
Coffee ganache
Line a baking sheet with parchment paper.
In a double boiler, melt chocolate chips.
Meanwhile, in a small saucepan over low heat, steep the coffee in the cream for 4 minutes.
Strain the cream. The cream must still be hot before starting the next step. Reheat slightly if necessary.
Pour in the melted chocolate and whisk in. The chocolate will start to set, so proceed quickly for the next steps.
Pour the ganache onto the baking sheet and cover with more parchment paper.
Spread the ganache in an even layer about 2.5 cm (1 inch) thick by pressing on the paper with your hands.
Slide the sheet into a plastic bag and refrigerate overnight.
The next day, cut the ganache into 2.5 cm (1 in.) cubes, working as quickly as possible to avoid melting. Refrigerate.
Brownies
Preheat oven to 175°C (350°F). Butter a 20 x 30 cm (8 x 12-inch) rectangular pan and line with parchment paper.
In a bowl, combine flour and salt. Set aside.
In a double boiler, melt butter and chocolates, stirring regularly with a spatula. Remove from heat and let cool.
Using a stand mixer fitted with a paddle attachment or a hand mixer, beat eggs, sugar and vanilla on medium speed for about 5 minutes or until mixture is pale and fluffy and expands in volume.
Using a spatula, stir a small amount of melted chocolate into the egg and sugar mixture to warm it up. Continue by gently folding the remaining chocolate into the egg mixture.
Add flour mixture, one third at a time, sifting it directly over the chocolate mixture, incorporating well between each addition.
Add ganache cubes. There should be no flour or unincorporated melted chocolate left, but be careful not to overwork the batter.
Pour batter into pan and tap lightly on a folded tea towel on the counter to distribute batter evenly.
Bake for 18 minutes or until firm but still melting, rotating the pan halfway through.
When finished baking, place pan on rack and let cool for 1 hour before cutting into squares.
Note/Variation
For more classic brownies, cut and serve after about 1 hour. If you like them more "fudgey", like the ones served at Olive & Gourmando, line the pan with aluminum foil (once the brownies have cooled) and refrigerate them overnight. As the brownies cool, they will take on a fudge-like texture. The next day, cut them up and let them sit for about 30 minutes before serving.
Photography by Olive & Gourmando